Subscribe to the RSS feed -- the bitmark is now bit.ly/wiselinify.

February 26, 2014
Kochs have proof Obamacare is 'job killer'


In a rare public foray, billionaire industrialist brothers David and Charles Koch met with reporters today to show proof that the Affordable Care Act, popularly known as Obamacare, kills jobs.

"For months job creators like us, and our allies, have warned you that Obamacare is a job killer, only to have you liberal media types say the Congressional Budget Office says there's no impact," said David Koch.

Charles Koch, standing at the head of a long conference table next to his brother, opened a leather bound binder. "You want proof? Well here it is," Charles Koch said. Taking a Mont Blanc fountain pen out of his coat pocket, he wrote in the folder with a flourish.

"There. I just signed a memo laying off 10,000 employees of Koch Industries, because of Obamacare," he said, holding up the page with his signature.

"It says right here in black and white, next to Reason For Terminations -- 'because of Obamacare.' You couldn't ask for more definitive proof," David Koch emphasized.

Charles Koch said the binder, titled Definitive Proof Obamacare Kills Jobs, will contain proof Obamacare is killing jobs at companies in addition to Koch Industries, "just as soon as we send it around to the CEOs of those companies."

Responding to a reporter's question, David Koch said "We are not making it up as we go, we've decided to use a Wiki approach to document creation."

(Follow us all the time at @WiselinePRT)

Permalink | Comment | Like it? Please consider a donation of $1.11 (or more!)
---


February 21, 2014
Seattle tunnel to be completed by giant worm


An agreement has been reached with the Pacific NW Garden Club to complete digging of the new Waterfront Tunnel using a giant 40 feet wide, 200 feet long earthworm named 'Little Glowworm,' Seattle mayor Ed Murray announced late Thursday.

The deal secures a replacement for the tunnel boring machine, nicknamed 'Bertha,' which has been stalled for weeks due to mechanical issues.

Thurston Trowel III, president of the Hanford-based gardening club, said he got the idea during a recent vacation in Japan.

"The Fukushima Garden Club is drilling a new bullet train tunnel using a giant earthworm named 'Wormera, Friend To Gardening Children'," said Trowel.

"Our Little Glowworm, who lives at the Hanford Nuclear Reservation Community P-Patch Garden, has been producing enriched soil for farms and gardens all over eastern Washington for years. It was a simple matter to train her to follow the aroma of Ivar's dig in order to dig in a straight line," he said.

Little Glowworm will be put in the tunnel started by Bertha on March 1, and digging will occur 24 hours a day until completion in mid-May -- stopping only for heavy rain, when Little Glowworm will come to the surface and stretch out on a sidewalk.

Little Glowworm has already been bred, or 'cut in two', in order to create a backup giant worm -- "just in case," said Murray. Little Glowworm's new sister/daughter has been christened 'Cathy McMorris Rogers.'

When complete, Murray said the Waterfront Tunnel will be another of Seattle's world's firsts -- "the first highway tunnel lined with Supercement, which I'm told is a mixture of sand, lime and radioactive worm mucous," Murray said.

(Follow us all the time at @WiselinePRT)

Permalink | Comment | Like it? Please consider a donation of $1.11 (or more!)
---


February 17, 2014
US Christians plan gaybashing vacations in Nigeria


In response to mob attacks on gay men in Nigeria's capital Lagos, Mississippi entrepreneur Haley Barbicide has decided to partner with a new Nigerian company offering gaybashing pack tours of the country.

Mr. Barbicide said he is "a fan" of Nigeria's new homosexuality criminalization law, and has been closely following it in the news. Then the recent protest riots broke out. "When I read the police actually participated in beating the pro-gay demonstrators, I knew Nigeria is a place I wanted to visit. Then my entire neighborhood watch Bible study group signed up to vacation in Nigeria in April, and I knew I was sitting on a goldmine," Barbicide said.

CEO Patrick Gwarzo operates Leviticus Tours out of a closet-sized office in Lagos, in his spare time when he is not being a veteran senior officer in the National Police Force.

"I talked to a lot of the American fundamentalist Christians who came to Nigeria to help draft the new anti-gay law," explains Gwarzo.

"Hating gays is such a huge part of their lives, I thought there must be many Americans like them interested in visiting a country where it's legal to live out their dreams of being the first to cast stones, smite with ass jawbones, and pluck out eyes that offend them," said Gwarzo.

"Nigeria doesn't frown on such activities. In fact now we encourage it," he said.

Leviticus Tours already has attracted international endorsements from the highest level. "This could bring more of the right kind of visitors to Africa, as well as boost sales of my new line of hats," commented Ugandan president Yoweri Museveni, who said Friday he would sign into law his own country's Homosexual Criminalization & Tourism Act.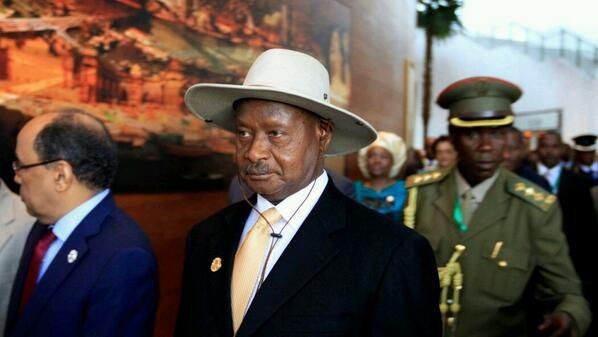 +
Museveni
That hat is to die for.
(Follow us all the time at @WiselinePRT)

Permalink | Comment | Like it? Please consider a donation of $1.11 (or more!)
---


February 12, 2014
Rand Paul To Run For NJ Gov


Sen. Rand Paul today ended speculation he is positioning himself to run for the 2016 Republican presidential nomination. Instead he announced plans to run for governor of New Jersey.

"In the event the governorship of New Jersey becomes vacant in the next few months, my hat is in the ring," declared the libertarian-leaning junior senator from Kentucky.

For days Paul had been rumored to be positioning himself as the favorite for the GOP nomination, replacing Chris Christie, the current New Jersey governor weakened by the ongoing 'Bridgegate' scandal.

A state citizens committee has already formed to back Paul's candidacy, under the slogan "New Jersey Is Feeling Rand-y."

Paul's shift of focus from national to state level is to further his ultimate goal as a libertarian: "It's harder to become president of 50 states and turn all 50 into a libertarian fantasyland," Paul explained.

"Doing it in just one state, such as the Garden State, which my dad wants to rename the Republic Of Gardenia, is a far simpler task," he said.

Furthermore Paul said Bridgegate contained a valuable lesson for Christie. "It proves government shouldn't own infrastructure like bridges in the first place."

Paul outlined what he termed "a commonsense, free market plan" to privatize New Jersey bridges, starting with the George Washington Bridge.

"What I'll do on day one as governor is sell the George Washington Bridge to a New York/tristate area businessman, an entrepreneur -- preferably someone with hair as interesting as mine," Paul said.

"Access to the bridge would be determined by the market. Fort Lee would get as much space on the onramps as its people are willing to pay for. Problem solved -- the libertarian way," he said.

(Follow us all the time at @WiselinePRT)

Permalink | Comment | Like it? Please consider a donation of $1.11 (or more!)
---


February 6, 2014
Priebus announces GOP 'Hunger Primaries' for 2016


RNC Chairman Reince Priebus, worried that candidates vying for the 2016 party nomination will tear each other apart, has devised a plan he hopes will prevent bruising primary battles.

Called the 'Hunger Primaries' plan, GOP hopefuls would employ teenage proxies who will fight to the death in their place.

"Do the Democrats have the guts to have a youth jobs plan like this? I think not," said Priebus.

"This really saves my family's bacon," said Katya Everclear, 16, a proxy for likely GOP frontrunner Mike Huckabee.

Raised on a family farm in Ottumwa, Iowa, Everclear said she and many of her friends volunteered because Congress has cut off direct payments to farmers.

"I'm really excited about the Hunger Primaries because it shows how Republicans care more about farm families. At least that's what they said on Stuart Varney," Everclear said.

Not everyone is cut out to be a proxy fighter, however.

Former neighborhood watch volunteer George Zimmerman wanted to proxy for likely GOP frontrunner Ted Cruz. "I thought Cruz could use me in a fight, because I know how to swing the odds in my favor," he said, patting a bulge under his Members Only jacket.

But he failed the Hunger Primaries background check.

"Of course we have a background check," said Priebus, adding: "We're not crazy."

Onetime 2012 GOP frontrunner Newt Gingrich, now cohost of CNN's Crossfire, yesterday praised the Hunger Primaries. "It's brilliant, I wish I had thought of it. In fact, I think I have thought of it," Gingrich said.

(Follow us all the time at @WiselinePRT)

Permalink | Comment | Like it? Please consider a donation of $1.11 (or more!)
---


January 27, 2014
Huckabee only reminding women that sugar has carbs, aide says


An aide to Mike Huckabee offered a nutritional explanation today for the former Arkansas governor's controversial remarks about women, contraception and dependency on government.

"Governor Huckabee was only telling women 'Don't be fooled' by Democrats trying to make them dependent on Uncle Sugar, because sugar is loaded with carbohydrates," said Jason Stevia, a deputy assistant communications assistant on Huckabee's staff.

"Mike Huckabee is very concerned about carbs, as anyone familiar with his personal weight loss story and record as a health advocate can attest," said Stevia, referring to Huckabee's effort to lose 110 pounds after a 2003 diabetes diagnosis.

"He was just saying women shouldn't eat too much sugar, Democrats have made a serious mistake in attacking Gov. Huckabee's pro-health credentials," Stevia explained.

Stevia went on to say Huckabee welcomes the opportunity to make American women aware of his position against overconsuming sugar: "Mike Huckabee supports women in the workplace, building careers and earning the same as men."

"That's why he wants them to watch their weight by cutting out sugar, so they can be attractive to men and get hired and promoted at work."

"Mike Huckabee is well aware of this reality, since after losing 110 pounds he discovered he was irresistable to other men," Stevia said.

(Follow us all the time at @WiselinePRT)

Permalink | Comment | Like it? Please consider a donation of $1.11 (or more!)
---


January 13, 2014
Freedom Enterprises buys itself a whole state


Coal processing giant Freedom Enterprises has informed the Securities Exchange Commission of the company's purchase of the entire state of West Virginia.

Company CEO Gary Confederacy said the $67 billion acquisition occurred January 9, shortly after Freedom Industries' surprise informal expansion of a waste chemical storage facility into several counties with a total population of more than 300,000.

"Our 4-methylcyclohexylmethanol storage business now has a market presence in nine counties, which is a huge boost for us. Just a week ago no more than a handful of people had ever heard of 4-methylcyclohexylmethanol, and now it's on everyone's lips," Confederacy said.

"If it is on your lips you should get yourself to a doctor," he added.

Confederacy said West Virginians should carry on as normal until Freedom Industries officials are up to speed on how to administer public services.

Last night Governor Earl Ray Tomblin, now Freedom Industries employee number 2518328218, went on TV to tell West Virginians their state had been sold.

"We're very lucky that Freedom Industries believes in the old saying, 'you pollute it with thousands of gallons of 4-methylcyclohexylmethanol, you bought it'," said the governor.

Tomblin said the average citizen wouldn't notice the management transition, saying the 4-methylcyclohexylmethanol storage expansion did not pose a health risk. "4-methylcyclohexylmethanol is an organic compound, which I'm pretty sure makes it green," he said.

"Green means it's as safe as Mountain Dew, which you should be drinking instead of tap water until we give the all-clear signal," Tomblin said.

(Follow us all the time at @WiselinePRT)

Permalink | Comment | Like it? Please consider a donation of $1.11 (or more!)
---


January 7, 2014
Inhofe says global warming just 'damn kids heating the whole outdoors'


The US Senate's leading climate change skeptic knows who is to blame for global temperature increases -- and it's a simple explanation suggesting a simple solution.

Senator James Inhofe (R-Oklahoma) told Fox Business host Stuart Varney on Tuesday that the culprits "are all those damn kids heating the whole outdoors by not closing doors and windows."

Inhofe made his comments in an interview on Varney's daily program Just My F*cking Opinion.

"What we're talking about are those hipster millennials who come and go all day on their fixies -- to pick up a growler at the gastropub, say, or maybe just to tend their backyard chicken coops. And when they do it they forget to close the door!" said a clearly exasperated Inhofe.

"They don't listen to me. I've told them a million times, 'what are you trying to do, heat the whole outdoors?' And look what happened -- the summers are so much hotter all because they let out all the heat."

Inhofe added that winters only seem colder because unclosed doors causes air conditioned air to escape. "Basically, we could normalize temperatures with a law requiring all doors to be retrofitted with automatic closure devices," he said.

Varney praised Inhofe for his dedication to HVAC conservation, and offered the viewpoint that poor financial literacy is an underlying cause.

"Young people don't know the value of a dollar, because they're all using Bitcoins now -- but that's just my f*cking opinion," Varney said.

(Follow us all the time at @WiselinePRT)

Permalink | Comment | Like it? Please consider a donation of $1.11 (or more!)
---


January 2, 2014
Whiners, petty moralists, busybodies leave to start new island nation


The US was a little more unified on New Year's Day, as a group with longstanding grievances over America's social progress set sail for what they hoped would be a more conservative climate.

The small exodus of social conservatives are bound for a small chain of islands in the western Pacific Ocean, where if all goes well they hope to start a new nation of contrarians.

"This is good news," President Obama said, shortly after seeing off the separatist flotilla at San Francisco's Pier 69.

"This leaves the American people in peace to use government to address societal issues as determined via representative democracy," said Obama.

"At last we can move on to rebuilding our country without having to check every five minutes with every self-styled religious leader, economic theorist, biology opponent, and minor presidential candidate to make sure it's okay with them," Obama said.

Speaking by satellite phone from the breakaway group's flagship, nominal leader Rev. Decrease Mather said his people have many reasons for setting out on their own.

"Mostly they got tired of being vigilant all the time. So many are tired of people asking them to provide medical insurance, when we know all they really want is endorsement of their sexual practices and alternative lifestyles," said Mather.

Father Gerald Sandusky of the Catholic charity Suffer The Little Children said he wants to live in a country where the people are more realistic.

"People need to accept that some things aren't possible, like the way Sister Margaret Mary accepts how I'll never be free to marry her," said Father Sandusky.

For others the decision came down to freedom. "I value my freedom of religion, but that doesn't mean others should have it too," said Hobby Lobby CEO David Green, another emigre.

"When we get where we're going, we hope to build a nation where the way you live is decided by god and the CEO of the company you work for," said Green.

When asked how they expected to be received by the islanders, Green said he had no idea, "but my side will probably have more guns."

The still unnamed island nation is expected to have a high number of exploratory drilling platforms, Hobby Lobbys, and pregnancy counseling centers per capita.

(Follow us all the time at @WiselinePRT)

Permalink | Comment | Like it? Please consider a donation of $1.11 (or more!)
---