Archive / Taxi 2000
Bill (A-2031) for PRT study in NJ Assembly
9-27-2004
•
Text of A-2031
(pdf)
• Dec. 8, 2004:
New Jersey PRT Study Signed Into Law

TRENTON, N.J. (AP) — Acting Gov. Richard J. Codey kick-started a study of next-generation transit technology by signing a law Tuesday that appropriates $75,000 to conduct the research.

The technology, known as Personal Rapid Transit, consists of fully automated, driverless vehicles that run on elevated guideways and offer customized trips without intermediate stops.

The study by the state Transportation Department and New Jersey Transit, will consider viability of the system, projected traffic-congestion relief, and possible route options.

"There is no doubt that New Jersey needs to examine carefully every possibility for enhancing our current rapid transit systems and alleviating congestion on our roads," said Deputy Assembly Speaker John S. Wisniewski, who sponsored the legislation.
Engineer Live! — Taxi 2000's SkyWeb Express is "a system of small vehicles that strikes a balance for the commuter... because each conveyance can be individually directed, the system comes close to a door-to-door service." 8-1-2004
Rapid transit: not rapid enough 6-27-2004
Mass transportation to get sleek & daring 6-30-2004; Architectural Record, pp.5-6
"Taxi 2000" article from Ripsaw weekly. 5-6-2004
PRT gains support 5-2-2004
Bonding bill draws ire Horning misrepresents outcome of Cincinnati & Rosemont projects
PRT, "SkyWeb" Draw Attention in Minn., Calif. Mar-Apr 2004
SoundPRT rebuttal to Light Rail Now
Discovery Channel Canada (Windows Media) 4-6-2004
A new kind of monorail? KOMO TV, Seattle
Bill Wilde's rebuttal to Light Rail Now
Dr. J. Edward Anderson's rebuttal to Light Rail Now PRT report
Minnesota H.B.1686 would fund Skyweb demonstration (2003)
Minnesota tax bill sweetens PRT pot 2-17-2004
U of Minnesota students work on PRT plan
PRT is "21st century space race"
Skyweb Express window stickers for sale
From Canada: The Future Hails a Cab
MN engineering firm involved in Skyweb project
Skyweb bonding bill introduced in Minnesota legislature
Successful cities innovate: What will Santa Cruz choose?
"Act soon on new Taxi 2000 personal monorail" 12-18-2003
Duluth in lead for innovating transit system
PRT proposal in Monterey, CA area
12-11-2003
The group
Sustainable Monterey Bay
has proposed a Personal Rapid Transit system for the Fort Ord area north of the city of Monterey, California. The fort has been decommissioned by the military, and the site-- which borders the town of Marina and the campus of California State University's Monterey Bay campus-- is to be
redeveloped
into five
"village"
communities.
Ted Lahti of SMB's
Soltrain
says his group is working with the three master developers in charge of the redevelopment, he reports all seem to be receptive to the PRT concept.
Soltrain is a proposal to design and build a solar powered "ultra-light rail" line in the Monterey Bay area; the intention is that the additional PRT system would run on solar power as well. It is envisioned that a combination Soltrain-SolarPRT system will solve congestion and pollution problems in the Fort Ord area, as well as save energy.
At this time Lahti indicates his group likes Taxi 2000 Corporation's Skyweb Express PRT, but that they are open to learning about other PRT systems as well.
Skyweb pitched to officials in Long Branch, NJ
Special Announcement
November 5, 2003- On January 1, 2004, Taxi 2000 will begin its Phase 2 prototype program to build a working, full-scale, outdoor demonstration of SkyWeb Express. A substantial investment was recently received, and the company has sufficient funding for all of stage one and some of stage 2 of the four-stage Phase 2 program.
According to founder and inventor Dr. Ed Anderson, "This is a great day for us, a great day for transportation, and a great day for the planet. In 30 months we can have a working demonstration model of our system. If any customers want to plan in parallel with our Phase 2, the first SkyWeb Express system could be operating in four years." Taxi 2000 Corporation Newsletter - Vol. 2 No. 6
Skyweb "underway"
Nov. 1, 2003- This has been a great week for us. After a two-day visit, an out-of-state investor wrote a check for $200,000 and pledged an additional $1,800,000. Thus, as you might say, we are underway! Also, this week we had a two-hour visit from the Minnesota DOT Commissioner, which resulted in specific action items. Next week we will be visited by the Minnesota Governor's transportation aid, and on the same day by a high-level staff person assigned to work with us by the Minneapolis City Council. Later in November, the Minnesota Transportation Alliance has planned to hold its monthly meeting at our facility, and staff from Metro Transit have booked to visit us. Things are looking up very much in Duluth where a high-level committee, with representatives from all of the important governmental bodies as well as investors, has been meeting and is poised to invite us to meet with them soon. In New Jersey, our affiliate MidAtlantic SkyWeb has developed a detailed plan to start with a system in Longbranch. Several other excellent opportunities for investment have showed up.

Best wishes,

Ed Anderson
Excell Models, crafter of the Skyweb passenger compartment
High tech transit goes to fair
Ride of the Future? MPR 8-28-2003
Skyweb Photo of the Day (MN Fair)
Japanese public works officials to visit Skyweb prototype 8-22-2003
Skyweb debuts at fair p.7 (photo) Spring '03
Skyweb's Anderson at Duluth Rotary
Santa Cruz commission debates PRT 7-25-2003
Skyweb's Anderson talks to Duluth council 7-25-2003
Personal taxi is 'disruptive', in a good way. 6-27-2003
Libertarian blog gets on board with Skyweb
Extensive new Skyweb Express Home Page with new online video 5-20-2003
U of Minnesota journal: U start-up... solution to gridlock (p. 10) Spring 2003
Skyweb article from Netscape's "Driving Today" 4-23-2003
Link to Taxi 2000's Skyweb News page 4-13-2003
Taxi 2000's Skyweb Express debuts
4-11-2003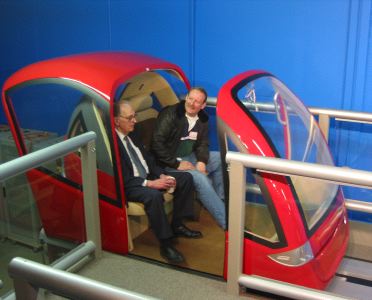 Taxi 2000 CEO Ed Anderson (L) relaxes in the new Skyweb Express prototype.
Link
Taxi 2000 Unveils Prototype 4-11-2003
Transit concept gets its first test 4-10-2003
Goodbye Gridlock! 4-10-2003
Taxi 2000 prototype launch announced 4-7-2003
"...plans to debut transit system in Duluth" 2-27-2003, with photos
Test of the linear induction motor.
2-20-2003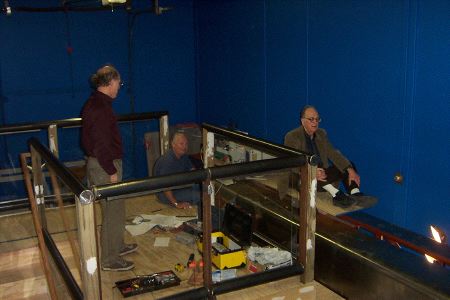 Ed Anderson takes the first 'ride', on a temporary platform attached to the top of the chassis. "The motion was smooth and eerily silent," he reported. Note the guideway is now enclosed by metal covers. Taxi 2000 Corp. photo
Feb. 17 Taxi 2000 status report with videos

PRT Pulls Into the Station, Minnesota Public Radio, Jan. 20, 2003.
Passenger cabin under construction: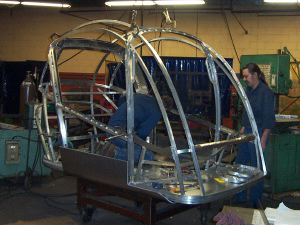 12/29/2002. Taxi 2000 Corp. photo
Chassis begins assembly:
New transit concept to be put to the test Minneapolis Star Tribune
T2 demo project announced to Minnesota media
Opening of company offices & engineering space
Readiness The software works, and the vehicles could go FAST. Includes comments about the problems with Raytheon's version of PRT
Ed Anderson profile, Bostonia (Boston U)