Archive / Taxi 2000
Taxi2000 was based in Fridley, MN and was sometimes known as "T2." It closed in 2017. Its product was called Skyweb Express; 1000s of people rode its 60 ft functional demo. Also listed here is PRT news related to the company's founder J. Edward Anderson; although he and T2 parted ways, their histories are inextricably linked.
The Twin Cities transit revolution that wasn't 4-9-2018

Taxi 2000 Exits
2-10-2018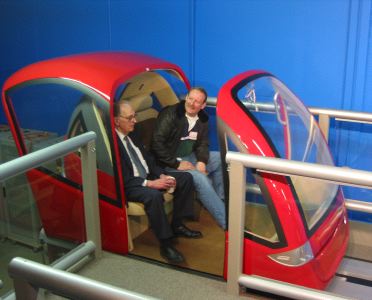 Taxi 2000's demo in 2005. Ed Anderson is at left.

©MMXVIII The PRT NewsCenter
Long time pod transit company Taxi 2000 closed in mid-2017, exiting the business without achieving a demonstration facility or system in fare service. A shareholder letter obtained in January by the NewsCenter revealed Read More
Jacksonville, Florida: "On demand pods an option to replace dated Skyway" 11-21-2015
Taxi 2000 says its PRT system can fit inside "failed" peoplemover's infrastructure envelope.
Boston Globe: "A groundswell for high-riding pods" 9-26-2015
NPR: Why Nonstop Travel In Personal Pods Has Yet To Take Off (Morning Edition) 9-24-2015
Correspondent Joe Palca visits Taxi 2000 offices, interviews Mike Lester and Ken Halverson, and rides the redcar prototype.

NPR gif

There's been some buzz about this line from the story (quoting former MnDOT Commissioner Thomas K. Sorel, misspelled Sorrel by NPR): "the state considered PRT, but there was stiff opposition from backers of buses and light rail, and nothing was ever built." There's nothing too complicated about this. Most likely it means that buses and light rail had revenue streams, and the agencies and citizen groups that helped get those streams acted to protect them. It's not unfair, it's not a conspiracy. It's politics. -Editor
Greenville SC: County agency terminates automated transit bid. Procurement process (which garnered two applicants) is over, although officials say they hope to restart at a later time. 7-6-2015
Greenville County EDC receives 2 submissions by deadline. 6-3-2015 Link
Taxi 2000 and SkyCabs are the only applicants; the former is working with Parsons. SkyCabs, which bills itself as Elevated Small Group Automated Rapid Transport, is from New Zealand.
"
Transit projects provide glimpse of automated future
." 12-2-2014
County councilman hopes for paved lane for 'semiautonomous' robocars, elevated PRT system.
Highlights:
• Taxi 2000 surfaces; company's Mike Lester claims a "financial package" for doing a project.
• Councilman Fred Payne hopes to acquire a 3.4 mile right of way for multimodal/ped transportation.
• Ultra-ultra-conservative Bob Jones University hosted automated taxi demo (Dec. 11, 2014) providing demand-responsive service.
•
Taxi 2000 pops up
. Brief video with CEO Mike Lester in advance of article at Fridley Patch. 12-12-2011
•
P is also for Perceptions
5-20-2011
Statement by the group Minnesota 2020
, possibly to manage public interest in the Citizens For PRT booth at May 7-8 St. Paul green expo.
"It's the best of both worlds, is what proponents -- like Citizens for Personal Rapid Transit who had a booth at the Living Green Expo --

would have you believe."

-Riordan Frost
What followed was yet another mischaracterization of PRT as low capacity based on comparing pod size to light rail, and not recognizing PRT's capacity is network-based.
Is it not odd, reader, that one group participates as an exhibitor at a sustainability fair, while another group (not an
exhibitor
) decides its participation will be to question the former's believabilty. That list of exhibitors includes a Ford truck dealer and Chevrolet. Minnesota 2020 couldn't think of anything to say about auto companies being at a green expo? Or Xcel Energy, which operates
two Minnesota nuclear power plants
; what were
they
doing at Living Green with Fukushima-Daichi still smoldering?
- Ed.
•
"Revitalizing the Waterfront District"
(Duluth, MN)
Possible plans includes hotels, destinations offering summer and winter activities, a marina, and podcar transit using Taxi 2000's Skyweb Express system.
2-1-2011
• "
Leaders line up to support PRT
" in Winona. T2's match is $5 million already spent on preliminary work. 2-10-2010
•
Taxi 2000 offers to provide 20% match
for federal grant application for Winona "PRT lab." 1-24-2010
•
Taxi 2000 consulted on Winona (MN) PRT proposal
; state DOT names PRT director. 12-11-2009
•
Mike Lester to present at April 2009 Heathrow conference
2-25-09
•
Skyweb depicted in Forbes
•
Taxi 2000's Echo control technology
(Flash)
• Brief intro to PRT on
ZapRoot
, an online/podcast eco-zine (starts around 30 sec.).
• Video:
Mike Lester at Podcar City Conference #1
•
Revamped site goes live
Sept. 2007
•
Latest Taxi 2000 product information
Sept. 2007
Feasibility study for unnamed city
; adds concept 5-passenger vehicle (pdf)
•
Made to Measure Transit
(IEEE). Vukan Vuchic of UPenn states same objections
as 11 years ago
6-1-2007
• Member of Taxi 2000 team completes PRT study
May 27, 2007
A company on Taxi 2000 Corporation's supply team has completed a feasibility study for an unnamed client in the United Arab Emirates. Business North reported May 5 that engineering/architecture firm Krech Ojard & Associates —
recently conducted a feasibility study for developing a Personal Rapid Transit system in United Arab Emirates, an oil-rich Middle Eastern nation of seven political territories. Personal Rapid Transit is a system of lightweight, three-person vehicles under independent or semi-independent automatic control, running on a network of fixed guideways. If approved, this would be the first system of its kind.

For more than three years, Duluth has been considered a potential location for a Personal Rapid Transit testing facility, but funding has not been available.
The article mentions neither Taxi 2000 nor the Skyweb Express system by name, however the description of PRT using "three-person vehicles" is almost certainly in reference to Skyweb.
Richard Ojard is a director of Taxi 2000.


•
Video: Taxi 2000 demos control system at scale
4-10-2007
(open URL in Windows Media Player)
• Rumor: Taxi 2000 project imminent?
July 28,2006

A notorious critic of PRT has posted on the internet a message purportedly from Morrie Anderson, CEO of Taxi 2000 (Skyweb Express PRT) of Fridley, MN. It reads in part:
"...PRT has to prove itself by moving beyond concept to reality. That is the path that Taxi 2000 is currently on.

We are about to move forward with a project

and will let the results of this effort speak for us." Source
This critic has a long history of inaccurate claims, so take this one with a boulder-sized grain of salt.
• Skyweb on news in Rochester MN 7-14-2005
• Creative ideas for alternative transportation look promising (Delaware) 6-21-2005
•
Taxi 2000 sues Ed Anderson over nondisclosure, trade secrets
4-22-2005
••
Takeover at Taxi 2000?
(subscription) 4-27-2005
••
Taxi 2000 sues Ed Anderson
4-28-2005
••
Trade secrets ruling favors T2
6-20-2005
••
Taxi 2000 v. Anderson Settled:
(Dec. 21, 2005 0900PST)
J. Edward Anderson announced today that he and Taxi 2000 Corporation have settled their differences over issues involving intellectual property, and Taxi 2000 has agreed to end its lawsuit filed against him. "Both Taxi 2000 and I will and can continue to pursue our mutual goal of the wider development and deployment of Personal Rapid Transit systems without fear of further law suits," Anderson wrote in an e-mail. The suit was filed in April of this year after Anderson, former Taxi 2000 CEO, left to form his own company, PRT International, LLC.
• Ed Anderson resigns from Taxi 2000, forms new company
•• PRT x 3 3-2-2005
•• Skyweb designer leaves company; Duluth developments. 3-3-2005
• Taking the mass out of transit 12-15-2004
• Car Ports Salon.com 11-19-2004
••Opposition trots out tired, old, already-debunked claims in response
• Minnesota legislators have PRT vision
• Santa Cruz opinion: PRT "something Santa Cruz could get behind"
• PRT in the New York Post 10-12-2004