November 27, 2008 - Annual Turkey-Based Post
Alaska trade summit nearly fatal for Turkish officials

"Worst Thanksgiving ever," Turks say

Alaska Governor Sarah Palin is at the center of an international incident today, after an attempt to build relations with a foreign government went horribly wrong.

It began as a friendly trade summit in Wasilla between Palin and high officials from the Republic of Turkey. President Abdullah Gul and Foreign Minister Ali Babacan had spent the day touring businesses in Anchorage and the surrounding area, before proceeding to a turkey farm outside Wasilla for the signing of an Alaska-Turkey trade agreement.

There were smiles all around as Palin and Gul placed their signatures on the pact, intended to promote Alaska-Turkey trade in agricultural and manufactured products.

"This is a great day," said President Gul.

"The people of Turkey are hungry for Alaska seafood, earmarks, snow machines, and surplus G's," Gul said.

Palin was effusive in her comments, saying that trade helps build peace. "I am so glad that our two states are buildin' strong relations, and both being next to Russia also, it is good that we pull together, helpin' each other when Putin's head rears and looms," Palin said.

But the good feelings vanished only minutes after the ceremony concluded.

Giving a lengthy interview to a TV reporter, Palin was unaware of what was unfolding behind her, in the background of the scene being recorded on video.

As Palin spoke casually about the success of the trade summit, behind her President Gul and Foreign Minister Babacan were being stuffed into turkey slaughtering fixtures.

Minutes dragged by as a farmhand struggled to get the two VIPs into the steel, funnel-shaped devices. Palin continued her interview, finally concluding by saying how much fun the trade summit had been.

It wasn't until Palin left in her motorcade that the two Turkish leaders were able to communicate to farm representatives that they were in fact politicians and not turkeys.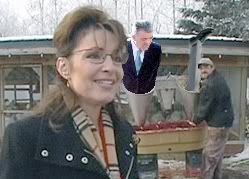 Oblivious
Palin speaks with reporters as President Abdullah Gul (left) and Foreign Minister Ali Babacan (leg) are stuffed into slaughter fixtures.
The nation of Turkey quickly reacted with anger, suspending parliamentary ratification of the trade pact and demanding an investigation.
Palin's office issued a statement calling the incident "no big deal."
"Governor Palin has enormous amounts of foreign policy experience, and that experience tells her that this is not an international incident," read the statement.
Turkey's foreign ministry called this unacceptable. "This is the worst Thanksgiving, ever," a ministry spokesman declared, and announced a retaliatory embargo against American canned cranberries.

Permalink | Comment
---


Posted November 25, 2008
Obama names McCain car czar

Will personally bail out auto industry

Making good on his pledge to seek bipartisan solutions to the country's challenges, President-elect Barack Obama today turned to former rival John Sidney McCain III for help in the effort to rescue the U.S. automobile industry.
McCain to lead Big 3 rescue
"Let's put this thing in Drive"
As head, or "car czar," of the new Liquidity Enhancement for Manufacturing Of New Sedans (LEMONS) initiative, McCain plans to get personally involved developing sales of new, alternative and fuel efficient vehicles to be manufactured by Ford, General Motors and Chysler.
"Cindy and I, mostly Cindy, are going to buy for our personal use Detroit's first year of output of the new technology cars," announced McCain.
"We're up to about 27, maybe 30 houses now, plus our time shares, ski chalets and hunting lodges. All of them have ten, eleven, and twelve car garages. Then there's my staff who need cars, and Cindy's staff, Cindy's beer distributorship, and Cindy's boyfriends all have fleet needs too."
"I can promise Detroit sales of 100,000 cars, up front, if they can put new electric, hybrid, flex-fuel and hydrogen models in the showrooms," McCain said.
In his message announcing the former Republican presidential nominee's appointment, Obama was effusive in his confidence in McCain. "During the long campaign, Senator McCain repeatedly demonstrated his expertise on transportation. When people saw him on the campaign trail, he was on the Straight Talk Express bus, or the Straight Talk Express airplane," said Obama.
"Even in the dark days of 2007 when his campaign had not yet caught fire, John McCain was traveling in the Straight Talk Vanagon Westfalia," he noted.
"Finally, when the time came for a statement on the banking crisis, John McCain again defined his policy with transportation, suspending his campaign and taking the Straight Talk Express to the capitol," Obama said.
McCain indicated he is eager to begin his new duties, which will not require him to leave the Senate. "Let's put this thing in Drive and get going," he said.

Permalink | Comment
---


November 24, 2008
Notes from the Transition

Americans adjust to life with Obama

Part I in a series



The election of Barack Obama means change is coming. But what kind of change? In this series we check in with individuals and communities across America, and ask them: What has already changed since November 4? What changes are you still looking forward to, and how are you getting ready?

(Anchorage) The 2008 election proved to be a boon for the Alaska economy, with 50,000 new construction jobs created at the home of Senator Ted Stevens. "Business has never been better," said unlicensed plumbing contractor Moe Murzelshmacher. "And it turns out I'll get a tax cut next year, even though I'm going to be making $75,000," he said.
"Change is pretty sweet," Murzelshmacher said.

(San Anselmo, CA) Sam Rafael was shocked when his wife of 15 years filed for divorce on November 12. "I thought the passage of Proposition 8 was supposed to protect our traditional marriage," says a bewildered Rafael, 46, a country club manager.
"I should have just stayed home on election day. Change is so gay," Rafael said.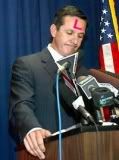 Shadow Gov. Rossi
Wearing official badge of office
(Seattle) Republican Dino Rossi is preparing for his second term as Washington State Shadow Governor. It is a ceremonial position that mostly involves being foodtaster for Governor Chris Gregoire, and filling in for her at ribbon cuttings and elementary school play premieres. After four years he is nearly comfortable with The Beatles' "I'm a Loser" being played whenever he appears at an official function. In his spare time Rossi hangs around pharmacies challenging birth control prescriptions, and is writing an outline for a planned second book. It will be sold through a new foundation to benefit his next unsuccessful run for Governor.
(Wasilla) Sarah Palin, a stay at home governor, is hoping an Obama presidency will be an era of professional development for herself. Palin is planning to use the next four years getting more government experience, telecommuting to Juneau from a home in Washington, DC. She'll be able to see the Capitol from the six bedroom colonial, Palin says, which will give her Congressional experience.

Permalink | Comment
---


Posted November 21, 2008
Vampires suck up moviegoer dollars

Al Qaeda video slips to No. 2 at box office

The new teen vampire romance "Twilight" sucked up moviegoer dollars with a $7 million in overnight box office -- enough to put it in the No. 1 position. The film, starring Robert Pattinson and Kristen Stewart, premiered last night at midnight on 1,350 screens.

"Twilight" easily beat the "Def To Infidels Comedy Jam," the new Al Qaeda comedy, which fell to the No. 2 spot after holding the No. 1 spot for fifteen minutes on Thursday. In the 80 minute concert video, Islamic funnyman Ayman al-Zawahiri looks for laughs on a range of topics including murder, murdering infidels, murdering innocent bystanders, murdering his mother in law, and shopping at Abercrombie & Fitch. Zawahiri also touches on US politics. "Who is the real Barack Obama? What is the full story of his association with Bill Ayers?" he asks at one point, eliciting hoots of delight from his rambunctious audience of madrassah students.

"Quantum of Solace" starring Daniel Craig, the 182nd installment in the James Bond film series, fell to the No. 3 position, earning $3.3 million.

Permalink | Comment
---


Posted November 20, 2008
Big 3 pledge change

The CEOs of the Big 3 U.S. auto companies today assured Congress they have the ability to change to weather tough economic times.

"We are not dinosaurs," Ford chief Alan Mulally told the House Financial Service Committee.

"Our industry is confident we can adapt to the need for change," Mulally said, seeking to assure lawmakers still skeptical about extending the industry a $25 billion loan package.

"History shows we readily evolve. Tailfins for instance will likely never make a comeback," Mulally said, scratching his tiny head with a floppy clawed metacarpal.

General Motors head Rick Wagoner agreed with his colleague, and was even more confident. "Why is everyone acting like there's a giant asteroid coming to wipe us out? It's ludicrous," Wagoner declared.

"It doesn't take a rocket scientist to innovate. It means new ideas like cutting labor costs, wringing inefficiency out of our supply chain, and dumping pension obligations," Wagoner said.

Chrysler CEO Robert Nardelli said he is afraid of the tarpits. "It's a scary place where Oldsmobile accidentally fell in one day and couldn't get out."

Nardelli said Buick, Sebring and Hummer are always hanging out too close to the tarpits. He said quick action was needed by lawmakers to prevent additional industry losses.

Permalink | Comment
---


November 12, 2008
Joe The Plumber gets a job

Will find leaks for Palin

The lightning rod of the final month of the 2008 presidential campaign has found employment -- and it's in plumbing.

Joe "The Plumber" Wurzelbacher, last minute convert to the losing cause of Republican John Sidney McCain III, said today he will be relocating from Ohio to Alaska, where he has agreed to be the plumber for the unofficial Sarah Palin 2012 presidential exploratory committee.

In order to acquire the training he did not get as an unlicensed plumber in Ohio, Wurzelbacher has enrolled in the G. Gordon Liddy Institute of Plumbing.

Wurzelbacher says he is already halfway through the program, a ten-day course that includes a grant for tuition, with enough left over to purchase tools of the plumbing trade, such as rubber gloves, small electronics, walkie-talkies and duct tape. "Luckily I already have some of those things, so I have some pocket money," says Wurzelbacher.

"I'll be traveling a lot after graduation, visiting all the Palin 2012 offices that are going to be set up, and other places, looking for leaks," he said.

His first job will be to find the source of 'scurrilous rumors' about Governor Palin's 'wardrobe', 'expenses' and 'intellectual ability'. "Those terms haven't been covered in class yet. They must be pipe-jockey slang for fixtures, gaskets and stuff not in the plumbing textbook."

Permalink | Comment
---


Posted November 4, 2008
OBAMA WINS

Supreme Court to hear broadcast indecency case after McCain drops f-bombs

In a stunning turn of events, the normally slow and deliberate U.S. Supreme Court has moved with lightning speed to hear the case of a violation of federal law that occurred only today.

The court has agreed to hear Federal Communications Commission v. McCain, in which the agency is seeking to have 2008 Republican presidential nominee John Sidney McCain III fined for uttering a string of profanities on live national television and radio tonight. A court press officer said the case has been expedited "because Associate Justice Thomas wants to depose Cindy McCain."

The incident occurred earlier tonight at the Arizona Biltmore Hotel in Phoenix, where pressure built throughout the evening as McCain awaited the first election returns with his family and supporters.

At 9:25pm ET, MSNBC's Joe Scarborough stated that he saw no way for McCain to win the electoral vote. The pool video feed, in split screen, showed McCain grimace and smack his right fist into his left palm.

An hour later at 10:23 pm ET, CNN reported that two anonymous McCain aides said they "see no path to victory" with Barack Obama leading 207-135 electoral votes. The video showed McCain kicking over a wicker wastebasket, and jump up and down on it several times.

Finally, at 11 pm ET the major networks announced Senator Barack Obama to be the president-elect with 297 electoral votes, and McCain could be seen throwing his cocktail across the room. "(Expletive)! Mother-(expletive) (expletive) (expletive)!" he screamed, and attributed his defeat to the dumb (expletive) who made him take Gov. Sarah Palin as his (expletive) running mate.

McCain went on to say that those individuals should kiss their (expletive) asses goodbye. "I'm still a (expletive) U.S. Senator, I can send the (expletive) IRS after 'em, I can stall their (expletive) legislation. I can make sure everyone knows their (expletive) names! I'll make them (expletive) famous!" he said. McCain then overturned a table full of hors d'oeuvres.

"I'm going down to Nogales and hit a few bars, who's with me?" he asked of no one in particular, and left.

Asked for her reaction, Cindy McCain merely smiled serenely and stared into the distance.

If found guilty, McCain would be fined a record $1.5 million for violating broadcast indecency rules.

Radio shock jock Howard Stern, the previous record holder at $495,000, called McCain's outburst "shameful, a stain on the honor of the country and the electoral process." Stern said he would welcome McCain as a co-host on his program.

Permalink | Comment
---


Posted November 4, 2008
Mexico files protest

Neighbor says rotten smell coming from swing states

The U.S. presidential election took on an international dimension yesterday, as the nation of Mexico filed a diplomatic protest with the State Department about what it calls a bad smell drifting across the border. The smell is coming from states where the presidential race between Barack Obama and John Sidney McCain III is close, Mexico claims.

"Someone should check on your election. Seriously, it smells like it's gone off," read the letter from President Felipe Calderon. It was personally delivered to Secretary of State Condoleezza Rice Monday morning by Ambassador Arturo Sarukhan.

Sarukhan added his own insistence that something be done. "Mexico's border communities are effectively shut down, people can't leave their homes because of the stench of disenfranchisement and caging blowing down from the north."

"Take it from a Mexican -- the PRI party held power through elections for more than 70 years straight. We know what a skewed result smells like," Sarukhan said.

"Really, I think your election process is sick or dying, you should check on it," he added. He suggested Colorado, New Mexico, and Ohio as the first places to look.

Secretary Rice's office issued an apology to Mexico later in the day, explaining that the extra freezer in America's garage had lost power sometime last week.

"There's nothing to worry about, we should have everything fixed by 2 am Wednesday morning," the apology read.

Permalink | Comment
---


Posted November 4, 2008
Obama and McCain vote, make final pitch

The rivals in the 2008 presidential race concluded their final arguments to the American people this morning, sounding many of the same themes that have resonated throughout the long campaign.

After voting in Chicago, Senator Barack Obama headed to Indianapolis, where he told a rally that the long journey had ended, but the choice was now up to voters. "It's time for a change from the last eight years of failed policies, but only you can make it happen," he said.

Obama then said after they vote, the 20,000 people in the audience should join him at a nearby middle school gymnasium to play in his traditional election day basketball game.

At a campaign stop in Colorado, John Sidney McCain III rose to the oratory that characterized the final weeks of his quest. Evoking his October 26 statement on nuclear power, McCain told his audience that "now, more than ever, blah blah blah. You now have to decide whether you want my experience blah blah blah, or blah blah blah."

"I'll stand up to the blah blah, balance the blah, catch Osama bin blah, blah Iran, blah blah Social Security, and reduce our dependence on foreign blah blah," McCain said.

Above all, he urged them to fight for what they believe in. "Fight! Fight for me! Fight for lower taxes! Fight for a huge military! Fight for the flag magnet on your car! Fight for yourselves! Fight each other! Just fight, fight, fight!"

The vice presidential running mates were heading to vote too.

Governor Sarah Palin, back in her native Alaska, was reflective as she spoke with reporters, and tallied two months of mileage receipts, on the long drive from Anchorage to cast her vote in Wasilla.

"You know, I am sure John McCain and I are going to be blessed to lead this nation for the next twelve years," she began.

"But if not, it will also be a blessing to do Dancing With the Stars, Super Nanny and Extreme Makeover Ted Stevens Edition," Palin concluded.

Joe Biden emerged briefly from his pondside home outside Wilmington, Delaware, to cast his vote. He saw his shadow, which traditionally means eight years of presiding over the Senate and keeping his mouth shut.

Permalink | Comment
---


Posted November 3, 2008
GOP stages massive Kool-Aid airlift

Last appeal to Undecideds in toss-up states

Hoping to make up ground on Democrat Barack Obama on the final day of campaigning, the Republican National Committee today deployed additional resources in four key states to support John Sidney McCain III and running mate Sarah Palin.

Sources with knowledge of the RNC operation say six chartered jets loaded with pallettes bearing over 5 million individual packets of Kool-Aid took off from Reagan National Airport in the pre-dawn hours Monday. Their destinations: McCain-Palin campaign stops in Indiana, Ohio, Missouri, and Florida.

The Kool-Aid was handed out at campaign rallies with bottles of water, said one source. "Our hope is that enough undecided voters will drink the Kool-Aid, giving McCain a fighting chance in states where the race is close," the source said.

Reporters accompanying McCain and Joe Wurzelbacher at a midday campaign rally in Indianapolis counted over 300 people in the audience with red and purple stains around their mouths. Similar reports came from an event in Jefferson City where Gov. Palin spoke.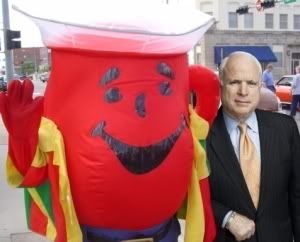 Plumber-Aid
McCain campaigns with Wurzelbacher in Indiana today

Permalink | Comment
---


Posted November 3, 2008
Cheney picks his candidate

McCain wins Imperial backing

John Sidney McCain III secured a final key endorsement yesterday, as Vice President Dick Cheney announced he is officially backing the McCain-Palin ticket.

"The Force is strong with McCain," declared Cheney, appearing at an Ohio rally with McCain via holographic communicator.

"Soon there will be a McCain victory, and the Bush-Cheney legacy will be complete. When the McCain administration becomes fully operational, my Padewan will be the ultimate power in the universe," Cheney said.

Cheney went on to say he is confident General Sarah Palin and her army of Joe clones will crush the upstart Obama alliance.

"I thank you, my Master, but you've done too much already," a respectful McCain told Cheney.

"Do not disappoint me again," Cheney warned.

Permalink | Comment
---


Posted November 3, 2008
Palin sees trouble if Obama wins

"Dark, black, really dark-black times" foreseen

Rallying supporters on the eve of the November 4 election, Governor Sarah Palin today reminded backers in Missouri that a Barack Obama presidency "would mean darkness for our country."

"Something black is on the horizon if John McCain and I don't win next Tuesday," Palin told a Jefferson City crowd numbering in excess of 1,500 people.

"It would mean dark, black, really dark-black times. Barack Obama will bring a dark period to the White House, with his policies, fancy law degree also, and complete sentences. I can't imagine an era blacker than that," she said.

John Sidney McCain III's running mate went on to echo her earlier statements about pro-America parts of America: "Pro-America Americans need to think hard also about what will happen if we let Barack Obama and his posse control federal government."

"It means say goodbye to your relationship with Joe The Health Insurance Broker. It means more regulations for Joe The Gun Dealer. It means your taxes are gonna be spread around to George The Soros. It means your new beautiful designer wardrobe will be redistributed to charity. It means revenuers snoopin' around lookin' fer yer still."

"John McCain and I stand for somethin' else. We're against dark and for light, like a spark burstin' into flame. You could say we're lightin' a torch for our future," Palin said.

"My fellow six-packers, light your torches for John McCain! Join us, as we march to save America from blackness!" she concluded, to wild cheering.

Permalink | Comment
---


Posted November 2, 2008
White House dog OK after health scare

Barney eats documents sought by court

Barney the White House dog is resting comfortably tonight, hours after being rushed to Washington's Veterinarians Affairs Medical Center with severe stomach pain.

VA Medical Center spokesman Irving Street said the First Canine was being treated for a severely distended stomach caused by consuming several sheaves of paper.
Barney
Close call
"Doctors successfully removed four pounds of pulpy mass. Another 3 pounds already digested shall, as they say, pass," Street said.
At the White House, President Bush said the incident solves the question of the disappearance of secret memos. The memos, sought by a federal judge, provide the legal basis for the Bush administration's post-Sept. 11 warrantless wiretapping program. U.S. District Judge Henry Kennedy Jr. ordered the Administration to hand over the documents in response to lawsuits by civil liberties groups
"I had gone to Dick's office and he gave me the memos out of his big safe," Bush told Ken L. Ration, National Affairs Correspondent for Animal Planet.
"Just then, Dick showed me a Rubik's Cube where he'd managed to get one side all blue. That distracted me for a few minutes. And then I noticed the memos were gone."
"Anyway, the court is welcome to examine what's left of the documents the docs got out of Barney. And the rest of it in about 12 hours," Bush said.
Bush also expressed relief his pet will recover, and gratitude to the VA. "It's a wonderful thing that my family's federal health plan paid for this unexpected medical need. Barney might have been wiped out if he had to pay for it out of his own pocket," the president said.

Permalink | Comment
---


Posted November 2, 2008 (Daylight Time ends - Seattle Night Time begins)
Obscure agency key to '08 vote

Bureau of Inertia urges Ohioans to sleep in, go fishin'

As Attorney General Michael Mukasey considers a Bush Administration request to force 200,000 Ohioans to conclusively prove their identities before they can be allowed to vote, a little known federal agency is doing its part to give those voters additional options in the 2008 presidential election.

Secretary McGinley
The U.S. Bureau of Inertia, a cabinet-level agency charged with sort of just lying there, is working hard on a a plan, according to Ted McGinley, the Permanent Acting Secretary of Inertia. "Our staff is working 9-to-5, with lunch from 11:45 to 1 pm and a 2:30-3pm birthday party, in order to be ready for election day," he said.
"Under authority issued to us directly by President Bush, we specialize in helping Americans fully exercise their rights under Newton's 1st Law of Motion. In other words, to get the most out of what they are doing -- or not doing -- at any particular moment," McGinley explained.
As an example, McGinley said if someone is serving in the Army in Iraq for three years, inertia requires that person to keep serving. "The stop loss policy? That was one of ours," McGinley said.
Other Campaign News
President Bush today asked the Justice Department to investigate the end of Daylight Savings Time. "The McCain-Palin campaign is concerned, as I do, that this unfairly gives Democrats an extra hour to vote," Bush said.
It was the Bureau that in 2004 directed state and county elections authorities to take steps to make voting queues longer. "We're building on that success this year. Making people already waiting in line to vote wait longer, that's a big win for inertia rights," he said.
But McGinley stressed that inertia offers choices. "In Ohio, sure, you could start the process to prove you have the right to vote. But what's the alternative?" He urges people to think inertially.
"What were you doing when you woke up on election day? Keep doing that, and sleep in," he suggested.
"Then, do something you would have done if you hadn't been planning to vote, or go to work. Fishing, for instance. I hear the fishing is great on Ohio's rivers and lakes," McGinley said.
And what is the fate of the Bureau's vital mission should Barack Obama be elected president? McGinley is not concerned.
"Obama promises change, but inertia is all about responding to change," he observed.
"We'll go in whatever direction a President Obama would send us, and keep going in that direction until something changes it," McGinley pledged.

Permalink | Comment
---


Posted November 1, 2008
First Brother hopeful backs I-985

Hello, this is Joe McCain urging you to support Washington's Initiative 985.

If there's a reason to go to the polls this year, it's to vote Yes on this common-sense measure. I-985 will eliminate lane markings on streets and highways -- immediately increasing capacity and reducing congestion.

Now you're probably asking yourself why the brother of the next President of the United States is so hot about a ballot measure clear on the other side of the country from communist northern Virginia.

My friends, it's simple. If Virginia had an I-985, I wouldn't have been stuck in traffic on the Woodrow Wilson Bridge on October 21. Traffic was flowing smoothly coming the other way, so if there had been no lane markings I could have just swung over into a gap in the oncoming traffic and been on my merry way.

Instead, I had to sit there in a traffic jam, my individual freedom taken away by white stripes. I was late for my regular colon flush appointment, and those guys make you pay for the sessions you miss.

Finally, I just want to say that you in the Evergreen State have a real American hero in that Tim Eyman. My brother has been closely following his career -- John calls him Tim The Maverick.

Yes, that boy has a big future in a McCain-Palin Administration. Ten words: Director of the Office of Management and Budget Tim Eyman.

I'm Joe McCain, the next Ambassador to Antarctica, reminding you to support Initiative 985.

Permalink | Comment
---