Posted December 31, 2008
Blago appoints Bob Hartley to Senate

Chicago therapist called "button-down choice"

Defiant in the face of the investigation of whether he attempted to sell his state's vacant Senate seat, Illinois governor Rod Blagojevich yesterday appointed Chicago icon Dr. Bob Hartley to fill the vacancy left by President-elect Barack Obama.

The appointment is being called an attempt to moot the corruption charges brought by prosecutor Patrick Fitzgerald. "Everyone loves Bob Hartley," Blagojevich declared at a press conference to introduce Hartley to the national media.

"Look at him. He's a modest man of unimpeachable character. Do ya hear me? Unimpeachable, he's the button-down choice for the job," Blagojevich said.

Hartley, a psychologist, is married to Emily Hartley, a public school teacher. The couple has resided in the Edgewater community for over 30 years. In remarks to reporters, Hartley's trademark understated humor was on display.

"When we first spoke on the phone about the possibility of my being appointed, the governor made that joke about, 'doctor it hurts when I do this.' And I said, 'unless your mother caused it, I can't help you'," said Hartley. When this elicited only mild chuckles from the journalists, Hartley said that a Mr. Carlin had assured him that the joke was "a laugh riot."

Hartley said that he would fill the two years remaining on the Senate term by putting Congress on the couch, talking through issues, and getting to the roots of its problems. "If someone says liberals are the problem, I'd tell them 'why don't you go with that'. But I'd help them examine that phobia, and overcome that irrational fear," Hartley said.

Today Fitzgerald's office released a transcript of a wiretap of the initial phone call with the governor mentioned by Hartley. However, only Hartley's side of the conversation was included.
Hartley: Hello? Yes, this is Dr. Hartley. Uh, yes, I'll hold for Gov. Bla-. [5 minutes later] Hello, governor. I- I'm doing fine, and yourself? Uh-huh. I hadn't heard that. No, actually I haven't been reading the papers. Or TV, no. Really. Really? I see. That certainly does sound like a difficult situation. They offered what? Well, appreciation can be nice. I wouldn't necessarily call it ungrateful. No, it's not the same as a few million. Or HHS Secretary.

So what happens now? Fitzgerald, uh-huh. Grand jury, uh-huh. Yes, that does sound serious. At least you have Patti to stand by you. Oh, her too? Well, at least it's bringing you closer together.

So how can I help you today? Uh huh. Uh huh. Uh huh. What? You want to appoint me? Beloved pop culture icon. Well, I do resemble that remark. Tell you what, uh, 'governor,' why don't I transfer you to my assistant Carol, and she can schedule you for a session- I mean conference. Say this Thursday afternoon? Fine. Fine. Hold on and I'll transfer you. What? Of course, totally confidential. Good- good bye, governor.
Fitzgerald also said that Hartley is not a focus of the overall investigation into Blagojevich.

Permalink | Comment
---


Posted December 22, 2008
Annual goodwill flight canceled

Santa "clinically depressed" by SeattlePI.com reader comments

Nicholas Hussein Claus, abu Santa, is less than his jolly old self today, checking into an Icelandic clinic for what his publicist calls "dehydration and overwork." However, well-placed sources tell Wiseline Institute NW that Claus is seeking treatment for clinical depression.

Angelina Claus -- Santa's wife of 370 years as well as CFO of Northex, the North Pole's Oslo-based holding company -- agreed to speak exclusively with Wiseline.

WINW: Thank you for speaking with us at this difficult time. Please tell our readers who ruined Christmas for everyone.

AC: Nick had been looking forward to his annual international mission, when he made the mistake of checking the Seattle Post-Intelligencer website for regional weather information. He then did what many P-I readers do: he started reading the comments that readers post in response to the news stories.

What he read appalled him, that's putting it mildly.

I could hear him at the Mac in his study, clicking the mouse and muttering to himself. 'Click - naughty. Click - naughty. Click - naughty.' All night long.

WINW: But hasn't Claus's centuries of experience inured him to liars, cheaters, politicians and other disreputable types?

AC: For the most part Nick's exposure to the goodness-challenged has been in the form of field action reports. Seeing it in their own words was overwhelming for him. The government haters, the racists, the sexists, the environmentalist-haters, the single-issue obsessives, the one-world conspiracy tin hatters, the concern trolls. The more he read, the more depressed he became.

I think the breaking point for him were all the anonymous paleoliths who delight in heaping abuse on whatever poor unfortunates happen to have been so unlucky as to be homeless, sick, or hit by a car.

The next morning he said he wasn't going into the factory, and stayed home and watched the Game Show Network all day.

The following day he leased the reindeer to Lufthansa and sent the elves home with pay, telling them to spend some quality time with their families. I called our doctor.

On word of Claus' medical status, Congress launched efforts today to save Christmas. The House Oversight of Holiday Observances Committee (HOHO Committee) met in emergency session, with members agreeing 7-6 to a proposal to include Northex in any auto industry assistance, since the North Pole produces Huffys, Big Wheels and Hot Wheels.

A complication are Republicans from southern states. Similar to their position regarding the auto industry, the bloc-- led by Rep. Spencer Bachus of Alabama -- are insisting that North Pole elves must agree to contract concessions to bring their pay in line with Chinese toy factory workers.

Permalink | Comment
---


Posted December 18, 2008
Bill Clinton discloses foreign girlfriends

Former President Bill Clinton released the names of his foreign girlfriends today, a move meant to preempt questions of possible conflicts of interest involving Clinton's probable nomination to head the Victoria's Secret Service, one of the United States' least known security agencies.

The disclosure is expected to reassure critics of Clinton's nomination, who have questioned whether he would be able to date women while directing intelligence and security work in their home countries.

The 2,922-page list of 200,000 foreign nationals includes models, actresses, attorneys, journalists, artists, activists, athletes and businesswomen from over 40 countries. They hail from Saudi Arabia, Australia, Dominican Republic, Norway, Brunei, Kuwait, Oman, Qatar, United Arab Emirates, Jamaica, Italy, Kazakhstan, Brazil, Britain, Chile, and France -- all are countries that could be the focus of future Victoria's Secret Service operations.

President-elect Obama is expected to formally nominate the 42nd president to the post in a matter of days.

The Victoria's Secret Service was founded in 1861 by first lady Mary Todd Lincoln. Paranoid and overprotective of President Lincoln, she was suspicious of the many members of Washington society who attended White House parties and dinners, whom she suspected of harboring Southern sympathies. She set up the Service with funds from her White House entertainment budget, and directed counterintelligence operations in many Civil War-era parlors and boudoirs.

The Service has always been notable for the fact that all its agents are women. This was unheard of in the 1860s, according to presidential historian Frederick O. Hollywood PhD. "Mrs. Lincoln, who went by the code name Victoria, recruited agents from America's most prestigious women's colleges and finishing schools."

Agents were assigned to investigate politicians, businessmen and soldiers, feeling them out regarding their political loyalties. If a subject was found to have Confederate connections, Mrs. Lincoln's agents were to pump them for information.

This breaking of the gender barrier stands in contrast to the better-known U.S. Secret Service founded by President Lincoln, which only employed male agents, Dr. Hollywood noted. He said investigations calling for women agents were traditionally performed by male agents in drag -- a tradition codified in the 1930s, in the form of J. Edgar Hoover's Shakespeare Policy.

The Victoria's Secret Service also broke ground in high technology. It had a research and development laboratory led by Jules Verne (code name Quoi), the French science fiction author. His designs for bulletproof corsets, bustier cameras, and telegraph units concealed in garter belts were ahead of their time.

Verne published his first novel, Five Weeks in a Balloon, in 1863 while working on C and D-sized observation balloons for the Service.

Alternate version

Permalink | Comment
---


Posted December 17, 2008
Notes from the transition

Diff'rent strokes on the economy

Part 3 in a series


The election of Barack Obama means change is coming. But what kind of change? In this series we check in with individuals and communities across America, and ask them: What has already changed since November 4? What changes are you still looking forward to, and how are you getting ready?

Coleman
Was first Cylon to gain U.S. citizenship
(Washington, DC) Laurie Coleman says she and her husband Norm feel very lucky despite the economic downturn. The couple didn't have anything invested in the stock market, she explains. Instead they rely on the goodwill of friends and friends of friends. "Checks just show up in the mailbox, we're ever so grateful," she said.
At the moment Coleman's attention is devoted to what she'll get her husband for Christmas. But it's a challenge -- "It's not like he really needs anything. He has people who give him suits, out of the blue."
One possibility is a Senate seat from Illinois, which she found out has just become available. "He already has one, but hey -- you never know."


(Los Angeles) Actor Gary Coleman, 39, says the inner creativity he feels is the greatest he has experienced since the release of his 1999 film, "Shafted."

Coleman as Obama
"Whatchou talkin' bout, John McCain?"


"I owe it all to the sense of possibilities, of hope that Barack Obama's election has imparted to the entire country," said Coleman.
"Starting the night of November 4, I began seeing hope on the faces of everyone I saw, of every race, creed, color, and representation. That hope, it was contagious," he said. Coleman is with TGMD.
Coleman is planning an audacious project that is a step up from his most recent work, a 2008 performance art piece called "Court Appearance in Payson, Utah."
"I'm writing a screenplay called "BHO44," it's going to be the first biopic about our new president," Coleman said.
"I, of course, will play the title role. It'll be a huge hit!" he said.



(Seattle) Otto "Clutch" Coleman is hoping the economy will rebound quickly under Barack Obama. Coleman, 72, is the oldest staff member of the Seattle Mariners baseball club, working as the transaction driver since the team's founding in 1977.
"When the team trades or releases a player, I'm the one who drives him to the nearest airport," he says, claiming to have logged more than 2,900,000 miles behind the wheel of the Mariners' 1976 Ford Econoline.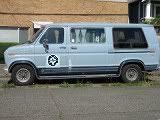 Mariners van
Team will never trade it, says Coleman


Coleman's proudest possessions are the autographs he gets from his major league passengers -- "Mark Langston, Randy Johnson, Dave Ortiz, Jason Varitek, Alex Rodriguez, both Griffeys, Omar Vizquel, Tino Martinez, Derek Lowe, Mike Cameron, Freddy Garcia, Jamie Moyer, Gil Meche, Adam Jones, J.J. Putz, Raul Ibanez -- if the Mariners got rid of them, I've got their signature."
He had been planning to retire after the 2009 season, but his 401k took a big hit in this year's Wall Street financial crisis. "Hopefully Obama can fix the mess Bush caused, because I'd hate to sell my autograph book," Coleman said.

Permalink | Comment
---


December 15, 2008
Bush to act on toxic pollution

Declares NBC's "Heroes" an EPA Superfund site

Even though the 110th Congress is drawing to a close, there is a late-year surge of activity on Capitol Hill that shows no sign of abating.

Congressional focus on bankruptcies continues to rise. Today in the House Financial Services Committee, members heard for a second time from Tim Kring, creator of NBC's "Heroes," who is still seeking government loans to avoid creative bankruptcy.

It was make or break testimony by Kring, who endeared himself to no one last week with his Hollywood-style arrival. Then, Kring had emerged from a limousine, stepping onto a paparrazi-thronged red carpet, arm in arm with Kim Kardashian and Tara Reid. The committee roundly criticized Kring for not connecting with the concerns of low-paid entertainment professionals working in off-Broadway, regional and community theater.

Today Kring arrived in Ed Begley Jr.'s electric pickup truck. He admitted to the committee that "Heroes" had made some mistakes -- introducing more plotlines than the market could bear, overleveraging the same dramatic devices, and bundling subprime character Tracy with fan favorite Niki/Jessica.

Kring assured members that if "Heroes" received funds from the Troubled Art Relief Program (TARP) he would introduce a number of innovations already found in imports, such as fiction-reality hybrids.

However, a majority of the committee members expressed skepticism. Typical was Rep. Spencer Bachus (R-Alabama), who told Kring point-blank: "I fail to see any value in the addition of Jay Leno to the cast, as a character who has the power to absorb other people's classic cars into his collection. It just seems like a poorly thought-out gimmick."

Bachus said he would not support a "Heroes" bailout until Screen Actors Guild members agreed to make their contract competitive with their Japanese counterparts.

Heroes and the environment
The "Heroes" legislative ripples extend beyond Congress. Reacting to growing public indifference, President Bush today ordered the Environmental Protection Agency to classify "Heroes" as a Superfund site. The Superfund program cleans up releases or threatened releases of hazardous substances that pose a danger to public health or the environment. There are currently 1,240 sites, including the Hudson River, Commencement Bay (Tacoma, WA), and "Eleventh Hour" on CBS.

"This saddens me," Bush told the Washington Times environment correspondent Seymour Greenwash. "Two years ago, like many of my fellow Americans, I planned my Monday nights around "Heroes," the president said.

"Can't tell you how many meetings on the economy I skipped so I wouldn't miss the adventures of Hiro, Claire, Peter, Nathan, Matt and Niki. Two years later, I'm sad to say I'm back to watching football instead of working on the economy," said Bush.

"I have seen the same noxious odors, toxic plots and corrosive writing coming from "Heroes" as have all prime time TV watchers. Niki is now Ice Woman Tracy? Why? How many times can a hero lose, regain and lose his powers? What about the Irish woman stuck in the future? For once we are going to act now, before "Heroes" irreparably pollutes everything it touches," he said.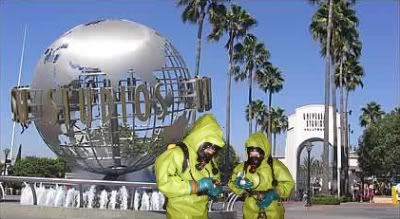 Superfund site
EPA workers in hazmat suits take samples at Universal Studios.
In other news, President Bush disappointed an Iraqi entrepreneur during an unannounced trip to Baghdad yesterday. The eager businessman, owner of the first Payless Shoe Source in Iraq, offered the president a sample pair of women's size 10 espadrilles. "I wanted to show the Great Satan how well American-style consumerism is spreading in Iraq," said the businessman, who declined to identify himself for respiratory reasons. Bush declined the gift, explaining that "Condi's the go-to person on footwear issues."

Permalink | Comment
---


December 10, 2008
Council puts streetcar expansion on Amazon.com Wish List

The Seattle City Council took a big step toward improving mass transit, voting 6-3 on Monday to support the idea of new streetcar lines in the city.

The vote was on a City report that envisions four more streetcar lines:
A Waterfront Line, serving the offices of developers Martin Selig and Lorig Associates
A First Hill-Capitol Hill line, linking the offices of Vulcan Ventures to Tango Restaurant
South Lake Union to Ballard, linking Archie McPhee to the Science Fiction Museum
A Middle Finger Line through Eastlake to the University District, to honor neighborhood activist Chris Leman.
"We're not concerned right now about where the money will come from," Council President Richard Conlin said of the estimated $685 million price tag.
"First things first. We need to have a visualization of a vision, and do all we can to validate that. By validating the vision to come out of this visualization, we'll be most of the way toward achieving our goals."
"The important thing right now is having a picture in our minds of where we would want to travel, what we would travel on, and then imagine ourselves traveling on it," agreed Councilman Tim Burgess. "At least I think that's what Tony Robbins said. Or maybe it was Rick Steves," he said.
Councilmember Sally Clark said she voted for the plan so the existing South Lake Union Trolley wouldn't be lonely. "Without more streetcar lines the SLUT will be an orphan. And we don't want orphans, not at this joyous time of year," Clark said.
Conlin said there was more to the vote than just moral support. "We've put the four new streetcar lines on the Council's Amazon.com Wish List," he explained.
"The idea is that all our friends like President-elect Barack Obama and senators Patty Murray and Maria Cantwell will visit our Wish List when they're shopping on Amazon.com, and buy us the streetcars instead of socks," Conlin said.
Amazon.com shares rose 5 points on the news, with analysts projecting streetcar sales could boost the online retailer's 2008 sales by 5%. The company had no comment, except to say the streetcars would not qualify for free shipping.

Permalink | Comment
---


December 9, 2008
Notes from the Transition

Minnesota town to hang 'em high

Part 2 in a series



The election of Barack Obama means change is coming. But what kind of change? In this series we check in with individuals and communities across America, and ask them: What has already changed since November 4? What changes are you still looking forward to, and how are you getting ready?
Bachmann
"Are your papers in order?"
(Stillwater, MN) The excitement in this town northwest of Minneapolis is palpable, with news media from the world over arriving to cover the loyalty hearings that get underway December 15. The hearings are being initiated by Congresswoman Michele Bachmann, who has become the Republican Party's leader on loyalty verification issues.
"Michele Bachmann said we need to expose who's pro-America and who's anti-America -- and now it's actually going to happen," said an excited Cameron Kirk Frandle, who describes himself as a professional Christian.
"It's a perfect blend of church, state and spectacle," Frandle said.
Stillwater residents say the publicity surrounding the Bachmann Hearings, and the out of town visitors it brings, are good for the local economy. Restaurants are doing a brisk trade, and many hotels have started taking reservations for fall of 2009, when Bachmann promises the first in a series of public hangings.
(Connecticut) Change for Senator Joseph I. Lieberman means settling into his new role as chairman of the Select Committee on Getting Harry Reid Coffee. Reports Lieberman: "There's not much to do, since Mormons don't drink coffee. As a result, I have plenty of time for things like adding to my Hummel collection and keeping up with The Young & Restless."
Zan-Tor
Floating on air.
(Algona, WA) Zan-Tor, a malevolent energy cloud-being, was a John McCain supporter. But these days he is describing himself as upbeat. "Amazing thing happen to Zan-Tor," said Zan-Tor.
"Zan-Tor feed on fear and hate. But there is less fear and hate since November The Four, so Zan-Tor has been on diet," he said.
"Zan-Tor has lost much weight, Zan-Tor feel like new malevolent energy cloud-being."
Zan-Tor went on to say that his self-esteem has improved greatly, giving him the confidence to seek a promotion at the Washington Department of Licensing office where he has worked for the last 3 million years, "or maybe it just seem that long to Zan-Tor."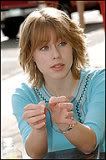 Burton
Showing how to put a teensy hole in a condom.
(Peyton, CO) Law student Kristi Burton, 21, authored an amendment to the Colorado state constitution that would have defined life as beginning at conception. On November 4 the proposal, Amendment 48, was rejected by 73% of voters.
Now Burton has a new cause: an amendment that would define life as beginning at 40.
"I saw what a great time Governor Palin had when she ran with John McCain also, and what a great contribution she made, even though she's so old," said Burton.
"I can only hope I too will have the youthful energy to run wild, have fun, and demolish the viability of the neoconservative movement when I am in my forties, if I am so blessed to reach such an advanced age."

Permalink | Comment
---


Posted December 5, 2008
Bush legacy caught in massage parlor sting

(Washington) President Bush's legacy suffered a setback last night, when undercover sheriff's deputies arrested it in a massage parlor sting in suburban Washington.

The Prince Georges County Sheriff's Office confirmed that the president's legacy was among those netted in a vice investigation at the Brit & Charlie's Spin Palace in Landover.

This morning the White House said the Bush legacy had only been looking for an innocent little massage. "Every president's legacy needs a little massaging by the end of his term in office, he's earned it," said press secretary Dana Perino.

However, the official arrest report indicates the president's legacy was expecting something more than a back adjustment. "Suspect tried to grope for excuses about pre-war intel, then asked the undercover officer to dress up lies in a fantasy roleplaying scenario," describes the report.

The arresting officer wrote that the Bush legacy then offered her $500 to screw the historical record, at which point she identified herself as a police officer.

The legacy was booked into the Prince Georges Department of Corrections on investigation of soliciting for a presidential library, and was released on its own recognizance.

Permalink | Comment
---


Posted December 2, 2008
Bush stresses education, communication

"In other words, being an interlectural"

President Bush said last night that what he'll miss most about being in the White House is the continual mental stimulation.

In an exclusive farewell interview on Fox News Channel's "Craven Journalism," Bush told interviewer Fawn Craven that the job of president brings daily opportunities to learn. "It's the best job in the world for a C student," said Bush.

"Being president is like an ejacation. It's marvelous, every day I get to marvel at stuff I dinnint know the day before. In other words, ejacation. It's impordant, because what a waste it is to lose one's mind."

Asked by Craven what stands out the most out of everything he has learned while in office, Bush replied that his favorite activity was his daily geography briefing. "Finding out about all the different countries and peoples of the world, that was very exciting to me. In other words, I found it being a good interlectural activity," he said.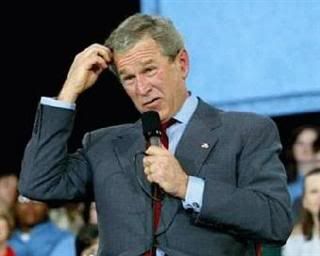 Bush
"I forget a lot."
He said some of the geography information he remembers most includes facts, such as the United States is the largest country in the world, while the smallest is the Vatican, "which is only the size of a town, and is inside the capital of Italy. In other words, Romania," Bush said.
Bush went on to say that he didn't only become president to learn stuff, "a big part of the job is communicating what I learn to the American people. In other words, communication."
Communication is the biggest part of leadership, "because if you don't tell people things, they don't know them," he said.
"For instance, at Area 51 we have extra-terrestrial equipment that would let us make endless supplies of food, and run automobiles on the farts. The American people don't know this, because I forgot to tell them. In other words, there's a lot of things for me to remember," Bush said.
Craven observed Bush ended up remembering more than he forgot. How did he get that information out to the people? "I suppose the most effective tool for communicating with the people is words," he replied.
"What I found works best is to explain things to people with a group of words, and then re-explain it a second time, using different words that mean the same thing," the president said.
"In other words, cinnamons."

Permalink | Comment
---


Posted December 1, 2008
Bush delays retirement

Obama nominates 43 to be Object Lesson

Anyone worried about what outgoing President George W. Bush will do after leaving office can relax today, with the announcement that President-elect Barack Obama has nominated Bush to the position of Object Lesson in the Obama Administration.

A new Cabinet-level position, Bush's primary role as Object Lesson is to be on hand to serve as a reminder to members of the new administration of what not to do.

The job is ideally suited to Bush, said outgoing press secretary Dana Perino. She has been tabbed to be Object Lesson Chief of Staff.

"As Object Lesson, President Bush will hang around the White House. When it comes to Cabinet meetings, he'll sit quietly to one side and listen, which is what he does now," Perino explained.

"But when a decisionmaking situation arises, President Obama will turn to President Bush for advice, and do the opposite of that advice. It's a necessary governing function," Perino said.

"President Bush was the only person we considered for this job," President-elect Obama said today.

"As far as anti-barometers go, his record is unerring as far as doing the opposite of the right thing, whether the issue is national security, disaster relief, or the economy. It's almost scary," Obama said.

Bush told reporters that he is eager to start his new position. "I'm really lookin' forward to continuin' to be of service to the country," said Bush.

"Besides, my 401k took it in the shorts this year and I can't really afford to retire."

Permalink | Comment
---