Posted June 29, 2007
Let the eagle soar

Big bird taken off Endangered list

The Bush Administration has chalked up another environmental success, taking America's national bird off the endangered and threatened species list.

"I am proud to announce: the eagle has returned due to toupees and intensive treatments with Propecia," Interior Secretary Dick Kempthorne said Thursday. The status change was accompanied by a set of new protective regulations (see In Focus).

The formerly bald eagle has staged an amazing comeback. Numbering just 417 pairs in 1963 and hovering on the brink of extinction, the species was officially given endangered status in 1967. Today, the Bush Administration counts their number in the United States at nearly 10,000, not counting the Alaska Oil Territory and Hawaii, where the punch comes from.

Key to the recovery has been President Bush's two-pronged strategy of science-based policies and direct intervention in the wild.

Also a client
The turnaround began in 2001 with toupees for bald eagles.
In 2001, Bush ordered an interim "image therapy" conservation project, awarding a $52 million contract to the Hair Club for Men to develop bald eagle hairpieces. The program gave eagles additional self-confidence in the short-term, which the Department of Homeland Security credited with helping the entire nation through the dark times following the attacks of September 11, 2001. "A bald national symbol just doesn't inspire," Bush said at the time.
After image therapy came an aggressive drug treatment program, based on a Presidential advisory committee report proposing that reduced baldness would make male eagles more attractive, thereby increasing their reproductive success. Biologists from the U.S. Fish and Wildlife Service embarked on a crash program to give bald eagles injections of an avian version of Propecia, the hair-growth drug.
Noise pollution
Former Attorney General's song caused thin eagle eggshells
No sooner had Propecia started to show results, when a new threat emerged in 2002: then-Attorney General John Ashcroft debuted his new patriotic song, "Let The Eagle Soar." Within weeks, USFWS raptor experts began noticing alarming effects on eagles.
"We started seeing nest after nest full of broken eggs," said Dr. Denise Morgan, a federal avian researcher. "The eggshells had become thin and fragile, similar to the effects of DDT, which was banned in the 1970s," recalled Morgan.


"We were able to trace the problem back to Ashcroft's song, something to do with the high end of his vocal range," Morgan said. As a result, late in 2002 the Federal Communications Commission, at the behest of Interior, issued its first and only wildlife protection ruling: a total ban on over the air transmission of "Let The Eagle Soar."
In Focus: New Eagle Protection Rules
Eagles' status change does not affect rock group The Eagles, still listed as "Endangered."
Dick Cheney hunting parties must stay 500 yards away from eagle nests.
Congress prohibited from investigating warrantless wiretapping program.
iNews Friday
From the iNews 9000 Turbo Wi-Fi Headline Translator —
Headline: Cheney says he's in the Legislative branch
Translation: If you disagree he'll hit you with his Senate gavel

Headline: Lugar, Voinovich call for gradual disengagement on Iraq
Translation: Bush says "I've been disengaged on Iraq since 2003"

Headline: Chief Kerlikowske exonerated officers in probe
Translation: "Do you know why I pulled over your investigation?"

Headline: Tony Blair is new Mid East peacemaker
Translation: Will tour region sealed inside air conditioned steel shipping container

Headline: iPhone Do's and Don'ts
Translation: Don't fall for the Eye Phone scam

Headline: House will investigate Cheney's role in salmon die-off
Translation: "I was aiming at quail and the salmon got in the way," Cheney claims

Headline: Supreme Court rules race cannot determine school choice
Translation: GOP proposes entire cities, states be declared "schools"

Headline: White House refuses subpoenas, cites executive privilege
Translation: Cheney loads up U-Haul, moves back to Executive branch



Permalink | Comment
---


Posted June 27, 2007
Another species added to endangered list

Pro-War Republicans vanishing from wild

President Bush today announced the emergency addition of the Pro-War Republican (Buteo phonycus) to the federal list of endangered species. The endangered status makes millions of dollars available for Pro-War Republican conservation. It is the latest in an increasing number of environmentally-conscious decisions by the administration.

The president's order was precipitated by a report by science advisor Karl Rove detailing the sudden loss of the Richard "Dick" Lugar, also called the white-headed Lugar.

The situation is alarming to political conservationists because the dwindling of the Pro-War Republican population is a recent occurence.

According to Dr. Eric Borer, a research biologist with the U.S. Fish & Wildmon Service, Pro-War Republicans in the wild were plentiful as recently as late October and early November of 2006.

"Something happened around that time that caused the Pro-War Republican to begin to disappear, traces are becoming rare" said Borer. "Normally we'd be finding a lot of their scat near country clubs, NASCAR tracks and the Senate Minority Caucus. But lately there's not been a lot," Borer said.

Now that Pro-War Republicans have been determined to be endangered, it sets in motion a series of conservation actions under the Endangered Species Act. First, extensive research will be conducted into their feeding, migratory and mating behaviors. "Unsuccessful mating is pretty common for the species, and we need to find the cause of that," says Borer.

The second phase will be the creation of a recovery plan by November 2008, something that will require extensive, invasive anatomical research. Marching orders from the White House: do "whatever it takes" to ensure the recovery of the Pro-War Republican. In Indiana, where the Lugar is considered an indicator subspecies, this could mean millions of dollars for creating new Pro-War Republican habitat, such as $10,000 a plate fundraising dinners, megachurches, and conservative talk radio stations.

Should the recovery plan fail, the last resort would be a captive breeding program.

Permalink | Comment
---


Posted June 25, 2007
Cheney saving you money

Moves out of Government Branches, into studio apartment

Americans have been faced by the overheated housing market for some time. Whether prospective buyers or renters, increased sale prices, rents and condo conversions have put the squeeze on those struggling to make ends meet. Now these problems have reached to the very top of the federal government.

Beset by Washington D.C.'s high rents, the Bush administration has had to find less expensive offices for Vice President Dick Cheney. Cheney has moved his offices out of the White House, Executive Office Building and the Capitol, and relocated to a 650 square foot studio apartment over a garage in Landover, MD.

The landlady, Martha C. Frandle, who lives in the attached 3 bedroom colonial home, is only charging the government $850 per month.

But while the rent is low, the apartment's size means Cheney does not have the space to keep all the documents his office is required to retain under the Presidential Records Act, says White House spokesperson Dana Perino.

"Because the Vice President has moved out of his offices at the White House and Capitol, he is in neither the Executive Branch or Legislative Branch, so the Presidential Records Act does not apply to him," said Perino.

"Otherwise, we would have to spend $120 a month for a unit down at the Public Storage. I don't think that expense can be justified to the taxpayers," Perino said.

So far Frandle, Cheney's new landlady, is happy with her new renter.

"I have to remind him to keep the sound of all those paper shredders down after 10 pm, but other than that he's a good tenant," she said. "He's working to keep me safe. Anyone crazy enough to break into a house where Dick Cheney is living would get a free trip to Gitmo."

Permalink | Comment
---


Posted June 22, 2007
Special DNS Transition Week Edition

In Focus:
Stem cell veto puts new domestic strategy in spotlight

The third veto of President Bush's administration is the first chance for Beltway insiders to get a look at the new White House strategy for reaching the president's political base.

The new domestic strategy, formulated during Mr. Bush's recent trip to the G-8 meeting in Europe, makes a concerted effort to reach out to Albanians and Albanian Americans. The president's job approval rating currently stands at 42%, if Albanians are included.

Wednesday's official statement accompanying the veto of stem cell legislation was built around an innovative media plan, a message specially recorded for national radio.

In his message broadcast on FM101.5 Albania's Best Rock, a 5,000 watt station in Tirana, Bush said, "I believe this possible use of embryos of Albanian descent is murder."

"Albanian-American tax dollars should not be used for such a purpose," said Bush. "I cannot countenance the harm this bill would do to millions of unborn Albanians and Albanian-Americans."

"There is nothing in the legislation that would allow Albanians in Albania to get in on the biomedical investment," the president added. "This inequality is another thing I cannot support."

Bush concluded by saying he hopes Albanians understand and accept the reason for the veto. "I will continue to safeguard the interests of Albanians. I pledge this to you, people of Tirana," said Bush.

Finally, in words evoking John F. Kennedy, Bush told his audience, "in a way, I feel like I am from Tirana, a Tiranamisian. Ich bin ein Tiramisu," Bush said.

iNews Friday

From the iNews 9000 Turbo Wi-Fi Headline Translator —
Headline: Bush budget director resigning
Translation: "The line item for Near Beer has exploded"

Headline: RNC deletes 140,216 Rove emails
Translation: "He gets a lot of spam," says RNC's IT guy

Headline: Police furor: Nickels orders probe of a probe
Translation: Nickels will order as many layers of review as it takes to avoid making a decision

Headline: Griffey returns to Seattle with Reds
Translation: Griffey not old and washed-up, Mariners not interested in reacquiring slugger

Headline: Gay Pride events this weekend
Translation: Aren't ALL chaps, by definition, "assless"?

Headline: Seattle will have two Gay Pride parades
Translation: Parade organizers now have two chances to go broke



Permalink | Comment
---


Posted June 15, 2007
Bush still favors serge

No alterations in policy

President Bush is choosing to focus on the positives in a new Pentagon report on the Iraq war.

Released Wednesday, the document reports the escalation of U.S. troop levels has had mixed results. Attacks have shifted away from Baghdad and Anbar, where American forces are concentrated, only to be balanced by a rise in violence in most other provinces. Bush, however, is sticking with his policy.

"Of course the serge is working," Bush told reporters this morning. "Just look at this suit," he said, running his hands down the front of his lapels.

"Feel it," the president instructed, offering his sleeve to NBC's David Gregory. "Most people don't think twice about this two-up, two-down weave, because it's been around so long," he said.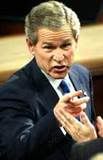 "I'm the tailor"
Angry Bush is sticking with serge


"But you gotta remember that serge is versatile. You got your worsted, you got your silk serge for linings and such. And then there's woven woolens."
The president unbuttoned his suit jacket. "Check out this lining," he said. "Fabulous. It doesn't get much better than that."
Asked point-blank by Gregory whether the troop surge would be reëvaluated, Bush dismissed any change in plan. "The idea about evaluating serge, this is exactly what I'm talking about," Bush said, clearly angered. "Serge is used to make military uniforms. It's been working, it's still working. This negativity about serge — I don't want to hear it anymore."
"So get this straight — we're gonna be sticking with serge for the troops," the president said, adding, "I'm the tailor."
iNews Friday
From the iNews 9000 Turbo Wi-Fi Headline Translator —
Headline: "The Sopranos" ends 7 season run
Translation: Paulie Walnuts' hair lowered to half staff

Headline: E-mail "spam king" arrested
Translation: Spam king canned

Headline: No bail for spam king
Translation: Can stays closed for spam king

Headline: Stemming the tide of spam
Translation: Hormel marketing division, sobbing, pleads "Stop, pleeease stop, god let it stop"

Headline: No confidence vote on Gonzales blocked in Senate
Translation: Mitch McConnell says lack of confidence bad for Gonzales' self-esteem

Headline: Don Herbert, "Mr. Wizard," dies at 89
Translation: Herbert funeral will utilize common household items

Headline: Controversial former UN leader Waldheim dies
Translation: Inspiration to revisionist weasels everywhere dead at 88

Headline: Mayor Nickel's son pleads not guilty in casino case
Translation: Mayor proposes putting trial out of sight in "world class" tunnel



Permalink | Comment
---


Posted June 12, 2007
Bush proposes statehood for Albania

"America's Hawaii to the east"

Buoyed by the greeting given him by adoring throngs in Albania, President Bush yesterday concluded his visit to this former Communist country by promising he would sponsor it for a bid for U.S. statehood.

The purpose of the visit, the first by U.S. president, was to offer official support for Albania's candidacy to join NATO, but Mr. Bush, dogged by the lowest approval ratings of his administration, moved quickly to embrace the outpouring of affection and strengthen Albanian support for the U.S.

"Like Iraq, Albania would do well to look to America as an example of the benefits of democracy," the president said, addressing a boisterous crowd in the town of Fushe Kruje. "America is a place where every citizen has the right to original, extra crispy or barbecue with a choice of two sides."

"It is a place where pixies come in the middle of the night and perform all your household repairs. America is a land where anyone can be a Hollywood star, where any mechanic can cause a panic with just a good-looking tan," he said.

The president also pointed out the many ways the U.S. has benefited from Albanian influences. "Albanian-Americans have made their mark on the U.S., such as the founding of Albany, New York in 1686, and St. Albans School in Washington D.C. And let's not forget actress Jessica Alba," Bush said.

White House officials immediately saw an opportunity for domestic political benefit, and drafted a proposal to have pro-American Albania admitted to the union as the fifty-first state.

"I hope that by November of 2008, we'll be welcoming far-off Albania as our newest state, America's Hawaii to-the-east -- or further-west, if you go to Hawaii first and then just keep going," Bush said, to thunderous applause and screams of "Bushie, Bushie."

"This would be even better than Mississippi," said a senior administration official. "Albania has all the right conditions for being molded into a state firmly in the GOP column." An all-Republican congressional delegation from Albania would hand control of the Senate to the GOP, and swing 4-6 House seats from the Democrats.

"It is still an emerging democracy, and has only one radio station, four TV channels, and four newspapers," observed the official. "Roger Ailes can take control of that during his August vacation."

A number of former Republican officeholders are already househunting in the capital city of Tirana, in anticipation of the first U.S. federal elections in a new State of Albania. The hopefuls include Dino Rossi of Washington state, former Sen. George Allen of Virginia, and former Rep. Richard Pombo of California.

In related news, Washington D.C. Mayor Adrian M. Fenty traveled to Brussels today. Unable to win Republican support for full voting representation for the District in Congress, Fenty will file papers seeking Washington D.C. membership in the European Union.

Permalink | Comment
---

Posted June 11, 2007
Dear Leader
by Kim Jong Il



Dear Leader,

I am part of a single-issue pressure group, and I have an etiquette question. What is a proper interval to wait before exploiting the death of a baby elephant for my group's political purposes? Last Friday morning I waited about a nanosecond before talking to the AP. Now I'm concerned it would have been more respectful if I had waited at least until the deadlines for the afternoon TV newscasts. Signed, Mark French.

Dear Mr. French:
How are Buffy, Jody and Uncle Bill? Ha! You must get that all the time. But seriously, where the threat to elephant welfare is concerned it is never too early to speak out. I say this not as the Dear Leader, but in my capacity as Chairman of the Democratic People's Republic of North Korea chapter of the Fund For Wildlife Exploitation. Some say we should change the name to the Fund Against Wildlife Exploitation, but that would mean having to reprint a lot of letterhead.
A while back I had a project in development at Paramount for a Hannibal biopic. The Carthaginian general, not the cannibal. It was great; Stephen Baldwin was attached to the project. In order to shoot some test footage I went on location with a real elephant I confiscated from a visiting American circus that violated the elephant subsection of the Pyongyang scoop ordinance.
We had been filming in the mountains outside Najin for about a week, when we somehow strayed across the border into Russia, where we came under the jurisdiction of the Screen Actors Guild Local 1017 in Vladivostok and, by local ordinance, the SPCA.
Holy crap, you wouldn't believe the regulations! Not only did SAG make me pay the elephant more than just peanuts, the SPCA requires elephants get a hay break every two hours, as well as an on-set tutor. And did you know if you use an elephant in a battle scene you are required to have a stunt-elephant?
In the end, it was impossible for us to adhere to the regulations and stay within budget, so I cancelled the project and set the elephant free to return to the wild. As I watched that magnificent creature amble west along the Trans-Siberian Railway, back toward its native Africa, I had an epiphany. I pledged myself to work to free all animals being exploited by the decadent Western motion picture industry and SAG. Especially Kermit the Frog and Benji.
Won't you join me in taking that pledge?

Permalink | Comment
---


Posted June 8, 2007
Bush a hit at G8

Junior Meteorologist Kit impresses leaders

A presentation on global warming to the G8 summit by President Bush is being hailed as the key to agreement on the framework for reducing greenhouse gas emissions, announced Thursday.

A number of leaders came away from Bush's breakout session buzzing about the persuasive, content rich and high tech presentation. "I think President Bush will pretty much make people forget about Al Gore and 'An Inconvenient Truth,' said outgoing British Prime Minister Tony Blair.

German Chancellor Angela Merkel, the summit host, said that Bush made use of a Fisher-Price Junior Meteorologist Weather Station in his talk, and that it was "spellbinding."

"Using the thermometer to take measurements at various times during the presentation was convincing," said Russian President Vladimir Putin. "He proved that you can't accurately predict temperature, so how can you predict future warming? As a result we decided to drop the idea of benchmarks," Putin said.

Bush's presentation included an appearance on videophone by NASA director Michael Griffin, who performed the calculations to convert fahrenheit to celsius.

Bush also unveiled a new report by scientists at Liberty University in Virginia, theorizing that atmospheric greenhouse gases have been at current levels throughout Earth's 6,000 year history. The report concludes that God put the gases in the atmosphere when the Earth was created.

"People call Mr. Bush simplistic, but he masterfully pointed out that something called 'Norelco's Razor' says that when presented with two explanations, the simpler one is correct," said Blair. "You can't get much simpler than 'God did it'."

iNews Friday

From the iNews 9000 Turbo Wi-Fi Headline Translator —
Headline: Libby gets 2 1/2 years in leak case
Translation: Judith Miller asks judge for conjugal visitation

Headline: The Police come to Seattle
Translation: Sting seen hassling transients in Occidental Park, Copeland writes jaywalking tickets on 3rd Ave

Headline: Paris Hilton out of jail after 3 days
Translation: Supreme Court rules ill-fitting jail coveralls cruel, unusual

Headline: Judge sends Hilton back to jail
Translation: Judge finally listened to Paris Hilton's CD

Headline: Bill Gates gets honorary law degree from Harvard
Translation: Bush nominates Bill Gates to fill W. Washington U.S. Attorney post



Permalink | Comment
---


Posted June 5, 2007
Homeland Security Makes Grants to Police

Sting and Trudie Styler decry waste of funds

The U.S. Department of Homeland Security today announced a new round of assistance grants to police, including $24 million in funding to The Police. The influential Eighties supergroup, known for its fusion of rock and reggae, broke up more than 20 years ago but has reformed for a world concert tour.

The Police expressed dismay at receiving federal support. Front man Sting and wife Trudie Styler called the grant "horrific waste," and questioned whether the group's fans — mostly middle-aged and financially well-off nostalgics — are really the types who warrant stepped-up law enforcement. "I expect they'll be too stoned to cause much trouble," Sting said.

"One thing's for sure — we're not making our audiences take off their shoes for security screening," said Ms. Styler.

Guitarist Andy Summers said he thought running background checks on everyone attending the U.S. leg of their reunion tour, which begins June 6 and 7 at Seattle's Key Arena, would be too labor intensive. "But SWAT uniforms would make cool stage costumes," he said.

Administration critics noted that drummer Stewart Copeland's father was a veteran of the CIA. "This is probably another case of Bush cronyism," said a senior Senate Democratic Caucus staffer. "We'll be conducting hearings into this matter, likely in Dolby."

In related news, the National Reconnaissance Office has awarded a $75 million contract to U2. Under the terms of the contract, the high-flying Irish rock group will provide classified aerial photography services to U.S. intelligence agencies over a four year period beginning fiscal year 2008.

Permalink | Comment
---


Posted June 2, 2007
Ahmadinejad nearly chokes to death

Told Bush condemns Iran's detention of Americans

Iranian President Mahmoud Ahmadinejad was rushed to Do No Harm Even to Infidels Memorial Hospital in Tehran on Friday, shortly after learning of statements by President Bush that criticize Iran's detention of four American citizens. Doctors reported Ahmadinejad had accidentally choked while laughing upon reading the official communique, and also hyperventilated. He was held overnight for observation.

President Bush had lashed out at Iran, calling upon it to set the Americans free "immediately and unconditionally." Aides to the president said he broke his silence because of Tehran's decision to charge three of the Americans with espionage.

"Iran is the laughing stock of nations tonight," Bush told reporters. "Don't they know that a real oppressive regime doesn't bother with formal charges?"

"We've got guys who taught SAVAK how to make people disappear," said Bush. "Heck, we have the guys who actually ran SAVAK," Bush said, referring to the notorious state security agency of the Shah, the U.S.-backed Iranian monarch deposed in 1979.

Bush said he has offered to send Vice President Cheney and Attorney General Alberto Gonzales to Tehran on an official exchange, "in order to show them how it's done." Gonzales has prepared a paper about extraordinary rendition, and a Powerpoint presentation about the U.S. detention facility at Guantanamo.

Castro almost fully recovered - Dan Bartlett wins White House death pool

Presidential adviser Dan Bartlett is a rich man today, following yesterday's announcement that Cuban president Fidel Castro has "almost fully recovered" from 2006 stomach surgery. Bartlett hit the jackpot by selecting "Gets Better" in the Castro death pool organized by President Bush's chief of staff Joshua Bolten. An estimated $725,000 was at stake.

"That square was included as a joke, no one was actually supposed to choose it," said Bolten. "I still can't believe Dan doesn't fully share the Administration's wish for Castro's long overdue demise."

According to White House staff members present at the drawing, Bartlett yelled "I'm goin' to freakin' Disneyland!" when the results were announced. He announced his resignation a short time later.

Permalink | Comment
---


Posted June 1, 2007
White House signals recognition for some gay couples

Encourages idea of two women together

In a surprising move, the Bush Administration has moved to give limited recognition to homosexual couples.

The policy shift came as Vice President Dick Cheney and wife Lynne Cheney celebrated the arrival of a new grandchild. Daughter Mary Cheney, 38, gave birth to Samuel David Cheney, 8 lbs. 6 oz., on May 23. Later that day, an official message was posted on the White House web site, congratulating the "parents... the Cheneys' daughter Mary, and her partner, Heather Poe."

Presidential press secretary Tony Slow said the official recognition signaled President Bush's intention to liberalize his Administration's stance on domestic partnerships.

"The fact is, the president has been interested in lesbians since his college days, and encourages the idea of two women together," said Slow. "He really wants to see women together, and — I'm quoting him here — anything that makes that happen is fine by him," Slow said.

However, Slow said the president will not be extending similar recognition to gay men any time soon. "The president just can't picture that right now," Slow said.

iNews Friday

From the iNews 9000 Turbo Wi-Fi Headline Translator —
Headline: Bear seen swimming from Vashon Island to mainland
Translation: Bear moves to Auburn condo - "Yuppies have made Vashon unaffordable"

Headline: Heroic Veep saves the day on thrilling "24" finale
Translation: Joel Surnow pursuing Medal of Freedom with the relentless tenacity of a bid for an Emmy nomination

Headline: White House envisions "Korean model" in Iraq
Translation: Unitary executive seeks same to establish xenophobic dynasty in N. Iraq - Let's make a cold war together!

Headline: Law & Order actor forms presidential exploratory committee
Translation: Thompson mulls biggest acting role yet - Dick Wolf will produce "West Wing" spinoff as 2008-09 midseason replacement

Headline: Bush Calls for Global Emissions Goals
Translation: Bush Privatizes Oxygen

Headline: NASA Chief not sure global warming is a problem
Translation: Michael Griffin calls George W. Bush 'wacko loon environmentalist'



Permalink | Comment
---