Posted April 27, 2007
Bush lauds TV-Turnoff Week

"America should pay no attention to media more often"

TV-Turnoff Week, the effort to get people to spend a week without watching television and other electronic media, was lauded by President Bush today.

In an executive proclamation issued Friday morning, the president praised Americans for "turning off the media, especially the news, which is causing citizens to lose faith in this administration and the War on Terror by questioning every little thing we do. In other words, too many questions."

"America should pay no attention to media more often," Mr. Bush said.

Mr. Bush singled out the Center for Screen-Time Awareness, the group organizing TV-Turnoff Week, for special congratulations. "I laud them," the president said. "They should be self-lauding, because the good they are doing for America is laudful."

Presidential spokesperson Dana Perino briefed journalists on a plan by First Lady Laura Bush to carry on the work of TV-Turnoff Week by redoubling her efforts in the area of literacy. She will start a White House Book Club to encourage Americans to read bestselling authors such as Ann Coulter, Michael Medved and Sean Hannity.

Dana Perino
"I blow my nose in your general direction."




Perino told reporters she personally had a tough time adjusting to a week without TV. "I love my Monty Python DVDs, so I went through some withdrawal on Monday," said Perino. "Fortunately, I can recite all the sketches from memory," she said. Perino then concluded the briefing, and walked out of the press room in a silly manner.



iNews Friday
From the iNews 9000 Turbo Wi-Fi Headline Translator —
Headline: Karl Rove tells Sheryl Crow: 'Don't touch me'
Translation: Rove yells "Eww! Girl germs," runs screaming from room

Headline: Julian Lennon gets millions for stake in Beatles songs
Translation: Rights to Wings music brings McCartney $1500

Headline: Port Commissioner Davis denies acting alone in approving Dinsmore severance pay
Translation: Davis — "Can we talk about the time I landed the WTO ministerial for Seattle?"

Retranslation in Turbo Mode!
Headline: Port Commissioner Davis denies acting alone in approving Dinsmore severance pay
Translation: Davis offers Dinsmore's pay to Wolfowitz's companion

And our final headlines:
Headline: Cheney heads to hospital, OK after checkup
Translation: Police have no clues in rash of burglaries at pineal gland research labs

Headline: Bush wants Congress to send another war funding bill he can sign
Translation: Bush still practicing his cursives

Permalink | Comment
---


Posted April 25, 2007
McCain officially enters race

Targets voters who remember Reagan

Sen. John McCain, the man who would be the United States' oldest president, this morning threw his hat into the race for the 2008 Republican Party nomination. If elected, Arizona's senior senator would be 72 when he takes the oath of office.

"I'm in this to win," McCain told an overflow sedentary audience at his kickoff rally, held at the Golden Shoals Senior Care Megaplex in Portsmouth, New Hampshire.

"Did you vote for Ronald Reagan? Can you remember Ronald Reagan? Well I'm here to say — I'm one of you," said McCain.

"I'm proud to put on the Gipper's Teflon mantle. We will ride to victory on a wave of inaccurate but charming anecdotes, simple answers to complex problems, jokes about bombing sovereign nations, early-stage Alzheimer's, and, of course, astrology," McCain said.

McCain is basing his campaign on issues that directly affect the nation's senior citizens. This is a strategy fraught with risk, said Alex Gariepy, a researcher at the William H. Gates Sr. Senior Policy Network.

"On the one hand, McCain's main demographic will keep forgetting he's running, so he will be able to hold kickoff rallies well into the spring of 2008," said Gariepy. "This will help maintain momentum in places like Florida, home to many retirees. Of course, the risk is that the number of retired ex-New Yorkers will swing Florida to [former New York City Mayor Rudy] Giuliani," Gariepy said.

McCain's military service, which includes over five years as a POW, was attractive to many in the Golden Shoals audience. Although one, military veteran Mike Lansley, said he had been a prisoner in several stalags and didn't recall McCain at all.

After the kickoff rally, McCain toured the Golden Shoals campus in a motorcade of Rascal mobility scooters, drawing a crowd of over 5,000 along the route. He was accompanied by "Diagnosis Murder" star Dick Van Dyke and "Lawrence Welk Show" favorite Ralna English.

Permalink | Comment
---


Posted April 22, 2007
On Earth Day, Bush calls global warming a national security issue

"Higher oceans better able to protect us"

President Bush chose Earth Day to announce a new direction for his administration's environmental legacy, today telling a national TV audience that "global warming is a national security issue, and America's future depends on carbon dioxide emissions." The new policy direction has Mr. Bush connecting the environment to the proven strength of his presidency — defending the United States in the War on Terror.

In a frank and personal interview on Fox's "Fox News Live Weekend," the President told host Uma Pemmaraju that America's national security depends on increasing CO2 in Earth's atmosphere — accelerating global warming and the melting of the polar ice caps.
About THIS deep
Bush concerned about ocean levels
"I've said many times in the past, and I'll say it again: oceans no longer protect us," Bush told Pemmaraju and the national TV audience. "Logically, for the oceans to once again protect us the water level needs to be higher — in other words, Ms. Permaragu, higher oceans are better able to protect us."
"The best way to do this is to keep on heating the Earth to make the ice caps melt. In other words, make the world hotterer."
Bush said his plan offers the fastest and easiest route to better homeland security. "The American people have already sacrificed a great deal, I know that. Paying over $3 a gallon for gas, airport screenings, the constant fear of fighting the terrorists over here. I hate to see Americans sufferate in these ways."
"Irma, the convenient truth is Americans can help without changing their lifestyles at all. Your taxes won't be wasted on research and development of zero-emission and energy-saving technologies. Just keep on shopping and driving your cars."
For citizens who want to do more, Bush said he is directing the Department of Homeland Security and Environmental Protection Agency to jointly develop a national campaign to raise awareness and carbon emissions.

Turning

to camera to directly address the the nation, Bush grew serious. "We can make the oceans rise even faster," he said. "Americans can help by doing even more of the same things they do already. In other words, do more of the same."
"Get stuck in longer traffic jams; leave all the lights on in your house; don't replace old appliances. Buy more plastics. Exhale more CO2."
"Before long, we'll have more ocean than our children and our children's children will know what to do with. We'll be up to our necks in ocean, and America will be safe once again," Mr. Bush said.
State Democrats do their part
Also on Earth Day, leaders in the state of Washington did their part for the environment as well. Gov. Chris Gregoire reaffirmed her decision not to provide year-round funding for a Puget Sound oil tanker rescue tug, and the Legislature killed an attempt to prevent a gravel loading operation to expand next to a marine reserve. Both sides managed to come together and agree on a $7.5 billion transportation budget that includes funding for dozens of highway projects.

Permalink | Comment
---


Posted April 20, 2007
Hold it, Seattle!

Constipation will enable more urban density

Everyone wants greater density within Seattle to prevent suburban sprawl. But how will the city accommodate the additional 350,000 people projected to arrive by 2040 without overloading the public utilities infrastructure? So far no one has come up with a viable strategy, necessary in order to reduce wastewater impacts on the endangered Puget Sound marine ecosystem.

A new idea is to tie population growth to reductions in average per-person use of the sewage treatment system, with reductions achieved by promoting widespread constipation.

The concept is being floated by the Building Industry Organization of Washington (BIOW), a construction trade group that wants to continue to build monotonous townhome clusters in quiet neighborhoods nowhere near future rapid transit access.

"This is the only strategy so far that could take external pressure off the infrastructure, and put internal pressure on individuals, who are the ultimate source of the problem," said Dan Gabbett, manager of BIOW's Sustainability Nobbling Program.

Gabbett said the size of the challenge means a grassroots 'constipation movement' will be needed for success. He said BIOW has digested data from a number of focus groups, and is ready to work with Seattle Public Utilities (SPU) on developing a variety of public education and policy advocacy programs — such as a colorectal unawareness campaign, and rules prohibiting Seattle restaurants from serving sources of fiber. The latter is similar to the current movement to ban transfats.

"Seattle is a very nutrition-conscious city," said Gabbett. "But we need to educate people that what comes out of their bodies is just as important as what goes in."

Fiber First!, a national group advocating for colon health, issued a press release calling the BIOW plan an attack on hard-working family farmers who grow America's oatbran.

iNews Friday

From the iNews 9000 Turbo Wi-Fi Headline Translator —
Headline: ConocoPhillips, Tyson Foods to turn animal fats into bio-diesel
Translation: Put an endangered tiger in your tank

Headline: Karl Rove rallies local Republicans in Seattle speech
Translation: No virgin sacrificed at closed GOP meeting - come on, anyone can say they're a virgin

Headline: Wolfowitz apology met by boos, chanting
Translation: Why did Wolfowitz apologize on Jerry Springer?

Headline: Sanjaya voted off American Idol
Translation: Sanjaya blames vote counting irregularities in crucial Ohio counties - supporters say Diebold system hackable

Headline: City Council backs Woodland Park Zoo garage
Translation: Cars will no longer be confined in obsolete cages behind iron bars

Headline: Blood-alcohol level of Woodinville driver breaks WA state record
Translation: 0.47% drunk driver receives congratulatory phone call from President Bush

Permalink | Comment
---


Posted April 18, 2007
Sonics moving to Dubai

Sports

Frustrated at the Washington Legislature's failure to adopt a $300 million tax package, Sonics owner Clay Bennett told reporters on Tuesday that the ownership group is throwing in the towel, and will move the basketball club after the 2008 season.

"Clearly at this time the Sonics and [WNBA] Storm have little hope of remaining in the Puget Sound region," said Bennett.

Bennett then proceeded to shock Seattle as well as the NBA by announcing the Sonics would relocate to Dubai in the United Arab Emirates, and not Oklahoma City, Bennett's base of operations, as widely expected.

"Have you seen Dubai? It's un-freaking-lievable," exclaimed Bennett. "Hundreds of construction cranes working, unchecked urban development. The place is awash in so much cash, no one's going to say 'boo' at a $500 mil- $700 m- uh, $1 billion basketball arena," he said.

"My dream has been an arena that befits the Sonics, a playground for millionaires. At last, we'll have a fan base that can make that happen."

Bennett said he would live in Dubai during every NBA season. Asked about culture shock, Bennett said he might get homesick, but planned to "hang out" a lot with other American expats such as executives of Halliburton — if not the company's former CEO, Vice President Dick Cheney.

"People like us who are hypocritical about lesbians, we have to stick together, Bennett said.

In a separate meeting, Sonics executives said the Seattle Storm would also move to the Emirates, but their uniforms would need to be radically redesigned. "By redesigned, we mean burqas with the team logo," said an executive.

In a separate separate meeting, the Sonics announced that Bennett's teenage daughter will spend the summer as an intern for the Sonics Dance Team. Claire Bennett is currently a high school cheerleader in Texas.

Breaking: Supreme Court upholds Bush ban on "partial victory war"

The U.S. Supreme Court today handed the White House a tactical victory in the War on Terror, holding in a 5-4 majority opinion that President Bush's ban on so-called "partial victory wars" does not violate Congress's power to provide for the common defense and general welfare.

Writing for the majority, Justice Anthony M. Kennedy said proponents of the ban "have demonstrated that nonbinding anti-war resolutions and artifical timetables impose an undue burden on a President's right to choose an invasion procedure in consultation with his Vice President." Kennedy also wrote that anti-war Democrats "have not provided exceptions that would protect the health of the Carlyle Group."

"We thank the high court for giving us this tool to stop abortion of the mission in Iraq," said White House spokesperson Dana Perino. "Partial victory is a gruesome and inhumane way to treat our troops who have sacrificed so much so we don't have to," said Perino. "Now we won't stop until we bring the war to full term, and deliver victory in nine months or so. In Jesus name I pray," Perino said.

Permalink | Comment
---


Posted April 17, 2007
Life in the trash lane

Bike lanes key to solving garbage problem

Mayor Greg Nickels's new Bike Master Plan will be combined with an ambitious City Council waste reduction proposal in a rare display of synergy, say sources in Seattle city government.

The hybrid plan, tentatively called "Re-cycle," will allow the casual depositing of household garbage and kitchen compost at any location marked with the familiar bicycle lane symbol, as well as on the side of any street marked with the new "sharrow" symbol. This will enable Seattle to reduce the amount of garbage deposited in dumps and landfills, and means a third city transfer station won't be needed.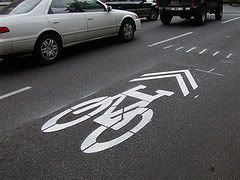 Sharrow the road
...with trash.
The waste proposal, which emerged from a five month study begun in response to community resistance to a third garbage dump, may seem like a strange match for the $27 million bike plan that was unveiled April 4. City officials, however, say the combination is an elegant solution to a pressing problem.
"It's more sustainable because we'll be using bike facilities for two environmentally beneficial purposes," said Peter Yates, a partner with Puget Integrated Guidance & Pro-Environment Network (PIGPEN), the consultancy that authored the study.
"The traditional bicycle facility is an outmoded concept," explained Yates. "Bike lanes and trails take up an enormous amount of space. But on many routes bicyclists don't come along very often. One day a PIGPEN intern was driving around, and noticed that a lot of bike lanes are already full of broken glass, car parts, sand, gravel, and litter. So we got the idea that bike lanes could be used more efficiently if everyone uses bike lanes to dump all their crap," he said.
Yates said there is still plenty in the plan to benefit cyclists, as an example pointing to a new bike route planned for North 65th Street between Green Lake and Phinney Avenue. "It will be a lovely ride, allowing pedalers to gain 100 feet of elevation in only five blocks," Yates said.
According to PIGPEN, the plan will save money because bike lanes would no longer have to be swept, which would also reduce emissions. At present, diesel-powered street sweepers clear 50% of every bike lane three times a year.
In a press release, the Cascade Bicycle Alliance of Washington denounced the plan as a handout for the bicycle tube repair kit industry.

Permalink | Comment
---


Posted April 13, 2007
More from the iNews headline translator

Last month I found Air America's old iNews 5000 Wi-Fi Headline Translator at a garage sale — it worked, but it was slow. Luckily, I happened to be at the pawn shop in the Pike Place Market the other day, and whaddaya know: an upgrade kit to the new operating system, iNews 9000 Turbo. Let's test it with some headlines from the past week.
Headline: Manatees no longer facing extinction, federal biologists say
Translation: Last manatee killed in Iraq serving with Florida National Guard

Headline: Seattle-Cleveland weekend series snowed out
Translation: Jack Frost leads Mariners in saves

Headline: Disneyland will allow gay marriage ceremonies
Translation: Mickey and Goofy registered at Williams-Sonoma
Let's re-process that one using the new Turbo Boost Translation mode!
Headline: Disneyland will allow gay marriage ceremonies
Translation: Anaheim struck by 6.5 earthquake, brimstone, frogs after all-night Pat Robertson prayathon
Moving on —
Headline: Democratic presidential candidates won't take part in Fox News debate
Translation: Mitt Romney agrees to debate on both sides of every issue

Headline: Fraudulent going-out-of-business sales investigated
Translation: An "Oriental rug mart" slashes prices, and John McCain is there

Headline: Bush seeks to appoint 'War Czar'
Translation: Bush seeks to outsource blame

Headline: Bush invites Democrats to White House to discuss war funding
Translation: Politely decline if he offers you "one of Dick's special cocktails"

Headline: Daisuke Matsuzaka makes home debut with Red Sox
Translation: Boston, you've been Felixed

Headline: Don Imus apologizes for racist comments
Translation:"Finally, now I can hate myself," Imus says

Headline: Washington pharmacists cannot refuse to fill Plan B prescriptions
Translation: Right-wing RXs move their business email to Republican National Committee servers

Headline: Halliburton to spinoff KBR
Translation: Spinoff will star David Boreanaz as CEO who wants to stop sucking blood of innocent victims

Permalink | Comment
---


Posted April 12, 2007
GOP lawmakers urge Pelosi to visit fundmentalist autocrat

Last week senior Republican members of Congress excoriated House Speaker Nancy Pelosi for undertaking a diplomatic mission to Syria. In a stunning turnaround, yesterday many of those same lawmakers are urging her to open talks with a fundamentalist autocrat many regard as a reckless military aggressor.

Pelosi said she would consider a request from President George W. Bush to visit him at the White House in order to discuss their differences — but only if he suspends his enrichment program. "I'll cross Pennsylvania Avenue to talk to him," said Pelosi, "but these giveaways to crony defense contractors must stop." Bush has long maintained that his enrichment program is for peaceful purposes.

But Rep. John Boehner (OH-8), the House Minority Leader, spoke for many GOP members in saying Bush looms too large on the world stage to ignore. "The Speaker needs to help prop up George Bush, or risk the U.S. losing whatever legitimacy it still has in the eyes of the world," said the uncharacteristically eloquent Boehner.

"Think of the economy, our children's tax breaks, and our children's children's tax breaks. For the love of god, cut the poor guy some slack," Boehner said.

Senate Majority Leader Harry Reid (D-NV) disagreed. "We've tried before to send him delegations, it hasn't worked," Reid told reporters. "A lot of people have gone to see President Bush... and yet we haven't seen action. He hasn't responded," he said. "It's just simply been counterproductive."

Other Democrats in Congress, such as Rep. Erik Wilson (CA-54), say visiting the White House sends the wrong message. Wilson said Bush has failed to rein in violent elements of the Pentagon or CIA as requested by the international community, and has acted to destabilize the democratically elected government of Iran.

"Bush seems more interested in covering for [embattled Attorney General] Alberto Gonzales than finding a way to get our troops out of the middle of a civil war," Wilson said. He urged Pelosi to stay the course.

Permalink | Comment
---


Posted April 11, 2007
New cookies attract controversy

Girl Scouts deny "Mint Romneys" show favoritism

The Girls Scouts of America have introduced a new series of Presidential Horserace cookies, but not all Republican candidates are pleased, charging that the names of some cookies reflect favoritism.

There will be a new cookie variety for each declared candidate, to be offered to the public in Girl Scout cookie drives from now through the summer of 2008. Scouts will also have the opportunity to earn merit badges by demonstrating knowledge about candidates and their positions on issues.

A Girl Scouts official, the appropriately named Scout Clark, denied any intentional favoritism. "The cookies are part of a civics initiative to assist Girl Scouts in developing an interest in politics," Clark said. "We let the scouts direct the cookie marketing, and they chose the cookie names they thought best reflected each candidate."

"We're quite happy, under the circumstances, with 'Mint Romneys,'" said Joe Crowthers, spokesperson for the campaign of Gov. Mitt Romney. 'Mint Romneys' have a large gooey center surrounded by a semi-transparent shell.

However, Romney's is the only Republican campaign with anything remotely good to say about the new cookies, with other GOP organizations critical of 'Giuliani Lemon Sourpusses,' 'Nutty Tancredos,' 'Duncan Donut Holes,' and 'Cheezy Tommies' (former Wisconsin Gov. Tommy Thompson), names which they say carry unflattering double meanings. "Compare 'Brownback Mountains' with 'Mint Romneys,' and you have to conclude a pro-Romney agenda is at work," said Tina Williams of the Sen. Sam Brownback campaign.

The candidate most vocal about his displeasure with the Girl Scouts is Sen. John McCain, who says 'Warhead Walnut Kookies' are targeted at him.

Officials of the Democratic Party are so far uninterested in the controversy. "We put organized labor on hold last year, so we could work with the Girl Scouts on this," said Rep. Rahm Emmanuel (IL-5), chairman of the House Democratic Caucus. Democratic candidates are so far represented by cookies named 'Obama Orators,' 'Edwards Articulates' and 'Cocoa Clintons.'

"President Clinton was an innovator in snack-politics, he's the one who brought Ben & Jerry's on board with us back in the Nineties," said Emmanuel. He noted that Ben & Jerry's introduced 'Heckuva Job Fudge Brownies' ice cream early in 2006, and made 'Bluekerry Granola Crunch' in 2004.

The Democratic lead in snack-politics leaves the GOP having to play catch up. The party's 2006 effort, Taco Bell's 'Tort-reform-tilla Chips,' was unsuccessful.

Permalink | Comment
---


Posted April 9, 2007
A win in the War On Terroir

Bush personally makes a bust

The White House was in full celebration mode today, following disclosure that on Sunday President George W. Bush had personally arrested a suspected terrorist.

"President Bush is not just the commander in chief, he's also our top cop," spokesperson Dana Perino told White House beat reporters, shortly after she entered the press room while high-fiving presidential advisor Karl Rove.

Perino said the suspect, "a foreigner" in his fifties, was being held by the FBI pending positive identification. "I cannot emphasize strongly enough that the president was not drinking," she said.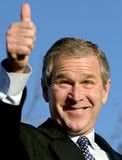 #1 bike cop
"I'm the arrester!"


"I'm the arrester," a jubilant President Bush yelled to reporters, giving them the thumbs-up as he arrived at FBI headquarters this morning to file his arrest report.
Distributed soon after by the FBI, the report describes a potentially explosive situation that was handled by a president at the top of his anti-terrorism game. According to the report, the president was riding his bicycle at 2 pm Sunday afternoon, halfway through his daily four-hour workout.
He had just entered Rock Creek Park when he became separated from his Secret Service escorts. Uncertain of his location, he continued to ride through the woods for another half hour, at which time he stumbled upon a clearing where a meeting was taking place.
"A suspicious foreigner was speaking to 30-40 people sitting in several rows of folding chairs," Mr. Bush wrote in the report. He described the speaker as dark, with dark hair and spoke English with what "could be an Arabic accent."
"I heard him say 'terroir' a number of times, loudly. There was no doubt in my mind that I had found a terrorist cell meeting, and I knew I had to act," wrote the president.
Riding at top speed, Mr. Bush rode through the center of the terrorist meeting, straight at the suspect. At the last moment he leapt from the saddle and tackled the suspect. "There was a lot of confusion, and the other suspects ran," he wrote. The president placed the man under arrest, and in moments the Secret Service detail arrived.
Mr. Bush also turned in the suspect's personal effects, listed in the report as including a "folding weapon with twisting blade."
Interviewed on the CBS Evening News Sunday night, Agent Rob Willits, the first Secret Service agent on the scene, told Katie Couric he was in awe of the way Mr. Bush handled "what could have turned into a bloodbath."
"I cannot emphasize strongly enough that the president was not drinking," Willits said.
Update: Suspect is French oenologist
The State Department announced Monday afternoon that the Rock Creek Park terrorism suspect is a French national. A spokesman at State said the man, Pierre Gaumont du Frandlier, was identified by French diplomats.
Mr. Gaumont, 52, is a reknowned expert in French and Italian wines and chairman of the European Commission on Heritage. He is regarded as perhaps the world's leading expert on terroir, the quality imparted to a wine's character by a vineyard's locale or place.
The Franco-American Society of Virginia, a Fairfax-based social organization with no known links to terrorism, sponsored Gaumont's visit to the U.S.
Franco-American Society treasurer Sharon Kindig expressed shock at Gaumont's arrest. She said that at the time he was arrested by President Bush, Gaumont was scheduled to be giving a lecture and hosting a wine tasting in Rock Creek Park.
Kindig said the Franco-American Society hoped Gaumont would be cleared, but at the moment her main concern is the whereabouts of the gold-plated commemorative folding corkscrew the Society had presented to Gaumont at a reception on last Friday.
The French government has filed an official protest. A spokesman at the Justice Department said French officials would be allowed to see Mr. Gaumont as soon as he is located. "He's lost in our system, we think he's somewhere in Romania or Poland, maybe Ethiopia," the spokesman said.

Permalink | Comment
---


Posted April 6, 2007
O'Reilly supports troops!

Knocks retailer over name trim

G.I. Joe's stores has dropped the "G.I." from its name, becoming simply Joe's. Now conservative commentator and Fox News host Bill O'Reilly has lashed out against the Pacific Northwest sporting goods retailer.

"This sends the wrong message to our heroic troops," the "O'Reilly Factor" host told his viewers on Thursday.

"The terrorists our men and women in uniform are fighting over there hate us for our freedom, they hate us for our democracy, and they hate us for our national obsession with athletic competition," said O'Reilly. He said America "could kick terrorist butt" in sports, "but the terrorists are afraid. They're slow, awkward and throw like girls. So instead they resort to terrorism," O'Reilly said.

"We have the right to play football, basketball, baseball, hockey, la crosse," O'Reilly continued, adding, "Even soccer, the number one sport in Iraq and some other backwaters of the world. Our troops are defending our sports. Now G.I. Joe's comes along and undercuts them! It's hurting the troops' morale and aiding the terrorists."

O'Reilly ended his show by calling for a boycott: "I'm calling you out, Joe's. I'm unleashing the power of The Factor, I'm gonna get you. I want everyone in the sound of my smug, smarmy voice to stop shopping at Joe's until they do the right thing. The American thing. The patriotic thing. G.I. Joe's — it's what Americans want."

In a message on its website, the Joe's - Sports, Outdoor & More company said customers had been calling the store just "Joe's" for 55 years.

Permalink | Comment
---


Posted April 5, 2007
Zoo announces plan for parking exhibit, name change

From now on it's Woodland Parking Zoo

Seattle's Woodland Park Zoo, which revolutionized zoos with the realistic, cageless animal exhibits in its 1975 long range plan, has stunned the zoo world again. WPZ has plans to construct the world's first parking exhibit — combining four levels of naturalistic wildlife enclosures with a 700-stall parking garage.

WPZ Society President Dr. Deborah Jensen was all smiles yesterday as she went before the media to announce the new project, and show-off impressive full-color artist renderings.

"This is an innovative plan," Jensen said, "a real first, in the sense that no other zoo has dared try it before." In order to fully celebrate the project, Jensen also announced Woodland Park Zoo would change its name to Woodland Parking Zoo, pending City Council approval.

The parking exhibit will be a larger version of the popular Day-Night House. Three levels will be above ground, and house a variety of diurnal animals and full and compact cars. One below ground level will have nocturnal species, as well as all SUVs, large vans and vehicles over 7'6" tall.

To be sited on the Phinney Avenue side of the zoo, the parking exhibit's exterior will be designed to resemble a typical African parking garage in order to blend in with the existing greenery.

"Cats with thumbs"
Red ruffed lemurs are large primates from Madagascar.
"Woo's Zoo Review of Garage Revenues," a financial analysis by WPZ Fundraising Director David Woo, predicts steady income that will easily pay for the $16 million facility. Woo explained this results from another innovation: in a counterintuitive move, zoo visitors not making a donation to WPZ's general fund will be required to use the parking exhibit's valet service.
"Those who use the valet option will have an exciting parking experience," said Woo. "They will have their cars parked by teams of red ruffed lemurs, which are now undergoing training."
"They're basically cats with thumbs," Woo explained, "so we really think this will be a fun, family-friendly addition to the zoo," he said. He added that the biggest training hurdle was getting the lemurs to wear the red jackets.
Jensen said she hoped the parking exhibit would satisfy the zoo's critics among animal welfare activists and zoo-area residents. "Some say we should spend more money on the animals — well, here it is," she said. "I'm putting forward this plan to show how seriously I take the neighborhood's concerns."

Permalink | Comment
---


Posted April 4, 2007
White House in disarray over Iran-UK outcome

Mystified by diplomatic resolution

The standoff between Iran and the United Kingdom over 15 British sailors and marines held by Iran since March 23 came to an abrupt, peaceful conclusion today.

The apparent diplomatic resolution left the military-focused Bush Administration astonished and speechless.

Iranian President Mahmoud Ahmadinejad announced the end to the crisis during an appearance on "Wake Up Tehran," a daily television program broadcast live from the Presidential residence.

Mr. Ahmadinejad was nearing the end of another great show, having interviewed hot movie star Parsa Pirouzfar, reviewed the week's new albums on compact disc, and performed in a comedy sketch with former "Will & Grace" co-star Sean Hayes. Mr. Hayes, who played the very camp Jack on the long-running NBC series, has been held by Iran for 146 days.

Mr. Ahmadinejad sprang his surprise at the end of the concluding recipe segment, inviting the British military detainees onstage to sample freshly prepared lamb stew printemps, and then informing them they would be released.

White House spokesperson Dana Perino watched the program live via satellite, and immediately informed President Bush of the diplomatic resolution. He assembled his national security team in the situation room to examine the diplomatic resolution.

They had never seen a diplomatic resolution before, and they were taken by surprise by its sudden appearance in their midst. There was a great deal of initial fear and screeching about the diplomatic resolution as they argued about what to do.

Then one of them, the pale, paunchy one called Poll-Watcher, carefully approached the diplomatic resolution. He tried to touch it, but it seemed to repel his finger. He tried to smell it, but it had no smell. Satisfied that it was neither food nor a threat and therefore irrelevant, the national security team forgot about the diplomatic resolution and decided to stay the course. They then went to sleep.

Later in the day, Poll-Watcher was in his office when he saw his telephone, and it gave him an idea. He picked up the handset and weighed it in his hand; he hefted it and swung it back and forth. The idea grew, until he knew what to do. He called a reporter at the Washington Times and planted a story that Syria is a bad actor in the Mid East, and Speaker Nancy Pelosi is irresponsible for meeting with President Bashar Assad.

Permalink | Comment
---


Posted April 3, 2007
Romney leads GOP pack in fundraising

$21M all came from Osmonds

A close look at the demographics of Governor Mitt Romney's donors makes it easy to see why he is ahead of his competition for the Republican nomination: he has the most donors, and 95% of them contributed in the $50-100 range revealing his strength among the grassroots.

Even more astounding was that all of Romney's contributors are members of show business' legendary Osmond family. Mormons like Romney, the immediate members of the Osmond family have all contributed (except for Jimmy Osmond, who claims to be too young to vote), as have more than 275,000 children, grandchildren, uncles, aunts, cousins and in-laws from across the United States and its territories.

Most of the funds were collected last month at a series of Romney campaign benefit concerts that starred the Osmonds. Family members packed Salt Lake City's Delta Center, the Grand Ol' Opry and the Rose Bowl in a show of support for their fellow Mormon.

Donny and Marie Osmond were the concert headliners, performing a new, Romney-themed version of their trademark duet, "I'm a Little Bit Pro-Gays, I'm a Little Bit Anti-Gay Too."

Permalink | Comment
---


Posted April 2, 2007
Take me out to the jihad

Bush hopes for grand-slam in Iraq

Ping Pong Diplomacy was an icebreaker to improving Sino-American understanding in the 1970s. Now, President Bush is hoping to do the same for United States relations with Iraq, using the occasion of major league baseball's 2007 opening day to announce a daring new sports-based initiative.

Called Operation Home Run, Mr. Bush said the new strategy would fight Iraq insurgents by challenging them to manly competition on the baseball field.

"The insurgents' propaganda is always talking about 'honor' and 'resisting the infidels'," Bush said in remarks to Baseball America magazine. "Well, this is their chance to do those things in a way that really matters on a global scale: competitionness in a major spectator sport," he said.

The president said the U.S. baseball squad will have the punny name The Infieldels, and will draw its talent from all the major league baseball clubs. At the Pentagon, spokesperson Michael Lucart explained that an expansion draft will be held in May, for which each team must make three players available.

Drafted players will be classified as Army personnel with the rank of private, meaning Operation Home Run will not be plagued by the exorbitant salaries typical of professional baseball. The largest single cost will be armored vehicles for keeping base paths clear of improvised explosive devices, Lucart said.

The Infieldels will play a 100-game regular season against an assortment of Sunni, Shiite and Kurdish teams in a new Fertile Crescent League. The native Iraqi teams will have minor league farm clubs in Pakistan, Afghanistan and Yemen. Each season will conclude with a Mesopotamia Series tournament, where the games will have a sudden-death format.

All Infieldels "home" games would not be played in U.S. stadiums, but rather in the Baghdad Green Zone. "We want to play them over there, so we don't have to play them over here," said House Minority Leader John Boehner (R-Ohio), who praised the new strategy.

Boehner said Operation Home Run would give the U.S. a distinct tactical advantage on the ground, since Iraqis have little baseball experience. "They're more of a soccer country, really," Boehner said.

However, Iraqi clubs could still field competitive teams. Baseball America national defense correspondent Jonathan Hogg said there are many insurgents whose experience throwing bricks, grenades and Molotov cocktails make them ideal candidates for the outfield and at shortstop.

Operation Home Run also represents a concession by the White House to Democratic criticism that President Bush has not called on Americans to make any personal sacrifices. However, the Seattle Mariners are exempted from the expansion draft because the team's fans have already sacrificed enough over the past three seasons.

Few major league players are enthusiastic about Operation Home Run so far. Many are said to be seeking long-term contracts in Canada with the Toronto Blue Jays.

Permalink | Comment
---