In an exclusive story to be published today, the fundamentalist Christian magazine Wholly Holy! ("the news magazine for fundamentalist Christians who haven't come out yet"™) will report that a theological attorney will tell the Senate Judiciary Committee that Monica Goodling did not actually take the Fifth Amendment or refuse to testify about what she knows about the firing of eight U.S. Attorneys.
"The explanation is quite simple," said Alvarez, a senior scholar at Seattle-based Discovery Institute & Espresso. "Monica was meeting with her lawyer to draft a letter responding to Congress' request that she testify. At that very moment the Holy Spirit descended from above, and she began speaking in tongues. By an amazing — some might say miraculous — coincidence, it happened to sound like 'I decline to answer any and all questions because I may incriminate myself,' and that is what her lawyer wrote down," Alvarez said, adding, "In reality, only the Almighty knows what Monica really said."
Alvarez said that in light of two visits by the Holy Spirit to members of the Bush Administration, Congress should just forget about looking into the U.S. Attorney firings, warrantless wiretapping, the Valerie Plame case, defense contracting, FEMA, energy policy, election fraud, and missing Iraq funds. "As usual, god is on the side of the White House," she said, and that "the end" could be "nigh."
"God sees all, and that includes Fox News," said Alvarez. "If the Democrats aren't careful He is going to smite them," she said.
Beltway insiders wondering why the president doesn't simply sign the supplemental spending bill and use a signing statement to ignore a nonbinding target date now have an explanation. White House Chief of Staff Joshua Bolten told the business trade publication Supply Chain & Restocker Weekly that the White House had run out of the official signing statement forms.
"We would never, never, ever ignore sections of law without abiding by the law," said Bolten. "Therefore without the proper form a veto is the only option available to the president at this time," he said.
"The first batch was for six pallets of signing statements in pads of 100 sheets each, I couldn't believe it when I discovered we had run out," Papworth explained, adding — "Whoops, my bad."
Papworth said a fresh supply of signing statement forms would arrive in 6 to 8 weeks. The delay is due to the size of the order, and a requirement that the job had to be outsourced to Office Depot instead of using the Government Printing Office.
N. Korea to sue Iran for copyright infringement
"Seizing sailors on the high seas and displaying them for propaganda purposes — that is so our shtick," said a North Korean government official who wished to remain anonymous.
Then Democrats swept to a wider 15 seat majority in last November's elections, and suddenly Sheldon's vote no longer held the balance. Over the last three months he has been the loneliest Democrat in Olympia, no longer awarded a committee chairmanship to appease him, his favor no longer curried by other members seeking support.
"Like the Repairman, Senator Sheldon is someone you never want to see working on something that's important to you — be it a household appliance or critical legislation. The match-up couldn't be more perfect," Borer said.
Bolivia held its annual Day of the Sea observance last Friday, commemorating its loss to Chile of the state of Litoral--and with it access to the Pacific.
Bolivia used to enjoy the resources and recreation of Litoral all the time. But then in 1879 came war with Chile, and Bolivia's Litoral sea state was captured. Bolivia has been high and dry ever since.
Anxiety still runs high 128 years later over what Bolivia still regards as its Litoral. Frustrated citizens of all walks of life dream of men in boats, and the stubbornly existent Navy pursues a mission of national Litoral awareness.
Bolivia and Chile have not even had relations since 1978, when they broke over Litoral. Now, President Evo Morales of Bolivia and President Michelle Bachelet of Chile are taking the first steps toward some kind of Litoral compromise. Morales went to Chile last year, for Bachelet's inauguration as Chile's first female president.
Morales voiced the opinion of many in the Bolivian government--that Chile doesn't know what to do with Litoral, and that many Chileans can't even find Litoral if given a map.
"I resent President Morales's hurtful comments," Bachelet later said to reporters in Santiago. "The Chilean people are well-educated about Litoral," said Bachelet, "Bolivia's problem is that it wants to rush right at Litoral, whereas Chile wishes Bolivia would work up to it slowly. Perhaps we can work on solving drug trafficking and immigration issues first," she said.
With Bolivia-Chile reapproachment slow in coming, help is coming from the Bush Administration. State Department spokesman Mike Lansley briefed reporters this morning that President Bush plans to appoint a special envoy on Litoral. "Bush action on Litoral will soon bring a climax to this long-running disagreement," Lansley said. Former President Bill Clinton is said to be on Bush's short list.
Responding to reporters' questions about the nature of the parallel talks, Rice said "like two lines, side by side, but never touching."
She illustrated her explanation with an example of two fully-laden oil tankers. "You're navigating them toward the same destination," said the former Chevron board member, "but you wouldn't want them to touch, would you? That would be disastrous," Rice said, as reporters nodded gravely.
"Likewise, our goal here is to make sure this giant oil tanker of a region stays on course to Texas, and there are no collisions."
Arizona also announced that Rice planned to fly commerical airlines between Tel Aviv and Ramallah. "The secretary intends to rack up as many frequent flyer miles as possible, so that on the way home she can afford to make a side trip to Florence and Milan to do some shopping," Arizona explained. "In addition, there's also the Sky Mall."
"For decades Barbara Walters has been the queen of celebrity interviews, the committees ought to jump at this unprecedented opportunity," said Slow, himself a former interviewer for Fox News. "We believe Ms. Walters's highly personal and compelling style will give Congress a fascinating and infotainment-packed series of interviews," said Slow.
"Walters would ask soft questions open to interpretation by the interviewee," said Ramsey. "For example, a Walters-style question might be, 'If you were a WMD, what kind would you be, and where would you hide?' Or, 'What did you wear to the housewarming on Duke Cunningham's yacht?'"
Early indications are that the president's new offer will be rejected. A source on Rep. Conyers's staff said that if the chairman was interested in a talk-show format, he would prefer Oprah Winfrey. "Oprah is someone who can get to the bottom of things," said the source.
Tony Slow was quick to dismiss that idea. "Oprah, while a national treasure, is unnecessarily reality-based for such a sensitive policy matter," Slow said.
Free checking

In addition, we also have a number of optional products that may suit your needs, including Unlimited Overdraft Protection and Plausible Deniability.
Please feel free to contact me at any time to discuss your account. I look forward to serving you. Signed, Daniel Glaser, Washington, DC

Dear Mr. Glaser:
I am so so very surprised to hear from you! Surprised because you guys have left me swinging for the past few years, and not in the good way. Therefore I have decided to move my account to the Bank of China. You may be familiar with them. They're the ones who are holding billions of US Government paper--or should I say, holding onto the tender most parts of your anatomy, metaphorically speaking.

Permalink | Comment
---


Posted March 20, 2007
Tense moments at Bush homecoming

Radio logs reveal brief panic, confusion

The return of President and Mrs. Bush to the White House last Thursday, following their week-long trip to Latin America, included an awkward 10 minute period during which President Bush mistakenly believed the locks had been changed.

"The Bushes and their staff huddled around the front door for a while, whispering," said Denise Morgan, a tourist from California who was on the White House public tour and witnessed the incident. "They looked real nervous, and kept looking around to see if anyone was watching," Morgan said.

Logs of the presidential Secret Service security detail two-way radio traffic for the day, obtained under a Freedom of Information Act request, reveal a defensive and confused reaction to the lock-out, by an Administration continuing to be beset by the growing U.S. attorneys scandal and lower approval ratings.

"Einstein says he can't unlock the front door, over," radioed an unidentified agent, using the Secret Service's codename for Mr. Bush.

"Did he jiggle it in the lock?" asked another agent.

"Yes, he says he jiggled," responded the first agent. "Einstein says somebody needs to do something about it. People are watching, and Nip-tuck (Mrs. Bush) needs to pee."

About a minute later the transcript conveys the impression of a presidency in panic--

First agent: "Einstein says to contact Gepetto (Vice President Cheney), find out if the locks have been changed, and if he's still President."

Second agent: "You're kidding."

First agent: "No, he wants to make sure there hasn't been a coup. Actually, he said 'coop,' but I know what he means. He says to ask Gepetto if he should get the emergency krugerrands from the bank."

Third agent (Cheney's security detail): "Gepetto says to tell Einstein ixnay on the rugerrand-kays. Grandma (Speaker Nancy Pelosi) has not sent us peaches -- I say again, no on the peaches. He wants agents to check the keys and try the door again."

Shortly thereafter the Bushes were able to enter the White House.

Presidential press secretary Tony Slow said the radio logs were being taken out of context and grossly mischaracterized. "The president and vice president were discussing the menu for an upcoming state dinner," explained Slow. "This president is about making decisions, and he decided on peach cobbler for dessert."

Slow said President Bush had mistakenly tried to open the White House front door with the key to his bicycle lock.

Permalink | Comment
---


Posted March 16, 2007
Learn about the heartbreak of Ken Avidor

Stand by for a special health message

Are you someone who is suffering from Ken Avidor? Hi, I'm Dr. Kermit Frandle of the Why Don't You Shut Your Freakin' Yap Already Foundation. If you or a loved one is suffering from Ken Avidor, this message is for you!

"What is Ken Avidor?"

Ken Avidor is a chronic insistence that light rail is the only effective transit technology that exists, and ever will. Ken Avidor is usually set off by any Google Alert mention of "Personal Rapid Transit" -- PRT, a monorail-like concept that has gone through a number of iterations over several decades. The person writing or uttering "PRT" soon begins displaying the symptoms of Ken Avidor.

"What are the symptoms of Ken Avidor?"

Ken Avidor spreads via the internet. Progressive web sites such as Lloydletta's Nooz and Twin Cities Daily Planet are unknowing carriers. Sufferers usually find themselves covered in painful, itchy and repetitive invective. If you discover you have a rashy smear or a smeary rash, you may have Ken Avidor.

Other symptoms include lack of a sense of humor, a short attention span, and a belief that Google Maps predicts the future.

Avidor Facts:


The current strain of Ken Avidor first appeared at Macalester College, when the previous strain was offended by a rude person (1, 2), causing it to mutate into its current, virulent form.


Ken Avidor is also known as Avibore, Avismores, Kenwood, Av$d@r, ******, Avidork, Ovipod, Aviscorn, Kendall, PRTSkeptic, Kenworth, Aviboor, !!!!!!, Kenmore, Avigolemeno, Ned Luddington, Lugubridor, Undiedrawer, Korn Avilatoxin, Ben Labridor, and Kiln Ovendoor.

Another common symptom of Ken Avidor is distorted features. Just one of the 99 bills State Senator Ken Jacobsen (D-46) introduced this year in the Washington Legislature was about PRT and maglev transit. Shortly thereafter he was diagnosed with distorted cranial features -- textbook Ken Avidor.

"Who can catch Ken Avidor?"

Ken Avidor can afflict anyone and anything. Elected representatives, politicians, civil engineers, business people, architects, software engineers, urban planners, transit advocates, journalists and countries are all susceptible.

You can get Ken Avidor even by just thinking about a mode of transit that is not light rail. Julie Risser, a Green Party legislative candidate in Minnesota, thought about it. She came down with a relentless case of Ken Avidor that persisted until she swore off transit innovation.

Professor, engineer and anti-missile activist J. Edward Anderson has suffered from Ken Avidor for years, owing to his being at the forefront of PRT design and advocacy.

Zoe Naylor, a business journalist, came down with a case of Ken Avidor [see Nov. 5] just for writing an objective article about PRT.

Tom and Ray Magliozzi of NPR had a brief bout of Ken Avidor because they make jokes about automobiles, which are the anti-train.

Trevor Smallwood, a board member of the British PRT company ATS Ltd., began showing Ken Avidor symptoms after a rail company he headed was found NOT to be responsible for a multi-fatality train collision.

The dead can get Ken Avidor. Just hold a seance and ask the late Sheffer Lang, a highly regarded MIT professor and rail administrator.

Even national tragedies are not immune. September 11, 2001 developed Ken Avidor just eight days later--and all it did was distract attention from global warming.

"Is there a cure for Ken Avidor?"

At this time there is no cure, but here at the Why Don't You Shut Your Freakin' Yap Already Foundation we're searching all the time.

We've also made great strides in Ken Avidor research. For example, Ned Luddington was once thought to be a separate condition. But now we know Ned Luddington and Ken Avidor are the same thing [see also].

The good news is that Ken Avidor is not fatal--everyone I've mentioned is learning to live with Ken Avidor, and can expect to live a full, if hectored, life.

I'm Dr. Kermit Frandle. Thanks for listening.

Permalink | Comment
---
Khalid Sheikh Mohammed's Seattle plot
The confessed mastermind behind 29 acts of terrorism, including the 1993 and 2001 attacks on the World Trade Center, has also admitted being in charge of scouting for the Seattle Mariners.

In

a little-noticed portion of a lengthy but detailed confession given March 10 to a military hearing at the Guantanamo naval base, Khalid Sheikh Mohammed said that he was responsible for identifying, researching and carrying out some of the most infamous washouts in the history of the Seattle professional baseball team.
"Crushing the hopes and dreams of Northwest sports fans, of all ages, was a priority of mine. I was always picked last for soccer when I was a schoolboy," said Mohammed.
"Ryan Anderson? That was one of mine," the hirsute Mohammed told the hearing through his government-appointed personal representative. Anderson, known as the Little Unit, was a much-hyped pitching prospect in the late 1990s. Mohammed expressed pride at Anderson never having pitched in a major league game.
Mohammed also claimed responsibility for the 1997 trade that sent Derek Lowe and Jason Varitek to Boston in exchange for Heathcliff Slocumb.
Mariners GM Howard Lincoln said he was "shocked and saddened" by the confession, but would not comment "due to the ongoing investigation."

Permalink | Comment
---


Posted March 15, 2007
Israel and Palestine agree to truce on Viaduct

Israelis and Palestinians have been fighting since the 1948 establishment of the state of Israel, but at last both sides have found an issue on which they share common ground: Seattle's Alaskan Way Viaduct controversy. Both sides endorsed a start work-plan later strategy, in a pact negotiated by former President Jimmy Carter.

In a joint communique, Israel and the Palestinian Authority agreed that Seattle should maintain the existing viaduct, but plan for a transition away from a waterfront highway.

"It's so obvious," said Israel Prime Minister Ehud Olmert. "Any idiot can see that the developed world is evolving toward less reliance on automobiles, and toward wider use of rail transit, including new, flexible transit technologies in development."

PLO Prime Minister Mahmoud Abbas agreed. He said Seattle and state of Washington leaders need to come together on a common, sustainability-oriented vision, or risk decades of protracted, inconclusive conflict.

"Believe me, if anyone knows about protracted, inconclusive conflict, it's the PLO," said Abbas. "Come on you guys, you have to get it together," he urged.

Carter summed it up for the two leaders. "Now that Seattle's voters have spoken, their leaders need to crap or get off the pot, as we say in the South."

"Don't make me come out there," warned Carter.

Taurus attempts leap from Seattle building
A white Taurus caused tense moments Thursday morning
A motor vehicle threatened to throw itself through an upper floor window of the Seattle Art Museum this morning, holding authorities at bay for over three hours.
The car, a white Ford Taurus, told onlookers that it was depressed following the outcome of the March 13 viaduct election, in which voters rejected both waterfront highway ballot measures.
Peter Yates, AAA crisis negotiator for the tri-county area, said such feelings are to be expected in traditional automobiles. "We should not be surprised to see this, so closely following the popularity of hybrids, and the arrival of the incredibly cute Daimler Chrysler Smart car," said Yates.
Yates urged drivers to be alert to behavioral changes in their cars, which could be a sign of depression. He said cases should be referred to the nearest Dr. Freudwrench.

Permalink | Comment
---


Posted March 14, 2007
Nickels emerges from tunnel metaphor

Sees own shadow, 3-4 more months of arguing expected

Thousands of revelers were on hand last night to see Mayor Greg Nickels figuratively emerge from his vision to replace the Alaskan Way viaduct with a tunnel. He saw his political shadow in the form of the defeat of Measure 1 by a margin of 70% voting no, which according to tradition means we are in for another three to four months of political wrangling before the future of the Seattle waterfront is resolved.

The Measure 2 option to build a new viaduct was also defeated with 55% voting no.

Many Seattlites hoping to see the mayor gathered Tuesday night at a party held by tunnel proponents to hear the results of the mail-in vote.

"At first I wasn't sure he would come out of the tunnel metaphor at all," said onlooker Carmen Hall of Eastlake. "He sort of huddled just inside the opening, then stuck his head out and looked around. He finally came all the way out when he saw Measure 1 was losing big," Hall said.

In his remarks, the mayor did his best to put public rejection of the tunnel in the best light.

"What they said with the answer to both questions is, we don't want a freeway along our waterfront," said Nickels. "They also said they promise to forget that I have been saying the opposite for the past two years."

Permalink | Comment
---


Posted March 13, 2007
Bush health scare

Stricken after attempting to pronounce Iximche

President Bush was treated and released by a military doctor yesterday, after an unsuccessful attempt to pronounce Iximche, the name of the Mayan ruins he and first lady Laura Bush were visiting. The first couple were in Guatemala, continuing their goodwill tour of Latin America.

Col. Scott Walters, the Navy physician assigned to Air Force One who treated the president, said Mr. Bush's attempt at non-English verbalizing aggravated a tongue injury that occurred during the State of the Union address in January, when he attempted to say Democratic Party.

Col. Walters said he left instructions for the president to take it easy for a few days. "I prescribed a vocabulary of one-syllable words," Walters said.

Halliburton converts to Islam

Halliburton, the Texas-based megatransnational corporation with close ties to the Bush Administration, rocked the business world Monday with the revelation that it had converted to Islam and would relocate to Dubai in the United Arab Emirates.

The company will also change its name to al-Hiburton, sources say.

Halliburton associates and friends in Houston were shocked by the actions of the megatransnational corporation, whom they described as a "quiet loner."

Neighbors of Halliburton's well-kept split level house say the company suddenly left the quiet Piney Point neighborhood in the middle of the night, taking only its collection of Cat Stevens albums.

Landlady Velma Frandle complained that Halliburton had sunk dozens of oil well test bores in the den and upstairs bedrooms of the rented house.

"I want to know who's going to patch all those holes," wondered Frandle. "Where is all the plaster and reinforced concrete going to come from?"

She said Halliburton would not be getting back its damage deposit.

Permalink | Comment
---


Posted March 12, 2007
Super-patriot serves by blogging

Liberal bloggers spend their time sniping at President Bush's policies and demoralizing the troops. If only they would follow the example of Blogs for Bush founder Mark Noonan.

After September 11, 2001, Noonan attempted to reënlist in the military, but was unsuccessful. "I went down to the recruitment office, ready to sign on the dotted line," said Noonan. "Everything was on track, until they had me stand in front of the sign that reads You Must Be at Least THIS TALL to Join the U.S. Military."
Standing tallish
Noonan in happier, pre- measurement days
Noonan's face becomes visibly sad at the memory. "Unfortunately, I just wasn't tall enough."
But Noonan didn't give up despite being officially listed by the U.S. government as 38 inches tall. Determined to make a difference, he sought out venues to express his views, and found himself commenting on message boards and blogs on the internets.
He then joined Blogs For Bush as a regular contributor, motivated by short man syndrome and a desire to help reëlect President Bush in 2004.
Noonan's message for other would-be patriots is to never give up. "Many people are amazed I've been able to accomplish everything I have done, they can't believe I'm so small," he said.
"But it's true," said Noonan, "I am that small. I am a very very small person."

Permalink | Comment
---


Posted March 9, 2007
White House: Bush no-show a delay, not a snub

President George W. Bush's official visit to Brazil was delayed until Friday due to a misunderstanding concerning the itinerary, the White House said last night. Administration sources emphasized the delay was not intended as a snub of Brazil, South America or Brazilian President Luiz Inacio Lula da Silva Jingleheimer Schmidt.

Spokesman Tony Slow said Mr. Bush misunderstood when informed by Chief of Staff Joshua Bolten that the presidential entourage would be "going down to Brazil." Slow said Mr. Bush thought Bolten said "going to Donna Brazile," the Democratic political strategist. Slow said the president's motorcade spent Thursday driving around the capital looking for the offices of Brazile and Associates.

Mr. Bush was sheepish when he finally stepped off Air Force One in Rio de Janeiro this morning. "It turned out our map intelligence was incorrect," Bush said. "But I take full responsibility for this, because I'm the navigator, I'm the one who navigates." He said he didn't think Brazile was an odd destination, "because I want to work with the Democrat Party, including Democratics like Donna Brazile."

Rio de Janeiro mayor Cesar Maia greeted the Bush traveling party, and directed Mr. Bush to the capital city of Brasilia, where the official state welcoming ceremonies had been prepared.

The scheduling error also disappointed tens of thousands of Brazilian anti-Bush protesters. However, Bush praised them for using ethanol to set fire to U.S. flags.

Permalink | Comment
---


Posted March 8, 2007
State of the City

Ingenious hybrid of tunnel, policing

Seattle Mayor Greg Nickels covered a number of topics in his annual State of the City address yesterday, which he gave to an assemblage of business interests hosted by the Seattle Rotary.

In his remarks, Nickels offered more of his vision for waterfront redevelopment, and for the first time linked his hybrid tunnel plan to law enforcement.

"I intend to hire an additional 105 police officers over the next five years, and deploy them in electric carts inside a citywide network of tunnels," said Nickels.

The officers, dubbed subterranean police by the mayor--or 'sub cops'--would be linked to an expanded city camera system of the latest in so-called Talking Camera technology. "Talking Cameras are being used in Europe," he said, "and are therefore world-class."

Nickels said the sub cops will monitor the cameras from their carts. "When they see a crime in progress, they'll pop up from out of the ground and intervene. The perps won't know what hit them."

Nickels also thanked developer Martin Selig for a gift of a volume of Bartlett's Familiar Quotations, which the mayor said he used last month when writing his "tear down this wall" viaduct speech. For this occasion he adapted the words of John F. Kennedy in discussing his global warming priorities: "And so in Seattle we say to the country and to the world, as President Kennedy did 41 years ago: Ask not what the climate can do for you, but what together we can do to protect our climate."

Later, Nickels spokesperson Marianne Bichsel acknowledged to reporters that JFK's speech was actually 46 years ago. She said the lower number resulted from the mayor accidentally using the same spreadsheet he used for estimating the waterfront tunnel cost.

Permalink | Comment
---


Posted March 7, 2007
Animal rights activists concerned over Libby sentencing

The possibility of a little-known provision in federal sentencing guidelines being exercised in the case of I. Lewis 'Scooter' Libby has alarmed advocates for humane treatment of animals. Section 69(a)G-ii of the guidelines gives a federal prosecutor discretion to have convicted persons sentenced in "such a manner as befits the convicted's past accomplishments."

A coalition of groups led by the little-known Just Friends of Wildlife announced Wednesday that it intends to file a brief with U.S. District Court asking that Libby not be sentenced to have repeated intercourse with a caged bear, as has been suggested by an assortment of talk show hosts, humorists and bloggers. Libby described such a liaison as a Japanese brothel-training technique in his 1996 novel "The Apprentice."

"Animals want to be our friends, but not in that way," said Just Friends of Wildlife spokesperson Chuck Frandle. The coalition will suggest that an appropriate cellmate for Libby would be Vice President Dick Cheney, or perhaps presidential adviser Karl Rove.

Libby is scheduled to be sentenced by Judge Reggie B. Walton on June 5.

New reality series a first for Neil Simon

Hollywood is abuzz today over playwright Neil Simon's entry into the reality TV genre. The Broadway legend is listed as Executive Producer for "The Minimum Security Odd Couple," which will follow the humorous incarceration experience of neat-freak I. Lewis 'Scooter' Libby and a more slovenly-tending cellmate. The part of the cellmate is uncast, but Jack Abramoff and David Safavian have been short-listed, sources say.

Permalink | Comment
---


Posted March 6, 2007
'Ann Coulter' unmasked!

"Language barrier" trips up Python alum

The world of conservative politics is in an uproar today, following disclosure that conservative pundit Ann Coulter is really British actor-comedian Eric Idle.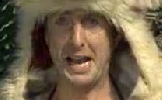 "Oh, what a giveaway"
Idle as 'Ann Coulter'
"I've been having great fun with it for years," Idle said Monday, after revealing his true identity on MSNBC's Hardball. The star of Monty Python's Flying Circus, Monty Python's Life of Brian and Nuns On The Run called the masquerade "performance art."
Although he is now a U.S. resident, it was the difference in American and British slang that led to Idle being exposed.
As Coulter, the actor had generated controversy last Friday at the American Conservative Union's Political Action Conference, where she said "I was going to have a few comments on the other Democratic presidential candidate John Edwards, but it turns out you have to go into rehab if you use the word 'faggot.'"
Told by Chris Matthews, host of Hardball, that the remark was being interpreted as a homophobic slur, 'Coulter' responded "oh, what a giveaway," and explained she had meant to call Edwards a cigarette. 'Faggot' is the British term for cigarette. At that point Idle revealed his identity.
"Blasted language barrier," said Idle. "I meant the remark to be a comment on both the unpopularity of smoking, as well as a reference to John Edwards being from North Carolina. That's where they grow tobacco, isn't it?"
"Instead, I killed the golden goose, and confirmed that Americans and the British are two peoples separated by a common language."
Asked by Matthews to explain his 2006 remarks at the same conference, in which 'Coulter' referred to Muslims as "ragheads," Idle said it was the first he had heard any negative comments about it, and rushed to offer an explanation. "If you check the tape, I think you'll find I called them 'raga heads,' meaning fans of Indian rock & roll," said a contrite Idle.
Cheney has clot, recovering
Doctors have diagnosed Vice President Dick Cheney with a clot in his mind, the White House announced yesterday. The condition, conscience thrombosis, was discovered when Cheney visited his metaphysician's office after feeling minor anxiety over the state of the world. Returning to the White House after treatment, Cheney, 66, worked a full day and is expected to gradually gain full ethical function in 7-10 days. Press secretary Tony Slow told White House reporters that he expected Cheney to be volunteering in a Bangladeshi orphanage by the end of the month.
Today's real news
LIBBY GUILTY ON 4 OF 5 COUNTS
FBI whistleblowers confirm illegal wiretapping of government officials and misuse of FISA

Permalink | Comment
---


Posted March 5, 2007
New plea for waterfront tunnel

Nickels offers to do most of work himself

Seattle Mayor Greg Nickels is making a new offer to voters who have yet to mail-in their ballots in the great Tunnel vs. Rebuild smackdown. Nickels spoke this morning to a knot of journalists, Seattle Department of Transportation workers and deputy mayor Tim Ceis, who assembled under the crumbling Alaskan Way Viaduct at Washington Street.


Ready to dig
Nickels called the outdoor briefing to announce his latest refinement to the tunnel plan: in order to save nearly a billion dollars in construction and labor costs, he will perform much of the work personally. "I have a hard-hat, shovel and tape measure, and I'm ready to get started," Nickels said.
The mayor, who is the main proponent of the Measure 1 "hybrid tunnel" proposal, has only until the March 13 postmark deadline to convince a majority of voters to side with him.
Nickels said he has a lot of experience on do-it-yourself projects at his West Seattle home, most notably drywalling a new rec room, retiling a half-bath, and creating a new rockery. He also pointed to the excavation he has been doing for the South Lake Union streetcar.
He can start on the tunnel as soon as he finishes the streetcar work, and finish in three or four months working on weekends. Then, Nickels said, he will invite the citizens of Seattle to a celebratory painting party.
Ceis said city budget officials say Nickels will save money by getting all construction materials at Home Depot, although to transport the purchases he would need to buy a pickup truck --"a hybrid, of course," said Nickels.
Nickels concluded the meeting by urging voters to mark their ballots for Measure 1, and trust him to dig the best tunnel they have ever seen, saying, "Seattle deserves a world-class tunnel, so it's my way or the elevated highway."
Nickels then turned and barked at his deputy mayor. "C'mon Ceis, we've got a lot of Quikrete to move."
Rebuild campaign cites health benefits
Advocates of rebuilding the Alaskan Way Viaduct say citizen health would benefit by approving Measure 2. With Earth's atmosphere thinning, resulting in increasing levels of cancer-causing ultraviolet radiation, the shadow that will be cast by a larger elevated highway will provide protection against skin cancer. "Seattle needs a world-class way of blocking harmful sunlight," said rebuild spokesperson Vlad Tepes. "The health of future generations depend on voters approving Measure 2."

Permalink | Comment
---


Posted March 2, 2007
White House warns of new Iran spectre

Paste follows green salt and yellow cake

Evoking past warnings about Iraq seeking yellow cake uranium, and recent claims regarding Iranian production of "green salt" (uranium tetrafluoride), the Bush Administration announced today it has intelligence that Iran possesses "beige paste."

In an exclusive interview with Wholly Holy! ("the magazine for fundamentalist Christians who haven't come out yet™"), President Bush disclosed the report of beige paste had come from British Intelligence. "The British acquired a sample and analyzed it," said Bush, "and they say it is a very potent variety."

The International Atomic Energy Agency (IAEA) however cast doubt on the danger posed by beige paste. An IAEA press spokesman said of the beige paste sample: "Hummus does not typically have nuclear weapons applications, although the sample provided by the British is particularly high in garlic."

Senior U.S. officials still insist that the events of September 11 mean beige paste must be considered a potential threat until proved otherwise. Said Secretary of State Condoleeza Rice: "We must err on the side of caution. We don't want the smoking gun to come in the form of a mushroom pilaf."

Permalink | Comment
---


Posted March 1, 2007
Success replication

Sec. Gates to take on more responsibilities

Pleased with the work of new Secretary of Defense Robert Gates, President Bush is exploring ways to duplicate that success in other policy areas, say high White House officials.

Press secretary Tony Slow today told reporters that the word had gone out that Bush was very pleased with Gates, and that Gates would be asked to consider serving in multiple positions that are, may, or will become vacant--such as Ambassador to the UN, numerous federal judgeships, Lord High Executioner for Iraq, and Vice President.

Secretary Gates said he would consider multiple positions within reason. "I really need the overtime, what with maxing out my credit cards last Christmas," Gates said.

Responding to reporters' questions that Gates would be spread too thin, Slow said other people named Gates would be sought for positions Robert Gates cannot perform. A number of these nominees are already undergoing background checks, say FBI sources. They include:

:: Microsoft founder Bill Gates is being considered to head up the Office of Management and Budget. This is particularly attractive, as any future federal deficits will be made up out of his pocket.

:: Bill Gates's wife, philanthropist Melinda Gates, is the leading candidate to replace Laura Bush as First Lady. Sources close to the Oval Office say the President believes Laura Bush is no longer up to the job since surgery in November to remove a cancerous tumor from her nose.

:: Gates McFadden is said to be up for the position of Surgeon General. Perhaps best known for her role as Dr. Crusher on "Star Trek: The Next Generation," McFadden would lead Bush's new priority health initiative to reduce out-of-wedlock pregnancies by increasing Trek-awareness in young males.

:: Revolutionary War figure Gen. Horatio Gates (1726-1806), hero of the Battle of Saratoga, could be named to a post at the new U.S. Africa Command. Military genius Karl Rove is said to think Gen. Gates is the greatest military figure since Wilton Parmenter. It is felt that Gates has learned from his Aug. 16, 1780 defeat near Camden, SC, and deserves another chance.

:: Clarence "Gatemouth" Brown (1924-2005) has the inside track on the top job at FEMA. Factors in Brown's favor are his experience dying after fleeing Hurricane Katrina, and a complete ignorance of Arabian showhorses. It is believed Texas-born Brown, nicknamed "Brownier" by Bush, would win favor with Congressional Democrats, as he was a Blues legend.

Permalink | Comment
---
- This Month +
Where's the Archive?

1 Success replication
2 White House warns of new Iran spectre
5 New plea for waterfront tunnel
6 'Ann Coulter' unmasked!
7 Animal rights activists concerned over Libby sentencing
8 State of the City
9 Bush no-show a delay, not a snub
12 Super-patriot serves by blogging
13 Bush health scare
14 Nickels emerges from tunnel metaphor
15 Israelis and Palestinians agree to truce on Viaduct
16 Khalid Sheikh Mohammed's Seattle plot
16 Learn about the heartbreak of Ken Avidor
20 Tense moments at Bush homecoming
21 Dear Leader by Kim Jong Il
22 New Bush offer to Judiciary Committees
23 Found in translation
26 Rice optimistic as Mid East mission opens
27 South America's litoral problem
28 Loneliest "Democrat" to become new Maytag Repairman
29 White House runs out of signing statements
30 Glossolalia is breaking out all over