Posted February 28, 2007
Bachmann suggests Iraq-Iran merger

Would call new country "Ira"

Saying she wants Iraq "to be run like a business," Republican Congresswoman Michele Bachmann (MN-6) on Tuesday urged Iraq President Nouri al-Maliki to seek a buyout of his neighbor to the east.

Bachmann said she hoped the combined Iraq and Iran would be called Ira, and intends to introduce legislation to pay a marketing consultant to create a new Ira national identity campaign. The contract would be worth $600 million. Logoburton, a subsidiary of Halliburton, is the only qualified candidate, sources say.

Al-Maliki said this morning that such a plan regarding Iran had already been underway for two years, financed with billions in U.S. cash. He pointed to the election of a Shiite-dominated Iraq national assembly as a sign of progress. Since Iran is a Shii-majority nation, it would amount to a merger rather than a takeover, al-Maliki said. He called Rep. Bachmann's suggestion of Ira as "too Israeli," and that he planned to call the merger Iraqna.

Response inside Iraq is predictably divided. Iraqi Variety ran with a story titled, "Two I's pair up." The pro-Maliki Green Zone Daily Collaborator praised the merger idea as "quintessential Maliki," while the headline of this morning's opposition Baghdad Sunni-Times blared "Border erasure borders on nuts."

Al-Maliki dismissed merger critics as "Baathist sympathizers, and Iraqnaphobics."

Permalink | Comment
---





Bonus post for February 28, 2007
Politicians missing in existential "event"

A number of prominent leaders in the state of Washington vanished today in an existential event set off by a Seattle councilman's decision not to seek reëlection.

Authorities initially suspected foul play in the disappearances of Gov. Christine Gregoire, State House Speaker Frank Chopp, Seattle Mayor Greg Nickels, and others. Those fears were allayed by scientists from the University of Washingon Applied Metaphysics Laboratory.

"We observed the formation of a Non-beingness Field, and it coincided with last night's announcement by Councilman Peter Steinbrueck that he intends to work on a surface+transit option for Alaskan Way Viaduct replacement, instead of running again for his council seat," said Dr. Walter Heisenberg-Frandle at a press conference that concluded a short time ago. "The field drew energy from Steinbrueck's integrity, setting off a chain reaction so powerful that a number of politicians with hard-to-defend positions on the viaduct simply ceased to exist," Heisenberg-Frandle said.

Media outlets continue to receive reports of missing elected officials and transportation agency staff people.

Permalink | Comment
---


Posted February 27, 2007
Cameron in hot seat over new documentary

A new documentary that speculates about the identity of who is buried in Grant's Tomb is attracting controversy.

Community Calendar


(Malibu) Tawk Like a Charactah from The Depahted Day.

(New York) Strike vote. Rat Union Local 4122 seeking to ban transfats in fast food, to vote on a walk out at Kentucky Fried Chicken outlets.

(Tacoma) Describe that smell. 37th Annual Tacoma Smelling Bee, sponsored by St. Regis Paper.


To be televised on The Discovery Channel, "Who's Buried in Grant's Tomb?" is being roundly criticized by those who say the film's director, Oscar-winner James Cameron, is disrespecting the beliefs of people who believe that Grant Goodeve survived having a satellite fall on him as 'Rick' on "Northern Exposure." Many say Goodeve now hosts a travel program on TV in the Pacific Northwest.

"Mr. Cameron's position seems to be that a flesh and blood person cannot live forever," said Kitty C. Frandle, Director of the New York City Heritage Commission. "He's basically spitting in the face of people who have the right to believe whatever they want, no matter how illogical," Frandle said.

Contacted on Monday, Cameron said he stood by the film. "The name is only carved into the top of the freaking stone ossuary," said an exasperated Cameron.

Frandle is even unsure that the name 'Grant' on the casket was read correctly. She thinks the name is actually 'Guardia,' for former New York mayor Fiorello LaGuardia, whom she "is pretty sure" is dead.

Hail Mary, full of cheese

Hundreds of pilgrims are stopping by a Texas elementary school to see a cafeteria pizza pan said to bear the likeness of the Virgin Mary. Visitors to Pugh Elementary in Houston are dropping off candles, rosaries, even money. True believers don't care if the Catholic church is not ready to call it a miracle. They are telling reporters that the image is leaving them with a rich, tomato-y feeling.
A student who witnessed the manifestation said: "They said: 'The Virgin is in the cafeteria' and I ran over there to see. I cried because of the onions." School officials say the cafeteria only uses extra-virgin olive oil in its pizzas.

More Cheney optimism

A narrow escape from a suicide bombing at Bagram Air Base has Vice President Dick Cheney enthusiastic about the situation in Afghanistan. "He thinks this shows the counter-insurgency in Afghanistan is now going as well as it is in Iraq," according to a staffer with the Cheney entourage. The staffer could not speak to current conditions at the base, explaining "I can't really see anything from under this desk."
Cheney told reporters just after the bombing that "now we've got them exactly where they want me."

Permalink | Comment
---


Posted February 26, 2007
Van Dyk seeks things, stuff

Citizens For More Important Things swarms Olympia

The group Citizens For More Important Things descended on the state capital this morning, asking lawmakers to fund more important things.

Today around the USA


(Washington DC) Senate probes Bill of Rights violations. Sen. Patrick Leahy today opens Judiciary Committee hearings into possible Bush Administration violations of the Jet Blue passenger bill of rights.

(Hollywood) Oscar controversy. Last night's Oscar win by "An Inconvenient Truth" has been reversed. The Motion Picture Academy's Supreme Balloting Board says confusing paper ballots and computerized tabulation errors resulted in undercounting of votes from conservative Orange County. The Academy has instead awarded the Best Documentary Oscar to the obscure film "George W. Bush: the Great Deciderer."

The group's leader Chris Van Dyk said his agenda for the day is "to talk to senators and representatives about priorities for things and stuff, and junk."

Addressing

a throng of followers in front of the Capitol building, Van Dyk said legislators need to spend more time on more important things and less time on less important things.

"The legislature should only pass laws about things that are more important, not things that are less important," Van Dyk told the crowd. "What are the more important things? Stuff that we all want!"

The crowd responded enthusiastically, chanting, "what do we want? Things! When do we want them? Now!"

Asked for specific examples of less important things, Van Dyk replied, "Whaddya got?"

Permalink | Comment
---


Posted February 23, 2007
Proposed Sonics arena to be made of straw

Owner denies any symbolism

The proposal by the Sonics basketball team to pay only two-fifths of the cost for a new $500 million arena in the Seattle suburbs has skeptics wondering: is the Sonics ownership serious, or do they secretly want the community to reject the plan, which would free the team to move to Oklahoma City.

The latter point of view was bolstered today by the release of detailed design drawings that call for the new facility to be constructed out of bales of hay held together with mud and wire.

Sonics owner Clay Bennett denied any significance to the choice of building materials. He maintained that the reason for using straw is strictly environmental. "Haybale construction is the cutting edge of sustainable building practices," he said, and added that the new Sonics arena would be the first millionaires' playpen to receive LEED Platinum certification.

"Everyone's heard of the term 'straw man' but frankly I'm amazed at this literal interpretation, maybe it's some kind of Oklahoma thing," said State House Speaker Frank Chopp (D-43). He said he would blow down the arena deal quicker than a fast break, and said there were higher priorities such as education.

Bennett disagreed, saying the Sonics are a valuable tool for education. "Chopp can huff and puff all he wants, the fact is that having an NBA franchise in Seattle teaches our children valuable lessons about losing and coping with disappointment," Bennett said. He said the team would continue to press on with the effort to win the support of the state of Washington's sports masochists.

However, Bennett continued to oppose a public vote on the new arena, saying, "That would be the last straw."

Seattle Goodwill going condo

The Seattle division of Goodwill Industries announced today it plans to transform its Dearborn Avenue facility into luxury condominiums. Residents will enjoy proximity to the International District, Safeco Field and Qwest Stadium.
The announcement continues a trend of condo conversion, and closely follows an application by Walton Street Capital to convert the iconic Smith Tower.
Goodwill spokesman Wally Frandle explained the decision was influenced by demographic changes in the city. "Due to the policies of Mayor Greg Nickels, Goodwill sees a day soon when there will be no one living in Seattle requiring our services," said Frandle.

Arbitron flubbed Studio 60 numbers

The classy but low rated NBC drama "Studio 60" may receive a reprieve from cancellation due to an error by the Arbitron company in calculating the show's ratings. So says Aaron Sorkin, creator of the program that looks behind the scenes of a fictional TV sketch-comedy show.
Arbitron has selected viewers record their viewing habits in paper diaries.
Sorkin says Arbitron called him Thursday to tell him that a startlingly high percentage of viewers who didn't watch "Studio 60" mistakenly thought they were not watching "Saturday Night Live."
The ratings for "Studio 60" will be recalculated, Sorkin said.

Vilsack out?

Sources close to Democratic presidential candidate Tom Vilsack say the former Iowa governor will conclude his campaign today.
"Governor Vilsack has been gratified by the support he has received from the American people," said a staff member, adding, "he really has that Dukakis magic."

Oscar Weekend!
Blarchive: On the Road to the Academy Awards by Kim Jong-Il (2006)

Permalink | Comment
---


Posted February 22, 2007
Mostly cloudy and 57

Let's take a look at how you're doing out there on the roads, here's Dick.


This is Vice President Dick Cheney with the Iraq Traffic Report.

Insurgents are continuing to dig up roads to bury IEDs, so expect delays when you see the orange construction zone signs.

A slowdown on the Fallujah-Baghdad Highway due to an SUV rollover blocking two lanes, spilling a load of shrink-wrapped hundred-dollar bills.

The Basra airport road is jammed with British troops rushing to make their flights home, British High Command recommends you take alternate routes.

Commute time from Basra to Baghdad is currently seven hours.

The Iraq Traffic Report is sponsored today by Halliburton. Halliburton wants to remind you: when your car is intercepted by kidnappers, remember to pull over completely onto the shoulder. "Halliburton: We've got it all, and we want more"™

I'm Vice President Dick Cheney with Metro Baghdad Traffic, now back to Tony Slow's Morning Zoo.

Permalink | Comment
---


Posted February 21, 2007
GOP hopefuls vie in Dannielynn paternity race

Anhalt second in polls, Stern trails

The death of Anna Nicole Smith in Hollywood, Florida on February 8 has unexpectedly moved the Sunshine State ahead of New Hampshire and Nevada in the 2008 presidential sweepstakes.

A bill in the Florida legislature sponsored by Rep. David Rivera (R-Miami) that would decide the state's early presidential primary based on the winner of the Dannielynn Hope Marshall Stern paternity case is widely expected to pass. Rivera's office said the bill is designed to bring Florida's role in presidential politics much-needed national attention, especially from Fox News and CNN's Nancy Grace.

Republic Party presidential candidates are already lining up for what is expected to be a delegate-rich contest. Former Massachusetts governor Mitt Romney and former New York City mayor Rudolph Giuliani are barnstorming the state to make their cases for having fathered the late centerfold's 5 month-old daughter. Giuliani travels with copies of his and Smith's daily schedules to show they were often in Manhattan at the same time, while Romney is reminding voters of his pro-family Mormon background and preference for blondes. Romney is using Florida for a test of a possible campaign slogan, "Mitt Loved, Not Gloved."

GOP frontrunner Sen. John McCain has named Toys 'R' Us spokesgiraffe Geoffrey to his campaign steering committee, and is said to be forming strategic alliances with Gymboree, Pampers and three of the Teletubbies.

Polling also reflects the volatility introduced by Smith's death.

Asked who they think is Dannielynn's father if the Republic primary were held today, most Floridians prefer McCain with 37% of those responding. Prince Frederic von Anhalt at 31% is a surprising second, well ahead of a closely grouped middle pack consisting of Giuliani (11%), Romney (9%), and Sen. Sam Brownback (8%). Anna Nicole Smith fiance Howard K. Stern is a disappointing fifth at 3%, and Rep. Duncan Hunter brings up the rear with only 1%.

Back |

Permalink | Comment
---


February 17-19, 2007
Mr_Blog Weekend
Seattle waterfront may be sold if tunnel nixed

Could move to Renton

Mayor Greg Nickels announced Friday he has reached an agreement to sell the Seattle Waterfront to an Oklahoma City investor group led by Sonics owner Clay Bennett. Nickels said that the deal would go forward if Governor Chris Gregoire and the Washington Legislature do not relent and approve his proposal for a waterfront tunnel.

Value of the potential deal was not disclosed.

"We are proud to have been associated with the waterfront for so long," Nickels said in a press conference Friday. "However, the reality is that this is a business, and its ongoing viability requires a tunnel--not a viaduct, not a surface boulevard," said Nickels. The mayor said he felt he has done all he can to create a lucrative redevelopment zone for real estate developers, but perhaps the time had come to throw in the towel.

"Maybe new ownership will have better luck," Nickels said.

Seattle Port Commission CEO Tay Yoshitani expressed shock at word of the possible sale, raising the possibility that the waterfront could be moved to Oklahoma City.

"There's

a real danger of the entire thing being moved lock, stock and barrel to Oklahoma City," Yoshitani said. "They have been very interested in having a seaport." He said Oklahoma City has in recent years explored the availability of the ports of Ayr, Scotland and Delfzijl, Netherlands.

Bennett told reporters that he has no plans to move the waterfront and would do all he could to keep it in Seattle. However, he said that if the state would not approve the tunnel he would be forced to "find a better place in the area where the waterfront would work," and mentioned a 21-acre site in Renton owned by Paul Allen.

Renton mayor Kathy Keolker greeted that possibility with enthusiasm, saying it would bring jobs and be a tremendous boon to the city's tax base.

But Renton City Council president Toni Nelson urged caution, saying Renton would still need a tunnel if the waterfront were to make sense. "Because we wouldn't want a viaduct that would wall us off from Lake Washington," Nelson said.

Casus Belli changes name to Muhammad Ali

Casus Belli announced today that it is changing its name to Muhammad Ali. Belli explained the change as an effort to disassociate itself from the Bush Administration's use of its name, and that it is not predisposed against Muslim nations.

Permalink | Comment
---


Posted February 16, 2007
Press Release of the Month



prokim
glorious democratic people's republic relations


a kimdex company




pyongyang • tripoli • beverly hills • washington, d.c.



Feb. 16, 2007
Contact: Park Jong-Ril
FOR IMMEDIATE RELEASE

(Pyongyang) Kimdex Inc. today announced it has won a highly competitive bid process for a contract to supply border security technology to the United States Department of Homeland Security.

Under terms of the contract, to run through 2012, Kimdex will supply the office of U.S. Customs and Border Protection with a new Vigilantly Protect the Cornucopia of Prosperity™ Model LX.

The new system is Kimdex's latest generation in border protection technology. It is based on the company's Cold War-proven Resist the Imperialist Hegemony™ Anti-Infiltrator System.

Herb Walker Bush III, Vice President of the Security Products Division, said Vigilantly Protect the Cornucopia of Prosperity™ is the latest in a centuries-long tradition of homeland protection technologies.

"Kimdex's Grand Designer is the scion of a dynasty stretching back to the most ancient dynasties of China, history's great wall builders," said Bush. "Motherland or Fatherland, Kimdex is reknowned for providing maximum impenetrability, at an affordable price."

Vigilantly Protect the Cornucopia of Prosperity™ utilizes the latest in passive protective technologies to achieve low operating and capital costs. Chief among these are barrier devices including the By Armed Revolution Be the Empires Dead™ (B.A.R.B.E.D.) wire-mounted system, and the Bring Revolutionary Ideals with Clever Knowledge™ (B.R.I.C.K.) wall system. Further operating cost savings will be met through the use of lower-wage Mexican labor.

Kimdex's Seek New Ingress to Providers of Economic Resources™ (S.N.I.P.E.R.) systems allow fewer human guards to cover more distance, meaning fewer watch towers need to be constructed.

Asked how he will celebrate the new contract, Kimdex President and CEO Kim Jong-Il declared simply, "I'm going to Disneyland!"

About Kimdex

For over fifty years, Kimdex has been the industry leader in the Democratic People's Republic of Korea, dominating every sector of the economy including industrial espionage, reverse engineering and couture. Kimdex is a top exporter of diplomatic tension, and over the years has been the focus of no less than 15 international crisis summits. In addition, Kimdex's Pyongyang corporate campus has been named Most Photogenic From Space for nine years running by NSA Today.
Blarchive: Press Release of the Day (10/16)

Permalink | Comment
---


Posted February 15, 2007
New dollar coin recalled

The new U.S. one-dollar coin will not be released today as long planned, the Bureau of Engraving announced Wednesday evening. The new introduction date will be President's Day 2008.

Bureau of Engraving spokesperson Amy Camus said the new coins must be re-minted. "An error was discovered during final quality control that makes the coins unusable as legal tender," said Camus. At some point in the preproduction process an image of the actress Bea Arthur was substituted for one of George Washington, as had been originally planned, she said.

Treasury Secretary John W. Snow said he could not comment due to an ongoing investigation that began earlier today.

Back |

Permalink | Comment
---


Posted February 14, 2007
Cupid in shooting accident

Harry Whittington critical, improving

Romantics the world over are in turmoil today, following reports that Cupid, Roman god of love, had accidentally shot his friend Harry Whittington. The accident occurred during an early-Valentine's Day lovebird hunt near Corpus Christi in which Cupid and Whittington, 79, were participating.

It was the second time Whittington, an Austin attorney, had been shot near Corpus Christi.

An initial report by the Texas Parks and Wildlife Department stated that the incident occurred when Cupid was turning to track lovebirds with his weapon. Whittington downed a lovebird and went to retrieve it. While he was out of the hunting line, another covey was flushed and Cupid raised his bow and fired a volley of arrows, striking Whittington in the face, neck and chest.

Cupid

personally airlifted Whittington to Christus Spohn Hospital Corpus Christi-Memorial, where doctors were able to remove around 200 tiny arrows from Whittington.

Erik Wilson, a Christus Spohn media relations officer, said Whittington is in critical but improving condition. "Actually, he's understandably quite blissful in light of the cause of his injuries," Wilson said.

Cupid denied through a spokesperson that alcohol had any role in the accident. "Cupid is only drunk on love, not drink," said the spokesperson.

The incident puts in jeopardy today's observance of Valentine's Day. It is expected Cupid will be forced to deal with an investigation and media fallout, instead of tending to his official duties.

Retail analyst Diane Bahner at RBC Dain Rauscher expects the greeting card, confection and floral industry to be hard-hit. The already-tight lingerie sector could be in for another plunge, she said. Bahner downgraded Pfizer, maker of Viagra, to "sell."

Permalink | Comment
---


Posted February 13, 2007
New fatwa by Iran

Nader, "Great Despoiler of 2000 election," in hiding

Iran's Supreme Leader Ayatollah Sayyid Ali Khamenei is alarmed at the deteriorating state of relations between his country and the U.S., and in response he has issued a fatwa, or religious legal decree, against the person he says bears ultimate responsibility: activist, gadfly and sometime presidential candidate Ralph Nader.

In a statement in Farsi read on Iran state television, Khamenei called the 2000 Green Party candidate "the Great Despoiler of the 2000 American election, who allowed President Small Houseplant, the blood-soaked one, to come to power."

"We had thought the incompetency of the Small Houseplant would be good for Iran's influence in the Mid East," said Khamenei, "and in some ways it has. Overall, however, the Small Houseplant and his unquenchable need to be watered with oil has been destabilizing."

"We would have been better off with Al Gore," read the statement, "who, while a tough hombre, would at least have continued the peace established by the father, Older Houseplant and his successor, the Charismatic One."

Khamenei continued: "With the Small Houseplant has come chaos. Now his fleet is off our coast, and the magical appearance of 'evidence' purporting to link Iran to the Iraq insurgents has taken us to the brink of war. And that egotistical little freak Nader is to blame."

Nader

could not be located today for comment, and is said to be in hiding. This concerned friends and political allies, who said it was unusual for the rumpled narcissist to miss a chance for global media exposure.

Bush to seek UN noise resolution

In a move against Iraq's eastern neighbor, President Bush announced today that the U.S. would seek UN intervention into what he called Iran's belligerent, loud, noisy and threatening behavior.

"There are all kinds of comings and goings next door," said Bush, "elections, student protests, nucular research, and keggers, at all hours of the day and night. My soldiers need to sleep, they have to go to work in the morning."

Iraq President Nouri al-Maliki said he had complained to Tehran frequently about the noise. "I have tens of thousands of children who have school the next day, and here are the Iranians partying until all hours, with their fancy electricity and running water, acting like they're a sovereign nation or something," Maliki said. "We Iraqis won't stand for those sorts of things."

Permalink | Comment
---


Posted February 12, 2007
Putin takes out restraining order

Bush must stay 500 yards from Russian president's soul

Russian President Vladimir Putin has taken out a temporary restraining order against President George W. Bush. In papers filed with the World Family Court in The Hague, Mr. Putin cites strange behavior of Mr. Bush that makes the Russian leader fear for his safety.

The story emerged last weekend when Putin attended a support group for diplomats, arranged by the Organization for Security and Cooperation in Europe, on the theme When Your Superpower Relationship Turns Abusive.

Putin recounted for attendees an emotionally charged story of his first meeting with Mr. Bush. "It all started in 2001. I first met George at a reception," he said, "he was visiting Moscow and it seemed like a hospitable thing to do, going and meeting the U.S. president."

Putin said he was not prepared for what happened next. "George just stared into my eyes and looked into my soul, without asking permission. It really felt creepy, I'd never felt so violated."

Putin said unwanted communication started soon after. "George would call at all hours, and send me messages. He wouldn't stop," Putin said. "The worst was when he'd make up silly pet names to call me, like 'pootie-poot.' "

"I tried to stop taking his calls," he said, "but then he started calling me on the Red Phone. What could I do? It's the Red Phone! I had to answer. The man has his finger on the button."

Putin

said he first became worried about his physical safety in late 2002 when, he said, Mr. Bush threatened to do something drastic. "He said he desperately needed me for something important," said Putin, "and he said if I wouldn't join him he would do something extreme, like invading another country."

Once, Putin said he had to call police when Bush had U.S. Ambassador Alexander Vershbow stand across the street from the Kremlin, holding a boom box over his head blaring the Star Spangled Banner.

OSCE spokesman Gerhard von Frandle said the purpose of the support group is to create awareness about abusive diplomatic relationships. "For six long years, chancellors, prime ministers and presidentes have kept the shame of unipolar superpower abuse in the closet," von Frandle said. He urged Bush to seek treatment for his unipolar disorder.

Putin said he wanted other world leaders to hear his story as part of his personal healing process. "I just want to help stop the cycle of abuse," said the Russian president. "If I can stop just one head of state from becoming another Tony Blair, then some good can come from my ordeal."

Permalink | Comment
---


February 9, 2007
Insurgency near bankruptcy

Bremer credits $12B in risky payday loans

L. Paul Bremer yesterday told a congressional committee that he authorized billions in high-interest "payday" loans to Iraqis in 2003 and 2004, countering allegations that as much as $12 billion--including $4 billion in currency--was missing. Bremer said the insurgency "could fall at any time under a crushing mountain of debt."

The revelations by Bremer, the self-described 'viceroy' who led the Coalition Provisional Authority in charge of Iraq after the fall of the Hussein regime, came as he testified before the House Committee on Oversight and Government Reform.

The committee chairman, Rep. Henry Waxman (D-CA), questioned Bremer about what happened to the cash, Iraqi funds frozen at the start of the war. The giant pallets of hundred-dollar bills, weighing 363 tons, had been given out without proper accounting safeguards, Waxman charged.

"Who

in their right mind," asked Waxman, "would send 363 tons of cash into a war zone? But that's exactly what our government did," he said.

"On the contrary," Bremer countered, "full safeguards were used. We know that nearly all our Iraqi debtors are now in the insurgency, and now those loans are coming due," he said.

Asked by Waxman to estimate odds of success, Bremer said "the Pentagon is holding the paper" on the loans. "They are ready to send the debts to collection if insurgents deviate even slightly from their repayment schedules," said Bremer.

"At interest rates of up to 500%, it is doubtful any insurgent will be able to keep it up," Bremer said. "They'll be forced into Chapter 11 [bankruptcy], and have to stop fighting in order to take care of all the paperwork."

"Take it from me," Bremer assured Waxman, "this can't fail."

Permalink | Comment
---


Posted February 8, 2007
Bush urges volunteerism

Asks "Minutemen" to guard Iraq borders

Saying Americans' greatest quality is "their willingness to pitch in," President Bush today announced he had volunteered the Minutemen organization for three six-month tours in Iraq. "It's my way of thanking people who supported Republic Party candidates in 2006," the president said.

"The

Minutemen have been doing the hard work of protecting our homeland, over here," said Bush, "but now that we've awarded $2.5 billion to Boeing for a high-tech solution, the Minutemen are now free to help out, over there."

Bush said the all-volunteer Minutemen group, known for its unarmed patrols that have stopped more than 19 would-be illegal immigrants from crossing the U.S.-Mexico border, will be assigned to stop foreign fighters from entering Iraq to join the insurgency. "I'm going to tell them to go astronaut on any insurgents they run across," said the president.

"I'm calling on the Minutemen to contribute 2,500 people toward our 21,000 troop goal. I know they would volunteer if asked, so I just went ahead and told [Defense Secretary] Bob Gates to put them on a plane," the President said.

Bush said the Minutemen's greatest asset is their ability to be citizen-ambassadors. "By sending an unarmed group, we show the Iraqi people we mean them no harm."

Permalink | Comment
---


February 7, 2007
Viacom just says no to free publicity

Orders YouTube stop helping its movies, shows

Saying its movies and TV shows have more than enough popularity, Viacom has demanded removal of "unauthorized" clips of its programs that viewers have uploaded to the YouTube video sharing site. Included are selections from Viacom properties Comedy Central, MTV and Paramount Pictures.

"The idea of people telling each other about our programming, sending around clips in spontaneous, unplanned ways, just because they like something? Well it just doesn't make sense to us, it sounds like a fad," said Viacom spokesman Dick Rowe Jr. Rowe is the son of Dick Rowe, the Decca Records executive who refused to sign The Beatles because "guitar groups are on the way out."

"As for video clips, we've got those. Helloooo, they're called TV commercials," Rowe said. "And we were doing them long before YouTube came along."

Rowe dismissed the view that Viacom was essentially sacrificing over 100,000 free commercials on YouTube. "So what? We believe in the saying 'you get what you pay for,' and what we pay for are tested, proven publicity methods," said Rowe.

"Display ads, for instance. Or infotainment programs--preferably ones we produce. Also, talk shows where one of the stars can get some on air face-time, then introduce each clip with a lame set-up."

"What Viacom is also about is that viewers get what they pay for," Rowe said. "If we're not making immediate, short-term revenues off it, Viacom wants no part of it."

Love Federation Style

An

arrest of a NASA astronaut has brought to light a space-age love triangle.

Captain Lisa Nowak, 43, a shuttle mission specialist, was arrested at Orlando International Airport after she allegedly assaulted and attempted to kidnap Captain Colleen Shipman, 30, Nowak's romantic rival for the affections of Captain James T. Kirk.

Police investigators said Nowak, who has three children, drove from Houston to Florida, to confront Shipman when she beamed down to NASA's facility at Cape Canaveral.

A search of the crime scene turned up a black wig and a phaser. A search of a bag Nowak was carrying revealed a mallet, a folding knife, tubing, plastic garbage bags and approximately 10,000 quadloos in cash.

Captain Kirk, of Iowa, would not give his age and said he had only one child, that he knows of. He said he was not surprised at Nowak's actions. "Chicks go crazy if they can't have their Vitamin K," smarmed Kirk.



Permalink | Comment
---


February 6, 2007
Good Will Funding

Boston scare points to new municipal funds source

Turner Broadcasting's settlement with Boston and Massachusetts authorities, under which Turner agrees to pay for police response to the bomb scare caused by the electronic light boards used in a Cartoon Network promotional campaign, could be a silver lining for cities that have endured years of declining federal assistance.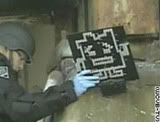 Scary
Legal trend watchers say Monday's settlement, which will cost Turner and a marketing contractor $2 million (including $1 million in "goodwill" funds), creates a new category of litigation called 'reimbursable reasonable non-threat threat.'
William Jennings Frandle, business development director of the group Lawyers In Alliance for Redress (L.I.A.R.), said a 'reasonable non-threat threat' can be understood as "a claim by any entity that there is even remote chance that an object can be regarded as a threat to public safety, even if that entity is a moron," Frandle said. Making such threats reimbursable is merely a way to get lawyers to take notice of the new opportunity, according to Frandle.

"Basically,

the concept creates legal protections for the uninformed, meaning anyone who is out of touch with reality in any way," said Frandle. Citing the light boards at the center of the Boston incident, Frandle said it was irrelevant that the devices didn't look like bombs. "That assumes a moron knows what a bomb looks like. In a post-9/11 world we have to assume anything could be a threat, and in that respect morons are leading the way."
If popularized, the 'goodwill' revenues could be used by cities to fund basic services such as public safety, housing programs, Wal-Mart tax breaks and stadiums.
Housing and Urban Development Secretary Alphonso Jackson said the Bush Administration welcomed the possible new revenue source. "This offers a tremendous opportunity to reduce U.S. government aid to non-Iraqi cities even further," Jackson said.
In Washington, the Justice Department on Tuesday announced draft guidance for city prosecutors on what qualify as reasonable non-threats, including: blinking bicycle tail lights; wi-fi base stations; objects thrown in garbage cans; packages left on front porches by UPS; building ventilation pipes that look like missile launchers; Impeach Bush bumper stickers; foreign accents.

Permalink | Comment
---


Posted February 05, 2007
Conservative economist pushes "cash-only economy"

If a conservative think tank has its way, the U.S. economy will move away from debits, loans and credit, instead operating solely on cash for everything from retail purchases to federal regulatory policy.

"A cash-only economy is the ultimate pay-as-you-go policy," said Dr. Milton Frandle, an economist with the Heritage Foundation.

Frandle explained that cash-only would give consumers more direct influence on prices. "Everything would be open to negotiation, from the Slurpee at 7-11, to the price of an oil change, to the cost of a speeding ticket, to favors by a congressman," said Frandle.

"Just

think, for example, how much more efficiently government could operate if companies could apply cash-only principles to inefficient, process-heavy transactions such as mine safety, federal oil and gas leases, or defense contracting."

Frandle described a possible pricing schedule for interactions between the public and government, such as $150 for a speeding ticket, $1,000 for a building permit, and $100,000 for a membership on a vice presidential policy task force. A campaign speech by Sen. Joseph Biden (D-DE) is a bargain at $25.

The going rate for a climatologist or atmospheric scientist to take an anti anti-global warming position would be $10,000, according to Frandle--making it the most expensive double negative in history, although Frandle said he preferred to see at as decriminalizing prostitution.

Permalink | Comment
---


Posted February 2, 2007
Bush in jobs deal with Wall Street

Plan calls for full employment of Bush twins

President Bush, following an address to Wall Street for which he has been criticized for not announcing any new proposals on the economy, has announced a sweeping new job creation bill "that will create millions of new jobs for my daughters."

It is the Administration's alternative to increasing the federal minimum wage to $7.25, which the Democratic-controlled Senate approved on Thursday. Bush called that insufficient. "$7.25 an hour won't even cover the twins' allowances," Bush said.

The unemployment rate among Jenna and Barbara Bush has consistently hovered between 50% and 100%. Despite a 2001 $1.35 trillion tax cut and passage of jobs bills in both 2002 and 2003, job creation has lagged throughout Bush's presidency and Jenna and Barbara are still not gainfully employed.

The plan calls for Fortune 500 chief executives to pay a 'job creation fee' equal to 0.01% of the value of their employee pension funds (obligated values), creating a $450 billion Put My Daughters to Work Fund. The fund will be used to create entry level jobs in the marketing, publishing, babysitting and fashion industries.

Millions

of jobs are required so that the co-First Daughters have many choices from which to choose. "They're pretty particular and don't have the longest attention spans," explained Secretary of Labor Elaine L. Chao. "The larger the job pool, the more likely it is we can find something they can do."

Word that Wall Street had agreed to the jobs plan set off a celebration at the White House. "Finally, we'll get them out of the White House and on their own," said the president. He said First Lady Laura Bush has plans to convert their daughters' rooms into a sewing room, and possibly an NSA 'terrorist surveillance' command center.

The White House also issued a proclamation, declaring Feb. 2 Take My Daughters To Work Day.

Fighting childhood obesity

The White House also announced a new initiative to fight an epidemic of obesity among American children. The plan will make deep cuts in food stamps, the federal school lunch assistance program, and the WIC nutrition program.

Permalink | Comment
---


Posted February 1, 2007
Final versions of viaduct options

Team Tunnel adds innovative hamster design to mix

Finishing touches have been made to the Alaskan Way Viaduct replacement proposals voters will see on advisory ballots March 13.

Both the Tunnel and Rebuild sides denied their plans had been compromised and lowballed into irrelevancy. In fact, they said, the proposals Seattlites will vote on have been planned as innovative and world-class, offering maximum benefit at lowest cost:

Advisory Measure 1


Tunnel 'lite': Three HabiTrails by Hagen Inc. of Canada, installed in front of the waterfront Ivar's. It will accommodate transit insofar as Waterfront Trolley riders will be able to see it as they pass by. Cost: $79.95 each for the HabiTrails, $15 million for a custom-designed four-tube elevated section connecting to the Battery Street tunnel. Hamster food will be paid for with proceeds from a .06% hike in the county hotel/motel tax.

Advisory Measure 2


Viaduct rebuild: a model of the two-level six-lane project will be accessioned into the collection of the new Olympic Sculpture Park. Everything about the 120-foot long, 24-inch high viaduct will be to scale, down to the bolts, rebar, lane buttons and towtrucks. Cost: $2 million in modelmaking and materials, $10 million to connect to the Old Spaghetti Factory across Broad Street, and $3 million for a graffiti-proof Lexan dome.

Viaduct rebuild proponents also point out their project will be hamster-friendly as well: the Lexan dome will have air holes.

And if neither plan meets with voter approval? "A tragedy," said Mayor Greg Nickels, who is pro-tunnel but says a final decision needs to be made. "Hamsters will continue to be stuck in horrible congestion, and real estate speculators will lose out in billions in redevelopment deals."

Nickels raised a nightmare scenario: "there would be no choice but to replace the viaduct with a surface boulevard, with traffic limited to 25 mph, a people-oriented promenade, and maybe a peoplemover or other intermediate-capacity transit coming in from West Seattle," said Nickels.

"Let's hope it doesn't come to that. But it's in the voters' hands now," Nickels said.

Suit filed on ballot measures

Community activist Peter Sherwin finds fault with the tunnel measure, and has filed suit against the March 13 advisory vote. A hearing is scheduled for today in King County Superior Court.

Sherwin is seeking to have the title rewritten. "I don't think this is an honest portrayal," Sherwin told the Times on Tuesday. "It doesn't show that the state has not approved of 'tunnel lite' nor given any funding to it."

Sources within the City Attorney's office say a Measure 1 revised to accurately describe the tunnel proposal would read "Do You Want a Pony?"

Biden inks endorsement deal

Following the conclusion of his 2008 Presidential bid, Sen. Joseph Biden (D-DE) has reached a deal to become the new spokesman for Proctor & Gamble products. The maker of soaps, laundry and cleaning products plans to take advantage of Biden's wildly popular new catch phrase, "clean as a whistle, crisp and clear."

Biden had initially been criticized when he used the phrase in reference to Sen. Barack Obama (D-IL). But Biden masterfully explained he meant no insult. "Most of Delaware is below the Mason-Dixon line, after all," Biden said.

Permalink | Comment
---
Original content, "We satirize. You laugh.", and "A Complete Satire Solution", ©2006-07 Mr_Blog's Wiseline Institute NW