Iran has North Korean prank missiles, cables posted by Wikileaks show

If Mahmoud Ahmadinejad wants to hit Russia and Europe with ballistic missiles secretly purchased from North Korea, it will have to be with different ballistic missiles secretly purchased from North Korea. This according to State Department cables released last weekend by Wikileaks.org.

A sneak peek at a February 24 embassy cable provided to media by Wikileaks said the 19 missiles acquired by Iran are of a design created by Pyongyang to use as noisemakers.

"They are basically prank BM-25 missiles, for things like Kim Jong Il's birthday parties," July Sparkler, national defense correspondent for "Oooh-Ahhh," the journal of the Carlyle Novelty Pyrotechnics Manufacturing Group, said after examining the leaked document.

As such, according to Ms. Sparkler, they are harmless. "Could they be loaded with radioactive confetti? Sure. But no matter what targeting coordinates are fed into the missiles' onboard guidance system, they will always blow up over the Sea Of Japan," she explained.

In other news, diplomatic hilarity ensued on November 24, when a South Korean attending a birthday party on the island of Yeonpyeong sat on a North Korean whoopie cushion.

Permalink | Comment
---



GOP climate change compromise

Annual turkey-based post

Congressional Republicans are ready to compromise on climate change, House Speaker-in-waiting John Boehner and presumptive Senate Majority Leader Mitch McConnell announced today.

"The time has come for Republican thinking on climate to enter the 21st century," said Boehner. "I'm satisified that global warming is proven by observable facts, the most convincing being that there is a massive increase in the number of turkeys in the woods of my Ohio district."

McConnell concurred, saying his home state of Kentucky was similarly overrun: "The wild turkey are flourishing because climate change has made this winter so warm."

The GOP leaders said the reality of climate change is influencing the agenda being created for the upcoming 111th Congress -- beginning with the home foreclosure crisis.

"We don't need legislation to stop people from being thrown out onto the streets this winter, since it's warm enough for ex-homeowners to camp out," said Boehner.

"And an extension of unemployment benefits is unnecessary, because the unemployed will be able to eat as many turkeys as they can shoot," added McConnell.

White House Press Secretary Robert Gibbs hailed the shift in GOP thinking, calling it "hopefully the first of many good things to come."

In a related story, this Wednesday President Obama will continue the annual tradition of pardoning a turkey in observance of Thanksgiving.

The turkey to be freed, a 22 pound tom from Bethlehem, Pennsylvania, is named Jesus as part of the Obama Administration's ongoing effort to dispel persistent rumors he is a Muslim.

Permalink | Comment
---



Hannity quits Fox

New anchor of 'Down With The Imperialist Obama Hour' on Pyongyang-One

Conservative commentator Sean Hannity sent shockwaves through US media yesterday when he abruptly resigned from Fox News.

The longtime host of such programs as Hannity & Colmes, Hannity, and The WIZZ Sunday Afternoon Movie is leaving the network because, he said, "Fox is too liberal, I can't stand it anymore."

"When I came on board, the network was way far to the right of the Democrat Party. But in the last decade the Democrats have moved to the right very fast and Fox hasn't kept up," Hannity told the magazine Wholly Holy ("Details for the young conservative Christian male").

"Today Fox is only slightly more conservative than the Democrats," he said. "It's sad."

"The last straw for me was when I broke the news that Barack Hussein Osama is 'losing it.' All the real journalists laughed at me, but North Korea called and said they love what I do. They're granting me complete editorial control," he said.

Hannity's new broadcast home is North Korea's Pyongyang Channel One, where he has inked a Five Year Plan to anchor The Down With The Imperialist Obama Hour.

"It'll be the kind of show I've been wanting to do," said Hannity. "Pyongyang-One is the only network committed to attacking the U.S. government the way it needs to be attacked."

Contract terms have not been disclosed, but are rumored to include an annual salary of 3 million leftover East German Deutschmarks and a seat on the board of the Glorious People's Broadcasting Work Camp.

Permalink | Comment
---



Seattle solves budget crisis

Parking paystations outside strip clubs are key to plan

Mayor Mike McGinn declared an end to Seattle's budget crisis today, announcing an innovative policy to increase revenues from parking while at the same time regulating the city's striptease establishments.

The plan will restrict nude and topless dance clubs only to those locations that have automated parking paystations installed at curbside, said Aureola Lappdanseur, special assistant to the mayor for economic stimulation.

"It's very simple: cash transactions between dancers and strip club patrons will be banned," said Lappdanseur. "Instead, customers will purchase dance time increments from a paystation outside the establishment, and tip the dancers using the self-adhesive printed stickers," she said.

Mayor McGinn demonstrated the new system this morning during a visit to the first business stimulated, the former Giggles comedy club on Roosevelt Way NE. The new management plans to reopen soon as a strip club, rechristened Jiggles.

"This new policy will bring the city treasury $20 for every five minutes of dancing, the same rate as for parking your car. Seattle's going to be rolling in money," said McGinn.

"But just as important, it represents a much-needed greening of live adult entertainment, since the paystations are solar-powered," added McGinn, who is quickly becoming known as 'Seattle's Greenest Mayor Since The Last One.'

McGinn then met with the board of a Catholic elementary school located across the street from Jiggles, and assured them the new policy addresses their concerns about nude women performing in such close proximity to their campus.

"Not only do we require dancers and customers to be separated by the width of a bike lane, the stickers can also be used as pasties," McGinn explained.
+
Jiggles Dancer
'Cristal' is in compliance

Permalink | Comment
---



Muppets suspend "News Flash" anchor indefinitely

Newsman made 3 donations to Greenpeace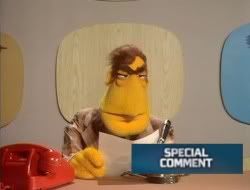 +
Anchor Muppet
Highly opinionated, often controversial Newsman suspended
Top-rated Muppet News Flash anchor Newsman has been suspended by The Muppets for making unauthorized campaign contributions, the longtime multimedia conglomerate announced today.
"I became aware of Newsman's contributions late last night," explained Muppetco chief executive Sam Eagle. "We have a strict rule that Muppets must get my approval before making any donations, since the Muppet stamp of approval is so sought after," he explained.
"Mindful of that rule, I am suspending him from News Flashing, indefinitely and without pay," Eagle said.
The Newsman released a statement acknowledging the contributions. "I made three personal, $35 donations to Greenpeace's campaigns for clean water, to protect whales, and reduce the use of perc (tetrachloroethylene) in drycleaning. That is the first time I have ever donated, and I didn't encourage anyone else to do so."
One prominent media watcher called the suspension of the often-fiery anchor idiotic, but predictable. "There's never any problem when Muppets support big businesses Muppetco approves of," said Teva Espadrille of the Fund For Real Wildlife. Espadrille pointed out that Muppet personalities have appeared in commercials for Mastercard, Pizza Hut, Ford, and the Iowa Pork Council.
Espadrille also accused Muppetco of its own ethical conflict -- the company is connected to the oil and drycleaner industries. "Not only are Muppets made out of synthetic, petroleum based fibers, they also require regular drycleaning -- realities which have always been in conflict with Muppet News coverage of energy and the environment," she said.

Permalink | Comment
---



Murray reelected to 4th term

Officeholders begin 2012 fundraising to prepare for Rossi challenges

Dino Rossi conceded the 2010 US Senate race to incumbent Patty Murray last night, setting off a scramble by elected officials around the state of Washington seeking to defend themselves against possible reelection challenges from Rossi two years from now.

Rossi lost his third run for statewide office since 2004 just before 5:30 pm Thursday evening, when the Seattle Times declared Murray the winner of a fourth term with 51 percent of the vote, to Rossi's 49 percent.

Rossi called Murray to offer her his congratulations, and then issued a statement through his campaign reminding supporters that copies of his 2005 book, "Lessons in Leadership, Business, Politics and Life," are still available -- and marked down to $19.95. But Rossi kept things mysterious by not even hinting at plans for his next losing run for office.

"Everyone I'm talking to thinks Rossi could be coming after them next. To play it safe they will start fundraising in the next two weeks, before the holiday shopping season starts," said a Washington State Democrats insider who spoke on condition of anonymity.

The obvious move for Rossi would be another run for the Senate against Democratic incumbent Maria Cantwell, the source said. "It would be his pattern, since he ran for governor twice. But Rossi has real estate experience, he could surprise us and run for county assessor -- or he might run for nothing, and just write another book for his foundation."

A senior state GOP official, also speaking on background, said she had no idea if Rossi has made plans for the future, but said he could have his pick of offices. "Dino may be a defeated general, but he's our defeated general, so everything's on the table. We'll support him whether he wants to run for US senator, state senator, county executive, county council, city council, library board, water commissioner or student body president."

A primary challenge to a Republican incumbent cannot be ruled out either, she added -- and it could even be unconventional. "I wouldn't be surprised if Dino became a gentleman farmer in eastern Washington and tried to drive Clint Didier out of business," the GOP source said.

Permalink | Comment
---



A win for Christine O'Donnell

Hired to help Meg Whitman around the house

Christine O'Donnell scored an impressive win tonight, securing a job offer from former eBay CEO Meg Whitman shortly after both women lost their runs for public office. Instead of heading for the Senate, O'Donnell is bound for a house -- working as Whitman's new housekeeper.

"I'm perfect for the job because I have lots of experience sweeping things under rugs," O'Donnell told the Southwest Airlines ticket agent at Phildelphia International Airport.

O'Donnell boarded a plane in Philadelphia a short time ago, after conceding to Democrat Christopher Coons in the race for the Delaware Senate seat formerly held by Vice President Joe Biden.

Whitman, who tonight lost the race for California governor to Attorney General Jerry Brown, said she extended the offer to O'Donnell instead of advertising publicly, "partly because this time I want a maid who can complete an I-9 form, but mostly because she was available immediately. I need someone ASAP to clean up my mansion after the victory party," Whitman said.

The job will provide O'Donnell with a place to live, an issue which has been a challenge for her over the years. But she will not be paid, and terms of employment require her to be chained to a radiator in her room when not on duty.

O'Donnell does not consider this unreasonable. "There's nothing in the Constitution forbidding slavery," she said to the man in seat 16B as they waited for takeoff.

Permalink | Comment
---



Boehner promises education reform

"Stomp out the mispronunciation of words containing oe"

A confident Congressman John Boehner today provided a first look at his legislative agenda as the next Speaker of the House. The latest polls show his Republicans are poised to capture control of the House of Representatives.

Education, the current House Minority Leader said, will be his top priority.

"If voters send Republicans back to Congress in the majority, I am personally going to see to it that the Department of Education stomps out the mispronunciation of words containing oe," Boehner told the annual conference of the Orangemen Alumni Association at Syracuse University.

"There is a lot of ignorance about how to pronounce oe. It seems like half the country can't even pronounce -- oh, just as a for instance -- my last name," said Boehner.

"It's pronounced Boehner, rhymes with tailor, okay? Perfectly straightforward, English, I don't see what's so difficult about it."

Boehner said the Department of Education should do national oe baseline testing in 2012 and introduce a new remedial oe curriculum the following year. "By 2020, every high school senior should be able to say the sentence 'I wrote a poem for a coed about John Boehner using a shoehorn', the correct way," Boehner said.

Permalink | Comment
---