Santa begins cargo screening

If you've asked Santa Claus for printer toner this Christmas, prepare to be disappointed. Saint Nick is not accepting toner cartridges for delivery this year, one of many items considered suspicious.

Jamie Silverbuckle, spokes-elf for Angelina Claus -- Santa's wife of 372 years and CFO of Northex, the North Pole's Oslo-based holding company -- said the restrictions come from new cargo guidelines issued by the U.S. government's Department of Ho-ho Security (DHS).

"The U.S. is worried about more shoe bombers, underwear bombers and toner cartridge bombers. Since footwear, lingerie and office products are three of our biggest product categories, DHS is requiring x-ray scanning and visual inspection of all presents," said Silverbuckle.

"This is expensive and will result in delays, but we really had no choice," Silverbuckle said, explaining that the White House tied the cargo screening rules to FAA approval of Sleigh One's flight plan.

"The Obama administration told us Santa couldn't enter U.S. airspace with unscreened presents. I mean, they really played hardball. Wouldn't take no for an answer. That Barack Obama is some tough negotiator alright," Silverbuckle said.

In a show of holiday bipartisanship, a visibly emotional House Speaker-in-waiting John Boehner praised the new guidelines as a long overdue expansion of Christmas present security.

"What would happen if terrorists blew up Sleigh One over America? The fuel tanks hold megatons of magical Christmas spirit. We don't know about the long term effects on the environment of so much magic. Or what would happen if people breathed it, especially- especially the kids," said Boehner, wiping his eyes.

Boehner also noted federal Christmas present shipping guidelines had not been updated since 2001, when President George W. Bush added two items following 9/11: fruitcake, which can break aircraft windows and breach unreinforced cockpit doors; and broccoli, which Bush said "tried to kill my dad," the first President Bush.





Permalink | Comment
---



Obamacarol

White House on lockdown after Obama reports being visited by three ghosts

The White House reported President Obama is safe today, after a late night incident in which the president alerted the Secret Service that he had seen Christmas ghosts in the first family's residence.

"They said they planned to show me how my compromising on liberal Democratic values will affect this Christmas, and Christmas Future," Obama told agents. "Naturally, I told them 'Humbug!' and hit the panic button."

A lockdown was immediately instituted. The security detail conducted a search, but reported the spectral trespassers had apparently vanished into thin air.

The U.S. Office of Scientific Intelligence has identified the ghosts as members of the Charles Dickens Brigade. The manifesto of the little-known organization is "to send three ghosts to visit all who don't know the meaning of peace on Earth and goodwill to mankind," according to a statement from the office of OSI director Oscar Goldman.

Press Secretary Robert Gibbs told reporters the ghosts in question were the Public Option, Gulf of Mexico, ending the Bush Tax Cuts, and ACORN. "Hey, the president has been really busy the last two years," explained Gibbs, when the Washington Post's Yul Tinsel pointed out that is more than three ghosts.

Asked why the ghosts did not mention Christmas Past, Gibbs speculated that "maybe they don't want to dwell on the past either."

Permalink | Comment
---



Obama opens first US high speed rail line

President Obama celebrated a milestone in his national infrastructure program today, pressing the button to start the United States' first high speed train on its maiden journey.

Called the Oval Express, the futuristic Transrapid 1:87 H0 scale simulated maglev train will provide frequent daily service between the president's desk and the grandfather clock, with stops at the davenport, Christmas tree and menorah.

"I couldn't resist opening a present early," Obama told aides who found him in his bathrobe this morning, putting the finishing touches on the project.

Construction took just three hours, at a cost of $99.95 -- proof, said the president, "that this was a compromise worth making. Those who thought we should jump right in with a full-sized system were wrong, we finished this first step on time and on budget."

"Just imagine when a full network is built," he added, as the maglev zipped by at a scorching 200 relative miles per hour. "It could bring my lunch in from the kitchen."

The Oval Express is expected to be a popular commuting alternative for Lego people, taking as many as 4 million Tonkas off the road each year, according to a Department of Transportation fact sheet.

Permalink | Comment
---



Obama tells children "There is no Santa Claus" in attempt to put tax cuts issue behind him

President Obama today acted swiftly to move past dissatisfaction with his compromise proposal to extend Bush era tax cuts, reached yesterday with Congressional Republicans.

"Yesterday, we failed to dispel the incorrect belief that rich people use their tax cuts to create jobs. But I am determined to make Americans forget that disappointment by dispelling at least one myth before year's end," Obama said during a visit with clients of Trodden, a Washington DC multiservice agency.

The stated purpose of the presidential visit was to draw attention to Americans being helped by the 13 month extension in federal unemployment benefits, the concession Obama exacted from Republicans for the extension of tax relief for the richest Americans.

The president concluded his tour by donning red velvet and white fur to play Santa Claus for the agency's Little Dickens Daycare Center. He clearly enjoyed himself, laughing uncontrollably and gasping for breath as the children sat on his knee to tell him what they want for Christmas.

"Oh my, that's the funniest thing I've heard in a long time," he told Timothy Cratchit, 6, who asked for his father not to be laid off from his job as a bookkeeper.

"Come on, tiny little boy -- gimme a break. I'm the president. I can't really dooo anything without Mitch McConnell's okay," Obama said, pulling off the hat and beard. "See? I'm not Santa. Because there is no Santa Claus! Got it? All you kids! Better you find out now, before you grow up with a sense of hope. False hope."

The president then walked back to the White House, along the way kicking a homeless man in Lafayette Park. Later he issued an executive order turning off the White House Christmas tree lights to save electricity.

Permalink | Comment
---



Totally safe Santa Claus is coming to town, thanks to TSA

(Westmost, NC) All is calm and bright in this North Carolina town for the holiday season, as the Transportation Security Administration's VIPER team proudly brings security screenings to Santa's Village at Halliburton Mall.

"Agents decked out in festive Kevlar elfwear are patting-down families prior to boarding the Christmas Train, which then whisks them 20 yards to Santa's House and their magical encounter with Saint Nick," explained TSA Special Agent Rollie Fingers.

"VIPER agents also screen shoppers walking by Santa's Village, since walking is a mode of transportation just like bikes, cars, transit, and airplanes," added Fingers, "or so the environmental extremists want us to believe."

"TSA is ensuring Americans walk safely this holiday season," he said.

Shirley A. Nutt visited Santa's Village last night with her niece Brasile, 4, and nephew Pine, 6. Nutt doesn't mind the delay, or the invasion of privacy caused by the screenings: "It's okay because I'd rather feel safe," said Nutt.

"Even surrounded by all these children, there could still be threats -- terror babies, anchor children and such. So the inconvenience of a pat-down is worth it. Plus, Mr. Nutt hasn't touched me in a month," Nutt said.

A brief security scare occurred when agents were alerted to the presence of three suspicious men wearing middle eastern clothing. The men turned out to be actors portraying Magi at the mall's nativity scene, and were subsequently released.

Permalink | Comment
---



New Camel cigarette packs have pictures of smoky Seattle things

Seattle, a city identified during its history with airplanes, coffee, software and Frasier Crane, is being honored by yet another well-known brand. The RJ Reynolds tobacco company today announced it is featuring the Emerald City on packages of Camel cigarettes -- the first in a new branding campaign called Cities That Smoke.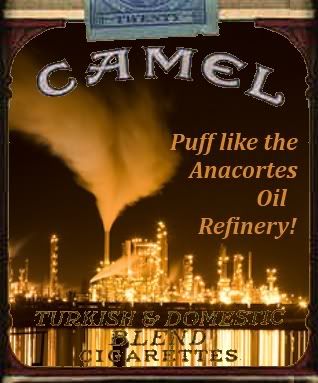 +
+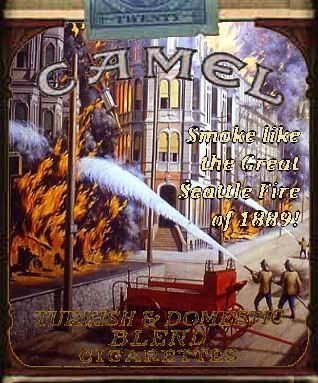 +
Seattle smokes!
Camel commemorates region's smokiest things
The marketing effort's definition of Seattle is somewhat expansive, according to Reynolds communications spokesperson Barbara "Barr" Fligh. "What we want to do is showcase smoky things from all over western Washington, to show the entire area's long, glamorous association with smoking," she said.
Some of the iconic Puget Sound smoky things being shown on Camel packs include the Great Seattle Fire of 1889, the old Tacoma smelter, tailpipes of some of the region's 4 million cars, the 1995 Pang warehouse fire that killed four firefighters, the Anacortes oil refinery, Mount St. Helens, and, of course, the King County Administration Building side door on James Street.
Planned to follow Seattle in the Cities That Smoke series are Pompeii, the firebombing of Dresden, and Christmastown, North Pole. "Cartons of smokes still make great stocking stuffers," Fligh said.
In other news, Wikileaks is grabbing headlines again. Today the whistleblowing website disclosed it is preparing to reveal government medical records that show the penis size of all the world's male political leaders. "It will be our smallest document dump yet," said Wikileaks founder Julian Assange.
---