Ask Aqua Buddha

By Aqua Buddha

Dear Aqua Buddha,
What is the purpose of life? Signed, KY Proffitt

Dear KY,
As a follower of the Aqua Buddha your foremost purpose is to protect loved ones. The best way to do this is to achieve balance. Carefully lift your left foot while standing on your right foot, and if you do not fall over you are balanced. Then bring your left foot down, sharply in a stomping motion, upon the head of whosoever you perceive as being a threat to a loved one.

Dear Aqua Buddha,
Please help me find my path. Signed, Perry Patetick

Dear Perry,
Where are you going? That is your path. Of course the Pro-Aqua Buddha Way holds that the path should be private. It should in no way be owned or maintained by the community -- which we call the Con-Way, and what those who have yet to achieve enlightenment call 'public.' Seen in this light, nothing is public and no matter where you go, there you are privately.
Thus, when you encounter a follower of the Con-Way along your private path, they are trespassing even if the path coincides with a city sidewalk. It is only natural to worry about those you love, and so you may take preemptive action to keep strangers away from them. Tell the stranger to Move On. But if they do not, center yourself and maintain one-footed balance, and then bring your other foot down, sharply in a stomping motion, upon the head of the stranger.

Permalink | Comment
---



Ken Salazar invents 'Cowboy Hat' oil containment device

Secretary of Interior Ken Salazar has rolled up his sleeves and come up with a new way to cap a blown deep-sea oil well in an emergency, the Interior Department said today. The innovation is seen as Salazar's answer to environmentalists who have called his handling of the Deepwater Horizon disaster "lame-ass."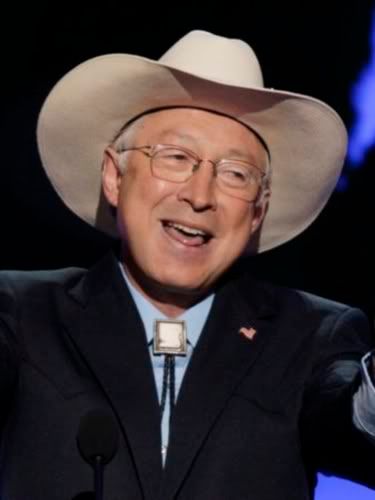 +
Ken Salazar
Sec. of Interior modeling 'cowboy hat,' above, and 'top hat'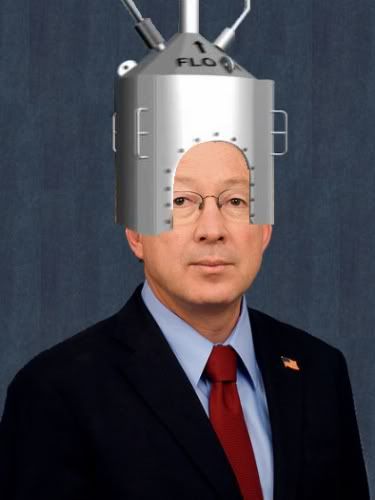 +
The Salazar device, dubbed 'cowboy hat,' is similar to the 'top hat' wellhead cap which had mixed results in the Gulf. But the cowboy hat is an improvement, notes Interior public information specialist Orly Sheen, "because not only is it more attractive, its ten gallon capacity is much greater than what was contained by top hat."
The cowboy hat has already seen action, used by Salazar to contain a serious vodka gimlet spill at a September oil industry luncheon.
In a related story, Salazar has announced he has taken another step in reforming the troubled Minerals Management Service, now known as the Bureau of Ocean Energy Management, Regulation and Enforcement (BOEMRE). Saying "safety should be the number one concern," Salazar has ordered agency officials to always use condoms when dealing with oil and gas companies.
In news from the 2010 midterm election, Republicans say if they gain the House majority they will further reform BOEMRE, converting it into a superagency called the Bureau of Ocean Energy, Health, Nicotine, Environment & Refineries (BOEHNER).

Permalink | Comment
---



John Raese apologizes to Steven Chu

Calls Energy Secretary 'credit to his race', 'good at math'

John Raese apologized to Secretary of Energy Steven Chu today, in response to charges of racial insensitivity in the wake of controversial comments the West Virginia Senate candidate made on the campaign trail.

The Republican referred to Secretary Chu as "Dr. Chow Mein" during a September 9 campaign appearance.

Raese made the apology through through a campaign spokesman. "John Raese sorry. If anyone was offended," said Raese For Senate media consultant Mr. Yunioshi.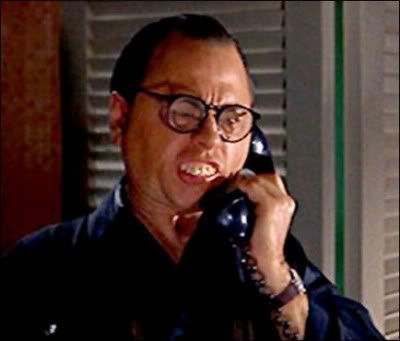 +
Mr. Yunioshi
Raese For Senate consultant
"He also want me to say that when you call Dr. Chu 'Chow Mein,' you want to call him that again an hour later," said Yunioshi.
"But seriously folks," Yunioshi continued, "John Raese say Dr. Chu is a credit to the Oriental race, they are a model ethnic group."
"John Raese told Chu so, on phone this morning. I quote: 'Ching chang cho chong, Chu,' John Raese say, which is Mandarin for 'Orientals are good at math, Chu'," Yunioshi said.
Raese believes this aptitude makes Chu the best man for the top job at Energy, according to Yunioshi. "John Raese say he is confident Chu and his team of Long Duck Dongs will use math to tackle our country's energy challenges."
Mr. Yunioshi also said that when Raese becomes a senator, he is looking forward to being tutored by Chu during the calculation-intensive budget markup process.
In a related story, Mr. Yunioshi invited Martinsburg-area Raese supporters to a Friday-evening benefit screening of the 1961 documentary-musical "Flower Drum Song," 7 pm at the Regal Cinemas.

Permalink | Comment
---



Rossi says illegal immigration like leaking boat

Calls himself "caulk to stop leaking"

Likening the immigration problem to a leaky boat, Republican hopeful Dino Rossi launched the final phase of his US Senate campaign to unseat incumbent Patty Murray today, by saying his top priority is to become the caulk that stops the flow of illegal immigration from Mexico.

"It's like being in a row boat," the former Sammamish legislator told KOMO Newsradio. "If water is coming in you need caulk to stop leaking, and I intend to be the caulk blocking it," Rossi said.

"Doing something about the border 970 miles south of Washington is my number one priority. I'm convinced of the need for a big wall to stop the flood of job-stealing Mexicans, so I want to build a wall that stops floods, which is called a dike," explained Rossi.

Rossi said he would see that no expense is spared on what he termed a Border Unified Line of Limitation Dike -- "the biggest, toughest, Border Unified Line of Limitation Dike imaginable."

Acknowledging that such a project would be complex, Rossi said that it would be his personal mission to make sure the barrier is solid. "It's important nothing can get through. If it has holes I'll make sure I put caulk in the dike," Rossi said.

In other news, Brian Kilmeade of Fox News apologized today for saying last Friday that "not all Muslims are terrorists, but all terrorists are Muslim."

"I'm not good with comparisons," Kilmeade, who co-hosts Fox & Friends, told the program's viewers Monday morning. "What I meant to say was that if a terrorist isn't Muslim, he's Irish," Kilmeade said.

Permalink | Comment
---



Washington: Senate challenger tackles issues

Patty Murray "is a twin", "short"

Dino Rossi, the Republican challenger to US Senator Patty Murray, has launched new issues-oriented TV and radio ads in a final bid to win over undecided voters. The publicity push is timed to coincide with the arrival of absentee ballots in mailboxes all over Washington.

First is an ad titled "There's Only One Dino," which questions Murray's résumé:
"Patty Murray is a twin! She has an identical twin sister named Mattie. How do we know, for absolute certain, that the person representing us in the Senate is really Patty Murray? It could be Mattie Murray -- we can never really be sure. So vote the only Dino Rossi for US Senate, because we've seen his birth certificate."
The second ad, "Dino Rossi, Standing Tall," reminds voters of a major difference between Rossi and Murray on national security:
"Patty Murray is only five feet tall. When the time comes for her to stand up to America's enemies, how will we know? Patty Murray is short, vote Dino Rossi for US Senate. At six-one he's head and shoulders above Patty Murray."
One veteran campaign observer is impressed by the spots. "Rossi is finally addressing important issues," said Stewart Copeland, a senior research fellow at the Washington Policey Center,
"The Tea Party have been waiting for him to step up to the level of Sharron Angle and Christine O'Donnell. With these ads he may have pulled it off, hopefully they are just crazy enough to work," Copeland said.

Permalink | Comment
---



California: Meg Whitman becomes next governor by using Buy It Now option

(Cupertino) Trailing Attorney General Jerry Brown with less than three weeks to go until election day despite spending more than $145 million of her own fortune, Meg Whitman notified Secretary of State Debra Bowen late yesterday that she is claiming the California governor's mansion using a little-known provision of state law.

"Ms. Whitman is stopping the election and invoking the Buy It Now option," said Whitman campaign attorney Leif Sufgrass.

Buy It Now was created in 2000 by the passage of Proposition 1313, which sought to make government more efficient by putting state services on the Internet.

Chapter 13, Sec. 31, Subsection (c)(xiii)(33) of the law gave candidates for Governor, Lieutenant Governor and Secretary of State the option of avoiding the uncertainty of an election by ponying up $200 million to the state treasury.

Whitman will get credit for the $145 million already spent by her campaign, leaving $55 million for the former CEO of eBay to pay out of pocket.

According to sources close to her campaign, Whitman decided to go the Buy It Now route after poll results taken after Tuesday's final debate with Brown showed her falling the Democrat. Whitman's reaction was, "Oh what the hell, what's another $55 million."

Today Whitman was in Sacramento to start the transition process, but took a break from measuring the drapes in the governor's office to speak with reporters. "I am proud that my first act as winning bidder is to take some of the sting out of the $18 billion in budget cuts," said Whitman.

"Not only will this save the people of California the cost of holding the election, they'll also be $55 million ahead of the game. Now we'll be able to eliminate the state capital gains tax," Whitman said.

Permalink | Comment
---



Paladino: "Ich bin ein Serbianer"

Seeking to solidify his support with the Republican Party's conservative base, New York gubernatorial hopeful Carl Paladino spoke out forcefully against homosexuality in Brooklyn yesterday.

"Sex is between a man and a woman," the GOP nominee told an Orthodox Jewish audience at Congregation Shaarei Chaim.

"Sex can also be between a man and his concubines, a man and his daughter, and a mob of unruly xenophobes and a man's daughter. It's right there in the Bible," he also declared.

Paladino cited the Book of Genesis as proof that, if a snake can tempt a woman with an apple, then "videos of a horse and a woman are probably okay" -- a subject that has been an issue for his campaign.
+
Rabbi Yechezkel Roth, left, asks Carl Paladino where he stands on fisting.
"But sex between men -- God hates that. The Old Testament is very clear in that regard, sort of, in a couple of places probably," he said.
"Supporters of traditional American family and religious values should take heart, you are not alone," Paladino continued, pointing to breaking news of violent protests against a gay pride parade in Belgrade, Serbia.
Paladino said 6,000 gays dressed as the riot policeman from the Village People clashed with hundreds of anti-gay counter-demonstrators in the capital on Sunday, injuring dozens.
"Even in the socialist former Yugoslavia, the Bible-based American way of life continues to enjoy support. I applaud the brave gaybashers of Serbia and send them my congratulations. Ich bin ein Serbianer!" he said.

Permalink | Comment
---



Joe The Plumber opposes puppy mill measure

"Proposition B would hurt our farm system," says new Commissioner of Dog Fighting

Ralph Lipschitz, the Everyman known as 'Joe The Plumber' who shot to fame as Senator John McCain's traveling buddy in the late stages of the 2008 presidential campaign, is now weighing in on Missouri politics.

'Joe' stopped in St. Louis yesterday to urge voters to oppose Missouri Proposition B, the Puppy Mill Cruelty Prevention Act. The measure would set standards for food and clean water, vet care, regular exercise, and adequate rest between breeding cycles, among other things.

"As the new Commissioner of the National Illegal Dog Fighting League, I want to impress upon people how much this do-gooder meddling threatens our great underground pastime," said Lipschitz, who replaced Michael Vick in the top NIDFL post last July.

"Proposition B would hurt our farm system by making it too costly to operate the 3,000 NIDFL puppy development centers in Missouri, which would be forced to close," he said. He added that a new report by the Missouri Association of Abandoned Warehouses estimates the loss of that many tenants would send the current 100 percent vacancy rate "even higher, viciously tearing the throat out of the economy."

As to what action the league would take if Proposition B passes, 'Joe The Plumber' said all options are on the table.

"We would definitely be forced even further underground, like Urkel -- or even relocate the entire league to Dubai," he said.

Permalink | Comment
---



Supreme Court to get original on free speech

"Only town criers, pamphleteers & the Hartford Courant have 'freedom of the preff'," Scalia says

The 2010-11 term of the US Supreme Court opens today, with many veteran court watchers expecting speech and immigration issues to occupy most of the nine justices' attention.

Anne Nesia, of the conservative judicial group Federalist Society, said her group is looking to Associate Justice Antonin Scalia to continue the fight for an originalist interpretation of the Constitution. According to that philosophy -- also known as strict construction -- the Constitution means what the original framers meant at the time it was written.

While justices are notoriously reticient about cases on the Supreme Court docket, Scalia did make general remarks about judicial philosophy following Red Mass, an annual SCOTUS pre-func held Sunday at the Cathedral of St. Matthew the Apostle.

"One of my proudest achievements has been getting us back toward a simpler, original view of what's in the Constitution," said Scalia, over post-func mimosas with law students, lawyers, and members of the Regent University Constitutional Law Historical Re-enactment Society.

"Take the First Amendment. The Founding Fathers couldn't have imagined things like radio, TV, cable or online news. Therefore, First Amendment freedom of the preff doesn't apply to those so-called news media." Scalia told them.

"Freedom of the preff only covers things they had in 1789 -- town criers, pamphleteers and the Hartford Courant, the only newspaper still in existence today that was publishing when the First Amendment was written," he said.

On the legality of protests at military funerals, Scalia said he could not comment on the Westboro Baptist case. But he did offer that "they had Baptists, military funerals, and religious whackjobs in 1789."

On immigration, Scalia said the only immigrant groups that can be recognized under an originalist view of the Constitution are "Europeans, and slaves from Africa."

"Look you babies, I'm just telling you what things were like here in the late 18th century," he told his puzzled listeners. "It's a bubble the Founders, in their infinite wisdom, wanted us to live in for the rest of time," Scalia said.

Permalink | Comment
---