Subscribe to the RSS feed -- the bitmark is now bit.ly/wiselinify.

September 30, 2014
Khorasan plans new smartphone


Khorasan announced on Monday its objective of producing a new smartphone, capping a month in which the once obscure terror group went viral.

"We were sitting around the other day brainstorming what to do with all this great name recognition, and we looked at each other and said at the same time, 'smartphone launch'," said the Khorasan Group's VP for Branding, who goes by the nom de guerre al-Don Draper.

Al-Don Draper doesn't see Khorasan's lack of track record in consumer electronics as a minus. "Do we have experience building an operating system? No. Do we know the difference between silicon and silicone? Hardly. Have we ever created an iconic lifestyle product? Absolutely not. But I say all we need are aspirations," said al-Don Draper.

He said the phone would serve as the flagship product for a planned Khorasan-owned wireless provider, 72 Virgins Mobile.

US and European analysts agree the Khorasan aspiration could be a huge threat. "That there is a chance, no matter how remote, of Khorasan building and selling a smartphone, means everyone using iPhone and Android devices will have to give up their online privacy rights immediately," said a Director Of National Intelligence who agreed to comment on condition of anonymity.

"I know it doesn't make any sense, but that's the war on terror," Clapper said.

Meanwhile, Khorasan is relishing the challenge. "The west calls us mad men. Well, cut to me next year when PC Magazine names the Akbartouch its Phone Of The Year. We're still working on the name," al-Don Draper said.

(Follow us all the time at @WiselinePRT)

Permalink | Comment | Like it? Please consider a donation of $1.11 (or more!)
---


September 9, 2014
Ray Rice signs with Ultimate Wife Fighting


Former Baltimore Ravens running back Ray Rice has signed a one year contract with the Ultimate Wife Fighting Association, sources close to the suspended NFL player confirmed today.

"Ray needed to make sure he had insurance for his wife," said one source who spoke on condition of anonymity, "since emergency rooms are required to file police reports."

The Rice signing was also confirmed by the Ultimate Wife Fighting Association. "Based on the homemade audition tape he sent us, Ray Rice appears to have all the skills necessary to become a premiere MMMA fighter," commented Association Commissioner Roger Badell, using the term for Mixed Martial Marital Arts.

Badell said Rice would take part in several exhibition matches in October and November. "Hopefully he'll be ready to compete in our annual Christmastime tournament, held nationally."

Much is riding on this year's tournament, as MMMA has lost audience to cockfighting and dogfighting in recent years.

In other Ultimate Wife Fighting Association news, the Association announced a September 13 double bill of Quincy Enunwa and Nebraska Lt. Gov. Lavon Heidemann. Opponents have yet to be set.

(Follow us all the time at @WiselinePRT)

Permalink | Comment | Like it? Please consider a donation of $1.11 (or more!)
---


August 27, 2014
Interview With HRH Burger King


Transcript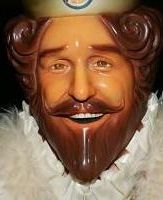 +
HRH Burger King
ERITAS: We're honored and privileged today to have an interview with His Royal Highness, the Burger King. Your Majesty, welcome to the program.
Burger King: Thank you for having us.
ERITAS: Let's get right to the news that led today's headlines -- Your Highness is acquiring Tim Horton's, and moving to Canada to take advantage of lower corporate taxes.
BK: Let us stop you right there. That is a misconception being spread by a press too lazy to check its facts. While a number of recognizable corporations have been in the news with plans to move abroad for tax reasons, we can state categorically that our move to Canada has nothing to do with being overtaxed.
ERITAS: So Your Majesty's move is not due to a so-called inversion strategy?
BK: Not in the slightest. It actually has to do with health coverage.
ERITAS: You mean insurance?
BK: Precisely.
ERITAS: But we always hear how the United States has the best health care system in the world.
BK: Only if you have a job with benefits or qualify for Medicaid. As a royal, we are in neither of those categories.
ERITAS: I thought you would just use your gold or jewels to buy private insurance.
BK: Self insure? Have you not seen the inflation rate for insurance? Obamacare has helped flatten it somewhat, but there's no guarantee of a long term fix. No, our best hope is the Canadian single payer system -- called Medicare, or en Francais, 'Assurance-Maladie.'
ERITAS: When you say 'our,' what do your subjects think of this move?
BK: Ah, well when we use the plural pronoun we are of course using the 'Royal We.' For it is just we. That is, I.
ERITAS: But what about your fabulous palace, with all the butlers, valets, footmen, and Beefeater guards?
BK: We're afraid those were lost in the housing bubble, our treasury was unable to afford insurance after that. We are currently residing in a duplex in Topeka, but we're on the waiting list for Medicaid because Kansas is refusing to expand Medicaid.
ERITAS: I'm afraid we'll have to leave it there. Our guest has been His Royal Highness, Burger King. Thank you for taking time to be with us.
BK: You are most welcome, Wolf.
(Follow us all the time at @WiselinePRT)

Permalink | Comment | Like it? Please consider a donation of $1.11 (or more!)
---


August 18, 2014
Ferguson Police Chief's Civil Unrest Diary


August 10
The PM watch commander called, interrupting my bowling league. He said a group of black people had gathered, in public, to protest something-or-other. I sez "It's right in the middle of the championship tournament! Are there more than three blacks?" He sez "Actually more like 300," so I sez "You know that any gathering of 3 or more blacks is by definition a gang, so respond with the anti-gang armored battalion." They'll soon sort it out.

Darren Wilson called to ask about the review for yesterday's shooting of Michael Brown, but I told him to relax and get out of town for a few days, maybe take his family to Six Flags.

We beat Floyd's Hardware, 10,363 to 10,258!

August 11
The armored battalion worked great! FPD TOTALLY OWNS THE STREETS! Traffic may now exercise its Constitutional right to flow, unimpeded by shouty-marchy people, who should be at home watching a Madea movie, or whatever it is they do. The funniest thing was the woman claiming to be a state senator who got beanbagged -- well if she's going to speak and walk in a disorderly way, in public, she sure isn't getting my vote next time.

Some reporters are questioning my definition of gang, trying to make me sound racist. I told them everyone knows a group of African Americans is 'a gang', like a 'lamentation of swans' or 'congregation of alligators.' Anyway, that's what they said on Fox & Friends.

August 12
Ferguson is all over the TV! There's my officers on CNN, all dressed in their finest Pentagon-provided combat gear. There they are again on World News Tonight, Fox, and MSNBC, all showing how we maintain law and order. This is going to be really good for Ferguson's image and the local business climate; do I smell Chamber of Commerce Appreciation Award?

Apparently there's something on the interweb called Huffington Post, and that it has 'reporters' in town. One of my guys had to rough up one of these alleged journalists when he tried to exit a McDonald's through a door one of my other guys had designated Blacks Only. If you're not going to follow police instructions during a crisis, don't be surprised to wind up in cuffs.

August 13
I've instituted a curfew. But it's Wednesday, so hopefully everyone will just stay home and watch the Kardashians.

Reporters again. Apparently it's wrong to shoot teargas and bean bags at a news crew. But give me a break, it was from Al Jazeera, and when my guys found out they felt threatened because, you know, ARABS.

August 14
Of all the nerve. Gov. Jay Milhous Nixon is having the highway patrol take over town law enforcement. But the first I heard of it was when a big black guy in uniform showed up at my house. "Honey," I said to my wife, "when did the Black Panthers get uniforms, and where can I get a pair of jodhpurs?"

It turned out it was Captain Ron Johnson from the highway patrol. Thanks for making this about race, Guv, by sending a black cop. If I wanted to be popular, I'd have hired some black cops a long time ago.

August 15
I decided to release a surveillance video from a convenience store, showing a young black male violently shoplifting some cigars shortly before Darren Wilson shot Michael Brown. Some are questioning my decision, saying there's no connection between the store and the shooting. Well it's perfectly obvious to me that the video might have caused Wilson to fear for his own safety, if he had known of its existence. So next time THINK before you accuse me of racism.

(Follow us all the time at @WiselinePRT)

Permalink | Comment | Like it? Please consider a donation of $1.11 (or more!)
---


August 12, 2014
Gun fairness group in bid to arm unarmed black men


A new gun rights group is entering the national debate swirling around shootings of unarmed African American men, with a radical plan to even the playing field by providing them with guns.

The group says its concern is reflected by its name, Gun Fairness For America's Weaponless (GFFAW).

"It's just not right for the cops to have all the guns," said GFFAW Founder & Executive Director Bliven Cundy Jr.

"Our program will provide a free or subsidized gun to every unarmed black man in the inner city, thereby reducing the number of police shootings of unarmed black men," said Cundy.

Chief Mortimer Snerd of the Ferguson, Missouri Police Department welcomed the initiative as an example of what he termed "good old fashioned American fairness." Snerd's force is dealing with a third night of community unrest, following the shooting by officers of Michael Brown, an unarmed African American man.

"Anything that clears up the uncertainty about who police officers should shoot or not shoot, that's a big help. If GFFAW is successful, my officers will be able to shoot more armed black men and fewer unarmed ones, and that's what good police work is all about," Snerd said.

(Follow us all the time at @WiselinePRT)

Permalink | Comment | Like it? Please consider a donation of $1.11 (or more!)
---


July 18, 2014
Conservatives announce opposition to gay divorce


An organization opposed to same-sex marriage is saying they will regroup, after ending up on the losing end of yet another court decision on Friday. A federal judge ruled Oklahoma must allow gay couples to wed, the second time a court has ruled they are protected by the US Constitution.

Instead, the group American Association For Marriage will shift its focus to preventing gays from winning the right to divorce.

"We're pointing out that -- historically -- legal, state-sanctioned divorce has been reserved for opposite-sex couples only and society should be very, very obstinate about changing it," said Elizabeth Taylor, spokesperson for the newly renamed American Association For Divorce, in an interview on Rush Limbaugh's nationally syndicated radio program.

"Now that they're married, gay couples should be forced to take their vows seriously, especially 'til death do we part', said Taylor.

Taylor went on to say the welfare of children remains her group's overriding concern. "In a gay divorce, what happens to the adopted Chinese daughters?" Taylor asked.

AAD's rebranded message met with an enthusiastic agreement from Limbaugh, with the conservative talker declaring at one point, "Divorce is a sacrament!"

"First gays want to marry, then before you know it they'll want to divorce too, it's obvious," said Limbaugh.

"God-fearing Americans need to stand their ground against this cheapening of divorce, and as a previously divorced man let me tell you, divorce isn't cheap," he said.

In a related story, a divorcing gay couple has filed suit against a Enid, Oklahoma baker who refused to make them a conscious uncoupling cake.

(Follow us all the time at @WiselinePRT)

Permalink | Comment | Like it? Please consider a donation of $1.11 (or more!)
---


July 14, 2014
Federal anti-pot efforts to focus on Patrick Kennedy


The federal government's efforts to enforce laws against the sale and use of marijuana will shift focus, the White House announced today. The change is the result of pressure from anti-drug activist and former Congressman Patrick J. Kennedy, son of the late Sen.Edward M. Kennedy.

Instead of continuing law enforcement efforts against pot buyers and users generally, the DEA and Justice Department will instead narrow its objectives to preventing Patrick J. Kennedy from buying and smoking pot.

The federal budget for combating marijuana, currently $7.7 billion annually, will increase to $10 billion.

"This is a great victory," Kennedy, 46, said after learning of the change.

"Finally, I can give up my crusade to prevent legalization of a plant, which was only motivated by my fallacious belief that because I'm an addict everyone else is an addict too."

"And money, it was also because of money," added Kennedy, whose nonprofit organization, Smart Approaches to Marijuana (Project SAM), is sponsored by Purdue Pharma, maker of OxyContin.

"Oh, and let's not forget the free samples. So: we've got my fallacious belief that everyone is an addict; money; free Oxy samples," Kennedy said.

Project SAM's cofounder is the conservative columnist David Frum. Frum said the group will continue to pursue what has been a parallel goal to marijuana anti-legalization: mental health.

"I'm hoping that in the next four to five years federal mental health policy will be changed to focus solely on me," Frum said.

(Follow us all the time at @WiselinePRT)

Permalink | Comment | Like it? Please consider a donation of $1.11 (or more!)
---


July 9, 2014
Drones to thrill at Seattle's Seafair


(Seattle) A variety of precision drones will take to the sky during next month's Seafair hydroplane races, the Defense Department announced today.

The pilotless, remotely operated aircraft will take the place of the Blue Angels, which were the traditional 'halftime' entertainment at the annual Seattle summertime event until 2012, when the Navy precision fliying team was grounded due to the federal government shutdown.

Tom Botman, spokesman for drone manufacturer Northrop, said several models of drones will be on hand.

Jet-powered drones flown by operators at Nellis Air Force Base in Nevada will fly in formation and perform complex aerobatics.

Military drones with dummy missiles will thrill the crowd with simulated mistaken attacks on the I-90 floating bridge and Mercer Island.

Local online retailer Amazon.com even plans to get in on the act, with experimental delivery drones that will drop off packages to Prime members in the crowd who have outstanding orders -- as long as they have the company's Fire mobile phone, and the GPS is switched on.

In a reconnaisance demonstration, camera-equipped drones will zoom over the hundreds of boats tied up at the logboom, photographing floating partiers and beaming their images to an archive at the Nantucket Sunlovers Association (NSA) -- which Botman called "a totally legitimate sunbathing appreciation group, and nothing to do with the intelligence community."

Seattle Mayor Ed Murray said the city has no power to stop the drone airshow. "Seafair is in a month, and it would take at least eight to ten months for the city to review something like this," said Murray.

Murray did advise Afghani residents that any planned weddings should be rescheduled for another day.

(Follow us all the time at @WiselinePRT)

Permalink | Comment | Like it? Please consider a donation of $1.11 (or more!)
---


July 2, 2014
Immigration opponents turn back RV with New Hampshire family


(Murrieta, CA) A large group protesting the arrival of buses transporting undocumented child immigrants to a processing center hurriedly appointed a leader this morning, after the protesters accidentally turned back a Winnebago carrying a vacationing New Hampshire family.

Bob and Carol Whitney of Concord, NH say they ended up amid the protest after taking a wrong turn. "We were trying to find the hot springs," said Carol Whitney, 44.

"All of a sudden we were surrounded by angry folks with American flags, chanting 'USA,' 'Go back home,' and 'Central America Is Not America.' I said to the kids, maybe the springs are closed."

Whitney said she tried to explain to one protester that they were on vacation, "but he just demanded to see our tourist visas. Then he screamed at us to go back where we came from."

"We thought it was a Border Patrol bus," said newly promoted protest leader Shirley A. Nutt, 45. Nutt and her husband are themselves on vacation from Westmost, NC, and on an impulse joined the protests which broke out Monday.

Nutt made her apologies during a private meeting with the Whitneys aboard their RV, nicknamed Big Bertha. Present for the sit-down were Nutt, her husband M.F. Nutt, 47, Bob Whitney, 48, Carol Whitney, Terri Whitney, 13, Bob Whitney Jr., 11, and Mitt Romney, 67, the 2012 Republican nominee for president.

Romney said he has been vacationing with the Whitneys to convince them to vote for Scott Brown, the former Massachusetts Senator running for the New Hampshire Senate seat of Democratic incumbent Jeanne Shaheen.

"If Scott Brown were here in Murrieta, he would be doing his best to obstruct illegal immigration, because obstructing is what Republicans do best," Romney said.

(Follow us all the time at @WiselinePRT)

Permalink | Comment | Like it? Please consider a donation of $1.11 (or more!)
---