Archive / Vectus
Page sorted Descending By Date
Threads in Asc by Date
Vectus
was developed by Posco Steel of South Korea. It was tested at a center in Sweden 2005-2010 and received Swedish and EU certification. A first system, named SkyCube, opened in 2013 for the International Garden Expo at the Suncheon, S. Korea.
SkyCube knocked out for hour 9-30-2023
The PRT at the Suncheon Bay International Garden Expo, South Korea, was out of service for an hour when one pod experienced a short circuit. A South Korean news agency reported 12 of system's 38 pods were affected, stranding 70 passengers.
Link
The PRT decade, Part II 9-24-2020
Link
PRT (Small Unmanned Tracking Vehicle) runs in Sejong New City 1-1-2017
Sejong City, South Korea, mayor and construction company head plan to deploy BRT and PRT, this article says. Sejong is the country's new center for government ministries and agencies. Specs table lists Skycube pod at 3200 kg, a hefty 7054 pounds.
Link
Mayor Dov Tzur of Rishon LeTsiyon to visit SkyCube in Suncheon, this article in Korean seems to say 5-26-2016

A Tale Of Two Cubes, II
2-21-2016
Cold Call?
&copyMMXVI The PRT NewsCenter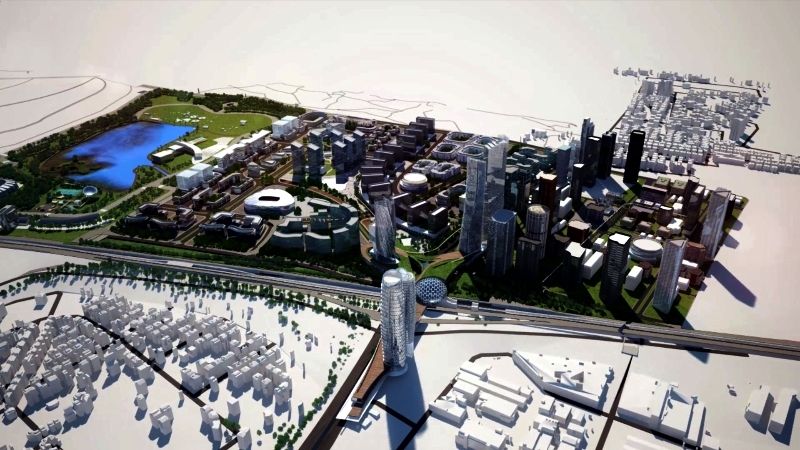 Source: Rishon LeTsiyon video
The Municipality of Rishon LeTsiyon is interested in possibly building a PRT system, but has not made any agreements to do so. This is contrary to the Google Translate interpretation of the article in Ynet
(see 2/18/2016)
. The city's Foreign Relations Director Annette Ben-Shahar said the city's meetings with Sky Cube representatives were preliminary. She confirmed the proposed system would involve 3-5km of track, and clarified the city investment would be $60-100m. The name of the commercial/housing development is
Thousand Compound.
Spokesman Yanic Ohana said Sky Cube is the only PRT group the Municipality has talked to so far. "We [are] only at the beginning of the process," he said.
Considering the project is also near 3 planned light rail lines, it's conceivable Rishon LeTsiyon thought it had its transit bases covered before Sky Cube came calling. -Ed.
A Tale Of Two Cubes
2-18-2016
•
In Suncheon:
Report of deficit crisis
involving the Sky Cube debut system, located at the site of the 2014 Garden Expo. According to Google Translate, there was a 2 year deficit of KRW100 billion ($81m); operation may be, or already has been, discontinued. Ridership may be low because a 1-1.2km walk is required to reach the PRT.
Some say the route must be extended 1.2km to the Expo entrance
.
•
In Israel:
The City of Rishon LeZion (or LeTsiyon), south of Tel Aviv,
announces 60m deal with Sky Cube
for a 'horizonal elevator electric train' serving the Israel Railways station and a new commercial/housing development near the junction of Highways 20 and 431. The city is interested in a 3-5km system; "construction work is expected to begin within a year" and opening in 1½-2 years. Expect a Sky Cube-skyTran turf war?
SkyCube - Bleak future? 7-23-2015
Sources pass word to the NewsCenter that there are no plans to build a followup to the SkyCube PRT at Suncheon, South Korea. A big clue is Songdo, a new planned city in the country's northwestern Incheon province. SkyCube's developer, POSCO, is also Songdo's second-largest stakeholder, and with #1 stakeholder Gale International once saw PRT as one of the city's cutting edge transport systems. Yet Nikola Medimorec of the Korea infrastructure blog Kojects reports only wireless charging electric buses, electric trams, and guided or self-driving trams are in the picture.
Kojects:
Suncheon SkyCube PRT Ride
7-20-2015
Blog with photos and video reveals a high quality, metro-like rider experience.
The drawbacks have to do with the overall transportation policy -- the visitor parking lot at the Suncheon Bay wetland area was not removed after the PRT station opened; it is a shorter walk from the parking lot, and is priced cheaper than PRT tickets. SkyCube ridership -- 385,000 for 8 months in 2014 -- is characterized as relatively low.
Riding Suncheon's 'Skycube' PRT line 6-18-2015
Link
Canada: "
Futuristic pod cars being considered
" for 37-acre 'Zibi' brownfield renewal project on Ottawa River. 2-24-2015
Article refers to "personal pod transportation" and "automated cars on an elevated monorail"; photo shows Heathrow Pod, but text mentions field trip to Sweden, indicating Vectus/SkyCube.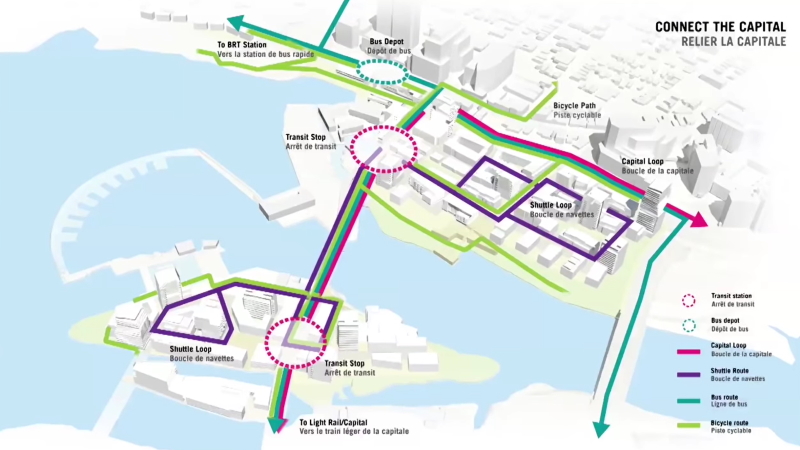 "Shuttle Loop" (purple)

Windmill (YouTube)
SkyCube Year 1 Results
(1-12-2015)
Transport projects news site
Kojects
has told
Prof. Jerry Schneider
about the results of SkyCube's 2014 operations at Suncheon, S. Korea post- its official April launch. According to Kojects' Nikola Medimorec, from April to December there were 270,000 passengers. 35% of operations were covered by farebox revenues, at a ticket price of US$4.58. In October service was briefly suspended due to an unknown problem, but resumed after an hour. In fairness, the botanical garden is not a good test of a transit system performance. SkyCube was selected to provide sole access to a sensitive ecological site, by definition not a destination for mass visitation.