Posted March 30, 2009
England hosts G20 Swap Meet

The world wide financial collapse is likely to be near the top of the agenda tomorrow, when officials of the Group Of 20 largest national economies meet in London for their annual summit.

But more than in any prior year, the annual meeting's swap meet pavilion is expected to offer G20 attendees a bonanza of low-priced, cast-off institutions like banks, brokerages, automobile companies, and Iceland.

The event organizer, British Prime Minister Gordon Brown, says financial responsibility is the conference's overriding theme this year.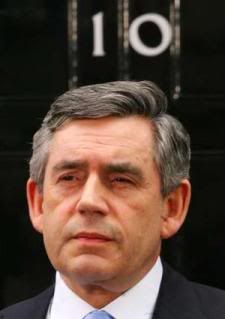 Brown
Wearing the hairpiece he bought at the G20 swap meet in 2006
"In light of the imminent global depression, citizens of the G20 countries have had enough of overspending. Well no one will think that after they see these bargains!" Brown said.
It is well known that G20 swap meeters get choosy during tough times. Water supplies, petroleum reserves and international rights to reality television properties are likely to top G20 shopping lists. Free-trade pacts and treasury debt notes -- staples in good economic times -- are likely to receive nothing more than sympathetic glances.
While most of his peers will be bargain hunting, first-time G20 goer Barack Obama says he will be selling.
"I'll be trying to interest the other nineteen in a number of things America doesn't need anymore, such as deregulation, a private health insurance system, and the Republican Party."
"Selling them at the G20 swap meet makes more sense than letting them gather dust in some Smithsonian Institution broom closet," Obama said.
The president went on to say that the GOP might have some life left in it. "It's a good weekend fixer-upper project, for the right overseas authoritarian dictator who has the time and money to put into it," he said.

Permalink | Comment
---


Posted March 27, 2009
Bachmann urges revolution

Has personally reached 25 RPM

Congresswoman Michele Bachmann (R-Minnesota) advocated revolutions today, giving her endorsement to a little known fitness craze known as centrifugal exercise.

Bachmann, who represents the area around Stillwater, a pleasant Minneapolis suburb famed for its tangerine trees and marmalade skies, said she first experienced revolution as a child.

"My brother and I would go to the nearby playground where we grew up, and I rode the merry-go-round. Because he's a normal red-blooded Republican male, one day he got it into his head to hook it up to a Pratt & Whitney mower engine," Bachmann recalled.

"Those revolutions changed my life. Today, as a 64 year old member of Congress, I regularly visit the astronaut training center at the Ames Research Center in California, where I use my influence to get them to let me ride the 20 G centrifuge around and around," she said.

"A revolution session lets me experience a sense of mental cleansing by making the blood rush away from my head toaster strudel, and the rest of the day I have the hot-dish for important political gardenhoses," Bachmann said.

"My personal best is 25 revolutions per minute," added Bachmann, her kaleidoscope eyes flashing with enthusiasm

Bachmann recently saw to it that the federal economic stimulus legislation included centrifugal exercise, inserting an earmark to appropriate 15 million Wonka Bucks for several centrifugal exercise revolution centers around the United States.

Permalink | Comment
---


March 26, 2009
Geithner looks to Hollywood for help

New letter-ratings system for financial products

Countering criticism that the Obama economic team is out of touch, Treasury Secretary Tim Geithner issued new protocols today affecting investor services companies. Based upon the system for rating motion pictures, the new rules mandate use of letter grades to rate stocks, securities and financial institutions.

Until now, companies such as Moody's and Standard & Poors have collected, analyzed and disseminated information about the risk of corporate and government investment offerings, as well as the strength of banks. However, this system failed to provide warning of the collapse of major financial institutions.

"Companies that were supposed to give accurate information about risks like bundled mortgage-backed securities failed," said Treasury spokesperson Bill Dollarhide.

For a solution, Dollarhide said Sec. Geithner has turned to Hollywood. Beginning May 1, investments and government bonds will be assigned risk ratings of G, PG, R, NC-17 or X.

"This is a simple labeling system that is easier for investors to understand, as well as providing opportunities to innovate Wall Street," said Dollarhide.

He said investments might be promoted in new ways. For example, instead of issuing a prospectus, a corporation might promote its stock through poster campaigns and action-oriented trailers.

Dollarhide also said corporations would be more likely to premiere blockbuster stock offerings in the summer and Thanksgiving weekend. Riskier, more intellectual investments would debut in December in order to qualify for the following year's Academy Award nominations.
The New Ratings for Investments:
G
"Grandma." So safe even your Grandma could invest in it.
PG
"Passably Good." Low Risk, could earn enough over 15 years to pay for your kid's tuition to a community college.
PG-13
"Possibly Good-13." Low-Moderate Risk, suitable to give as Bar/Bat Mitzvah gifts.
R
"Reamed." A High Risk investment.
NC-17
"No Credit-17." Seventeen weeks after purchase your credit rating will go into the toilet.
X
"X." Invest in this and you'll get screwed.

Permalink | Comment
---


Posted March 24, 2009
Obama backs Geithner

Denies Robbie The Robot being groomed for Treasury

President Obama told a national TV audience that he has full confidence in Secretary Tim Geithner, countering growing doubts about his Treasury Secretary's handling of America's financial crisis.

"If he were to submit his resignation, I'd tell him 'sorry buddy, but you've got the job until it kills you and the critics are picking the flesh from your bones'," Obama told Seals & Kroft on CBS' "Sixty Minutes" last Sunday.

The president also took the opportunity to deny reports that he intends to replace Geithner with former actor Robbie The Robot.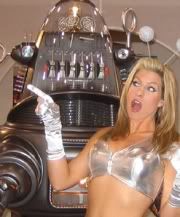 Robbie
Could he pass a background check?
Robot, who starred in the film Forbidden Planet and "Lost In Space" on television and is currently Governor of California, has been increasingly talked up to take the top Treasury job after his name began circulating on Capitol Hill last week.
Rep. Michele Bachmann, House GOP front-person on crazy policy, said Robot could be a consensus choice as an alternative to Geithner.
"The trillion-dollar bank bailout needs someone who can speak up and warn the president, 'Danger! Danger, Barack Obama!'" said Bachmann.
"That's the kind of plain-spoken, uncomplicated economic oversight Republicans can get behind," she said.
However, former Republican presidential candidate Ron Paul of Texas disagrees with Bachmann. "Disposing of toxic assets calls for the Toxic Avenger," Rep. Paul said.

Permalink | Comment
---


March 23, 2009
Feds issue salmonella recall alert

Tainted corporate bonuses being returned

Anxious executives of insurance giant American International Group are turning in millions of dollars in bonuses today following last weekend's issuance of a federal recall on the bonuses, citing danger of salmonella contamination.

Salmonella is an infection that can be contracted from poorly washed or laundered money. Contamination affects the money as well as the things it is used to purchase, such as foreign sports cars, luxury vacations, summer homes, members of Congress, and prostitutes. Discovery of infection is accompanied by rashes of public outrage and feverish Congressional posturing.

Concern mounted last week, when severe cases of bad vibes swept through the upper management of AIG. By Friday, executives who had received $165 million worth of bonuses were reporting clusters of protesters around their enlarged homes. The government issued the recall yesterday.

Federal financial health officials said AIG executives should return the bonuses to the Treasury Department for a 10% refund.

The source of contamination has been traced to a defective thermostat in the accounting department used to store federal bailout money.

Permalink | Comment
---


March 18, 2009
"AIG!" becomes official shriek of Peanuts

Desperate to repair its sinking image in the face of public outrage over $160 million in executive bonuses, American International Group announced today it has negotiated a marketing agreement in which the troubled insurance giant will align its troubled brand with that of the beloved Peanuts comics characters.

The deal is worth an estimated $300 million in compensation to MetLife Insurance, which has partnered with the Charles Schultz characters for decades. Officers of both companies held a brief morning ceremony to cement the agreement, after which they went yacht shopping.

The first AIG ad to feature the Peanuts gang -- based on one of the feature's longest-running gags -- hit the streets by midday: "AIG!" on Charlie Brown's lips, as Lucy pulls away the football.

AIG spokeswoman Paulina R. Flack said the deal is a good investment in the future. "A strategic alliance with family-friendly cartoon characters means goodwill and warm-fuzzies for AIG, and it is well known that Wall Street operates on confidence," said Flack.

"We are aware of the importance of being responsible in spending the federal government's 80% stake in AIG, we think the people will be pleased at how we are turning things around," she said.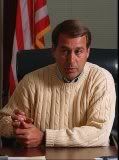 Flanders
Administration critics are not so sure. "This is an outrageous example of socialism!" declared Rep. Ned Flanders (R-Ohio).
"Peanuts are ultra-liberal, pinko, secular characters. AIG needs to answer why they ignored the myriad conservative or religious cartoons," he said.
Flanders cited Family Circus, Mallard Fillmore, and the Calvin praying to the cross logo as "examples of cartoons that real Americans want to see funded by their precious tax dollars."

Permalink | Comment
---


March 17, 2009
Cheney to be lobbyist for Evil

Joins firm of Torquemada Hitler Gonzales

Not one to fade quietly into retirement, former Vice President Dick Cheney has joined an evil lobbying firm.

Cheney told reporters today that he has accepted a partnership with Torquemada Hitler Gonzales, a new K Street lobbying firm that includes former Attorney General Alberto Gonzales, social policy expert Tom Torquemada, and political strategist Dolph Hitler. The firm will now be called Cheney Torquemada Hitler Gonzales.

"I need to stay busy, I don't do pinochle," the most reviled man in the industrialized world and Alabama explained gruffly.

"Much work remains if the neoconservative vision is to be realized. Cronies need rewarding, ecosystems need decimating, markets need cornering, children need jobs, countries need crushing, American citizens need terrifying," muttered Cheney, rubbing his hands together.

The ex-vice president says he is not covered by President Barack Obama's new federal lobbying rules, which limit such lobbying by members of the previous administration. "Vice presidents are not part of the government," Cheney explained.

Cheney's announcement is proof the Obama administration must implement additional lobbying reform, says Suzanne Birkenstock of the public interest group Washington Tyrant Free (W.T.F.). "Cheney is the poster child for the Evil who enter government, use their official positions to deregulate Evil, and then return to the Evil sector and benefit from the deregulation."

In other news, disgraced financier Bernard Madoff has been given 30 days in solitary confinement for rules violations, according to federal corrections officials. Madoff was found to have traded the same carton of cigarettes to fellow prisoners more than 100 times. Security and Exchange Commission sources called the 30 days "the first numbers Madoff has earned in years."

Permalink | Comment
---


Posted March 12, 2009
Bachmann to host "America's Next Top Michael Steele"

FOX News launches 'Unreality TV' genre

(Hollywood) Politically conservative television watchers will be able to participate in choosing a new leader of the Republican Party, when "America's Next Top Michael Steele" debuts on the FOX News Channel. The network announced today that Congresswoman Michele Bachmann (R-MN) will host the show, a midseason replacement which will air for five weeks starting March 17.

Said to be the first in a groundbreaking new genre called 'unreality TV', "America's Next Top Michael Steele" capitalizes on dissatisfaction with Steele's leadership, with dissident Republicans saying Steele was "too real" when he called conservative talk show host Rush Limbaugh "an entertainer" and his program "ugly."

Bachmann is the perfect person to pioneer an experiment in unreality TV, according to FNC CEO Roger Ailes, because "she's already synonymous with unreality in the public's mind."

A number of familiar names are said to have agreed to compete to be "America's Next Top Michael Steele." They include: former Rep. J.C. Watts Jr. of Oklahoma, journalist Armstrong Williams, former Ambassador Alan Keyes, and former The Bangles bassist Michael Steele, a dark horse candidate.

Each week the contestants will compete in a series of challenges, beginning with prostrating themselves before Limbaugh, who will sit on an onstage throne.

Each contestant will apologize to the conservative radio talker based on suggestions from the studio audience. Celebrity judges will rate the apologies on creativity, style, and how much saliva each contestant leaves on Limbaugh's tassled loafers.

Viewers watching at home will be able to call a 900 number and vote, and each week will see the lowest vote-getter booted off. However, the judges and callers can be overruled by Limbaugh who, as the show's 'uberjudge', can veto the decision by opening a large can labeled 'Whupass'.

The fifth and final show of the season will climax with the vote being certified by former Minnesota Sen. Norm Coleman. Then Bachmann will bestow the title of "Da Man" on the new Republican leader -- "You be da man!" she will declare by contractual agreement.

If "America's Next Top Michael Steele" is a ratings hit, it could be renewed for a full 13 week run in the fall 2009-2010 TV season, Ailes said.

Permalink | Comment
---


Posted March 9, 2009
Chinese harrass Navy ship

Pursuers offered to love USNS Impeccable "long time"

Tensions and loathing rose in the South China Sea on Sunday, when a US Navy ship reported it had been harassed by a number of Chinese vessels.

Pentagon spokeswoman Rear Admiral Gloria Allred said the USNS Impeccable was in international waters when it received unwelcome advances from the five Chinese ships. "Our ship was going about its work in a professional manner. Suddenly the Chinese ships appeared, started chasing the Impeccable like it was a Benny Hill episode, and calling out 'we love you long time'," said Adm. Allred.

"It was a hurtful and humiliating experience. We are entitled to an apology from China for this outrageous behavior," Allred said.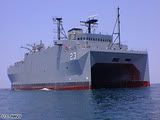 Denies provocative cruising
China's official Xinhua news agency reported Chinese vessels claimed the Impeccable was "asking for it."
"It was obviously cruising," Xinhua quoted Captain Chinn Dim Sum of the Oceanographic And Diplomatic Incidents Command as saying.
"I mean, come on: when an American ship comes into our waters showing a low waterline and exposing all that bare hull, it's a provocative action, it's asking for that attention," said Chinn.
Captain Chinn went on to say his crew reacted like normal red-blooded sailors. "When the Impeccable turned firehoses on my crew, we assumed the Americans wanted a wet t-shirt contest and went with it. We disrobed to our underwear and offered to give the Impeccable and its personnel five dollar massages."
"Jeez, we were just trying to be friendly," Chinn said.

Permalink | Comment
---


Posted March 5, 2009
Win for animal rights

CNBC reporters will run at Pamplona instead

Animal rights activists are celebrating today, upon news that the city of Pamplona, Spain will bar bulls from running in the annual San Fermin festival encierro, or the running of the bulls.

"We have long held that the running of the bulls amounts to torturing animals for entertainment," explained activist Teva Espadrille.

"Maybe not as bad as if the bulls were forced to watch the CBS series "Eleventh Hour," but still pretty bad. We certainly applaud the leaders of Pamplona for being more humane than Jerry Bruckheimer Productions," Espadrille said.

Instead of actual bulls, festival organizers say they have searched the world over for replacements that best epitomize bull-like qualities.

"What or who could display the single-minded aggression and fury of el toros? That is the question that has preoccupied us since the animal rights activists first began harshing on our unique cultural celebration," recalled Pamplona cultural affairs officer Francisco Ybarra y Frandello.

"But when American conservative media reacted to President Barack Obama's economic recovery plans, we found our answer: business reporters."

As a result, CNBC personalities Jim Cramer and Rick Santelli have been booked to run at Pamplona this July. They will be accompanied by Chicago Mercantile floor traders, since Cramer and Santelli alone -- while equivalent to 5-6 half-ton adult bulls -- cannot be considered a full stampede.

Espadrille and her fellow activists think the Pamplonan solution is a good compromise. "We think it is a humane example for the world to follow, while satisfying the human impulse that finds thrills in fleeing from dumb brutish animals."

Permalink | Comment
---


Posted March 4, 2009
Limbaugh gets another apology

Bachmann sorry she called Steele "da man"

Broadcaster and de facto Republican Party leader Rush Limbaugh has netted another apology to add to his growing collection of mea culpas from important people who have slighted him in the media.

Rep. Michele Bachmann (R-MN) went before reporters today in Washington, DC, and officially withdrew GOP Chairman Michael Steele's title of "da man," which she bestowed on him just last week at the Conservative Political Action Conference. Bachmann called unforgivable recent public statements by Steele, in which he called Limbaugh an entertainer, and his show as ugly.

"I am so very, abjectly sorry I told Steele that he be da man instead of Rush, if anyone is da man it's our leader Rush Limbaugh," said Bachmann.

"You, you be da man, Rush!" she said, visibly emotional.

"In fact, it is my distinct, deep, pleasure to apologize to Rush. And I do mean pleasure," said Bachmann, winking.

"I could lie back in his da manly arms and apologize to his bloodshot-red, white and blue eyes all day," she said.

It was a big day for Limbaugh, apologies-wise. Actor Mary Lynn Rajskub, who plays 'Chloe' on the Fox series "24," apologized for not going past first base with the conservative talker. The two were romatically linked in 2006.

Permalink | Comment
---


Posted March 3, 2009
Seattle mayor softens image

Nickels wearing 'collar-cam' for reelection campaign

Seattle mayor Greg Nickels surprised city hall watchers yesterday by appearing in public wearing a "collar-cam," a small digital camera that takes a photo every 120 seconds that was originally designed for cats. Nickels, visiting an oyster-tasting festival on the Seattle waterfront Monday, wore the collar-cam clipped to the knot of his necktie.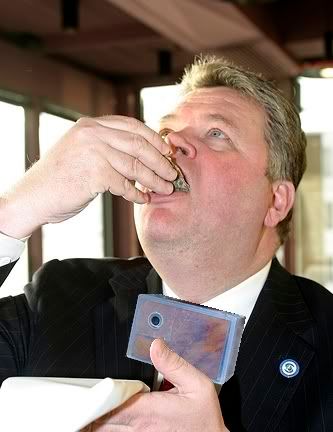 Slurp +
Nickels, wearing collar-cam, enjoys oyster

It is the first of what the city's world-famous "green mayor" promises will be a series of moves designed to soften his image in the lead up to the fall election.
Those in attendance at the oyster-tasting buzzed with excitement when Nickels entered the room wearing the camera. "The collar-cam is an icebreaker, people see it and want to find out about it, what it's for and how it works," said Nickels campaign consultant Paul R. Flack.
"It gives the mayor the opportunity to connect with people and their food, but avoid talking about the unfulfilled promises from his two terms. The collar-cam helps distract from all that," Flack said.
Some of Mayor Nickel's Collar-Cam Photos


Nickels, seeking his third term as mayor, said he was inspired to wear the collar-cam by Cooper, the popular orange-striped picture-taking cat featured a number of times in the Seattle Post-Intelligencer, and who currently has his own art gallery show. Nickels said he hopes the public's fascination with Cooper will rub off on him.

"In my years as Mayor, I seem to have acquired this reputation as combative, callous, stubborn, and dictatorial," said Nickels.

"With the collar-cam, my hope is that Seattlites will start to see my softer side. The real me, what drives me, what interests me."

Nickels has already started to upload his collar-cam photos to an online photo album. The first dozen photos so far chronicle the mayor's visits to a Mexican food emporium, a number of small eateries struggling with the economic downturn, and a new chili dog stand established under the city's program of accelerated permits for sidewalk cafes.




You might also enjoy: AIG shaves bailout sum - Company finds billions in sofa cushions (Ragebot)




Permalink | Comment
---