Posted November 28, 2007
Musharraf uniform furor

'Malfunction' likely to bring FCC fine

The long-awaited process for returning Pakistan to civilian rule began Wednesday, with Gen. Pervez Musharraf turning over control of the military to a senior general.

The turnover marked the culmination of a public campaign by the Bush Administration, calling for Musharraf to take off his uniform and serve only as the head of Pakistan's civilian government. But the ceremony marking the transfer of power was marred by an embarrassing incident that was broadcast live around the world.

The ceremony transferring command to Gen. Justin Timberlake, a member of Musharraf's inner circle, was going according to plan.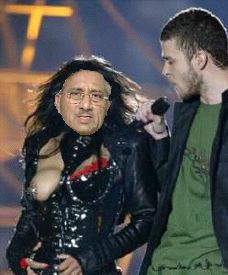 Musharraf takes off his uniform
Will he have less support?


Musharraf had just presented Timberlake with his new command. According to the agenda, Timberlake was to then take the official badge of authority from Musharraf's uniform, and then walk to a podium and address the assembled dignitaries.
Instead, Timberlake pulled down part of Musharraf's uniform, exposing the right breast of the Pakistani leader. The breast appeared to be adorned with a piece of jewelry attached through a piercing.
Musharraf appeared to attempt to cover up, and the ceremony continued. But the damage was done, for the brief exposure was being carried live on the world's major television networks, as well as CBS. Telephone lines and email inboxes of editors and news directors soon filled with messages from shocked and outraged viewers.
The Pakistan government quickly issued a statement calling the exposure inadvertent. "President Musharraf and Gen. Timberlake apologize for this uniform malfunction," the statement read.
Foreign policy observers had few insights. "This kind of political embarrassment is unprecedented in the international sphere," said former Secretary of State Henry Kissinger. Former President Bill Clinton agreed, but said he would need to review video of the incident a number of times, in slow motion, before commenting further.
Joan Rivers of the journal Foreign Affairs commented, "I think Musharraf has had breast enhancement surgery," while Iranian Supreme Leader Ali Khamenei issued a statement denouncing Musharraf for indecency, and invited him to mocktails.
However, not all reactions have been negative. Reuters reports Playboy president and CEO Christie Hefner already has offered Musharraf $1 million to pose for a pictorial for the premiere issue of her new publication, Playleader.
Americans who saw the event on television have complained to the Federal Communications Commission. FCC chairman Kevin Martin said his agency is reviewing recordings of live feeds of the ceremony that aired in the United States.
Martin pinned the blame on the recent FCC Commission decision to scrap plans for additional consolidation of media ownership. The Musharraf-Timberlake case gives him reason to again pursue such deregulation, Martin said.

Permalink | Comment
---


Posted November 27, 2007
Arabs, Israel agree

Walk out to protest U.S. service charge

The Middle East peace conference in Annapolis abruptly broke off on Tuesday, with diplomats from nearly 50 countries -- including Israel and 17 Arab nations -- leaving the first day of talks due to what they called an unreasonable service charge added to their dinner bills.

President Ehud Olmert of Israel said diplomats merely wish to decide gratuities for themselves. "I think our citizens want us to be fiscally responsible, and tip according to the quality of diplomatic service," Olmert said.

Mahmoud Abbas, president of the Palestine Liberation Organization, termed the service charge "outrageous."

"We were charged for Hamas' dinners, even though Hamas isn't in attendance," explained Abbas. "I asked at least to have Hamas and PLO's dinners on separate checks, but Secretary of State Rice said that was impossible because Hamas didn't cancel its reservation," he said, asking, "I'm supposed to tip in full for this kind of service?"

White House press secretary Dana Perino said the mandatory service charge is now routinely added to large diplomatic events. "We are required to make diplomacy pay for itself, under the government's pay-as-you-go rules," said Perino.

Olmert and Abbas later reconvened at a nearby Olive Garden, where server Jennifer "Jen" Frandle mediated a tentative agreement on a draft mutual nonaggression pact. "They sat at my station, it's all part of our 'Hospitaliano' service," Frandle said. She said Olmert and Abbas "were good tippers."

President George W. Bush voiced disappointment at the unexpected end to the conference, but explained that the American policy was clearly posted outside the banquet hall. "A 15% service charge is automatically added to delegations of six or more, for a very good reason: diplomatting is hard work," Bush said.

On the bright side, "my presidential library now has its first fake exhibit," the president said.

Permalink | Comment
---


November 20-26, 2007
Bush Pardons Turkey for Thanksgiving

"Let's put this Armenian thing behind us"

President Bush took a break today from the serious business of government, granting the traditional Thanksgiving pardon to Turkey.

In brief remarks in the annual Rose Garden ceremony, Bush said Turkey is a crucial ally in the war against terror. "Stopping the terrorist threat to millions of people is too important to allow the deaths of over a million people to get in the way," said Bush.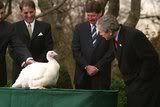 Bush smooths ruffled feathers
Meets with Turkish ambassador, relations back on track
Bush said the spirit of the Thanksgiving holiday has informed his stance regarding last month's congressional resolution declaring the World War I era deaths of 1.5 million Armenians by Turks to be genocide. At the time, Turkish President Abdullah Gul hinted at denying the U.S. continued use of supply routes through Turkey to Iraq.
Said Bush: "The American people have dined on a lot of turkeys since the first Thanksgiving all those years ago. Yet they have never held it against the American people for slaughtering and eating tens of millions of their kind. This is very much like the situation involving Turkey and Armenia," he said.
"If turkeys can forgive America, then surely Armenians can forgive Turkey. Let's put this Armenian thing behind us," said the president. "I call upon the Armenian people to remember that at least their ancestors were never brined, stuffed and eaten by the Ottoman Turks, with sweet potatoes on the side. And if they were, Condi hasn't briefed me about it."
Bush then signed the pardon and handed it to Ambassador Nabi Sensoy of Turkey. "On behalf of my country, I thank America and its leader for this generous act." Sensoy presented Bush with a gift, "from my people," a ceremonial barrel of petroleum from the Baku-Tbilisi-Ceyhan pipeline.
"I thank the ambassador for this splendid symbol of friendship between Americans and Turkeys," said Bush. "Let's hope there's lots more friendship where that came from."
After the ceremony, Sensoy flew to Disney World in Orlando, where he will be Grand Marshal of Thursday's 'Disney's Thanksgiving Day Parade.' After the parade, guests will be able to visit the diplomat in the backyard of Mickey's Country House in Magic Kingdom Park.
Bush, in a nod to Vegetarian Americans, also pardoned a tofurkey.
Best of MBLT: November 23, 2006

Permalink | Comment
---


Posted November 16, 2007
End of anonymity hailed

Lack of privacy group wants to "see what you've got"

A new less privacy rights organization is praising the nation's second-highest intelligence official for his statement that Americans shouldn't expect the government to protect their anonymity.

Donald Kerr, deputy to Director of National Intelligence Mike McConnell, last month told an intelligence conference in San Antonio: "Protecting anonymity isn't a fight that can be won. Anyone who has read their older sister's diary understands that."

Kerr described privacy as "the g-string underneath a thin, taut covering of security and public safety." He said Americans must be willing to give up anonymity, in exchange for a filmy, gauzy negligee of privacy.

Vernon H.W. Lechér, executive director of the new less privacy rights advocate People for Enhancing Executive Powers (P.E.E.P.), said Kerr's remarks are "good news" for security-conscious Americans.

"P.E.E.Pers care enough to want to watch over strangers, friends, neighbors, and distant relatives," said Lechér. "Kerr's stance on anonymity is a good place to start a public discussion, to get people to be more accepting of being watched by strangers, friends, neighbors and distant relatives."

"I say distant relatives, because anything closer than second cousins would be weird. But in general we want everyone to show they have nothing to hide, by showing us they have nothing to hide. Open your drapes and lift your blinds, let's see what you've got," he said.

Personal modesty would be preserved through the use of rollup shades and sheers, "preferably back-lit," Lechér said, rubbing his hands together.

"This is neoprivacy for the post-9/11 world," he said.

P.E.E.P. is a branch of the British Institute of Nude Observation Clubs United for Laws Against Robes (B.I.N.O.C.U.L.A.R.), an English invasion of privacy group founded in the Victorian era.

iNews Friday

From the iNews 9000 Turbo Wi-Fi Headline Translator —
Headline: Aquarium runs afoul of FEMA by catching fish instead of buying them
Translation: Neil Bush has a swimming pool full of clownfish he'll sell you

Headline: $3 million for pedestrians - City Council promises spending to improve safety
Translation: Seattle Council buys half a pot to piss in

Headline: Students hungry, ill during summer abroad
Translation: Neil Bush apologizes for delivery problems, says only a few fish were tainted

Headline: Bush Sets Plan to Ease Holiday Air Delays
Translation: GAO report on airport security tests will scare everyone into staying home

Headline: 'People' Magazine Says Matt Damon is Sexiest Man Alive
Translation: Bill O'Reilly says Bush snubbed again, more proof of liberal media bias

Headline: Spawning chum salmon get no privacy
Translation: Millions wasted on waterproof warrantless wiretaps

Headline: Bonds to face trial for perjury and obstruction
Translation: Bonds* to face trial* for perjury* and obstruction*

Headline: Newsweek signs Karl Rove as contributing writer
Translation: Reader contest - pick Newsweek's new name, Newsweak or Newsleak

Headline: Fewer Roadside Bombs in Iraq, US Says
Translation: Few roads left to blow up, says Iraq Automobile Association



Permalink | Comment
---


Posted November 15, 2007
GOP wants genocide resolution

Missing blondes deserve recognition too, Boehner says

Following up on October's Congressional action labeling the 1915 slaughter of Armenians by the Ottoman Empire as genocide, the Republican leader in the House of Representatives has launched a campaign to do the same for missing blonde women who have received cable news coverage.

"The tragedy of missing blondes has been extensively documented by Fox News, Springer, Extra and other hard-news channels, yet the majority has done nothing," said Minority Leader John Boehner.

"Blondes who have fallen overboard from cruise ships, or disappeared while on spring break, have waited too long for congressional recognition. A declaration of genocide is long overdue," said Boehner, himself a half-blonde American.

"The denial of blonde genocide by the Democrat leadership is a grave injustice," he said, and asked, "Are decades of blonde jokes and pop culture objectification not enough? When will blonde suffering finally be acknowledged?"

At the White House, press secretary Dana Perino, a blonde American, said Democrats have no excuse for not acting. "To my knowledge the Democrats were fully briefed on missing blondes," said Perino. She said President Bush supported Boehner's initiative, specifically that the president wants Democrats to stop discriminating against the hot, missing and telegenic.

Democratic leaders responded that they do not discriminate against the hot, missing and telegenic. "We are going to give this issue legitimacy by not responding until our approval ratings decline another 10%," said Speaker Nancy Pelosi, brunette. "Then we'll spend a month developing a policy," she said, not mentioning that Republicans were in control of Congress until the beginning of 2007.

Senate leader Harry Reid interrupted a hearing on legalizing illegal surveillance to weigh in on the matter. "As a blonde American myself, I can assure the American people that there is no insensitivity going on," said Reid, adding that he is open to compromise with the Republican minority. "I would be willing to have an all-night session on a bill for higher railings on cruise ships stopping at U.S. ports," Reid said.

Permalink | Comment
---


Posted November 12, 2007
Bush warns of new danger to homeland

Writers strike is "threat to my Monday nights"

President Bush today warned the Writers Guild of America it risks severe reprisals if it continues its work stoppage against film and television producers. Guild members have been walking the picket lines a full week.

"This is a first strike against the American way of life," Bush said in a New York speech before the Creative Accounting Society of Hollywood (CASH), an entertainment-industry management association.

Said the president: "This is the most serious threat to the homeland since the cancellation of 'Veronica Mars.' Mark my words, if the Writers Guild is responsible for nuking the television season, my government would see it as an act of cultural war. I will not hesitate to take preëmptive action."

"In particular, anything that prevents 'Heroes' from completing its current story arc will be viewed as a direct threat to my Monday nights," said Bush. "Also, there's 'House' on Tuesdays, with Hugh Laurie from our coalition partner, the Great British. I have to know who he hires to replace Chase and Cameron -- I'm rootin' for Audrey and the black guy," he said.

"And don't think I'm going to tolerate early reruns of 'Bionic Woman' and 'Life' on Wednesdays, or 'Ugly Betty', starring a fabulous actress named America, on Thursday. 'Men In Trees' on Friday is an offbeat comedy that also deserves to be defended."

Bush said he has sent a communique to Writers Guild leaders urging them to return to the negotiation table. Talks broke off last week over writers' demands for a share of revenues from online programming and DVDs.

Bush said the writers must agree to preconditions before negotiations can start. The Writers Guild, he said, must first agree to give up demands for revenues from online programming and DVDs.

Permalink | Comment
---


November 9, 2007
Restaurant review

New eatery does soup right, by Michael B. Mukasey

Chilly autumn weather has arrived, so on a recent evening I made my way to Chez Alberto, a hot new bistro-style eatery in Washington's Georgetown district that recently has attracted a great deal of attention from the Senate Judiciary Committee.

The menu is American and Medieval-inspired -- but with a post-9/11 twist, as I was soon to discover.

The entire menu of four-course meals is built around soup! After a refreshing glass of Chenin Blanc was thrown in my face, I was strapped onto a wooden bench and the meal began.

The first course was a light consomme which nearly drowned me with subtle flavors as the waiter poured it over my napkin-covered face. I was aware of the slightest hint of Chinese five spice just as I blacked out.

Chorizo soup and mesclun salad arrived after I regained consciousness. The spices of the Mexican sausage infused the dark beefy broth. When my head was submerged in the bowl, I experienced an unusual multi-sensory experience as it stung my eyes, burned my lips and nostrils, and inflamed my sinus cavity. You don't get this kind of experience at Olive Garden!

The main course was a traditional gruyere-red wine fondue, sprinkled with nutmeg and sadism. This was a mouth-watering melange of flavor that more than made up for the pain when the waiter forcibly held my left hand over the flame. I ate with my right.

Finally, for dessert I was forced to sit naked for 45 minutes in the walk-in freezer, where a frozen cream "soup" with fruit was served.

Owner Alberto Gonzales calls all of this Enhanced Cuisine Techniques. Gonzales is an amazing success story. Recently retired from government service, he was looking for a challenge in the hospitality industry and noticed few restaurants treat their customers like unlawful enemy combatants. Working closely for over a year with restaurant stylists Jay Bybee and John Yoo to create an innovative dining experience resulted in the Chez Alberto you see today -- packed with shackled and hooded diners, even on weeknights.

The only flaw I noticed at Chez Alberto was the live music -- a lute player performing classic rock. Listening to that was just torture.

iNews Friday

From the iNews 9000 Turbo Wi-Fi Headline Translator —
Headline: Bush to Musharraf - "Take your uniform off"
Translation: You can leave your hat on

Headline: Pentagon - Iran attack plans ready if needed
Translation: Paging General Ripper

Headline: NSA monitors all web traffic
Translation: Idea - track Osama through his V1@gra orders

Headline: Voters say no to roads and transit
Translation: Voters who hate their families look forward to spending more time in traffic

Headline: Canadian dollar passes $1.10
Translation: "Who you calling a loonie?"

Headline: Bernanke offers sobering outlook as housing woes deepen
Translation: Sobering up the president might help

Headline: US navy launches campaign to boost security in African waters
Translation: Bogey, Hepburn now must wear life preservers



Permalink | Comment
---


Posted November 6, 2007
Council passes Bicycle Plan

Only 1 member hit by car on post-vote celebration ride

The Seattle City Council unanimously approved the city's 10-year Bicycle Master Plan on Monday night. The plan was three years in the making, including an 18 month period in which conservative religious groups criticized the plan, mistaking it for a Bisexual Master Plan.

The plan seemed to bring benefits immediately following the vote. The Council members went on a celebratory bicycle ride around downtown, and only Councilman Peter Steinbrueck was hit by a car. He was wearing a helmet. Seattle Police spokesman Frank Poncharello said the injuries to Steinbrueck were insignificant because he's leaving office anyway.

Other benefits are to arrive soon. Each Seattle bicyclist will receive their own 10-volume edition of the Bicycle Master Plan, printed on quality slick sheet paper, handsomely bound in hand-tooled leather and packed in a waterproof pannier, so that riders may have it with them at all times.

Included in each pannier will be a portable sharrow produced by the Seattle Department of Automobile Transportation. This innovative safety device will be made from white corrugated plastic, and unfold into a sharrow the same size as the sharrows painted on some city streets.

Bicycle riders will be able to place the portable sharrow in their path, anywhere it is needed, as an instant reminder to drivers to share the road with bicycles if they feel like it.

"Portland doesn't have anything like this," an excited Mayor Greg Nickels said from the back of his City-owned sport utility vehicle.

Permalink | Comment
---


Posted November 5, 2007
Mukasey nomination withdrawn

Musharraf is Bush's new pick to head Justice

Saying he had become disenchanted with his choice, President Bush today withdrew his nomination of Michael B. Mukasey to be U.S. Attorney General. Bush instead put forward the name of Pervez Musharraf for the position.

Press secretary Dana Perino explained to astounded White House beat reporters that the president was unimpressed by Mukasey's performance in his confirmation hearing before the Senate Judiciary Committee. "President Bush was disappointed, frankly, by Mr. Mukasey's uncertainty about the legality of waterboarding," she said.

"In contrast, Mr. Musharraf is crystal clear about where he stands on waterboarding," said Perino. "He's all for it."

"The president also feels Musharraf will find new ways to work with the federal courts and Congressional Democrats," Perino said.

Musharraf, 64, is a military veteran, businessman and community activist from Islamabad, Pakistan. In 2000 he purchased waterboarding and its worldwide rights from Carl Weismann, a Dane who in 1955 made the record of dogs barking "Jingle Bells."

After moving waterboarding to Islamabad, Musharraf rapidly transformed the small business into the multi-billion dollar international corporation it is today, with branches in Morocco, Syria, Egypt, Uzbekistan, and northern Virginia.

Judiciary Committee member Charles Schumer (D-NY) said he would continue to support Mukasey. "I prefer ambiguity from nominees when it comes to torture, and Mukasey had that and more," Schumer said.

Permalink | Comment
---


Posted November 2, 2007
Bush's approval now 94%

Sank so low he lapped himself, Fox pollster says

A new Fox News poll has good news for President George W. Bush's job performance rating, now placing his popularity at an astounding 94%.

"It's basically due to the paradox of negative numbers you learned about in school," explained Fox News pollster Stan Dardeviasian. "To review, the product of two negatives is positive. For example, -2 times -2 equals 4."

"For purposes of the poll, this means that if the president's rating falls below zero, then people are not not approving of how he is doing his job," Dardeviasian said. "Bush's negative numbers become so negative, they're positive. It's like when you get lapped in a race, except backward."

Dardeviasian said he has been anticipating for several months that this phenomenon would occur, and it finally happened for the first time this week. "On Monday morning the president's job approval rating hit zero, and from there there was nowhere to go but down-up."

"As it continued to drop throughout the day and into Tuesday, his negative non-approval graphed as 99% approval. It's continued to fall to where it is today, 94%."

Dardeviasian's data also contains good news for Republicans in general. "The GOP presidential nomination is now a race to the bottom," he said. "Tom Tancredo is way out ahead, at 2% of likely GOP voters, I see him dropping to 80% by January."

"If enough Republicans in Congress lose their reëlection bids in 2008, they could be back in the majority in January 2009," Dardeviasian predicted.

iNews Friday

From the iNews 9000 Turbo Wi-Fi Headline Translator —
Headline: Bush demands Congress send clean bill to his desk
Translation: Bush demands Congress send Hannah Montana tickets to his desk

Headline: Zoo garage plan shot down
Translation: Parking conservation status: threatened

Headline: Olive Oil Magnate has Local Crush
Translation: Popeye files for divorce, seeks sole custody of Sweet Pea

Headline: $43.5 billion spent on intelligence in '07 - Who got money, how it was spent won't be revealed
Translation: Senate Intelligence Committee subpoenas Roger Daltrey

Headline: U.S. Mayors meet in Seattle to push for a Green Revolution
Translation: U.S. Mayors meet in Seattle to pose for Greg Nickels reëlection campaign photos

Headline: Climate can't wait for feds, say Clinton, Gore, Nickels
Translation: Nickels tries to carry Clinton, Gore jocks - suffers hernia



Permalink | Comment
---


Posted November 1, 2007
Curtis tipped the balance

Log Cabin Republicans briefly outnumbered Hetero Republicans

The "Log Cabin" group of gay and lesbian Republicans announced Monday that they had become the majority of the membership of the national Republican Party.

State Representative Richard Curtis (R-La Center) officially became Log Cabin's 50%-plus-1 on Monday, when the Spokane Police Department announced Curtis's sexual preference.

State

House Minority Leader Richard DeBolt (R-Chehalis) said in a prepared statement he was "thrilled" to hear the news about Curtis, and sent his congratulations.

But Log Cabin's majority proved to be short lived. On Wednesday, Curtis resigned his seat, saying he has an opportunity in the private sector. He has inked an endorsement deal with Eject, a national chain of gay video stores.
Rhue Juliani
Log Cabin official Rhue Juliani said she is not disappointed at only having the GOP majority for two days. "There's so much for LGBT Republicans to celebrate, there's no reason to be sad," said Juliani. "We're a majority of the House Republican Caucus," she said with a giggle, "and three candidates running for the GOP presidential nomination are Log Cabin. But we don't like to talk about that."
As for Curtis, his business career is taking off. A spokesman for Eject today said Curtis will tour all of the company's locations, signing autographs and modeling lingerie.




Permalink | Comment
---