Posted September 28, 2007
News Roundup

General Debate

Army to be run according to Pace's upbringing. Declaring his childhood experiences are the model by which any large organization can be run, the U.S. Army will henceforth be conducted the same way he was raised, Joint Chiefs of Staff Chairman Gen. Peter Pace announced today.
"All the new-fangled sensitivity and respect for the individual had no place in my upbringing, and it certainly is wrong for today's Army," Pace said in testimony this week to the Senate Appropriations Committee. The four-star general explained that he makes all his policy decisions according to his upbringing, and added, "my father never gave me any praise, so I don't see why I should show anyone else the slightest bit of tolerance."
Pace's new paradigm will affect many time honored military traditions, even reveille. Instead of a bugler, soldiers will be nagged awake by a recorded female voice telling them their cereal is getting soggy, and that she won't tell them again.
When practicing marksmanship, instructors will urge soldiers not to shoot their eyes out.
Instead of a commanding officer, Army bases will be under the leadership of a Main Officiating Major, or MOM. Soldiers will no longer be awarded promotions on merit, but rather will compete over who MOM likes best.
Religion is also reflected in Gen. Pace's new rules. Drill sergeants will be required to use King James English even when screaming at trainees, e.g., "Dost thou calleth that a salute? Verily is thine salute the sloppiest mine eyes have beheld. Droppest and giveth unto me twenty."

GOP hopefuls disappointed by debate. What if they held a debate and nobody came? That's what happened at last night's African American Issues Forum, a debate for presidential candidates organized by the Republican National Committee. All ten leading declared candidates were in attendance and ready to discuss the issues, but there were only twenty people in the audience — none of them African American.
"If black Americans can't be bothered to take an interest, then they shouldn't complain later about our policies," said a clearly disappointed Rep. Duncan Hunter of California.
The debate was held at the activity hall of Falcon Vista, an exclusive gated community outside Tempe, Arizona.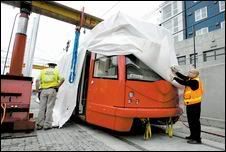 No touchy
4 foot rule would prohibit scenes like this
Four foot rule for the SLUT. The possibility of physical contact between patrons and the South Lake Union Trolley so alarms Seattle mayor Greg Nickels that he has proposed a requirement that patrons must stay at least 4 feet away from the SLUT. The SLUT is slated to begin its exotic dance down the rails in December.
Nickels spokesperson Marianne Bichsel explained the rule is needed for the same reason as the 4 foot rule that was proposed for stripclubs in 2006. That rule, which was rejected by voters, would have effectively banned lapdancing in Seattle. "The SLUT is going to be our first modern, 1930s transit technology for the 21st century, and as such there's a danger Seattlites could simply find it to be too overpoweringly sexy," said Bichsel.
The city is now trying to find extra funds to operate the SLUT as a free service, because the 4 foot rule would prohibit patrons from tucking fare money into the SLUT's g-string-shaped fareboxes.
iNews Friday (barely)
From the iNews 9000 Turbo Wi-Fi Headline Translator —
Headline: Bush says bill to insure children goes too far
Translation: Bush proposes tax on allowances

Headline: Democratic fundraiser in $60 million fraud
Translation: Such tiny fraud doesn't deserve to be swept under carpet, says Justice Dept.

Headline: Bush pledges creation of a Palestinian state
Translation: Bush offers Palestinians Louisiana

Headline: Senate resolution condemns MoveOn.org
Translation: Senators join David Petraeus Fan Club, receive secret decoder rings

Headline: 'Seattle' really pronounced 'See-alsh'
Translation: 'Tacoma' really pronounced 'Tacky-aroma'

Headline: Bush urges nations to stand up for freedom
Translation: "Ha -- I didn't say Simon Sez"



Permalink | Comment
---


Posted September 25, 2007
Ahmadinejad clarifies Columbia U remarks, addresses UN

Demands to know how far a quarter will bounce off Condoleezza Rice's ass

Iran president Mahmoud Ahmadinejad spoke to the United Nations General Assembly today, choosing for his subject what is perhaps the question most on the minds of the world's diplomats: how far will a quarter bounce off the ass of U.S. Secretary of State Condoleezza Rice?

Ahmadinejad's speech came one day after a controversial Monday talk at Columbia University, where the Iran head of state had the misfortune to follow beloved insult comic Don Rickles, known as "Mr. Warmth," who was trying out new material.

"You, sir — do you have a suit that fits? Here's a tip: spring for the alterations, it'll impress the ladies," Rickles joked, gesturing in Ahmadinejad's direction. Ahmadinejad smiled gamely from his seat in the front row, nodding to indicate he was in on the joke.

Rickles departed the stage to a standing ovation. "I kid — because I love," Rickles said to Ahmadinejad, and the two embraced briefly.

Ahmadinejad then answered audience questions, but committed a gaffe he spent the rest of the day trying to explain.

Responding to a question about sexual preference and women, Ahmadinejad — speaking in Farsi — was interpreted by a translator as saying, "In Iran, we don't have homosexuals, like in your country." This was met by laughter, followed quickly by a chorus of boos.

He then went on to describe how Iranian women are well treated, because they are saved from having to worry their pretty little heads over big scary responsibilities like owning property and attending soccer matches. But the damage was already done.

Later, Ahmadinejad released a statement that he had been mistranslated on homosexuals. According to the statement, Ahmadinejad actually said, "we don't have homosexuals in Iran, as in your country we have straight men who have sex with other men. Leaders of your Republican Party have told me this."

Later, a spokesman from Iran's UN mission commented, "the president has a very wide stance on social issues, this is something that is well known in our country,"

In his UN address this evening, Ahmadinejad spoke his mind on what he saw as the primary issue between the United States and Iran, namely gossip about Secretary of State Condoleezza Rice. He was clearly exasperated over the issue.

"'Condi, Condi, Condi,' she is so popular," said Ahmadinejad. "'Where does she buy her shoes? Who does her hair? What music does she listen to? Does she openly attend soccer matches?' This is all I ever hear now in Tehran."

Ahmadinejad blamed Western media for what he called "the common Iranian's preoccupation with trivial matters."

"We should instead be concerned about weighty issues, like how far a quarter will bounce if thrown at Condoleezza Rice's ass."

"I would rather engage with the United States constructively on this matter, but they refuse to have direct talks," he said. "I want to meet with Condoleezza Rice, representing our two great nations, so we may bounce quarters off each other's asses." Ahmadinejad called upon UN Secretary General Ban Ki-Moon to support his initiative, turning his back to Ki-Moon and inviting him to bounce a quarter off his ass.

Ahmadinejad also showed his grasp of American domestic affairs by directing part of his remarks to Americans who favor return to a gold or silver standard for U.S. currency.

"Gold especially is preferred," said Ahmadinejad. "Anyone can get distance bouncing an American quarter off the ass, as it contains no heavy precious metals. Bouncing a gold coin the furthest off one's ass — now that would be a historic diplomatic achievement."

Permalink | Comment
---


September 24, 2007
Tasers are hot!

Patriotic mission-supporters now zapping themselves

A strange turn of events has transformed the humble taser into this year's hottest pop culture phenomenon. Formerly the province of mall security guards and screenwriters, for several years the taser has been used by select high level politicos as a self-discipline tool, a leading political fashion journalist reports.

The taser has received publicity due to the recent incident at University of Florida at which student Andrew Meyer was tasered and dragged away from a forum with Senator John F. Kerry (D-MA).

After a tasing the user awakes feeling refreshed, with only a brief case of amnesia.

Appearing on the premier edition of her new FOX News show "Craven Journalism," newsotainer Fawn Craven reported members of the Bush Administration routinely self-administer taser shocks whenever they find themselves questioning official policies, with the practice beginning as early as 2003.

Former Justice Department officials Monica Goodling and Paul McNulty reportedly tased themselves prior to testifying before Congress. Former Attorney General Alberto Gonzales is said to have been tased by Vice President Dick Cheney prior to his appearances before the Senate Judiciary Committee.

Now, Craven reports, the 21st century joy buzzers are being increasingly snapped up by accessory-conscious patriots eager to maintain their personal support for President Bush's war on terror. Rank-and-file Republicans have taken to carrying designer tasers on belts and in handbags. Then, whenever they feel a slightest twinge of doubt about the mission in Iraq, they give themselves a zap.

"I got my first taser after Hurricane Katrina," said Chester Frandle, 38, a Springfield-area used car salesman and blogger who describes himself as "a Bush maniac."

"The aftermath of Katrina started me questioning Bush's competence, and I didn't like feeling that way," Frandle said.

"I soon found I was constantly second-guessing the Commander-in-Chief about everything, WMD, war contractors, terror alerts, secrecy, the whole ball of wax." Then, said Frandle, he decided to give himself a shock with his taser, which he said he bought for personal security after watching TV news coverage of New Orleans.

"Sweet relief!" Frandle said. "It made me forget the bad, and when I came to I was able to focus solely on the daily talking points."

Frandle soon found that he was not the first to discover this alternative use for the taser. "All my dittohead friends told me they were tasing themselves too," he said. "It helps us see all the good things Bush is doing now, like world travel, talking tough and mountain biking."

But conservatives are not the only ones who have adopted the taser — neoliberals are getting on board the latest fashion trend too.

The most notable taser afficianado on the center-left is Senator Kerry himself, who showed Craven his Yoyodyne TT-50 Ralph Lauren Special Edition, a 50,000 volt model popularly known as "the Tongue Tamer." It is molded from steel-gray ABS plastic and has a real wood handgrip. Kerry carries his TT-50 in a Gucci handtooled leather holster.

"I tasered myself in 2004 to perfect my robotic monotone speaking style, then I started doing it whenever I considered responding to the Swift Boat ads," Kerry told Craven. "I also used it to stop myself from challenging the Ohio vote results."

"Better we control our own speech and political activity by choice, rather than have it done for us," said Kerry. "The taser is an easy way to do it, and have fun at the same time," he said.

Permalink | Comment
---


Posted September 21, 2007
GOP hopefuls united on health care

Health of health insurance companies top priority

Heeding the results of opinion poll after opinion poll showing Americans worried about access to health care and the cost of insurance, Republican candidates for president are increasingly speaking out on the issue.

"We have heard the American people say they are worried about health insurance, and we're going to act," former New York City mayor Rudolph Giuliani said recently to a symposium at the Liberty Copayment Institute, an insurance industry think tank. "We get it," Giuliani told them.

Dr. Clay M. D'Niall, PhD., a researcher at LCI, described the problem as a failure of the market in which not enough money gets to the insurance industry. "How can people give as much of their money as possible to insurers? That is the question that is preoccupying the Republican candidates these days," said D'Niall.
Rudy Giuliani
His plan won't cover tranya addiction
The GOP field may agree on many things, but they agree on one thing: the Democratic candidates, which the exception of Sen. Hillary Clinton of New York, don't do enough for health insurance companies.
To a man all say that the key is the free market. But they disagree on how to unleash market forces without creating competition. "Real competition would drive down the price of premiums, but no one wants cheap, shoddy health care," said D'Niall.
But perhaps the largest problem is how to enable Americans to shift more of their money toward insurance, and away from nonessentials such as housing, education, food and Netflix.

Mitt Romney
Health care in the 25th century?
"We make this solemn promise -- we will find a way for every American to pay a health insurance company," Giuliani promised the symposium audience. His answer, as well as that of his rivals, is to cut taxes -- in Giuliani's case, a $7,500 tax deduction to defray a small part of the cost.
Mitt Romney is believed to have the advantage. As a former governor, he is the only Republican who has had a chance to enact his ideas. "In Massachusetts we created a captive market by making it illegal not to buy health insurance," is part of his standard stump speech. If taken nationwide, Romney's plan would tax people to pay for whatever portion they still can't afford.
Duncan Hunter
Would find a cure for himself
The other GOP challengers are chiming in with specific innovations. Sen. Sam Brownback of Kansas would provide universal coverage, but only for the unborn. California Rep. Duncan Hunter would pattern health spending after the Pentagon budget. Hunter recently said on NBC's Meet The Press: "Military and national security is 67% of the federal budget. What we need is for health insurance to be 67% of the budget as well."
D'Niall says he is optimistic. "If anyone can figure out how to help people pay corporations, it's Republicans."


iNews Friday
From the iNews 9000 Turbo Wi-Fi Headline Translator —
Headline: Madonna has meeting with Israeli President
Translation: Meshugeneh Marilyn Monroe lookalike sings "A Freylakhn Geburtstog Mr. President"

Headline: US expands Anbar model to Shiites
Translation: Only way to destabilize Shiites

Headline: Ron Paul campaigns in Seattle
Translation: Hypnotist wows Seattle audience, makes liberals cluck like neocons

Headline: Alan Keyes declares candidacy
Translation: Alan Keyes hypnotizes self, thinks he has a chance in hell

Headline: Craig returns to Senate floor for first time since scandal
Translation: Craig goes to stall- uh, filibuster Democratic bills

Headline: UN denies Taiwan membership for 15th year
Translation: Taiwan unable to come up with damage deposit

Headline: Landis guilty of doping, must forfeit 2006 Tour title
Translation: Other sanctions - must use banana seat, training wheels, handlebar streamers



Permalink | Comment
---


Posted September 18, 2007
New Seattle transit sculpture unveiled too early

Artist Christo reportedly furious
New art
Dressed as construction workers, two butoh dancers stage an impromptu performance next to Christo's "Slut."
A new work of art was accidentally revealed to the public in Seattle's South Lake Union today, three months too early, infuriating its creator.
"Slut," by the world-famous artist Christo, was intended to commemorate the installation of Seattle's new South Lake Union Trolley and gentrification of the district. That now hangs in the balance as the agencies responsible attempt to placate the artist.
Jeanne-Claude, Christo's wife, collaborator and spokesperson, said her husband was so upset he could not find the words to describe his feelings. "J'apprécie aussi un bain chaud," Jeanne-Claude said in French, adding, "Où sont les hommes qui jet les poissons?"
Officials of the City of Seattle and King County Metro said they mistook the canvas-draped sculpture for the new trolley, which they wished to test prior to the planned December opening. The mistake occurred because the sculpture happens to be trolley-shaped, said the officials, who also expressed regret over the misunderstanding.
"We wanted an extravagant, pop-art environmental installation to symbolize the transformation of old, rundown, blue collar Cascade into new, exclusive, urbane, high-tech South Lake Union," said John Henry, director of steel driving for Metro Transit. "We're sorry to have spoiled Mr. Christo's plans."
Christo is perhaps best known for cloth-covered installations of massive natural and manmade objects, such as veiling the Pont Neuf bridge in Paris, surrounding eleven islands in Biscayne Bay in Florida with pink polypropylene, and creating a new gray business suit for Seattle Mayor Greg Nickels Urban Notebook:
Affordable housing coming to Fremont
Fremont's old Bridge Motel on Aurora Avenue is coming down, to be razed to make way for seven affordable townhouses. Expected to carry a price tag of $1 million each, developers will first offer each home to groups of 100 people, each paying only $10,000. Fremont community leader Suzie Burke calls it "the best housing deal in town, and helps achieve much-sought-after urban density."

Permalink | Comment
---

Posted September 17, 2007
Dear Leader
by Kim Jong Il



Dear Leader,

I know I offered you oil as part of our recent deal, but something's come up. I'll just come right out with it: I'm afraid we don't have any oil. Yup. We're fresh out. For one thing, we've got these SUVs that suck up oil like a Bangkok whore, you know what I mean. And then there's Peak Oil, the point at which maximum production -- uh, we can go into that some other time. But my point, and I do have one, is that although we're a little short on oil at the moment, we're in the process of getting some more. But it may take a while; the people living on top of it don't want to let us have it without a fight. So it may be a few years -- say, can you help us out with that? We're still a go on denuclearization, right? Signed, Christopher R. Hill, Assistant Secretary of State for East Asian and Pacific Affairs

Dear Christopher:
What? I can't hear you over the sound of all these spinning centrifuges. Ha! No, just kidding. A deal's a deal. But you did promise me a bunch of stuff, a few billion barrels of crude not the least of it. I do happen to have 1,200,000 men and women under arms, I think I can spare a few.
It's a great army. They've all got guns, but only one bullet each. Hey, maybe you can help with that.
They're good kids, and really good at two things. The first is parades, so when the mission is accomplished the victory party will be glorious! The second thing, sort of related, is event planning. Parades don't plan themselves, you know. So if you could throw some business their way it would help me out. Next year's Republican convention, for example.

Dear Leader,

I recently decided to enter the 21st century and get a cellphone, so I called a cellular provider and signed up. I told the customer service rep I wanted to keep the same phone number, and she said no problem. UPS delivered my new phone a couple days later, and per instructions I charged it for a day, then called the provider to activate it. They told me it would take 8 to 10 days to move my phone number over from my land line! It's now been 6 days so far, and I'm driving myself nuts what with constantly checking my old phone to see if it still works. My question is, why does it take so long to change over? Don't they just throw a switch? Signed, Telephone Tethered from Tacoma, Washington.

Dear Tethered:
Here at Glorious People's Telecom (a division of Kimdex Industries) we have moved far beyond 'throwing switches.' Nowadays we 'click on' on-screen 'icons.' We take 8 to 10 days to transfer your number in order to wring a final 8 to 10 days of charges out of that land line account. Now you're probably thinking: "but don't you phone companies own the land lines AND the cell networks? What does it matter if someone switches from one to the other?" The answer is: you're right, it doesn't -- except for the 8 to 10 days where we're billing you for both services. It's another opportunity to extract some good old-fashioned surplus value from the workers! God I love capitalism. Yeah, you heard right. God.

Permalink | Comment
---


Posted September 14, 2007
Eyman initiative on ballot

Measure would tax Tim Eyman for basic services

(Olympia) Ballot initiative guru Tim Eyman would be taxed for vital state programs under I-3, called the "3 Decimal Places" measure. Supporters filed an estimated 600,000 more than the required 224,880 signatures to the Secretary of State's office on the July 6 deadline.

I-3 would adjust state and local tax rates on Eyman by moving the decimal point three places to the right. For example, instead of the 101% constitutional limit on property tax increases, a 101,000% limit would be applied to Eyman.

Likewise, the total property tax limit of $10 per $1000 of assessed value would be $10,000 per $1,000 for Eyman, and Eyman would pay a base sales tax of 6500% rather than 6.5%.

Madison Park-Frandle, chairperson of Yes On 3, said it is necessary to tax Eyman because his tax-cutting initiatives have impacted funding for transit, public health, ferries, parks, community recreation, libraries, transportation projects, and the justice system. "We know he'll probably be happy to make up for all the harm he's done over the years," Park-Frandle said, "but just in case we're going to pass I-3, just to be sure."

"I find their lack of faith disturbing," commented Eyman, a Mukilteo logo wristwatch merchant. "But when my battle station becomes operational it will be the most powerful force in the galaxy. Then these liberals shall taste of my dark side."





Food server initiative fails to qualify

I-150, the so-called "Sharkansky Law," has collected only 140,233 signatures and will not appear on the fall ballot, the Secretary of State's office announced today. Promoted by professional waitpersons, I-150 sought to require conservative blogger Stefan Sharkansky to tip 150% in restaurants.

iNews Friday

From the iNews 9000 Turbo Wi-Fi Headline Translator —
Headline: Bin Laden Is 'Virtually Impotent,' Bush Adviser Says
Translation: How hard can it be to find a tall bearded guy hooked up to a kidney machine and popping Viagra?

Headline: Killer walks away from NJ psychiatric hospital
Translation: Missing paranoid schizophrenic on short list for Attorney General nom

Headline: Bush - 36(ish) Countries in Iraq
Translation: Fantasia, Imaginistan join US-led coalition

Headline: US to stay in Iraq past 2008
Translation: Happy inauguration, Madam President!

Headline: Bush seeks enduring relationship with Iraq
Translation: Saudis file for divorce - Bush wants alimony, custody of the oil

Headline: Drop your silly Atlantic solidarity and support us, Putin tells West
Translation: Andorra, San Marino join new Aral Sea Pact

Headline: OJ Simpson denies Vegas robbery
Translation: Vows to not rest until he finds himself

Headline: Ted Stevens' son Ben took bribes
Translation: Ben once took $5 to not tell who broke Bob Dole's kitchen window

Headline: US health insurance costs rise nearly twice as fast as pay
Translation: Oil industry asks who it has to do to get some of that magic



Permalink | Comment
---


Posted September 13, 2007
Disaster aid finally reaches Britney Spears

World critical of slow Federal response

Relief supplies finally reached Britney Spears in Henderson, Nevada, today, four days after her disastrous appearance at the Sept. 9 MTV Video Music Awards in neighboring Las Vegas.

This morning a convoy from the West Hollywood national guard pulled into the disused indoor soccer arena where Spears, 25, and her entourage took shelter. The soldiers brought with them emergency PREs (Pork Rinds Ready to Eat) and a tanker truck of Zima.

Spears and members of her entourage have waited for outside assistance since Monday, huddled in the vacant arena in Henderson, outside Las Vegas. They have had to make the best of things, sharing the four restrooms and wearing discarded warm ups found in the locker room. On Tuesday desperation set in, and Spears broke into the concession stand in search of food. The refrigerator held only ketchup packets and a tub of hot dog relish.

Condemnation has come from around the world over the four day delay in federal disaster relief reaching the pop tart and her hangers-on . TV coverage has allowed an international audience to follow Spears' fight for survival.

The firestorm of criticism has been mainly directed at the Federal Diva Implosions Commission (FDIC), a National Endowment for the Arts division that is roughly the cultural equivalent to the Federal Emergency Management Agency.

"The government appears to have not learned anything from the Hurricane Katrina debacle," said Joan Rivers, National Affairs Correspondent for the Star tabloid. "Here's Britney, a divorcee, mother, and recovering underwear-phobic, and the feds are apparently ignoring her," she said.

George F. Will of Daily Variety agreed. "The anniversary of Katrina only two weeks past, and there is no indication the Bush White House has any appreciation for history or symbolism ," said Will, referring to an incident that occurred Tuesday. Media covering President Bush as he attended a briefing by FDIC Director Snoop Dogg reported Bush said to Dogg, "You're doing a heckuva job, Snoopie." The White House has also been silent on the designated hitter rule, Will noted.

At the White House, new Press Secretary Dana Perino denied the White House had ignored Spears' plight. Perino said the president considered it very important, and had sent his mother, former first lady Barbara Bush, to Henderson with instructions to report back to him.

Mrs. Bush toured the Henderson arena this afternoon on her son's behalf, and was impressed by the relief efforts. "These conditions are nowhere near as bad as when I used to follow the Dead, so this is working out very well for them," she chuckled.

Permalink | Comment
---


Posted September 11, 2007
Bush OK after allergy attack

Blows nose on Bill of Rights on visit to National Archives

President Bush is reported to be fine after being briefly stricken by a sneezing attack likely brought on by an allergic reaction to dust, officials of the National Naval Medical Center said today. The incident occurred during a visit to the National Archives intended to highlight the many historic documents that guarantee American freedoms, and scheduled to coincide with the observance of the sixth anniversary of the attacks of September 11, 2001.

The president was touring the Archive's preservation and restoration facility in College Park, MD, shortly after 10 a.m. this morning when the allergy attack struck.

Tim Snide's Beltway Journal:
White House purchases new spin machine
Word came from inside the White House today that the Vice President's office has purchased a new spin machine.
The new machine is from Starbucks, and has a high-pressure ecochamber that lets it brew a talking point in 90 seconds, with enough steam left over to whip the right wing media into a froth.
One advantage of the Starbucks spin machine is that it uses the coffee company's size system. The smallest size is therefore called Tall (large). Medium is Grande, and so on.
So when General Petraeus says "the military objectives of the surge are, in large measure, being met," large means small.

National Archives Director Ellen Weinstein was accompanying the president on the tour, and recounted what happened. "It started as several sharp inhalations," Weinstein said. "Then it escalated to a series of full-out sneezes."

"He sort of sneezed into his hand and, at the time no one thought much of it." Weinstein said she was not prepared for what happened next.

The president's response to the attack was to grab the nearest piece of paper and blow his nose. Unfortunately, he was standing at the work table of a rare documents restorer, and the paper he picked up was the original copy of the Bill of Rights, which was undergoing routine cleaning and preservation.

Horrified members of the Archives staff attempted to stop him, but they were blocked by Bush's Secret Service security detail.

According to witnesses Bush said, "It's just a goddamn piece of paper," crumpled the historic document and tossed it into the nearest garbage can. "And not very soft on the nose," he reportedly commented.

Constitutional repercussions

At midday (Eastern time), a number of conservatives issued statements that the president's actions ought to have the force of law, under the broad unitary executive powers established by his administration. Some have already moved to argue for changes in constitutional interpretation that would strip Congress of many of its powers.

"The Bill of Rights now says Congress shall make no law respecting freedom of boogers," said Dr. Moore Cash, a constitutional scholar at the American U.S.S. Enterprise Institute.

"I know what we've been saying all these years about strict construction and the framers' intent, but I need you to forget all that. Now we want to go by what's literally on the parchment, and if it's mucous, then it's god's will," said Cash.

"It's right there in black and white. And brown. And yellowish-gray," he said.

The political right is not unified however. One conservative interest group that stands to lose under the new order is the National Rifle Association, which would have to defend "the right of the people to keep and bear snot."

Support troops by invading Iran, Graham says

The U.S. should take advantage of the success of the Iraq troop surge to launch an attack on Iran, Senator Lindsay Graham (R-FL) said yesterday.

"It's their job to fight wars, but because the surge is working they're going to have more free time," Graham said. "If we don't have another war, our troops will have nothing to do. We might have to make the military smaller," he said.

"We have to have another war, or we'll break the troops' hearts. Support the troops. Support an invasion of Iran," said Graham.

Permalink | Comment
---


Posted September 7, 2007
GOP confronts closet problem

2008 hopefuls consider limits, ban on closets

(Durham, NH) The Republican presidential candidates gathered on Wednesday evening to debate in this small New England college town, but the Republican with the most impact on the night's agenda was not present — or even mentioned by name.

Larry Craig, the possibly former Idaho senator who pleaded guilty to a disorderly conduct charge stemming from an incident in a Minneapolis airport mens room, was on the tip of the tongue of every Republican presidential hopeful as they discussed gay rights, Iraq, and abortion in front of a large audience on the University of New Hampshire campus.

"We can no longer pretend we don't have a closet problem in this party," said Sen. Sam Brownback. "As Republicans, we stand against any right to privacy in personal matters. The obvious remedy to the closet problem is a constitutional ban on closets."

Brownback proposed a Human Lifestyle Amendment that would prohibit Americans from hiding their laundry, dirty or otherwise.

Former New York City Mayor Rudolph Giuliani questioned the fairness of a total ban. "Someone should be able to have a closet if they can afford one, of any size," he said. "Damn straight," his wife Judith could be heard yelling from backstage. Giuliani said he would support banning federal funding for closets.

Several candidates blamed liberals for the closet problem. Gov. Mitt Romney linked Democrats to California Closets, the home-services company. He noted the company "started in (Speaker) Nancy Pelosi's home state, and has a tres color-coördinated, tres stylish, website."

Rep. Duncan Hunter of California objected, noting the company's birthplace of the San Fernando Valley is "not typical of California."

But Colorado Congressman Tom Tancredo noted that California Closets is now owned by Williams-Sonoma, and asked, "Who are Williams and Sonoma? Are they two men, hiding in their own company's closets?" Tancredo wondered whether William's and Sonoma's first names are Adam and Steve. "The people have the right to know," said Tancredo.

On abortion, Brownback said closets are a threat to the unborn. "I believe closets lead to abortions due to the coat hangers," Brownback said.

On Iraq, Sen. John McCain said President Bush's plan should be given more time to work. "We haven't finished searching all of Saddam Hussein's palace closets, WMD may yet be found."

However, Congressman Ron Paul drew applause when he observed, "All this anti-closet rhetoric can be traced straight to the rental storage locker industry," said Paul. But he immediately was booed by many in the audience when he added, "It's distracting us from bringing important ideas out of the closet, such as getting rid of Social Security."

iNews Friday

From the iNews 9000 Turbo Wi-Fi Headline Translator —
Headline: Leona Helmsley will: dog to get $12 million
Translation: Only the little puppies pay taxes

Headline: Bill Murray tested for drunk driving of golf cart
Translation: Zool says "disgraced" Venkman should resign

Headline: Popcorn supplier to drop toxic chemical
Translation: Reddenbacher denies toxins, will allow in weapons inspectors; General Mills to address UN

Headline: Stray dogs to be killed before Coptic millennium
Translation: Michael Vick decides where he'll perform community service

Headline: Bush meets with Australian leader
Translation: Bush jinxes Australian leader's reelection

Headline: Bush: "We're kicking ass" in Iraq
Translation: Photo surfaces of Gen. Petraeus kicking Bush



Permalink | Comment
---


Posted September 6, 2007
Mayor strips City Hall roof garden

Green space replaced with training facility

Seattle City Councilmembers and staff arrived at work today to find the roof garden outside the Council Chamber had been replaced during the night with a world class state-of-the-art chopped fiberglass emulsion roof. A trailer in one corner of the roof will serve as a classroom for teaching students the roofing trade.

"This is an outrage," said a visibly angry Councilman David Della. "Somebody in authority should do something about this so I can take credit for it," Della said.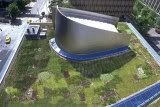 Before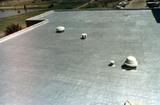 After

The project is the vision of Mayor Greg Nickels, who has made elimination of wetlands a priority of his administration.
Nickels also cited safety concerns, calling the roof garden a disaster waiting to happen.
"The garden had dirt, and dirt holds water," he explained. "In case you haven't noticed, we get rain in Seattle. Rain makes the roof a heavy, soggy wetland that has the potential of collapsing (the roof). Getting rid of this wetland is a preventive measure, and the responsible thing to do."
Nickels said replacing the roof garden did not incur extra expense. "Luckily, I had all this construction material for the tunnel stockpiled in my garage," he said, referring to aborted preparations to replace the Alaskan Way Viaduct with a waterfront tunnel.
"This work achieves three objectives," said Nickels. "It prevents damage to our new City Hall, it provides jobs and training in the roofing industry, and my wife stops nagging me to clean out the garage. Win-win-win."
Nickels' spokesperson Marianne Bichsel said alternative green space would soon be developed for City Hall. The plan, called Re-Greening City Hall, will allow moss and weeds to grow in the building's gutters. "Rain gutters will become rain gardens, for the enjoyment of window washers and downtown neighbors with binoculars," Bichsel said.

Permalink | Comment
---


September 4, 2007
Bush Declares Candidacy for President of Iraq

Wins pivotal Anbar straw poll

President Bush shocked the political establishments of the U.S. and Iraq yesterday, announcing in the middle of a surprise visit to Iraq that he is a candidate for that country's highest office.

"My hat is in the ring," Bush said, as he exchanged pleasantries with Prime Minister Nouri al-Maliki and President Jalal Talabani, the man Bush hopes to succeed.

"I'm going to go to the nearest bazaar and buy a turban, so I can throw that into the ring too," joked Bush.

He was disappointed last year after learning the U.S. Constitution prevents him from running for a third term, Bush told author Robert Draper in interviews for a book on the Bush presidency.

Bush said he worried he would have nothing to do after leaving office. "I'll give some speeches, just to replenish the ol' coffers," Bush told Draper, but said he "can just envision getting in the car, getting bored, going down to the ranch" in Texas.

It was then that Bush noticed the political situation in Iraq, and realized the insurgency-torn country would benefit from experienced leadership. "I feel I owe them something, after the problems the Clinton Adminstration caused Iraq in the 1990s," Draper quotes Bush as saying.

Air Force One landed in Iraq on Monday, disembarking Bush and his entourage in full campaign mode. After the courtesy call on Maliki and Talabani, Bush traveled to the western al-Anbar province to take part in the Anbar Straw Poll.

Addressing the predominantly agricultural and nomadic voters, Bush was once again in the element he relished in 2000 -- good old fashioned politicking. The day had distinctly American overtones, with Bush evoking Ronald Reagan when he asked Iraqis to ask themselves, "are you better off now than you were four years ago?"

Surprisingly, voters seemed to warm to Bush, whom they affectionately nicknamed "Satan."

"I went to the straw poll ready to spit on him at first sight," said Omar al-Frandoud, a date farmer. "But after I had a chance to talk to Satan, he seemed like just a normal guy, someone I would want to share a glass of fetid tap water with."

The results of the vote had Bush winning with 1,124 votes, Talabani second with 320 votes, and religious leader Muqtada al-Sadr 277 votes. Congressman Ron Paul finished last, with 84 votes.

Bush also used the occasion to announce he is reconstituting Iraq's old Republican Guard. They will campaign for Bush as a group, under the name Iraq War Veterans for Truth. "I'm always glad to help out other Republicans," Bush said.

Permalink | Comment
---


Posted September 2, 2007
Craig out to prove he's straight

Plans European sex tour

Senator Larry Craig, who yesterday gave in to pressure from within his own party to end his 26-year Congressional career, will travel to Europe to prove he is not gay. Craig made the announcement shortly after the news conference at which he formally resigned.

Craig was defiant, continuing to deny any wrongdoing. "I'll go to every men's room in the United States not propositioning men, if it will prove that I am not gay," Craig said.

After documenting several months of incident-free lavatory visits, Craig said he will make a journey of redemption to Paris. He will go alone, "because it is very much a solo, inner journey I have to experience by myself."

Craig's only link to America will be Francis F. "Fifi" Frandle, the Republican image consultant. Frandle will accompany Craig to France in a staff capacity.

In Paris, Craig intends to live in a squalid garret, earning a living by performing in one of the infamous live sex shows in the Pigalle red light district. This will likely call for having sex on stage with women two to three times a night. "If daily sex with multiple skanky surgically-enhanced women doesn't prove I am not gay, then nothing will," Craig said.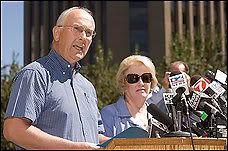 Off to Gay Paree
Craig sets out to prove he's straight.
Asked to comment on her husband's plans, Suzanne Craig merely shrugged. "It goes with the territory of being married to a heterosexual man. I just have to live with it," she said.
"I'll do anything to prove to Idaho that their U.S. Senator is not gay, even if in order to do it I have to screw every diseased slag in Paris," Larry Craig said.
"I'll return to Boise with my head held high. This is a matter of pride for me," he said.

Permalink | Comment
---