Posted June 29, 2010
New dolphin oil cartel to rival OPEC

A new petroleum exporting bloc was announced today, and its sights are on taking a bite out of OPEC's market share.

The Hydrospheric Association for Human Assistance by Cetacean-Like Intelligent Creatures & Krill and Congress of Living In Cooperation & Kindness (H.A.H.A.C.L.I.C.K.C.L.I.C.K.), a dolphin-led cultural and trade group, decided to get into the energy business after one of its pods discovered a huge mass of oil in the Gulf of Mexico.

"It's the biggest find of crude oil ever discovered by our kind," said Finn Bottlenose, media director for the 1500 year old Atlantis-based organization.

"Orca whales found oil in Prince William Sound, Alaska, about twenty years ago, but it's dwarfed by what we dolphins have found in the Gulf," Bottlenose explained. He said the oil is growing by hundreds of thousands of gallons a day.

Flip O'Dontoceti, press secretary for Dolphin Minister for Fish Resources & Recreational Fishing the Rt. Hon. Delphine Platanist, said the amount of oil was too great to decide anything other than to start an oil cartel.

"In the two months since the oil discovery our species has developed an oiled water extraction system that beats anything Costner has," O'Dontoceti told human journalists at the swim bar of the Sheraton Cable Beach Resort in Nassau, The Bahamas.

He went on to say the extracted oil would be stored at newly reactivated fuel storage facilities in the sunken city of Atlantis, prior to sale on the world commodities markets.

"We had been planning to convert the storage facilities into an aquatic athletics center, but as an oil depot it will suit our porpoises nicely," he said.

O'Dontoceti would not say how much money the dolphin government or H.A.H.A.C.L.I.C.K.C.L.I.C.K. hopes to earn from the new venture, only that: "We expect to make a few clams."

Permalink | Comment
---



Posted June 21, 2010
BP begins comeback

Changing name to Bettie Page because Americans love huge boobs

(Houston) Troubled energy giant British Petroleum began what is likely to be a long journey to win back public trust today, with company officials making emotional public apologies followed by the unveiling of a multimillion dollar image campaign.

Robert Dudley, a BP managing director now in charge of the Gulf oil cleanup, sought to portray the depth of BP's regret in personal terms.

Dudley told reporters: "BP is like a family. A big, close, loving family."

"Speaking for everyone in that family, I wish to reiterate how really really sorry I am that we, metaphorically speaking, accidentally backed over our American cousins' kitten with the mini-van," he said.

Dudley was then joined by CEO Tony Hayward and a dozen other senior executives, all of whom offered apologies and wept prior to sharing a group hug.

Then with a great flourish, Dudley unveiled the first item in an advertising campaign BP hopes will repair its relationship with American customers.
+
BP now Bettie Page
"This is the first day of an exciting future for BP, as we move forward under our new name: Bettie Page," Dudley said, and drew the sheet from a new company logo.
Based on a photograph of the iconic 1950-60s pinup model, Dudley said Bettie Page was chosen as a symbol after extensive market research. "It confirmed Americans love huge boobs. And here at BP, well, we want the public to think of us as the biggest boobs of all," Dudley said.

Permalink | Comment
---



Posted June 16, 2010
Dino Rossi: Now is a good time to invest

Recession means "I'm really affordable"

GOP Senate hopeful Dino Rossi brought his upbeat financial message to Bellevue last night, telling a seminar audience that his prospectus of faux populist neoconservativism is an excellent investment.

Over 250 people heard the Republican candidate's presentation, titled Is Now The Time to Buy a Foreclosed/Bankrupt Political Ideology?

"Never has there been a better time to buy a Senator," said Rossi, noting that access to a Senator Rossi is an especially good bargain in the current economic climate.

There is downward pressure on prices because all the big lobbyist money is currently flowing to the blue chips in the other Washington, he explained.

"Good deals on officeholders at the state level are to be expected in any recession. But due to Apple overtaking Microsoft in value, as well as delays in the Boeing Dreamliner program, we're seeing even steeper discounts in the Puget Sound region," Rossi emphasized.

"This means I'm really affordable, so it would be prudent to buy now, before the Chinese and Saudis jump in," he said.

Rossi's logic made sense to most investors in attendance, including a Mr. Bill Derzassocyasian, who described himself as "in the construction industry."

"Financial advice like this is a great value for cost-conscious small businessmen like me," Derzassocyasian said.

Agreeing with Derzassocyasian was Cherie Pointe, owner of a Blaine energy-products company. "I own an unsustainable business, so it's important to me that access to Rossi is a socially irresponsible investment."

Following Rossi's presentation, shares of his "Dino Fund 2010" gained 3% on after hours internet trading.

Permalink | Comment
---



Posted June 14, 2010
Tea Party goes pro-environment with anti-BP 'Boston Oil Party'

Protesters dump barrels of oil into harbor

Conservative Tea Party activists held a major anti-British Petroleum protest in Boston early today, the movement's first foray into environmental activism.

Tea Party members dressed as 1950s gas station attendants massed at Boston Common shortly after 6 a.m. Some carried signs reading "BP Go Home," "This Land Is Our Land," and "Safe The Wayles."

Jacques Y. Frandle addressed the crowd of over 300, as well as early-risers heading to work. Frandle, a New England organizer for the Tea Party, said the time had come for the movement to make a proactive statement on the environment. "Socialists are not the only ones who care about the environment," he said.

"We are here today to send a message to Big Government and Big Oil. The Tea Party 'gets it': we love Mother Earth too!" Frandle said to sustained applause. The demonstrators then boarded four chartered coaches for the trip to the next protest location.

Members of the media gave chase, and were surprised when the buses veered from the announced itinerary, passing the intended Bunker Hill Monument destination. The buses proceeded northeast on U.S. 1 at a high rate of speed, stopping only to pay the toll on the Tobin Memorial Bridge, eventually turning into an industrial site on Island End River.

Tea Partiers poured out of the coaches and, in what appeared to be a well-rehearsed operation, ran across the parking lot and down a wharf to a berthed oil tanker.

They boarded the tanker, the BP Three Mile Island, and quickly rounded up a dozen of the crew, confining them to their cabins. Another eight crew members escaped by small boat to another tanker, the BP Gerald Ford, anchored nearby.

Taking control of the bridge, Frandle lowered the BP flag and in its place hoisted a Don't Tread On Me flag. Through a bullhorn he proclaimed, "Welcome to the Boston Oil Party. This is payback for crimes British Petroleum has committed against the environment!"

Then in an action inspired by the original Boston Tea Party, the costumed protesters began removing barrels of crude oil from the cargo hold, pouring the contents into Boston Harbor.

"This is oil that's not going to be spilled in the Gulf of Mexico, or refined into air-polluting gasoline," declared M.F. Nutt, 43, an activist visiting from North Carolina.

Frandle said he hoped publicity from the successful direct action would attract more conservatives to the environmental movement, as well as being a boon to the Tea Party's fundraising.

He said any donations would be used for bail, to defray the cost of Clean Water Act fines, and to reimburse participants for bridge tolls.

Permalink | Comment
---



Posted June 10, 2010
Famed artist Christo to consult with BP on coastal options

British Petroleum CEO Tony Hayward restated his company's commitment to the environment of the Gulf of Mexico coast today, with the announcement of the hiring of famed environmental artist Christo to oversee restoration of coastal areas contaminated by oil from the ongoing Deepwater Horizon spill.

The move is seen as a response to widespread criticism of the way BP has handled the ongoing crisis, including accusations of minimizing or covering up the true extent of escaping oil, and effects on wildlife.

"Who better than an environmental artist to steward BP's effort to make the shorelines presentable again?" asked Hayward. And in a surprising move, Hayward disclosed he will personally contribute ideas to the artistic process.

Christo, 75, is perhaps best known for large-scale outdoor installations in which he wraps man-made structures in fabric, erects miles of banner-like screens, and even encircles whole islands with textiles.

Hayward shared his vision for Christo's involvement during a walking tour with reporters of East Grand Terre Island, Louisiana, which has been hard-hit by crude oil.

Saying he would speak in French 'in order to show my solidarity with the Cajun people,' Hayward shook his head in sorrow when the group encountered dozens of oil-covered brown pelicans and beached dolphins. "J'envisage de nombreux petits parasols pour protéger ces créatures du soleil," Hayward said, directing an intern to make rough conceptual sketches.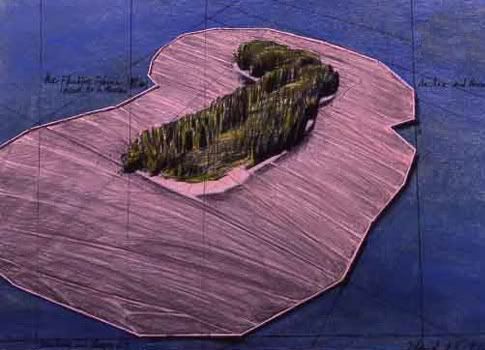 +
Hayward's sketch for East Grand Terre Island
"En outre, nous enveloppe les plages avec de nombreux hectares de tissu, afin de symboliser la protection de l'écosystème," he explained. Hayward added that the tissu could be of an absorbent material.
Joining Hayward by telephone from his New York City studio, Christo asked what time it was and who was calling. "Cвeтия Бoг, it's five o'clock in the freaking a.m., somebody get me an espresso," the Bulgarian-born artist said.
Christo said he would begin his creative process by fulfilling a request by Hayward to create an environmentally-friendly field media center for BP. "It'll blend into its surroundings so well you won't be able to find it," Hayward promised.

Permalink | Comment
---



Posted June 7, 2010
Rand Paul similar to Martin Luther King Jr.

Delivers stirring "I have a scheme" speech

Dr. Rand Paul took another step in his quest to represent Kentucky in the U.S. Senate over the weekend, delivering his most forceful statement yet on his vision for America.

In a June 5 speech to the Bowling Green Objectivist Bocce Club, Paul, the Republican nominee to succeed retiring Sen. Jim Bunning, evoked the Rev. Dr. Martin Luther King Jr. by adopting an oratory style reminiscent of the martyred civil rights leader.

Paul's address, already being called the "I have a scheme" speech by conservative Tea Party activists, is a clear statement of how his libertarian world view differs from that of Jack Conway, the Democratic nominee.

"The Tea Party has sent an email to Washington DC, but the email has come back with the message 'No Such Mailbox'," said Paul.

"In a sense the Tea Party is saying we are no longer going to put our money into Big Government's account. I have a scheme, that when Big Governmentt puts its ATM card in the slot, it gets the message 'Account Closed'," he said.

Urged by a person in the audience to "Tell them about the scheme, Rand," Paul picked up the scheme theme: "I have a scheme. That what the founders probably meant to say becomes self evident: that all men are created to become unequal."

"I have a scheme. That everything in our society can be reduced to a private transaction between self-interested consumers."

"I have a scheme. That we can win the war for a color blind society by giving up and declaring victory."

"I have a scheme. That someday little self-interested non-specifically colored children will employ to-be-determined but theoretically color-blind criteria to decide which other self-interested non-specifically colored children to join hands with."

"I have a scheme. That one day in the Red states, children of Strom Thurmond and lovechildren of Strom Thurmond will be able to sit down together at the same lunch counter, unless the owner has an objection."

Paul concluded: "Consumers. Free to choose. Free to sing in the words of the old corporate jingle, Have It Your Way At Burger King. Over hot mugs of tea."

Audience members agreed afterward that Paul had scored a Visine shot.

"I'd say Paul's speech was like a good spock lagged at the jack," said Frank O'Connor, end captain of the Kentucky Colonnelli bocce team.

"The free market is like bocce, and it is clear Paul gets that," explained O'Connor.

"The teams start out zero-zero, but everyone follows the rules and sometimes you win with good throws and luck," he said.

Colonnelli star bouler Ayn Frandle agreed, saying, "In terms of the objectivist bocce ball Tea Party vote, Rand Paul totally skunks Conway."

Permalink | Comment
---



Posted June 4, 2010
Nature recaptured after brief escape

A north Seattle neighborhood is returning to normal today, after the recapture of a piece of nature that escaped from its underground enclosure.

The Friday morning incident brought traffic to a standstill in the Greenwood area as authorities kept residents and motorists at a safe distance.

The drama began shortly after 8:00 a.m. when 911 received a report a grassy area with open patches of water in the 100 block of North 87th Street.

Police officers responded to the scene, confirmed the sighting, and contacted the Washington Department Of Ecology.

"What we have here is a species of wetland that broke through the surface," said Lt. Dan "Hondo" Harrelson, commander of the DOE environmental containment team.

Harrelson identified the wetland as the Mud Lake peat bog, from which water used to flow into adjacent Piper's Creek. The bog has been safely hidden for decades beneath a thin layer of commercial buildings, non-permeable asphalt parking lots and single family homes -- until today. "The only time the bog is a problem is usually in winter, when we hear about it getting into basements," said Harrelson.
+
Nature now safe
It is believed the escape was enabled by recent construction of a shopping center next to the site. The landowner's contractor quickly erected a containment fence around the bog, and by early afternoon the flow of traffic was restored.
Harrelson said the steel barrier ought to allow people interested in nature to view the bog safely. "Someone should put up a sign or something, to educate people about the existence of undeveloped land, and how it can be dirty, wet and overgrown with grasses, trees and such," he said, adding: "The sooner everyone learns that nature exists right here in the middle of the city -- and how to interact with it -- the sooner containment fences will no longer be necessary."

Permalink | Comment
---



Posted June 2, 2010
Mastadon vs. Parrot

Rifts over new Tea Party mascot

If the leaders of the Tea Party had hoped to create harmony by deciding to not select the Republican elephant as the movement's mascot, such hopes were dashed today as factions formed behind rival alternatives.

Tea Party leaders Dale Robertson and Shirley A. Nutt officially nominated the mastadon last weekend, hoping to complete the conservative movement's rejection of elephant iconography because it is a Muslim species from Africa, as well as an endangered species.

"The elephant just wasn't doing it for us, the mastadon is a great compromise," said Nutt, of Westmost, North Carolina.

"Not only does the mastadon's prehistoric origin more accurately reflect Tea Party beliefs, it is also more patriotic since mastadons lived in what is now the good old USA," Nutt explained.

However, there is dissent from a sizable number of Tea Party members who say the mastadon, or wooly mammoth, is nothing more than an elephant in need of a haircut.

"A mascot is supposed to symbolize what we stand for, and I don't see how anything with a trunk does that," said Mike Robrane of Southmost, Alabama. Robrane sits on the Tea Party subcommittee on branding; he wants the mascot to be a parrot.

"Parrots are smart creatures that are good at repeating key talking points," said Robrane, who adds he has received hundreds of messages of support for the proposal.

However Robrane said the parrot camp itself has a schism: between those who think the parrot should look dead -- representing sacrifice -- and those who insist it should appear to be resting, gathering its strength to take back the country.

Tea Party supporters will choose between the mastadon and the parrot in an online vote from now to June 10, which is National Iced Tea Day.

Permalink | Comment
---