Today ERITAS is coming to you from Seattle's Wayward Coffeehouse. Try the Melbourne sandwich.
Posted March 30, 2010
Trip to fetish club "was research to protect the homeland"

The Republican Party consultant who was reimbursed nearly $2,000 for a trip to a bondage-themed Los Angeles nightclub said today the visit was legitimate political business. "It was research to protect the homeland," said Erik Brown, president of a Southern California consulting firm.

According to Brown, he and several GOP donors went to Voyeur West Hollywood on a fact-finding mission to help inform Republican proposals regarding detention and interrogation of terrorism suspects.

"Republicans are running in the 2010 midterm elections on our national security credentials, but we need to make sure our thinking is state of the art," said Brown, whose company specializes in direct male services for political campaigns.

"Fortunately, the doorman at our hotel said if we wanted to learn about how to restrain and punish those who misbehave, best practices can be found at the Voyeur," he explained.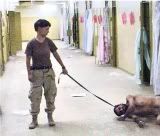 Inside the Voyeur club
Brown says the knowledge gained is worth the controversy it is generating. "What I'm doing is gathering new options for future Republican presidents to use against the terrorists. Al Qaeda knows all our current methods, because they've had years to study Abu Ghraib. They know we make captured terrorists wear women's panties on their faces and put dog collars on them, and they train their operatives accordingly, especially in forming naked pyramids," he said.
But Brown understands some Republicans may object to how the party is spending their donations, and has an apology. "I'm sorry," he said, "if people think $1,946 is too much to pay to keep Americans safe."

Permalink | Comment
---



Posted March 29, 2010
Tea Party leader - "doing all we can to end big government" by using as much of its services as possible

A Tea Party founder said today that his movement's fight against big government is succeeding. TeaParty.org president Dale Robertson also denied ever reading racist signs at Tea Party protest rallies.

"We are doing all we can to end big government by signing up for all the government handouts we can," Robertson told Geuters news service.

"A socialist government needs money to exist, we can kill it by by using as much of its services as possible and draining all the money out of it," he said.

"Social Security, Medicare, food stamps, and unemployment benefits -- especially unemployment-- Americans who love their country should sign up to overload all these collectivist programs and bankrupt them," Robertson said.

Robertson went on to advise patriotic Americans to use food stamps to purchase meat. "The USDA can only check so much meat for E. coli. What we want is to buy more meat than government's capacity to inspect, forcing it to admit defeat and shut down food safety,"

The former Marine said he was already fighting the government takeover of health care by using Veterans Administration single-payer medical services as much as possible. "I am also taking a stand against the socialist bailout that saw government take over too big to fail insurance companies like AIG. I'm burning things down and filing claims," he said, explaining the tactic has the added benefits of straining collectivist fire departments, and clogging the collectivist public street system with emergency vehicles.

Robertson said he drew inspiration from President Ronald Reagan in designing his anti-big government strategy: "Back before President George W. Bush privatized a lot of the military, Reagan poured billions into single-payer defense spending, forcing the Soviet Union to overspend on its collectivist military. This brought an end to the Cold War."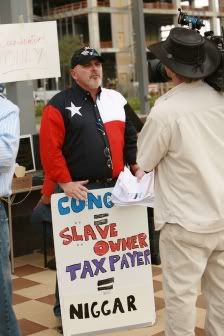 +
Robertson
Admits Tea Party movement is illiterate
"Washington is going to get our message that socialism benefits no one, loud and clear," Robertson said confidently.
Robertson also reacted to critics who have called the Tea Party movement racist. "I have never read a racist sign at a Tea Party rally, nor do I know anyone who has. We're all basically illiterate," he said.
In other news, House Minority Leader John Boehner said today that he is among the millions of Americans who could be made penniless due to the new tax on tanning parlors imposed by the new health care overhaul.

Permalink | Comment
---



Posted March 23, 2010
Gingrich calls health care overhaul elitist

Doesn't cover legal fees for cancer ward divorces

Former Congressman Newt Gingrich today blasted the nation's health care overhaul legislation, calling it elitist.

The former House Speaker's remarks came only minutes after President Obama signed the measure into law in a White House ceremony.

"I'm opposed to this elitist legislation, which does nothing to help with the crushing legal fees of the tens of thousands of assholes who would serve divorce papers on their wives who are in post-op recovering from cancer surgery," Gingrich told Fawn Craven this morning on the Fox News program Craven Journalism.

"The reality today is that only rich assholes can afford to divorce sick wives, whether with cancer or some other disease. Insurers should be required to cover divorce expenses of poor assholes too -- trading up to a trophy wife should not be based on income, not in my America," Gingrich said.

Gingrich said he would work to repeal health care reform, and seek to have it replaced with a more comprehensive reform that would include federal subsidization of alimony payments.

Permalink | Comment
---



Posted March 22, 2010
Obama, Pelosi pay $2500 for $500 Dodge van

Plan summer Apology Tour

President Barack Obama and House Speaker Nancy Pelosi followed yesterday's passage of federal health care reform legislation by purchasing a 1985 Dodge Astrovan for $2500. The van was put up for sale for $500 in the Washington Post classifieds by Ms. Ina Surance of Hartford, Connecticut.

Obama and Pelosi will use the van during a June nationwide Apology Tour -- two weeks driving from Washington, DC to California, stopping along the way to apologize to the Democratic base for the health care overhaul, which:

• lacks a public option
• mandates Americans to buy health insurance from for-profit companies
• subsidizes coverage by giving taxpayer dollars to insurance companies
• fails to repeal antitrust immunity for insurance companies
• does not bar preexisting conditions for group insurance plans, and
• leaves intact the geographic disparity in Medicare reimbursement rates

This morning Obama and Pelosi went before the Washington press corps to celebrate the van deal. Obama described his negotiating strategy: "When I saw the van was $500, I immediately offered Ms. Surance $600. When she said $500 was all it was worth, I kept bidding it up until finally she agreed to accept five times her asking price," Obama said.

The Speaker agreed it was a good compromise. "We could have taken the Amtrak public option, coast to coast for $524 in USA Rail Passes. Except Rahm Emanuel agreed with Mitch McConnell beforehand that we wouldn't do that," she said.

Permalink | Comment
---



Posted March 18, 2010
GOP declares itself March Madness favorite

"We are the maddest of all" says Bachmann

The Republican Party surprised the collegiate basketball world today, when it declared itself the favorite to win this month's 'March Madness.'

"If this is about who's the most insane, it's a slam dunk for Republicans because we are the maddest of all," said Rep. Michele Bachmann, the party's go-to person on derangement issues.

Bachmann touted head coach Michael Steele's completely insane starting lineup, which has no forwards or center.

The squad's chief playcaller is Sarah "Death Panels" Palin, who writes all the plays on her hand. She gave up her final year of eligibility at Alaska in order to be drafted in 2008.

Palin is joined in the back court by John "The Tan" Boehner, who once forgot that health care reform bills have passed both the House and Senate.

Then there's the totally nuts Sen. Jim Bunning from Kentucky, who tried to cut off the unemployment and COBRA benefits of hundreds of thousands of registered voters. He is so popular fans mobbed him as he tried to enter his private elevator, which does not go all the way to the top.

Bunning often feeds the ball to Arizona's John "Loopy" Kyl, who thinks unemployment benefits make people less likely to look for work.

Finally there is "Crazy Eyes" Bachmann herself, a second-term outpatient from Minnesota who has called for revolution, is suspicious of the Census, and is currently accusing the media of treason.

The GOP also thinks its bench gives it an advantage, deep with senators who play killer defense on health care reform, and House members who can't bring themselves to call Joseph Stack a terrorist. New sixth man discovery Bob Marshall of Virginia -- who says birth defects are God's punishment for women who aborted their first pregnancies -- adds extra delusion to Coach Steele's playbook.

Assistant Coach Lamar Alexander also brings experience, handing clean sheets of paper to Steele for the hand-tooled leather and diamond-studded Gucci playbook.

The one question mark is veteran Ron Paul, a fan favorite who nonetheless is in Steele's doghouse and seen his playing time dwindle to nothing.

The Democratic Party had expected to be highly seeded this year, but has seen its March Madness hopes disappear in the past three weeks after both James Traficant and Eric Massa quit the team. Head coach Barack "The Big O" Obama hopes health care reform with no public option is just deranged enough to make Democrats this year's Cinderella squad.

Permalink | Comment
---



March 15, 2010
Journey rushed to hospitals after Democrats stop believin'

Current and past members of the 1970s-80s supergroup Journey were separately rushed to hospitals Friday after millions of Democrats stopped believin'. Doctors say supporters of President Obama stopped holding on to the feelin' after Speaker Nancy Pelosi stated she would not insert the public option into health care reform reconciliation legislation now in the House.

In his Saturday weekly radio and internet address, President Obama urged streetlights, people hold on.

The end of believin' sent shockwaves up and down the boulevard between the White House and Capitol Hill. Democrats, neighbors and strangers from coast to coast who have been waiting for real health care reform vented their displeasure at the White House and Democratic Congressional leaders, jamming switchboards of progressive talk radio and overloading servers of Daily Kos and Huffington Post.

Signs that Journey was being affected became public after former lead singer Steve Perry was admitted to South Detroit Medical Center suffering from extremely bad vibes. Shortly afterward reports circulated that guitarist Neil Schon, drummer Steve Smith and bassist Randy Jackson were in California emergency rooms suffering from similar symptoms.

"The acute musician senses picked up on Democratic disillusionment that is sweeping the country," said Dr. Maya Ize of the National Institutes of Rock & Roll Health. "The increase in people not believin' was too much negative energy for current and former Journey members, resulting in a rise of bad vibes to near-toxic levels," Dr. Ize said.

Health care reform activists regretted the impact on Journey, but said Democrats have stopped believin' in President Obama's health care reform effort. "We were believin' Obama when he campaigned on health care reform and the public option," said Franklin Delano Frandle, spokesman for People for the Unethical Treatment of Insurance Companies, a group favoring a single payer system.

"But after more than a year of delay in Washington, we no longer have open arms for the Obama approach. We fear a deal has been made in a smokey room between Congress and insurance lobbyists," he said, adding: "citizens facing escalating insurance rates can't afford to pay anything to roll the dice."

Independent Senator Bernie Sanders of Vermont agrees on the need for a public option. "Without a public option it won't be real reform. Some will win, some will lose, and some will sing the blues," said Sanders.

"There has to be a public insurance option to compete with private insurance, otherwise this midnight train isn't goin' anywhere," he said.

In other news, the woman at the center of the John Edwards scandal says she is penniless. In a photo spread for GQ, Rielle Hunter revealed how Elizabeth Edwards has actually sued Hunter's pants off.

Permalink | Comment
---



March 11, 2010
GOP lines up to back new Afghanistan strategy

"Time to start over with a clean occupation"

With fighting approaching its ninth year and operations against insurgents entering a new phase, Republicans in Congress today launched a new effort to reform U.S. policy on Afghanistan.

"It's time to start over with a clean occupation plan," said Senator Mitch McConnell, the minority leader.

"The American people don't want the president's costly, complicated plan. What we need is to find what Republicans and defense contractors agree on and proceed step by step, in a bipartisan fashion," McConnell said.

Sen. Lamar Alexander of Tennessee also stated the need for cooperation. "Now see here, I, I say, instead of trying to strike di-rectly at Taliban insurgents, we should go step by step, boy, stopping to re-view each move in a series of committee hearings. It's time to reset the number of tours our troops have served in Afghanistan to ze-ro, and start over with a clean occupation plan, I do de-clare."

In the House, GOP whip Eric Cantor likened President Obama's Afghanistan policy to a strategy game he tried to learn when he was a quiet, science-fiction loving teenager in Richmond, Virginia. "What we have now is like that game Risk. Infantry, cavalry and artillery, routes and territories -- it's way too complicated."

"It's time to clear the board and throw all the cards and gamepieces on the floor -- start over by rolling the dice and going step by step with a clean occupation plan," Cantor said.

In a related story, House minority leader John Boehner attacked the White House's proposal to seek out defense waste and fraud using a network of undercover citizen investigators, posing as arms buyers. Boehner called the idea "a government takeover of the military."

"The American people like the Blackwater they have and want to keep it. What the people want is to control costs, and to do that we need more private, market-based solutions for defense," said the Ohio lawmaker. Citing tort reform as an example of a way to lower the cost of frivolous lawsuits against firms whose employees rape fellow employees, Boehner announced plans to lead a fact finding mission to Iraq. "I hear the tanning there is excellent," he said.

Permalink | Comment
---



Posted March 9, 2010
Shock! Limbaugh backs health care reform

Radio host Rush Limbaugh endorsed the Democratic health care reform legislation in Congress yesterday, surprising listeners and winning praise from liberals.

"If this passes and it's five years from now and all that stuff gets implemented -- I am leaving the country. I'll go to Costa Rica," the conservative talker told a caller to his program.

Support for reform in the House and Senate immediately shot up, as members were deluged by constituent phone calls and emails urging they take Limbaugh up on his offer.

A snap poll taken last night by Stan Dardeviasian of Dardeviasian Opinion Research showed that after Limbaugh said he would leave the country, public support for health care reform increased to 80 percent -- up from 65 percent last Friday.

"Rush Limbaugh has finally given the American people something they can agree on about health care reform, providing the final push to get it over the top," said an obviously pleased House Speaker Nancy Pelosi.

"Thanks to Rush, we now have an overwhelming majority in both houses of Congress, we should have this wrapped up by the end of the day," she said.

In recognition of Limbaugh's support, Pelosi said the reconciliation bill would be renamed the Buy The Big Fat Idiot A Ticket On An Omnibus to Costa Rica Act.

Permalink | Comment
---



Posted March 8, 2010
Palin quits Iditarod

Sports

Sarah Palin dropped out of the 2010 Iditarod today, earning her the distinction of being the first former Alaska Governor to quit the storied 1,100 mile endurance challenge.

Palin's withdrawal comes after two days of disappointments out on the route. Palin was delayed on Saturday in Anchorage when her number one and two dogs Levi and Bristol ran off into the woods together for two hours. As a result the race had to be restarted Sunday.

After the restart Palin failed to shoot any wolves from her sled. "The terrain was unsportsmanlike by being so bumpy that I couldn't get off a clean shot at any of them dontcha know," she said Sunday afternoon via satellite phone.

Soon after that Palin was again delayed, this time by a crew from Dog Fancy magazine who had come to photograph Levi for the April centerfold.

Palin suffered another setback Sunday evening when perspiration blurred the directions she had written on her hand. As a result she took a wrong turn in the dark near Yentna Station and fell into last place.

"This is too hard, I quit," Palin radioed to race officials this morning.

However, the Iditarod will not be a total loss for Palin. She has received a $1.25 million advance from HarperCollins to write a book about how to win the Iditarod, and she gets to keep all the musher apparel and equipment provided by Loki, Go, Neos, and Archie McPhee.

And Bristol is expecting puppies.

In other news, Senator John McCain today explained his decision to include dead people among the signatories of a letter opposing an end to the 'don't ask, don't tell' policy on gays in the military. "I'm a big supporter of seance," said the four term Arizona lawmaker. "Our nation has produced many great military leaders like George McClellan, George Armstrong Custer, Bill Westmoreland, and my old navy buddy Matt Perry. Why should we limit ourselves to the opinions of the living, when at stake is whether our men in uniform are comfortable in the showers?"

Permalink | Comment
---



Posted March 4, 2010
God to guest-judge on America's Next Top Model

Modesty inspectors hope for "Christian burkas"

Extreme modesty activists are in a celebratory mood, after producers of America's Next Top Model announced today that God will be a judge on three episodes of the program.

The Almighty will start lending his ineffable fashion sense to the hit CW Network show Easter weekend, network sources say.

Shirley A. Nutt, a card-carrying modesty inspector from Westmost, North Carolina, hailed the move. Nutt's consulting firm, Beeswax Incorporated, prints pamphlets that advise women not to dress in ways that encourage men to commit rape.

"It's about time the fashion world turned to God," said Nutt. "All those plunging necklines almost exposing pink, delicate nipples; the skirts slit up to where you can see nearly everything; the see-through fabrics -- it's a wonder those models aren't continually raped day in day out. By closeted lesbians," Nutt said.

"What we need are Bible-believing models in Christian burkas, so that everything will be left to the imagination," she added.

Nutt said she had briefly considered plucking out her eyes, so as to not see things that might offend her. "But then I wouldn't be able to almost see women's nipples. In order to judge their modesty," she said.

A staffer with the America's Next Top Model production company confirms it is responding to pressure from a religious segment of the audience. "The South is glued to their televisions, and what the market research is telling us is that they want titillation on TV, but not in public," said assistant show runner Giorgio R. Frandle.

"Therefore we're going to show even more of the models dressing, undressing, and parading around in next to nothing backstage. But on the runway, the fashions to be popularized will be made of burlap, and offer head-to-toe modesty," Frandle said.

Show host Tyra Banks said she is excited at working with I Am That I Am. "Maybe he can help clear up people confusing me with Naomi Campbell all the time," said Banks, adding, "I've never laid a hand on a cab driver in my life."

Permalink | Comment
---



Posted March 1, 2010
"I'm the only one who gets to be called that"

Bush sues France over use of 'National Disaster'

George W. Bush has sued France, attorneys for the former President disclosed today.

Papers filed with the International Small Claims Court at The Hague state that France's declaration of a "national disaster" in the wake of storms that severely lashed the country's Atlantic coast infringes on a Bush trademark.

Bush alleges France harms both him and his national disaster trademark because it did not wait five days before sending government assistance, that assistance is being correctly and efficiently distributed, and is not relying on private contractors

"I'm the only one who gets to be called that, even in French," Bush told his official biographer James Frey.

"As soon as I heard (French President) Sarkozy had declared a national disaster, I told my lawyers to jump on it," said Bush, who is on a motivational speaking tour of Haiti.

"See, I'm what you call synombulous with that term -- in other words, I am synombulous with it. Same as how there are a lot of different facial tissues, but everyone calls them all Kleenex," he said.

An emergency brief filed with the court by France's attorney general offered to have Sarkozy fly over the affected region and look concernedly out the window.

However, a spokesman for Bush said it would be sufficient if the storm, currently named Xynthia, were renamed George.

Permalink | Comment
---