Starting this month, commenting on Eritas will use the Talkback comment engine. Each month will have one Talkback area for comments (each Eritas page contains a month of posts); when you click on the Comments link for any post, it will scroll to the Talkback panel. Old Haloscan comments have been archived and may eventually be restored.




Posted February 24, 2010
Steele unveils GOP 'Government Lab'

Declaring "Republicans must walk the talk," GOP chairman Michael Steele said today he is managing the party according to the same policies it advocates for the United States.

"I am running the party as a de facto Government Lab in order to demonstrate to the American people what Republican leadership will do for the nation," said Steele.

The centerpiece of the demonstration is strict adherence to conservative budget principles. "I have radically increased the Republican Party's expenses since becoming leader," he said, "spending more on private jets, limos, consultants, high-class lodging, fine dining and catering than any of my predecessors."

"Combining higher expenditures with drastic cuts in membership revenue is sound Republican fiscal policy, proven during the flawless governance of the Reagan, Bush and Bush presidencies," Steele said.

"The American people need to be reminded that our policies are what brought America to where it is today -- poised on the edge of the future. Once reminded, they'll forget Nancy Pelosi's socialist plan for more jobs, fair taxation and affordable health care," he said.

"We're going to create a permanent Republican majority if I have to amass the biggest long term debt in the history of U.S. political parties."

Permalink | Comment
---



Posted February 23, 2010
Cheney resting uncomfortably

Former vice president Dick Cheney is resting uncomfortably today, after being rushed to Guantanamo Bay Medical Center on Monday complaining of chest pains.

But the ex-second-in-commander-in-chief is never far from controversy and this time it has followed him to his hospital bed, with Cheney's doctor defending against questions surrounding the treatment methods being used.

Cheney was home working on his memoirs when the chest pains started. "I was dictating into a tape recorder, but it wasn't going well, the words weren't coming," explained Cheney, "so I told Dr. Yoo to torture me until I started talking."

"He kept up the pressure until I had another three chapters," he said.

Asked if he is still experiencing discomfort, Cheney replied, "Of course there's discomfort, I love discomfort. But these were just twinges, I give myself worse taserings most mornings before breakfast."

The revelation that Cheney's personal physician, Dr. John Yoo, was present and actually caused the cardiac event was downplayed by Yoo himself.

"I've sent a paper -- a long memo, really -- to JAMA declaring cardiac torture is a valid treatment for a heart attack." The paper is peer-reviewed, "I reviewed it myself," said Yoo.

A copy of the memo obtained by reporters includes Yoo's conclusion that traditional, non-torture cardiac intervention is allowable -- so long as there is no "intention to inflict serious physical injury, such as organ failure, impairment of bodily function, or even death."

Yoo also responded to critics who question how a treatment can come before the event it is supposed to have treated. "The idea that Mr. Cheney should be restricted to a linear timeline is quaint," Yoo said.

Permalink | Comment
---



February 22, 2010
Bayh unretires

Was "counting on my wife's cut of the Anthem rate hike"

Senator Evan Bayh today reversed his week-old decision to retire from the U.S. Senate today, citing economic reasons.

The two-term Indiana lawmaker told a Washington DC press conference he was forced to unretire after his wife learned Anthem Blue Cross of California is delaying a planned 39% hike in subscriber premiums. Susan Bayh is a board member of Indiana-based Wellpoint, Anthem's parent company.

"I was counting on my wife's cut of the Anthem rate hike, that was going to be our retirement nest egg," said Bayh.

Growing reflective, Bayh wondered aloud about the future of the American status quo. "I worked hard this past year making sure nothing happened with health care reform, for this?" he asked.

"It used to be in this country that a man born to wealth and power could use that position, and his cozy connections, to get even further ahead," he said.

"Instead, I'm going to have to do like many Americans who have lost their retirement savings in the recession, and keep working. It makes you want to give up on the institution of Congress. Almost," Bayh said.

In other news, the Obama administration announced nuclear power as the new centerpiece of its environment and energy efficiency policies. "America's energy future won't just be green, it will glow green thanks to new, totally safe-ish nuclear plants," Press Secretary Robert Gibbs said.

Permalink | Comment
---



Posted February 14, 2010
Cheney - "Obama has failed to keep terrorists off my lawn"

Former Vice President Dick Cheney, appearing today on ABC News' "This Week," gave perhaps his strongest criticism of President Obama, reiterating his charge the commander-in-chief is weak on terrorism.

"Nothing I've seen tells me President Obama is serious about keeping terrorists off my lawn, already it's been hit six times in the past year," Cheney disclosed to ABC's Jonathan Karl.

"The lawn was unmolested when George Bush and I were running the neighborhood association," Cheney said.

Cheney is convinced the terrorists are The Terrorists, a local punk garage band fronted by the son of the orthodontist who lives on Cheney's street.

"And they're not the only cell targeting my lawn," said Cheney, "there are also snot-nosed terrorists on bikes, half-naked terrorists playing frisbee, and terrorist dogs laying their IEDs [Impromptu Excrement Droppings] in my prize begonias," he said.

"Not only has Obama failed to keep terrorists off my lawn, they're giving the, uh, evildoers verbal warnings instead of trying them with military commissions," Cheney stated, adding that the warnings don't deter would-be trespassers.

Vice President Biden took to the air in response to Cheney, defending the Obama administration's handling of terrorism cases in an interview taped for NBC's "Meet The Press."

"We could do what Bush and Cheney did, but that wide net scooped up landscape workers who had legitimate business being on the lawn, even innocent pedestrians," Biden explained.
Mr. Cheney
From 2003 to 2008 the Pentagon defended Cheney's lawn under a plan known as Operation Hey Mister Cheney -- a program using unmanned Radio Shack radio-controlled helicopters armed with Tabasco Sauce™ sprayers.
"Cheney's way resulted in collateral damage among innocent people out for a stroll. We'll catch his trespassers in the right way, in effective ways that follow the neighborhood association bylaws in his community," he said.
Soon after taking office in January 2009, President Obama issued an executive order that people captured walking on Cheney's lawn may not be subjected to harsh interrogation techniques, such as potting bench-ing. Obama also pledged to close the detention center started by Cheney in the backyard greenhouse of the Naval Observatory, the official vice presidential residence.
But Cheney would not back down from his negative opinion of current White House terror policy. "I suspect the, uh, evildoers have even penetrated the Obama-controlled Postal Service, since I have not received any Valentines this year," he reported.




ERITAS has the next week off





Permalink | Comment
---



February 13, 2010
Another Major Recall

Palin's witchcraft protection failing

Americans already reeling from the Toyota recall were greeted this morning by news of another major recall.

Word of Faith Church founder Bishop Thomas Muthee said his church has recalled its witchcraft protection system, affecting one customer, former Alaska Gov. Sarah Palin.

Muthee said his church will repair a fault that exposes Palin to spells that can cause her to veer wildly, and experience braking problems such as an inability to stop talking.

The problem with the witchcraft protection system arose last weekend, when strange writing manifested on the palms of Palin's hands as she spoke at the national Tea Party convention in Nashville. Her husband, Todd, took her to the local Assembly of God dealership, where the service department diagnosed witchcraft. Muthee was notified, and he began working on a fix.

It was Bishop Muthee who journeyed to Wasilla, Alaska, in 2005 to install Sarah Palin's witchcraft protection system, which he described as a dense ethereal coating to keep her "safe from every form of witchcraft."

"Normally we apply the coating at the factory. But we made an exception in Palin's case, due to the size of my honorarium," he said.

Of the current recall, Muthee said that although spontaneous appearance of words on the skin is a clear sign of witchcraft, "English words are quite unusual, normally what we see is in Latin."

"This points to a younger witch that didn't learn Latin," he explained, tracing the defect to the witchcraft protection system not being programmed to account for Barack Hussein Obama. "We didn't think Kenyan witchcraft would appear in North America," said Muthee, of Kiambu, Kenya.

This weekend Muthee will travel to New York, where Palin is working as a 2012 presidential candidate for Fox News. "Todd will bring her into the dealership maybe on Monday afternoon and we'll put her up on the lift. Installing the upgraded witchcraft protection system should take an hour," he explained.

Muthee maintains witches have enormous influence in America. "There are many examples, such as the song Witchy Woman, and the TV show Bewitched. There are the 2001 Seattle Mariners from the world of sports, and it is the best explanation for Hulu's move to a subscription-based business model," said Muthee.

"I was also the first to notice that there is even witchcraft in the Pledge of Allegiance, where it goes, 'and to the Republic for witch it stands'," he said.

Permalink | Comment
---



Posted February 9, 2010
Latest tech from Populist Science Magazine

Introducing The PalmReader 2012XL Speechifying Facilitator!!!
Courtesy Palinnovations Inc.
Latest in speaker-friendly teleprompter technology
Paintable nails
Available in one color
Digital


Permalink | Comment
---



February 8, 2010
Tea Party movement catches fire

Torches burn down Nashville convention center

The first national convention of the Tea Party movement ended in tragedy Saturday, when fire consumed the the Gaylord Opryland convention hall shortly after former Alaska Governor Sarah Palin concluded her keynote speech to the event's 1,100 delegates.

Investigators traced the fire's cause to one of the tea partiers' favorite symbols of anger: flaming torches, which are as familiar as the movement's tea bags, tricorner hats, pitchforks, and misspelled placards.

The 600,000 square foot conference facility burned fast and hot, constructed as it was from recycled wigs of country-western singers.

"It was like a towering inferno," said M.F. Nutt, a delegate from Westmost, North Carolina. "I'm going to sue somebody for pain and suffering -- Opryland, the wig company, somebody. Luckily we haven't passed tort reform yet," Nutt said.

Dozens of delegates were treated for smoke inhalation. But Dr. Tamara Wynette of Vanderbilt University Medical Center said exposure was "equivalent to only a Saturday night in your standard honky tonk."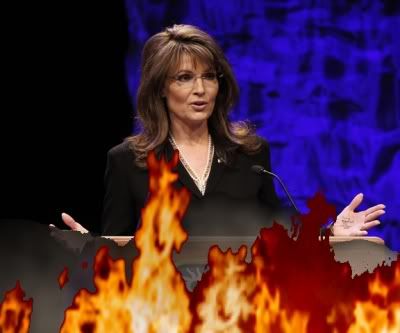 +
Palin: hot prospect for 2012
Governor Palin expressed shock and sorrow at the destruction, and took partial responsibility. "I should have started my speech by telling the audience where the emergency exits were -- but those would have been too many words to fit on my hand," she said.
Convention organizer Judson Phillips said informational literature is being designed around the theme "Fire BAD," which will be distributed at future Tea Party events.

Permalink | Comment
---



Posted February 4, 2010
Malevolent energy cloud-beings praise Puget Sound cleanup report

"Glass half-full. Of poison"

A new state report on the health of Puget Sound is eliciting praise from a local environmental advocacy group.

"Decline of Puget Sound good for Zan-Tor and other malevolent energy cloud-beings," said Zan-Tor, spokesbeing for the Seattle Environment, Water & Effluent Resources Coalition (SEWER Coalition).

The findings, found in the Puget Sound Partnership's first biennial report released Wednesday, shows overall slippage in the condition of the region's critical marine ecosystem. Partnership Executive Director David Dicks put a positive spin on the report, saying, "we are making progress."
Zan-Tor
"Many human environmentalists say Puget Sound glass half-empty. But malevolent energy cloud-beings agree with human David Dicks: glass half-full. Of poison," Zan-Tor said. Zan-Tor went on to say that what is important is that Puget Sound continues to be beautiful on the surface.
Although customarily feeding on malevolent energy generated by human hatred, fear and paranoia, Zan-Tor explained he and and others of his kind started consuming water pollutants a few month ago, after reading Michael Pollan's The Omniscient Entity's Dilemma.
"Zan-Tor recently discover yummy stormwater runoff, bisphenol-A, heavy metals, and flame retardants in seafood at Belltown nightspot," said Zan-Tor.
"Turn out Puget Sound water much healthier for Zan-Tor than high fat, high calorie Dittohead hate -- pollution lower bad cholesterol of Zan-Tor, and give Zan-Tor billowy coat," he said. However, he did say used Teabaggers continue to be good for tightening cloud-beings' saggy eyelids.
The SEWER Coalition also had good words for the Obama administration's Tuesday decision to cut by sixty percent its budget for Puget Sound cleanup.
"Less cleanup clearly mean good food supply for Zan-Tor," said Zan-Tor.
"Malevolent energy cloud-beings get plenty to eat, Zan-Tor not become part of endangered non-corporeal species."

Permalink | Comment
---



February 3, 2010
GOP split on health care

Bachmann: we didn't nuke Japan enough - Palin: we nuked them the right amount

A congresswoman's remarks on Japan's health care system this week have unexpectedly resulted in a disagreement between two of the Republican Party's leading personalities.

It all began Tuesday when Rep. Michele Bachmann, addressing home state supporters in Rochester, Minnesota, warned that Democratic health proposals would lead to limits on Americans' free speech. A government-controlled health plan, she said, would allow the government to threaten its critics by denying them health care.

Bachmann pointed to Japan as an illustration of what happens when the government takes over health care. "You know those old Japanese soldiers who hid in the jungles and didn't know World War II was over until decades later?" she asked.

"Well what they were hiding from was the government health care system, forced down their throats after the war by that well-known pinko General Douglas MacArthur," Bachmann said.

Bachmann reminded her audience that the atomic bombs dropped on Hiroshima and Nagasaki were a preemptive action meant to prevent post-war socialism. "Obviously we didn't nuke them enough," she said.

Those comments did not sit well with former Alaska Governor Sarah Palin. The rising GOP star and Fox News commentator questioned Bachmann's version of history, telling viewers Tuesday night, "I've seen M*A*S*H? So I think I'm on on firm ground by pointing out MacArthur was a Korean general, not Japanese?"

Continued Palin: "And not only that, but if you don't mind me saying so also, the nuking was needed to rouse Godzilla from his slumbering on the ocean floor."

"Thereto, the three times we nuked Japan was exactly the right amount," Palin said.

However, in a retort issued through her press office, the Minnesota lawmaker stood by her evaluation that Japan had not been nuked enough. "If all of Japan had been incinerated, it would have saved them from being enslaved by socialist government health care," Bachmann said.

Permalink | Comment
---


Posted February 1, 2010
Obama back on track - new rule bars texting while presidenting

President Barack Obama's year-old administration is back on track this week, after the advent of new federal rules that bar texting while presidenting.

The January 25 rulemaking modifies a 2002 regulation issued by the Bureau of Inertia that required commanders-in-chief spend at least 10 hours a day on the then-new social media websites such as Friendster and Cyworld. President George W. Bush put the rule to good use immediately in 2002, logging on at AsianAvenue.com (now AsianAve) to apologize to China for laws of physics that allowed a U.S. surveillance plane to become airborne, collide with a People's Liberation Army interceptor jet, and crash land on Hainan Island.

"This change brings federal regulations into line with what we now know -- that while it can be a convenient and fun way to communicate, texting is a significant distraction. It takes a president's eyes off the road ahead and affects reaction time," said Michele Obama of the powerful White House Office of Michele Policy. She gave reporters several examples of the effect of distracted presidenting, including President Obama's decision to let Congress take the lead on health care reform, forgetting to end Don't Ask Don't Tell during 2009, and the entire eight years of the Bush administration.

The benefits of the texting restriction were readily seen last week, as the president was persuasive and on-message for his first State of the Union address Wednesday. Then on Friday at the House Republicans Retreat he was focused, and did not shy from pointing out inconsistencies and factual errors in critics' arguments. "OMG- BHO totes pwned us. C me n Billo face on Factor 2nite," Minority Whip Eric Cantor acknowledged to his Twitter followers.

Old habits can be hard to break, however. President Obama picked up his Blackberry on Saturday while taking in the Georgetown-Duke basketball game. As a result of the distraction, he failed to take preemptive action to prevent television coverage of Rush Limbaugh dancing at Sunday's Miss America pageant.

In other news, conservative Tea Party activists outraged over Senator-elect Scott Brown's support for Roe v. Wade were frustrated today in their efforts to lynch Brown in effigy using teabag strings.

Permalink | Comment
---