Posted September 27, 2009
Glenn Beck gets key to city

Transcript

Thank you Mayor Norris, Walker, Texas Ranger is my favorite show ever.

Hello ladies, gentlemen and fans. Man, aren't there a lot of six foot rabbits here today. It's great to be back in Mount Vernon, my home town, out on the edge of the prairie.

And what a randy town you are! Painting tulips on the big smokestack like that; I'm also an art critic, so I know what the message is you're trying to get across with tulips. On a smokestack.

Wow, the key to the city. Keys are really a randy thing too. Let me show you what I'm talking about. First slide, please.

Look at how this key is shaped. It's long and slender with ripples on one side. It's metal, which is hard. Yet not the hardest metal, so it's soft. Something very familiar about that. Next slide.

What do you do with a key? You put it in a hole, don't you? You slide it in, pull it out, slide it in, pull it out. You twist it, which is like screwing in a screw. It's a sexual metaphor, I've given this a lot of thought, it's so obvious. Next slide.

And do you have a different key for every door in your house? No, you probably have one key that you put in a lot of holes. That's promiscuity. Next one.

Now look what's written on this key: "Yale." As in Yale University, one of the biggest centers of the liberal east coast intelligentsia. Next.

What happens when you turn that key? It unlocks stuff! It opens doors! Doors to home, doors to employment, doors to school, doors to your car, doors to your doctor's office! Last slide.

ATM cards are like keys! You put it in a slot!

Look at this key, people! It has a secret message for you from the liberal intelligentsia. They're telling you that having sex, promiscuous sex, is the key that opens doors to home ownership, work, education, a nice car, medical care, and wealth in general! God, I worry so much about the hidden messages liberals hide everywhere, it brings tears to my eyes.

You know what? I can't believe I came back here for a filthy, dirty key. I've never been so insulted in my life. You can keep your damn key, Mister Mayor, and you can shove it in your hole!

And Clarence Gilyard Jr. was the best thing on that show.

Permalink | Comment
---


Posted September 22, 2009
Fall TV

Creation Science Fiction Channel has faith in lineup

While other networks are scaling back with reality programming and even Jay Leno in prime time, one television operation is sticking to its formula. The Creation Science Fiction Channel's new fall season is replete with moves that show it is keeping to its extremely conservative programming strategy.

It would have been ultra conservative, if not for the efforts of David King, CreSyFy's less cautious Vice President for Program Development.

"There were some people on the board who wanted to show reruns," King said. However, he managed to win approval for new prime-time episodes of the network's scripture-based series, now four nights a week:

Cottage, MD. Cantankerous Dr. Cottage (Stephen Baldwin) has checked into a demonic possession treatment center, but resists exorcism.

Sky Trek. More adventures of Captain Kurt (Stephen Baldwin) and the crew of the dirigible Enterprise in the farthest reaches of the stratosphere. This season it bumps into the glass sphere around the earth that the stars are attached to.

Sex in the Old Testament City. Picking up where last season left off, Lot (Stephen Baldwin) offers his daughters to the Sodomites in order to protect Mr. Big (Kirk Cameron).

LDS: Miami. Willie Aames joins the cast as the new commander of the forensic missionary squad. Stephen Baldwin (LDS: New York) guests in the season opener.

Senator Who. The mysterious legislator (Stephen Baldwin) and his male companions journey through time and space in a closet that is bigger on the inside.

With the schedule set, King plans to go on vacation until the end of the season. "There won't be any changes, since CreSyFy has a rule against things evolving," King explained.

Permalink | Comment
---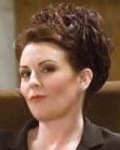 September 18, 2009
Ask An Ex-Governor
by Sarah Palin
Syndicated Columnist



Late summer travel tips

Dear Ex-Governor,

With the kids away at college, the wife and I are thinking about taking a little vacation. Has the dollar rebounded enough to make Europe an affordable destination? Or are we looking at a stay-cation?
Signed, Roamin Holiday

Dear Roamin:
Whoa Nellie, the last thing you want right now is any travel abroad or internationally, such as to places where unplanned sickness and injury could expose you and your wife to socialized medical care at no cost to you -- as well as the awful service because the death panels means there are no Europeans left to work as tour guides, cab drivers, waiters, chefs, concierges and chambermaids doggone it -- and also too the availability of high speed intercity rail systems means you would miss out on all the joys of an American-style family car trip, such as the chance to buy tank after tank of unleaded -- and donít forget that everything in Europe is so old anyway and no one there speaks English, so why not just stay home in the good old US of A?

Permalink | Comment
---


Posted September 15, 2009
Zaidi regrets throwing shoes at Bush

"I should have just shouted 'you lie'"

The Iraqi journalist who threw his shoes at former President George W. Bush expressed regret today, soon after his release from prison after serving nine months of a three year sentence.

"I'm sorry," Muntader al-Zaidi told a gathering of reporters at the al-Baghdadia television studio, and added, "that America had such a satanic warmongering leader for eight years."

A reporter for al-Baghdadia who was covering the Dec. 14, 2008 press conference held by Bush and Iraq prime minister Nuri al-Maliki, Zaidi threw his shoes at Bush and shouted, "this is for the widows and orphans and all those killed in Iraq," as an act of protest.

"While I was in prison I did a lot of thinking and learning to take my mind off the daily beatings, and what I realized was that shoe-throwing is not something you do in a free society," said Zaidi.

Zaidi went on to say, "I should have just yelled the stuff about widows and orphans. And even that was too wordy, I should have just yelled 'you lie!' like that patriotic American congressman," he said.

"I learned there is no penalty if you do that in a free society, absolutely none at all, zero, nada. And as we all know Iraq is totally free thanks to American intervention," Zaidi said.

Zaidi appeared to be in good condition after his imprisonment, although he was missing a front tooth. However, he said he would be getting dental work done thanks to the single payer health system -- created by the new Iraq constitution drafted by the Bush Administration in 2005.

Permalink | Comment
---


Posted September 13, 2009
9-12ers decry liberal media

Want fear, end to Michael Moore movie marathons

(Washington DC) Eight years after terrorists flew planes into the World Trade Center and the Pentagon, an estimated 30,000 people marched on the capitol yesterday to remember the day after the attacks of September 11, 2001.

The marchers, who call themselves "9-12ers," said they want to remind Americans of the confusion, fear and anger they felt the morning of September 12, 2001. Many said the confusion, fear and anger that served as the basis of Bush Administration policy should continue to determine national policy, and hoped President Barack Obama would receive their message.

"Hussein Obama hasn't changed the color coded terror alert status, nor issued a single vague warning from the Vice President's office. I think he has forgotten he is supposed to protect the Merican people," said M.F. Nutt, who marched down Pennsylvania Avenue after driving nine hours from Westmost, North Carolina.

Accompanying him was his wife, Shirley A. Nutt. She said too many people are trying to move the country forward. "Where's the September 12th fear? For most people I talk to, the sheer terror of that day isn't sharp anymore," said Mrs. Nutt.

"It's like they want life to be normal, with all their talk about jobs and pubic options. Well, normal life is dangerous. What about attacks on our water supply? Pen guns? Radio controlled airplanes as bombs? Women taking bottles of breast milk onto airplanes?" she wondered.

"These are threats people need to stay afraid of, so we'll stay alert," she said, adding that she always serves caffeinated black tea at meetings of her Tea Party Patriots chapter.

Another North Carolinian marcher, Barnard "Barney" Fife of Mount Pilot, said the media is to blame for normalcy.

Fife, a police lieutenant and SWAT team commander for the Mount Pilot Metro Police, displayed a thick journal of notes he keeps when watching television news and visiting network and newspaper web sites. The results, he said, show that the media has an overwhelming liberal bias.

"Only Glenn Beck talks about the National Endowment of the Arts takeover of Merica headquartered at Rockefeller Center, but even he doesn't mention the role of militant peace activists, the Illuminati, and the Shriners," said Fife.

"All you see on TV now is hour after hour of Michael Moore movies, 24/7. I tell you, it needs to stop before we get hit again," he said.

Permalink | Comment
---


Posted September 9, 2009
Obama speaks to half-empty Congress

Absent members had notes from parents

President Barack Obama addressed a half-empty joint session of Congress tonight, further evidence of the polarization of the ongoing debate surrounding health reform.

The president used his speech to forcefully state his vision for reform, which included an end to preexisting conditions and a limited public option. However, he laid the groundwork for constructive compromise with conservative critics by proposing torte reform pilot projects and revenue neutrality.

Obama also devoted significant portion of time to urging representatives and senators to work hard and stay in Congress, even though they might rather still be on their August recess. "Not every committee hearing you attend may be interesting. Every bill you work on may not seem relevant to your life. But the work you do here this year will help enact real health reform for the American people," Obama said.

However, his words were largely unheard, with no-shows evident among the Republican and Blue Dog contingents. Many seats in the House chamber were empty, with parents of senators and representatives representing red and swing districts choosing to opt out of their children hearing the speech.

The concerns of Adele Cantor of Virginia reflected those of fellow parents. "The idea of him talking to my son just didn't seem appropriate," said Mrs. Cantor.

"I mean, I'm not a student of civics or anything, but I can't remember a president ever speaking to Congress before. Political recruiting in Congress for legislation sounds like Communism," she said.

Fred Baucus of Montana said he was fearful of the effect of the president's words, since Congress is a captive audience. "Hussein Obama is trying to indoctrinate Congress, to subvert the role of lobbyists in making our laws," he said.

In Ohio, Lois Boehner wanted to know why Obama is allowed to call all the joint sessions of Congress. "I voted for McCain-Palin, and I believe their policies should govern us. Why doesn't McCain get to call 45% of the joint sessions?"

The principal leaders of Congressional Democrats and Republicans bowed to parental wishes and did not allow discussion following the president's message. Majority Leader Harry Reid said the Senate is not the place for controversial topics. "Follow-up conversation may happen at home with parents," Reid said.

Permalink | Comment
---


Posted September 5, 2009
Glenn Beck's inner child freed after 18 year ordeal

Captive in hidden region of right hemisphere

The mystery around the disappearance of Glenn Beck's sanity was solved yesterday, when his inner child was freed from the makeshift prison behind a house in Escher, Washington, where he had been held captive for the past 18 years.

Authorities went to the ramshackle home early Friday, after receiving reports of shooting pains behind the eyes and incessant chattering of millions of tiny demons. There they discovered a secret compound within the prefrontal region of the right hemisphere of the Fox News personality's brain. Several makeshift constructs provided shelter amid the dissociative disorder, screened from the outside world by a hedge of overgrown amnesias.

Arrested at the scene was the house's owner, Beck's own dominant personality, "Big Glenn." He confessed to the kidnapping and is now being evaluated by a brain care specialist.

The inner child was able to identify himself under hypnosis. "We're going to wait for the word association and Rorschach tests, but at this point we're 99% confident it's him," said Escher Police public information officer Harley D. Spiedtrapp.

Glenn Beck has lived in fear of liberals, Communists, fascists, and Depression era bas reliefs ever since his inner child was abducted in broad daylight in 1991. It happened in front of his family's home in Mount Vernon, just down State Route 20 from small, dusty and rarely visited Escher.

News of the inner child's discovery brought tears of joy to Beck's lesser, submissive personality "Wee Glenn," who witnessed the abduction. During a brief appearance Friday night in front of the Mount Vernon house, Wee Glenn cried with relief as he recalled the suspicion that fell on him, chiefly accusations made by maternal enabling personality "Aunt Glenda."

"She said it was all my fault. Until yesterday I was a suspect," said Wee Glenn. Pointing to the upstairs window from which he saw the inner child being dragged away all those years ago, he said he tried to run outside to give chase. "But the stairs going down kept taking me back up," he said.

Medical staff at St. Copay Memorial Hospital in Mount Vernon said Beck's inner child has been reunited with his family of personalities, but said reintegration could take many years.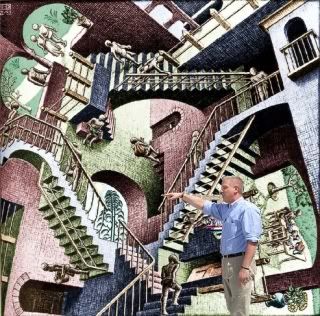 +
Where it happened
Wee Glenn Beck points to bedroom window where he witnessed inner child's abduction

Permalink | Comment
---


September 2, 2009
Beck claims Americorps will be Obama's Starfleet

President "going to have his own red shirts"

Fox News host Glenn Beck issued his strongest condemnation of Barack Obama yesterday, accusing the President of intending to turn Americorps into his personal Starfleet.

Beck said a recent Senate measure on Americorps "basically indoctrinates your child into service in Starfleet, a peacekeeping and humanitarian armada, through the Federation Council."

Beck was pointed in his denunciation. "Hitler had the brownshirts, Obama is going to have his own red shirts. And we all know what that means -- Americans sent into dangerous away team situations on strange new worlds," Beck warned.

"Think about it! Precious sons and daughters of liberty, turned into small geometric stones, or vaporized by disruptor blasts," he said. "Or worse -- marooned for all eternity, in the center of a dead planet. Buried alive. Buried alive. BarAAAAACK!!!"

In addition to comparing Starfleet to fascists, the human commentator also called the proposal communistic. "They don't even use money in the Federation, so of course they have to soak U.S. taxpayers for the half trillion dollar cost," he said. Later, however, Beck issued a correction that the cost is really 400 billion credits.

Permalink | Comment
---


Posted September 1, 2009
Fearful lawmakers cancel health forums

Pro-reform crowds armed with facts

Alarm about the intensity of debate has prompted more members of Congress to cancel planned town hall style meetings on health care reform. This time it is Republican members doing the canceling, citing concerns over attendance by potentially armed citizens.

"Last weekend a number of my colleagues reported their meetings being disrupted by polite people armed with facts," said Rep. Heath Lackey, a Republican who represents the district that includes Westmost, North Carolina. He held a Saturday session there, but canceled a planned Sunday session after concluding attendance by people openly armed with facts posed a significant danger.

Lackey also said his office has been receiving a steady stream of spell-checked, unabusive letters and e-mails from non-anonymous people.

Forums held earlier in the lawmakers' August recess were dominated by anti-reform citizens who shouted down representatives, senators and others in the audience. Some silently exercised their Second Amendment rights.

In contrast, the end of the recess has degenerated into articulate presentations by so-called 'Reform-ers' -- supporters of reform and the public option. Almost all of them come to the meetings armed with facts and vocabularies. Conservative blogs and websites have posted photos of reform-ers using their inside voices and in possession of ammunition in large magazines, like the New Yorker and Harper's.

The open display of intelligent expression worries many of Lackey's constituents like M.F. Nutt of Westmost. He describes himself as "a birther and a deather, like most regular people around here." Nutt attended Lackey's Saturday forum, but left early when he saw people carrying facts and that there was a Hannah Montana marathon starting on the Disney Channel.

"It was like at any moment one of those smart people could have snapped and shot my belief system full of holes. I feel I was lucky to escape," said Nutt.

"Those people are simply not crazy," agreed Shirley A. Nutt, who watched the Hannah Montana marathon with her husband. "Reform-ers claim insurance companies will use 'preexisting conditions' to kill sick people. Reform-ers are just trying to scare people who have preexisting conditions," she said.

"It is really sad, and sadder that they're setting such a poor example for the children," she added.

"Yeah, 'Teach your children well,' like that commie hippie group," observed her husband.

"Crosby, Stills, Nash and Young," his wife replied, also noting that Nash and Young were not even born in the United States.

Law enforcement officials say there is no restriction on carrying facts in public despite the alarm it can cause.

Sheriff Andrew Taylor of nearby Mayberry, North Carolina, assured the public there is no danger. "We got the same kind of 911 calls a couple of weeks ago, from people freaked out over reform-ers who were openly carrying video cameras," Taylor said.

"I'll tell you now what I told them then: folks need to just calm down and get educated on the issues. 'Teach your children well,' as the song goes," said Taylor, who is facing a September recall election.

Permalink | Comment
---