Archive / UrbanLoop
Descending order by Date
Threads in Asc by Date
UrbanLoop originated in 2017 as a project of the University of Lorraine, involving 100 students, two departments (the National School of Electricity and Mechanics and National School of Mines), 4 universities, the National Center for Scientific Research, and the Grand Est region including the city of Nancy. Construction of a 200m demonstration system began in 2019 at the Institute of Applied Sciences-Brabois Engineering campus; testing was conducted there in 2020. A photo caption to a Feb 12, 2021 article may mean an UrbanLoop system would not be a unified network, requiring transfers--this may not be a problem only in countries such as France which are used to riding metros. However other descriptions speak of capsules being able to access any stations in their network.
French Senate passes UrbanLoop amendment 7-16-2021
France's Senate has adopted an amendment by Sen. Olivier Jacquin (PS, Meurthe-et-Moselle) allowing UrbanLoop to experiment on old railways--involving modification of tracks and switches.
Link
Meet the transport of the future
5-7-2021
European Parliament Member
Yannick Jadot
, former Greenpeace official, visits Nancy and tours the UrbanLoop test site.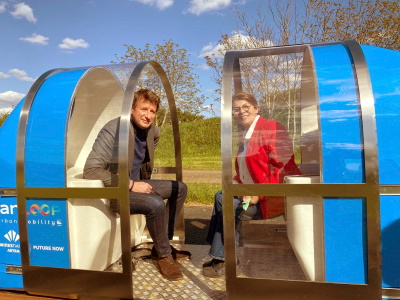 Jadot (L) in capsule with Eliane Romani, leader of regional leftist coalition
Link
Urbanloop: the capsule that reinvents city transport 4-23-2021
Link