Romney seeking uncool vote


Former Massachusetts Governor Mitt Romney continued to seek the uncool vote today, going on national TV to argue that President Obama is just too cool for school.

The presumptive Republican nominee took his case to Fox & Friends, where he participated in the sardonically irreverent Toe Jam The News segment.

Afterward, Romney told host Steve Douchy the president is a Fonzie-like troublemaker who hangs out behind the portables smoking, yet is still Mr. Popularity.

Romney likened Vice President Joe Biden to a 'big man on campus' for whom everything comes easily.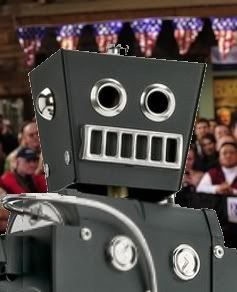 +
Mitt Romney
"Ich bin ein dork."
"These bad boys benefitted from the welfare state instead of having to tap their trust funds like the rest of us -- decent, hard working Americans, the nerds, the unpopular kids like me," said Romney.
"I believe winning the unpopular vote is key to victory in November," he said.
Sources close to the Romney campaign say the quiet search for an uncool running mate is continuing. Sen. Marco Rubio of Florida is believed to be at the top of the list because of the dorky way he lost a page of the foreign policy speech he gave last week at the Brookings Institution.
Uncool African Americans like Rep. Allen West, another Floridian, are being considered. But definitely off the veep list is actor Jaleel "Urkel" White, whose stint on this season's Dancing With The Stars is allowing him to display a level of physical coordination that takes him out of the nerd category.

Permalink | Comment | Like it? Please consider a donation of $1.11 (or more!)
---



Gingrich announces another staff shakeup


Places bid for Carla Bruni

Newt Gingrich continued to plan his ascendancy to the nation's highest office this morning, announcing he intends to make a major lineup change in the team he takes with him to the Oval Office.

"Today I am forming a selection committee to choose my official First Lady," the former House Speaker said during a speed dating appearance in Newark, Delaware.

"Callista has stuck by me long past the point my first two wives would have thrown in the towel," Gingrich told recent divorcee Barb Applebaum, 44.

"I am grateful for her years of service. However, although Callista is a great lady, she has no First Lady experience," he said.

"We can't afford to have job training in the First Lady spot, not when I will be working so hard for the country that I could need servicing at any time of the day or night," Gingrich added.

Gingrich said he has made an offer in US dollars to Carla Bruni, the current First Lady of France, to fulfill those duties in a Gingrich White House. Gingrich believes Ms. Bruni is likely to be available in the near future, based upon her husband Nicolas Sarkozy's second place finish in last weekend's first round of French balloting.

"Bruni is the obvious choice. Not only has she been there to serve her president, by maintaining her recording and acting career she's not there every minute watching like a hawk, preventing him from taking a private meeting whenever he feels like it," Gingrich said.

"There's a good chance she'll accept my offer, what with the current state of the Euro," he said.

The GOP hopeful has even gone so far as to enroll in a Learning Annex class on Menu French.

Permalink | Comment | Like it? Please consider a donation of $1.11 (or more!)
---



Romney's Bain Capital bought Keebler, laid off elveforce


The private equity firm formerly headed by Mitt Romney closed Keebler's US cookie facility and moved the company's bakery production to China, idling 1,500 elves, it was learned today.

The revelation comes on the heels of Romney inadvertently casting aspersions on cookies from a Pittsburgh-area bakery, and is another blow to his hopes of convincing Americans he understands what he calls "the puny lives of you hu-mans."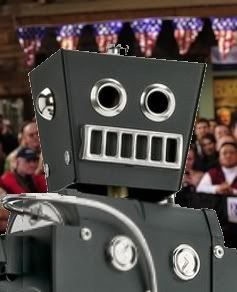 +
Mitt Romney
Cookies burned by another gaffe.




The presumptive Republican nominee for president was chairman of Bain Capital in 1997 when it purchased the famous Keebler bakery forest. At the time Keebler led the world in chocolate chip, oatmeal raisin, and snickerdoodles.
Although Bain promised no changes were foreseen, the following year a Bain internal memo declared Keebler's business plan unsustainable.
The memo, initialed by Romney, said the traditional method of hollowing out trees to house ovens was too expensive, and recommended the entire operation be offshored to China.
According to board meeting minutes, Romney agreed with the recommendation. "Chinese elves bake cookies in bamboo trees, which are naturally hollow, resulting in enormous savings we can pass on to the executive bonuses," he said.
The change was implemented 18 months later: Christmas Day 1998 saw the layoff of 1,500 American elves. Many emigrated to the North Pole to look for work, but over 500 were forced to take jobs as Elves impersonators.

Permalink | Comment | Like it? Please consider a donation of $1.11 (or more!)
---



Ann Romney resumes career as shipyard worker


Ann Romney switched jobs to much fanfare this morning, resuming her career as a New Jersey shipyard worker.

Mrs. Romney, the presumptive Republican nominee for First Lady, double-majored in child psychology and maritime arc welding & riveting at Brigham Young University. She apprenticed as a Boilermaker around northern New Jersey until 1969, when Mitt Romney recruited her to become Vice President for Operations of his Fortune 500 family.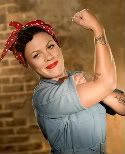 Ann Romney
Ann Romney, decked out in Dickies workwear and steel toed boots, arrived at Bayonne Drydock at 8 am sharp today to begin her first morning shift. Reporters spent the morning observing as Mrs. Romney welded new plating onto a Panamanian-registered freighter, then broke for lunch.
Climbing to the top of a gantry with her lunch pail, she told NBC's David Gregory that she chose Bayonne Drydock because of its long record as an American employer, and because "Mitt and I have wonderful memories of a bike trip we took in and around Bayonne, France."
Mrs. Romney said she is looking forward to the afternoon, scheduled to be spent installing rivets on a Staten Island ferry. "That's dangerous work, because dodging a hot rivet dropped from above is like making sure banquet placecards are typo-free," she told Gregory.
For his part, Mitt Romney praised his wife for continuing her 43 year career as a working woman, even while helping him campaign for the White House. Romney called his wife "a real women's libber."
"I'm also proud of how hard she works to help the war effort," he added, noting that Ann Romney was an air raid warden during the Vietnam War, sold war bonds during the Grenada action, and coordinated neighborhood rubber and metal drives for Desert Storm and the Iraq occupation.

Permalink | Comment | Like it? Please consider a donation of $1.11 (or more!)
---



Ann Romney - 'Mitt connecting to people wirelessly and by USB'


Ann Romney spoke out about her husband's humanity yet again on Thursday, part of her continuing effort to portray GOP frontrunner Mitt Romney as a man of the people.

"Mitt likes people, he connects with people wirelessly all the time," said Ann Romney, adding: "you can still interface with him by USB as well."

In an interview on the PC Upgrader webcast, Mrs. Romney specifically addressed recent comments by pundits that Mitt Romney is stiff. "Stiff? By no means! Mitt actually can still handle floppies."

"But seriously, the more he gets out there meeting trees, lakes, people, and their cars, the more firewalls will be lowered and Americans will be able to download, unzip and unpack his policy files," she said.

"He's really excited about campaigning, you might say he's on Firewire."

Asked whether multiple interfaces can successfully overcome Mitt Romney's image as a flip-flopper, Mrs. Romney was quick to terminate the query, explaining: "Mitt isn't saying two different things, that's him speaking binary."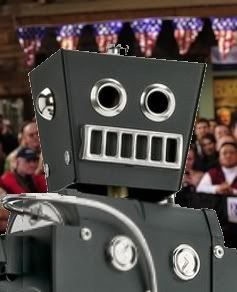 +
Mitt Romney
"1010110 01011, 10101101 01 10101."

Permalink | Comment | Like it? Please consider a donation of $1.11 (or more!)
---



Mega Millions gives Paul Ryan an idea

Entitlements to become probabilities

Calling the excitement surrounding last week's Mega Millions multistate lottery "inspirational," House Republican budget idea man Paul Ryan said today he was so moved by the public interest in Friday night's $640 million drawing that he is drawing up plans to the remake the American way of life on lotto-like principles.
+
Rep. Paul Ryan
"It's not only a very long sentence, it's also a microcosm of the American dream," said Ryan, a seventh-term Representative from Wisconsin.
Ryan said everyone wants to join the one percent, "and thanks to Mega Millions, three lucky citizens have been ushered into that elite circle. I think Mega Millions has proved it is a valid route to delivering services and realizing the American dream."
"There are no guarantees in life. So how can government make promises? Americans don't want things handed to them," Ryan declared.
Under Ryan's new plan, called Lottery To Liberty, entitlements will be replaced with probabilities. A portion of each person's taxes would be replaced with options to buy chances to receive government services, such as Medicare, income tax refunds, and admissions to national parks.
"The lottery mentality would make these services more precious and people would value them more," he noted.
This gaming-supported system would be expanded until all government services are probabilities. Nothing would be off limits -- Social Security, food and drug safety, and even the Coast Guard would be left to chance.
Said Ryan: "Why should a resident of Kansas be forced to pay for the Coast Guard? Under my plan, if they were planning to go marlin fishing off Florida, then they could buy a chance at a search and rescue operation. I think that is all that anyone can reasonably expect in this day and age."
Net profits of Lottery To Liberty would fund basic government programs like education, oil company subsidies, and upper class tax cuts.
Ryan said his ideological hero Ayn Rand would be all for his idea. "Rand promoted self reliance, she would see trying to hit a jackpot as a way to amass wealth while avoiding the stranglehold of FICA withholding and SEC regulations."
In fact, said Ryan, Rand would often spend her entire monthly Social Security check on raffle tickets and bingo cards.

Permalink | Comment | Like it? Please consider a donation of $1.11 (or more!)
---