July 29, 2009
James Donaldson - Head and shoulders above the other candidates

Ehhhhlection '09

Former NBA star and small businessman James Donaldson hopes to hit nothing but net in the August 18 primary election for Mayor of Seattle, billing himself as head and shoulders above the other candidates.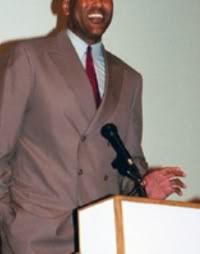 Donaldson
"I have the best chance of being a top-shelf mayor -- I've been reaching for things on the top shelf since puberty," said the 7 foot two inch tall ex-Supersonic center.
Donaldson is hoping to distinguish himself from chief rivals Jan Drago, Joe Mallahan and Mike McGinn, as well as incumbent Greg Nickels, with an ambitious 896 point plan for Seattle that includes ideas like anti-crime surveillance cameras mounted high on poles and buildings.
However, Donaldson wants to allay fears the cameras could invade citizens' privacy, saying only criminals need worry. "I think average-height people are going to be excited about the surveillance cameras, which will give them the same view I've had since I was 12 years old," he said.
Donaldson singled out Nickels for criticism, saying the mayor's 450 "special advisors" is an illegal zone defense.
Nickels campaign spokesman Sandeep Frandle responded that his boss may not be tall as Donaldson, but will pit his circumference against anyone's anyday.
In a related story, Donaldson, Nickels, Mallahan, and Drago have agreed to place Mike McGinn in a new deep-bore waterfront tunnel.

Permalink | Comment
---


Posted July 27, 2009
NASA honors Bachmann

NASA announced today it is bestowing its highest civilian honor upon Rep. Michele Bachmann (R-MN) in recognition of the assistance she gave the International Space Station over the weekend.

The conservative lawmaker beamed with pride as flight director Buzz Frandle presented her with the award, the Space Cadet certificate, and pinned a pair of plastic wings on her lapel.

"On Saturday, astronauts reported a warning light on the U.S. module's carbon dioxide removal system," Frandle said, reading from the official proclamation.

"Under our engineering and science-based operating protocols, the system needed to be repaired or a dangerous build up of CO2 would occur," Frandle said.

"We received a call from Rep. Bachmann, who told us our protocols are invalid because carbon dioxide is a natural byproduct of nature. She said life can't exist without CO2, so we shouldn't worry about the malfunction."

Station personnel resumed normal activites Sunday without the purification system, although according to Frandle overly cautious European, Russian, Canadian, and Japanese crew sealed themselves off from the American section, and lowered their CO2 to dangerous levels using the Russian module's air scrubber.

However, flight engineeer Michael Barratt reports all is well in the U.S. module. "Excuse me, I'm feeling kind of woozy and need to lie down for a while," a cheerful Barratt told Bachmann by radio.

Bachmann spoke to Barratt by radio, and congratulated him on his good work. "Pay no attention to doubts of other countries' astronauts, you're doing great," she told Barratt. Bachmann went on to say she plans to introduce legislation giving U.S. Immigration and Customs Enforcement strict control over foreign entry to the American module.

In other news, Sarah Palin's resignation as Governor of Alaska became effective yesterday. In a final speech in Fairbanks, Palin told Alaskans she is "excited to become John McCain's new vice senator."

Permalink | Comment
---


Posted July 23, 2009
INSURANCE LOBBY SHOOTS PUBLIC OPTION

$170M smoking gun found at scene

The public option was shot by the health insurance lobby today at the U.S. Capitol, in full view of shocked, shocked representatives and senators. Activity on the capitol campus was halted for hours, although no one noticed any difference.

The health reform proposal was rushed to the emergency room at the Executive Office Building, where it remains in critical condition.

Police arrested the health insurance lobby at the scene. "I'm just a corporate personhood activist trying to protect profits and the sanctity of corporate life," he shouted as he was wrestled into a fundraiser for Rep. Mike Ross (D-Blue Cross).

A weapon believed used in the attack was recovered at the scene, said by police to be a $170 million double-barreled Influence Special.

Sen. Max Baucus (D-Schering-Plough) denounced the shooting as "abhorent," but said he continues to support a pro-corporate life movement that seeks to achieve its goals peacefully. "Life begins at incorporation, everyone agrees on that," Baucus said.

In other news, Senate Minority Leader Mitch McConnell today announced his opposition to First Lady Michele Obama's new shorter hairstyle. "This will put the government between Americans and their hair stylists," warned McConnell.

"Only your hairdresser should know for sure," McConnell added.

Permalink | Comment
---


Posted July 20, 2009
Bachmann fills out practice Census form

Controversy surrounding the U.S. Census eased somewhat today, after the agency's chief critic, Congresswoman Michele Bachmann (R-MN), filled out a practice Census form.

The form was provided to Bachmann by Census enumerator Jim Tally in Bachmann's Stillwater home. The Census Bureau arranged the special visit to allay Bachmann's publicized worry that the decennial national survey is "very intricate," "very personal," and "contains coded quotations from the the sermons of Rev. Jeremiah Wright."

Afterward, Bachmann said she was satisfied the process is above board. "It used short, easy to read words, and did not appear to be concealing any anti-America motivations," said Bachmann.

"In fact, I was pleased at the number of essay questions," she said, and provided reporters with copies of her form. Some of the questions, with Bachmann's answers, were:

Number in your household: 160 million (including all sperm and ovum)
Sex by Age: About twice a month
Median sex by age: We don't do it in the road
Sex by marital status 15 and over: My kids would never have premarital sex, anymore than Sarah Palin's would
Sex by year of entry for the foreign-born population: This is why we have to close the borders!
Sex by Work Experience: All this 'sexual harrassment' stuff is a bunch of hooey.
Means of transportation to work: Automobile, emitting life-giving carbon
Was the moon landing faked? Yes
Number of voices in your head: 27

"Those weren't essay questions, but we'll do our best to interpret them quantitatively," Tally said.

Permalink | Comment
---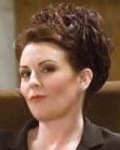 July 16, 2009
Ask An Ex-Governor
by Sarah Palin
Syndicated Columnist



Oppose French-style medicine

Dear Ex-Governor,

I'm vaguely apprehensive of the public option. What should I know in order to spread irrational fear about it?
Signed, Congressman Rick Larsen (D?-WA)

Dear Rick:
You're right (hard right!) to be scared, because what Barack Hussein Obama and the Democrat Party are going to ram down our throats is socialized medicine, also, too, growing of the size of the government, such as Big Government, such as the kind of Big Socialist Governments in Canada and Europe where they have health care for all, which also, too, is where they speak French -- I'll tell ya we don't want that kind of French or French Canadian style health care, as your doctor would talk to you only in French or Canadian, and Americans don't want a translator standing between you and your doctor, at least until Aetna figures out how to make money off it.

Permalink | Comment
---


Posted July 13, 2009
Everyone loves a circus!

(Washington) The nation's capital took a break from the hard work of governance today, as the Republican Brothers and Boehner & Flailing brought their three-ring media circus to town.

An excited crowd filled the darkened Senate Judiciary Committee chamber this morning. Senator Jim Bunting got so excited he peed himself when a hush fell over the audience.

Ringmaster Jeff Sessions stepped into the spotlight and got things started with the traditional introduction of, "Ladies and gentlemen, boys and girls, wise Latina women of all ages -- welcome to the Greatest Sideshow On Earth!"

And what a show it was! First came trapeze artists The Supreme 5, a unique act that somehow manages to swing only in one direction.

Next was gypsy fortuneteller Tom Coburn, who told the future of one lucky audience member, Sonia Sotomayor of New York City.

Coburn was followed by lion tamer Orrin Hatch, who held at bay the circus' newest beast, Empathy, the crack of a flaccid noodle sounding in the air.

Hearts stopped when Lindsay Graham stepped onto a high wire far above the crowd. At the halfway point, he paused to juggle white male patriarchy with his insistence life experience should be a disqualifier for the high court.

But everyone's favorites are the clowns, and there sure were a lot of them! At one point an impossible number of them poured out of a tiny ideological box, to the audience's delight.

A good time was had by all. By the end, only John Ensign was left to sweep up the elephant poop.

The one disappointment was the news that one act, the comedian Norm Coleman, had left the circus. His replacement, Al Franken, was not funny at all.

Permalink | Comment
---


July 8, 2009
GOP gains health care ally

Mafia cites experience with "socialized protection"

Congressional Republicans got a boost today in their battle against President Obama's work on health care reform -- and from a surprising source.

Speaking this morning at a joint press conference, GOP House and Senate leaders said their legislative work will be supported by a grassroots outreach campaign by the Minding Our Business (MOB) Foundation, a new 501(c)(3) nonprofit arm of the Mafia.

"All we is saying is, give competition a chance," said Luigi Mezzosoprano, MOB spokesman.

Mezzosoprano said his bosses "are concerned that Big Government will do to health care what it has done to the private protection racket." He said they were brought into contact with high level Republicans by former California Rep. Randall "Duke" Cunningham, now a guest of the Federal government.

"The liberal do-gooders call it law enforcement, but what it's done is put armed bureaucrats between you and your neighborhood underboss. It's criminalized community protection, one of our oldest and biggest cash businesses," said Mezzosoprano.

"Now they want to 'reform' (air quotes) our biggest earner of all, our family-owned health insurance carriers. Well the MOB says enough! We ain't going to stand by and accept a repeat of socialized protection," he said.

Senate Majority Leader Mitch McConnell welcomed the MOB's activism, calling it "public spirited."

"They have convinced me after a private, very persuasive sit-down, as they call them, that the five families are doing this to help the American people avoid accidental but avoidable injuries. And the Republican Party is all about family values," McConnell said.

A tearful Rep. John Boehner of Ohio, the House Minority Leader, echoed McConnell's praise of the MOB, saying: "I'll do whatever you want; just stop calling my home, you're scaring my wife."

Permalink | Comment
---


Posted July 3, 2009
Palin and Sanford elope

Former GOP vice presidential nominee Sarah Palin announced Friday she is resigning as Alaska Governor in order to become first lady of South Carolina, shocking the political world today as well as providing an explanation for another gubernatorial bruhaha.

"I feel like Edward VIII, resignin' so I can go off to be with my soulmate," Palin told reporters during a fitting at David's Bridal in Anchorage.

"Tonight I'll be leavin' on a jet plane, don't know when I'll be back again, I can't wait until after the wedding to cross the line with that big hunka South Carolina man, unlike some daughters I could mention, and also too as regards my previous family, Todd, honey, I left the code numbers to a Swiss account for you on the table in the front hallway, the one with the answering machine, not the one by the mirror," Palin said.

In a simultaneous announcement, South Carolina Gov. Mark Sanford clarified that it is Palin whom he loves, not Maria Belen Chapur. "When I said I had met my soulmate in a woman from Argentina, I meant Alaska. I get those confused. My soulmate is from a place beginning with A is my point," explained Sanford.

Republican strategists are calling it a match made in narcissist heaven. "A joint Sanford-Palin campaign in 2012 would be a winner," said consultant Dick Morris.

"The American people would get a twofer -- twice the leadership experience, twice the family values, and Palin's irresistible female pheromones to balance Sanford's abundant flow of testosterone," Morris said.

Sen. David Vitter (R-LA) agreed that Sanford and Palin would be a powerful electoral draw. "It's not so much that Americans won't be able to say no, it's more like they'll be saying 'yes, yes, oh god, yesss' to the Mark Sanford-Sarah Palin team."

The office of Republican Chairman Michael Steele issued a statement saying Sanford-Palin would be unstoppably randy, declaring, "In the voting booth, no one could say no to a threesome with Sanford and Palin."

Democratic insiders are less pleased at the prospect of a Sanford-Palin ticket. "We'd actually prefer Palin-Sanford, but hey, whatever," said Gov. Tim Kaine, the Democrats' chairman.

The governorship of Alaska automatically passes to Alicia Blanco, Miss Arizona USA.

Permalink | Comment
---




Ehhhhlection '09

Posted July 2, 2009
Drago to retire

Next stop, puttering around Mayor's Office?

Seattle City Council member Jan Drago announced today that she will retire rather than seek an unprecedented forty-first term.

The announcement marks the end to one of the most storied public service careers in recent memory. In addition to her legislative tenure, Drago is the last of the original "Mercer Girls" who were enticed to journey to the Puget Sound with the promise of marriage to a hardy pioneer lumberjack, fisherman or aerospace engineer.

"I think I've accomplished most of the things the people have a vague impression I set out to do," Drago told reporters during her normal morning routine picking up bagels and dry cleaning for Downtown Seattle Association president Kate Joncas.

City hall observers say Drago will be missed. "Of all the people who have appeared to make Seattle a better place, Jan Drago will be remembered as someone who may have been part of it," said Seattle Times columnist Denny Westneat, the leading authority on local history after no one else stepped up after the death of History Link's Walt Crowley.

Bridget Hanley, who played Drago in the 1968-70 television series "Here Comes the Brides" which was loosely based on the Mercer Girls, said it was her most challenging portrayal,

"The director kept telling me, 'too much energy,' and 'dial it back a few notches'," said the red-haired Hanley, who grew up in nearby Edmonds, Washington.

"Today we call that style of acting 'less is more,' But back then it was just being Drago."

Drago said her life after leaving the city council won't change too much. "I'm going to start my retirement this fall by becoming Mayor, in order to complete whatever remains in the vision that people think I have," said Drago. For starters, she hopes to make Seattle into a great place to retire.

"Imagine an early bird kind of city where everything shuts down at 4:30 for discount buffet dinners. Followed by Entertainment Tonight, and then NCIS reruns," she said.

Permalink | Comment
---
©2009 Wiseline Institute Northwest


Contact us at: mrblog AT kinetic DOT seattle DOT wa DOT us