Posted June 29, 2009
Sanford announces 2012 run

"No time left for adultery"

Pleading with reporters to "keep an eye me," Governor Mark Sanford of South Carolina today announced that he is ready to take responsibility for having an extra-marital affair by running for the 2012 Republican nomination for president.

Sanford follows in a tradition of Republicans who atone for personal or professional wrongdoing by not stepping down.

Reiterating his remorse at carrying on an affair with penpal Maria Belen Chapur, an Argentine divorcee, Sanford said he is apologizing to his wife, his children, the people of South Carolina, and the Republican Party by seeking the GOP nomination, and being elected leader of the free world.

"I have almost nothing left to hide," said Sanford, after striding on stage to strains of Connie Francis' "I'm Sorry" played over a sound system.

"Seeking my party's nomination for president means I won't have time to fool around on my wife Jenny. And when my children want to know where daddy is on Father's Day, for the next three years the answer will be Iowa. Or New Hampshire," Sanford said.

Sanford went on to add that "quitting is for members of the Democrat Party," and cited Gary Hart and John Edwards as examples of politicians who voluntarily stepped away from public life after revelations of marital infidelity.

Sanford said he is running under the slogan "Mark Sanford: Keeping It In His Pants for America." He asked journalists to keep him on the straight and narrow, declaring, "I call on reporters to turn the bright klieg lights of scrutiny on me, follow me day and night."

"Bug my phone? Yes, please. Telephoto lenses? Tell me which way to face. Round the clock surveillance? Just honk and I'll have my motorcade slow down so you can keep up," Sanford promised.

Sanford departed the press conference in "Palmetto State One," a flatbed truck carrying a diorama of a Motel 6 room, with one wall made of clear Lexan, in which Sanford will sleep while on the campaign trail. There will always be at least one light on in the room.

In related news, South Carolina First Lady Jenny Sanford has signed an endorsement deal to become national spokesperson for Dog-o-Watt Inc., manufacturers of low-voltage training collars for dogs.

Permalink | Comment
---


June 25, 2009
Mousavi disqualified over semi-nude photos

The streets of Tehran are clear of demonstrators this morning, as opponents of president Mahmoud Ahmadinejad absorb Wednesday's shocking news: opposition presidential candidate Mir Hossein Mousavi has been disqualified after publication of semi-nude photos.

Iran's ruling Guardian Council announced Mousavi's disqualification mere hours after the photographs were published in the hard-line newspaper Iran. "Due to this troubling moral lapse, the Guardian Council has no choice but to rule Mir Hossein Mousavi ineligible and issues surrounding the legitimacy of last week's election are moot," read a statement issued by the office of Supreme Leader Ayatollah Ali Khamenei.

A source in the Guardian Council said the provocative photographs were taken in the 1980s when Mousavi was prime minister, and modeled for a series of posters promoting import sales of TOW missiles. "The shirt was undone at the collar a morally borderline two buttons. In the offending series of photos, a third unfastened button can be seen clearly, revealing skin that is an abomination before God," the source said.

Mousavi continues to be in seclusion and was unavailable for comment. However, Prof. Reza Frandle, a George Washington University historian familiar with Mousavi's 1981-89 term as prime minister, speculated that Mousavi's shirt may have been blown open by a breeze.

President Ahmadinejad took a break from measuring his office for new drapes to assure his country that the electoral crisis has passed.

"The people of Iran can put the election and its aftermath behind them and move forward. Move forward, now. Moving forward, confident that their president's collar is fastened around his neck as tightly as a tourniqet," Ahmadinejad said.

Permalink | Comment
---


June 21, 2009
An Elizabeth takes exception to nickname

Miss Elizabeth Bennet
Longbourn

Dear Miss Elizabeth,

You will permit me to express the enormity of the rapture I feel owing to your acceptance of me last evening. In my mind's eye I am content to envision us ensconced at Pemberley. You, a vision in silk and jewels, your eyes reflecting the sunset more brilliantly than the well-stocked lake. Me, regarding the vista before me, and finding the manicured grounds suddenly inferior to the latest addition. In order that I might pursue my case with your father at the earliest opportunity, please apprise me of the most suitable time when he is at home to receive me.

God bless you,
Fitzwilliam Darcy

=====

Miss Elizabeth Bennet
Longbourn

Dear Liz,

The sun has tracked across the morning sky, and I have not received word from you with regard to your father's convenience. My love, please reply, as my heart grows impatient at this delay in beginning our union.

God bless you,
Fitzwilliam Darcy

=====

Mr. Fitzwilliam Darcy
Netherfield Park

Dear Mr. Darcy,

You will permit me, sir, to ask something of you: WHO is "LIZ"?

Most sincerely,
Elizabeth Bennet

=====

Miss Elizabeth Bennet
Longbourn

Dear Miss Elizabeth,

Forgive me if my attempt to foster familiarity between us was misplaced as well as hasty. For I was given to believe that the endearment in question to be a form of Elizabeth to be commonly applied in society. But let us not contest this small matter. When may I call on your father?

God bless you,
Fitzwilliam Darcy

=====

Mr. Fitzwilliam Darcy
Netherfield Park

Dear Mr. Darcy,

My identity in the world is no small matter, as you put it. There are many forms of my name, and I take to none of them save for 'Lizzie', which I permit only my immediate family. Not Liz, Betty, Beth, or Sexy Petticoats. If it were not so, then by what precedent do others call me Elizabeth, or that I introduce myself to them as Elizabeth, or that I sign this letter

Elizabeth Bennet

=====

Miss Elizabeth Bennet
Longbourn

Dear Elizabeth,

Look. I thought I heard somebody at Mr. Bingley's ball call you Liz. Now let us get on with it. D'Accord?

God bless you,
Fitzwilliam Darcy

=====

Mr. Fitzwilliam Darcy
Netherfield Park

Dear Mr. Darcy,

WHO? WHO CALLED ME LIZ? You should be aware, sir, that many in town claim to have made my acquaintance, but they do so without cause or justification. I am unfamiliar with customs in the north, but in Hertfordshire there are those who aspire most ardently to certain social circles, yet to which they are not invited, nor shall ever be.

My dear sister Mary informed me that one of your letters arrived when I was indisposed. A lady does need to take a turn out of the drawing room on occasion. I now tire of this correspondence. Please meet me, that we may discuss this misunderstanding. May I suggest that place where we met that time to talk about that thing.

Most sincerely,
Elizabeth Bennet

Permalink | Comment
---


Posted June 18, 2009
"Obama is a frog"

Grabbed fly with his tongue, patriots claim

Muslim. No birth certificate. Communist. Terrorist. Coke-using homosexual. These and other claims about President Barack Obama have circulated since last year through email, the internet, word of mouth and even in the mainstream media. Now an obscure group of self-described patriots says recent news video footage is confirmation of what they say is the most shocking secret about the president: he is an amphibian. Specifically, a frog.

"Obama caught that fly with his tongue," said Thaddeus Poll of the group Ferret Reptiles Out of Government, referring to CNBC interview footage on Wednesday showing the president appearing to kill a fly.

Word of the incident spread like wildfire through the news media and blogosphere. For Poll, spokesman for Ferret Reptiles Out of Government, the video immediately raised suspicions.

"The hand-eye coordination required is a one-in-a-million shot. What's more likely -- that Obama got lucky, or that he's a frog?" Poll said.

"By the way, 'Ferret' in our organization's name is a verb," he said.

Poll went on to say that a digital analysis of CNBC's video cannot confirm that special effects were not used to replace Obama's tongue with a computer-generated hand. "We've sent numerous questions to CNBC and reporter John Harwood, and they have yet to deny special effects were used."

The rumor, shared mostly on ultra-conservative websites such as Free Reptile Public, has been on the edges of political discussion since the president and first lady Michele Obama's recent stay in France. The president did not eat frog legs during the visit -- "because that would have been cannibalism," Poll explained.

Others who believe the theory point to the way Obama says "uh" when pausing while answering questions, saying it sounds like the call of the bullfrog. Further evidence is seen in the way the president excels at basketball. "Look at the three to four feet of height he gets when he rebounds," observed one Free Reptile Public poster named Horned Toad, also observing:

"George W. Bush's best vertical jump was 19 inches maybe, and he was in great shape from all the mountain biking. No way Obama is a normal human president."

At the White House, press secretary Robert Gibbs had no comment today on the subject of the president's true species.

But GOP leaders on Capitol Hill say Obama's work on health care reform and the economy will be hindered so long as he refuses to answer questions about whether he is a frog.

Permalink | Comment
---


June 17, 2009
Baked Alaskan by Todd Palin

Where's MY apology?

It's been a tough week for Family Palin. But we were finally able to put one in the win column now that Willow finally got her apology from Dave Letterman.
I found out what happened when I got back yesterday from my annual baby whale hunting trip.
I didn't even have a chance to unload the depth charge launcher from the back of the 4x4, when Sarah came running to tell me how that East Coast New York Jew elitist so-called comedian said he wanted Alex Rodriguez to impregnate my little Tater Chip (that's what I call her).
As if we haven't had enough hardship the past year. Not only do we have a Muslim as president instead of Solid John (that's what I call him) and a special needs baby at home, but my oldest daughter is a new mom and a widow to boot (you might as well come out of hiding and face the music, Levi -- or Dead Man, that's what I call him).
And now Dave Letterman, biggest star of CBS, the Communist Broadcasting System, is joking about Tater Chip getting knocked up.
Well how dare he! The A-Rod part I don't care about; I mean, an A-Rod grandkid would be so frickin' cool. But doesn't Dave believe young girls should wait at least until Bristol's age?
Willow's got an apology. Sarah's got an apology. Where's my apology? I'm only the father of the pregnant teenager in question. Don't I hurt too?
In fact, if Dave wants to really do the right thing, he'd make an honest woman out of Willow himself.
Because otherwise, I'm going to come looking for you, Letterman! You ever duel, boy? Just you and me -- crossbows at twenty paces.
It don't matter if you're already hitched. We have ways around that in Alaska. I know the governor.
Heck, while I'm at it, I've decided I want an apology from you too, Rodriguez. And an autographed bat and glove, and a luxury suite the next time Madonna does a concert in Seattle.
Because respect for family values is what Republicans are all about.
Starting Monday, follow the iNews 9000 wi-fi headline translator on Twitter!!! (#inews9k)

Permalink | Comment
---


Posted June 15, 2009
Nickelsville moves to 4th & James

Unused city land "perfect" for homeless camp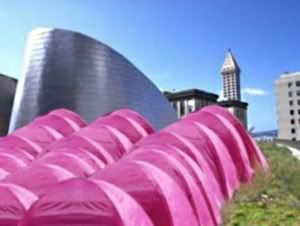 Nickelsville
Tent city finds a home
After years of being hustled from site to site in an almost endless game of musical chairs, Nickelsville, the Seattle encampment for the homeless, thinks it has finally found a long-term home.
The city of pink tents, named in honor of Mayor Greg Nickels, has relocated to downtown Seattle only a stone's throw from the Columbia Center, the Rainier Club, and other prestigious addresses.
It is an overgrown parcel on the roof of unused municipal property. Nickelsville leader Ernie Frandle said a check of public records revealed it is called City Hall.
Standing in midtown Nickelsville this morning, Frandle called it a perfect site for homeless people.
"From our perspective, absolutely nothing is happening at City Hall, no activity at all. So we should be able to stay for a long time," Frandle said, as reporters dodged tumbleweeds.
A resident who gave her name as Clara is happy with the new digs, saying, "from here we'll be able to look down on people for a change."
One floor down, Mayor Nickels said he is happy to host the camp until after the November election. "The camp won't get in the way of anything I'm doing, since I do most of my work over at Vulcan Ventures and the Downtown Seattle Association."
However said the mayor, Nickelsville should find another location after he begins his third term.
"Because being homeless means having to stay on the move, right? A permanent address would kind of defeat the purpose," Nickels said.

Permalink | Comment
---


Posted June 9, 2009
Opposition to bringing detainees to U.S.

Domestic terrorists against cheap imports

A leading interest group today announced its opposition to President Obama's plan to bring suspected terrorists housed at Guantanamo Bay to the U.S. for trial.

The group, Theocracy Economics for America - Buy A Gun (T.E.A.-B.A.G.), said bringing detainees to U.S. soil threatens the livelihoods of domestic terrorists.

Riley C. O'Yote, spokesperson for T.E.A.-B.A.G. charged that the White House wants to import cheap, knock off terrorists purchased in the mideast for only $500 each.

"If imported terrorists are allowed to come in and take those jobs, homegrown terrorists might have to leave the non-conspiracy sector and resort to getting educations in dead-end fields like engineering, teaching and software development," said O'Yote.

O'Yote said he can't understand why the Obama Administration is bringing foreign insurgents to the U.S., when the focus of economic recovery should be on protecting existing jobs in careers such as militiamen, anti-choice snipers, Klan wannabes, and FOX News commentators.

"If American abortion doctors, women's clinics, government facilities and infrastructure are going to be threatened, those threats should be issued by American terrorists, earning a living wage," he said.

Some conservative economists agree with the T.E.A.-B.A.G. argument against imported terrorists. Wayne L. Saltpeter, who studies the ammunition futures market, says the homegrown terror sector needs protection. "This is the one growth industry we have, since the demise of the securitized mortgage bundle."

"I think people forget that for every Planned Parenthood office, there's a picket line struggling to meet basic expenses. Full-color posters of aborted fetuses aren't cheap at Kinko's," Saltpeter added.

Saltpeter also touted the enormous economic ripple effect of terror, in sales of ammunition, freeze dried food, and teabags.

However, other conservative experts counter that it is difficult to design a pro-nutjob policy, because the value of the sector is hard to quantify.

"No one really know how much domestic whackos earn, as they don't file tax returns with the IRS," says Dr. Hilton Graybar, Endowed Fellow of Penal Studies at the Richard B. Cheney Institute for Penitentary Entrepreneurship.

"It's probably more than $500, but how much more? Who can say," Graybar said.

Graybar says the U.S. prison industry would benefit from the Obama policy, due to a high vacancy rate in private prisons. "There was a lot of overconstruction during 2001 through 2008, resulting in the current high vacancy rate," he said, therefore imported detainees would be an immediate shot in the arm for the prison investment market.

Permalink | Comment
---


Posted June 8, 2009
Supreme Court won't review Don't Ask, Don't Tell

"Works fine for us," justices say

The U.S. Supreme Court dealt a setback today to a constitutional challenge to the military's "don't ask, don't tell" policy banning gay people from openly serving in the U.S. military.

In upholding the decision of the U.S. Court of Appeals 1st Circuit, Associate Justice Antonin Scalia found precedent in the policies governing the high court itself. "The policy of 'don't ask don't tell' will not be reviewed because it works. This court is covered by such a policy, and it works fine for us," wrote Scalia.

"The Supreme Court's unit cohesion would suffer greatly if we were to introduce the factor of sexual preference. When we're in the heat of judicial deliberations, the last thing I want to have to worry about is what another justice is doing under his robe," Scalia stated.

"In fact, the reason we wear shapeless robes to begin with is to detract from the rampant sensuality that would otherwise distract this court from its constitutional duties," he noted.

"It's also the reason we don't wear those irresistible, come-hither powdered wigs, like the British," added Associate Justice Samuel Alito.

Associate Justice Clarence Thomas concurred with Scalia and Alito, writing: "I always shower at home because I don't want other justices ogling me in the Supreme Court Shower."

However, Thomas said "don't ask, don't tell" should only apply to male homosexuals serving on the Supreme Court.

"When I say homosexuals endanger unit cohesion in the shower, I don't mean the ladies," Thomas wrote.

Observing that retiring Justice David H. Souter is a confirmed bachelor who lives in a rustic cabin in New Hampshire, Thomas' law clerk said Thomas hopes the Senate votes to confirm Souter's replacement, Sonia Sotomayor, as soon as possible.

"Justice Thomas welcomes the prospect of observing much late-night jurisprudence between Judge Sotomayor and Justice Ginsburg," the clerk said.

Permalink | Comment
---


June 4, 2009
Rumsfeld on waterboarding

US was keeping detainees well-hydrated

In a surprising break with other former Bush Administration officials, former Defense Secretary Donald Rumsfeld said today that waterboarding was not used to torture prisoners at the US facility at Guantanamo Bay.

"Our critics have it totally wrong. My stars, waterboarding would be illegal. The way we put pressure on terror suspects was to deny them water. See? Totally different," the former Pentagon chief told reporters.

Rumsfeld's startling assertion is at odds with statements by former vice president Dick Cheney, former attorney general Michael Mukasey, former CIA director Michael Hayden, and others, all who have admitted that waterboarding was used at the Guantanamo facility.

Moreover, they say Justice Department memos made waterboarding legal, classifying the practice as 'enhanced interrogation.'

But Rumsfeld said such legal distinctions are not necessary. "We used waterboarding to keep prisoners well-hydrated after depriving them of drinking water, and not as an enhanced interrogation technique."

"The result isn't torture, it's thirst. Harmless. Good heavens, I get thirsty every day," said Rumsfeld.

Rumsfeld demanded release of a 2003 Justice Department memo that established a legal dehydration policy. "It says that if you don't let someone have water, they're going to get dehydrated. There was an entire appendix devoted to celebrity dehydration, like Lindsay Lohan and Amy Winehouse."

"So after days of deprivation but before the point of dehydration, we would give the detainees water. A lot of water. Cheese and biscuits, one time we rehydrated Kaleed Sheikh Mohammed 183 times in a month," Rumsfeld said.

Rumsfeld denied Amnesty International accusations that this is really waterboarding in disguise, calling the organization misinformed.

"When they get this water, are they lying on a board? Sure. With a cloth over their faces? Could be. But Sweet Betsy, if that's illegal you can go right ahead and make Perrier, lumber yards, and Jo-Ann Fabrics illegal too," he said.

Permalink | Comment
---


Posted June 1, 2009
Kansas joins big leagues

Wins coveted Taliban franchise

Boosters in Kansas are celebrating today, upon news the Great Plains state has secured a professional Taliban franchise. The franchise will be called the Sunflower State Holy Warriors and play its first season in Wichita.

Eager Taliban fans directed celebratory Sunday morning gunfire at Wichita's Reformation Lutheran Church, killing Dr. George Tiller MD, a provider of abortion services.

The assassination of Tiller, who at the time of his death was serving as a church usher, earned Kansas its first win and six points in Taliban league standings.

Holy Warriors coach/General Manager Fred Phelps said Tiller's assassination was a good first start, despite on-field errors. "We were lucky to get the win. Usually the Taliban way is to find the headless corpse dumped by the side of the road," explained Phelps.

"I guess this week in practice we'll be working on the fundamentals of fundamentalism," he said.

Phelps went on to say he expects the franchise to be competitive despite a tough schedule.

"Our style of play matches up well against doctors, Buddhist statues, women showing their hair, and defenseless girls wanting to go to school," Phelps said.

At present the Holy Warriors will play home games in a secluded gravel pit outside Wichita. But the team's long term success will depend on revenues only a new stadium can provide.

Phelps says that after the team returns from a road trip in Pakistan he'll start campaigning for a ballot measure to fund a new open-air stadium/convention center/concentration camp.

The team currently has its eye on a site in Topeka. "The site is occupied by a yoga and meditation center. But not for long," Phelps said.

Permalink | Comment
---