Posted May 26, 2009
Incredible Kim Jong-Hulk conducts successful gamma radiation test

North Korea faced international condemnation today following the announcement it had conducted a nuclear test. The official North Korean press agency termed the test "mostly successful, producing gamma radiation for our Dear Leader's continuing efforts to push back the frontiers of science."

In an exclusive interview with the Pyongyang Inquisitor weekly tabloid, agency spokesman Park Chun Frandle said Kim Jong-Il's current project is searching for a way to tap into the hidden strengths that all humans have.

Frandle told the PI's Jack McGee that the North Korean leader has been fascinated with effects of radiation since the 1970s. "He is very excited at the results of the test, despite his receiving a dose of gamma radiation that was an itsy-bitsy, teeny-weeney higher than planned."

"However, we expect any side effects will be hardly noticable and not affect his conduct of government in the slightest," Frandle said.

A North Korean Academy of Communist Science report finds that now when Kim Jong-Il grows angry or outraged, a startling metamorphosis occurs. He is driven by rage and pursued by an International Atomic Energy Agency inspector.

"Don't make me angry, Mr. Blix. You wouldn't like me when I'm angry," the report quotes Kim as saying.
Kim Jong-Hulk
Don't make him angry
In a related story, at the White House today press secretary Robert Gibbs warned North Korea's Office of Scientific Investigation against continuing to develop its $6 million bionics program.

Permalink | Comment
---


Posted May 21, 2009
Doctors shrink Cheney swelling

Preparation H treatment makes ex-VP less of an asshole

Former Vice President Dick Cheney is resting comfortably in a Washington D.C. hospital this afternoon, hours after undergoing emergency treatment for being an asshole.

Cheney was delivering a televised rebuttal of President Obama's speech on policy toward terror detainees at Guantanamo Bay, when onlookers noticed Cheney was experiencing swelling.

Sandra Betacam, a camera operator for C-SPAN, credited training in first aid for helping her recognize the early warning signs of an asshole attack.

"Cheney had just called for creation of an untruth commission, when his upper lip started curling, followed by hyperventilation and exhibiting ignorance of the Constitution," said Betacam.

Betacam said that when she and others realized what was happening, they donned filter masks to avoid being overcome by gasses, then administered aid to Cheney. Betacam tightened Cheney's necktie, while others tried to make sure he swallowed his own tongue.

Cheney was transported to Georgetown University Hospital, where medical staff immersed Cheney in a bath of Preparation H. After an hour he was shrunken enough to permit him to make a threatening phone call to Sen. Patrick Leahy (D-VT).

GU Hospital spokesman Bill Able said regular treatment can make assholes like Cheney bearable.

"It's usually an incurable condition. But, Preparation H can control the condition to the extent that Cheney can probably live a normal life," said Bill Able.

"But even then, I wouldn't let him operate any heavy machinery, death squads or prison camps," he said.

Permalink | Comment
---


Posted May 18, 2009
GOP rebrands Dems as "Democrat Hussein Oparty"

The Republican National Committee today approved a resolution renaming the Democratic Party the 'Democrat Hussein Oparty.' The unanimous vote occurred during a special GOP conference.

When the Republicans announced last week that they would vote on the name change, White House Press secretary Robert Gibbs tried to laugh off the change. "Given the challenges that they face, that's exactly the way I would be using my time too," he said, chuckling.

And Democratic chairman Tim Kaine commented that the Republican resolution is "childish."

However, one Republican said the name change has a precedent. "Democrats used to be called the Democratic-Republicans. But they started becoming un-American in 1844, when they dropped the Republican," said former House speaker Newt Gingrich.

Prominent Republican Rush Limbaugh agreed, the conservative radio host saying "My egghead friend Newt is correct, we are only saying the Democrats' name should reflect its leader, the socialist Barack Hussein Obama."

Republicans took the action over the objections of their chairman, Michael Steele. On Sunday Steele told Meet The Press host David Gregory, "I don't think that that is an appropriate way to express our views on the issues of the day."

Limbaugh convened the GOP conference by calling Michael Steele a fraidy cat, giving him a wedgie, and throwing him into a locker.

Limbaugh then called Gibbs "a little baby pablum puker," wondering aloud if the Obama spokesman wears a bib. Limbaugh worked the delegates into a frenzy, leading them in singsonging, "Gibbs wears a bib, Gibbs wears a bib."

Limbaugh also gave Governor Kaine the name Candy. "I know you are, but what am I?" Limbaugh responded.

The name Democrat Hussein Oparty went into effect almost immediately, with House minority John Boehner believed to be the first to employ it.

Characterizing as "gross" accusations by Speaker Nancy Pelosi that the CIA had misled her about the use of torture on terrorism suspects, Boehner took to the House floor to call her claim "typical of Democrat Husseins like Speaker Pelosi, a gross San Francisco socialist. Grossy Pelosi, that's what she is."

"Grossy Pelosi, Grossy Pelosi," Boehner said.

In other news, Sen. Arlen Specter (D-PA) was found today pantsed and hanging from a coathook in the Senate cloakroom. When asked to comment, Senate minority leader Mitch McConnell merely stuck out his lower lip and shrugged.

Permalink | Comment
---




Ehhhhlection '09

Posted May 15, 2009
Bag of hammers enters mayoral race

Gives self $200,000 Home Depot gift card

Declaring it is time for a change in leadership, a bag of hammers today announced his candidacy for the office of mayor of Seattle.

"It's not that Mayor Greg Nickels has bad objectives, I'm just saying how he proposes to achieve them is all wrong," the bag of hammers told supporters at his campaign kickoff. The event was held at the bag of hammers' tidy Wallingford toolshed.

A success in business, the bag of hammers describes himself as a regular person, "just an ordinary bag of tools, doing my job, at a multibillion dollar company, and living in an expensive in-city neighborhood."

He said he would bring a commitment to diversity to the management of Seattle government. "I've spent nine years running a very large company with lots of departments. My team includes a rainbow toolbox of claw hammers, ball-peen hammers, brick hammers, sledges, mallets, and even meat tenderizers."

The bag of hammers cited several issues where he differs with Nickels over reaching Nickels' objectives. "Greg doesn't think everyone can have sidewalks, and neither do I. But instead of changing the imbalance that funds streets more than sidewalks, I would meet with pedestrian safety advocates and bop them on the head until they stop complaining," he said.

He also staked out a subtle distinction from the mayor over the proposed multi-billion dollar waterfront tunnel replacement for the Alaskan Way viaduct. "I agree with the mayor that there won't be cost overruns. But I know how to do it: any consultant, engineer or contractor who spends beyond the projections will get a bop on the head," said the bag of hammers.

The bag of hammers further emphasized that he would pay greater attention to delivery of basic services. "The snow response was completely botched. Paul Jackson's head would be covered in lumpy bruises if I were mayor right now," he said, referring to the recently reassigned street maintenance director.

He went on to say that he is not about kowtowing to business. "As a businessman, government kowtows to me. Naturally, I'll be kowtowing a lot to myself -- something Nickels hasn't done enough of," he said.

The bag of hammers said he believes so strongly he can be a better mayor, his first act as a candidate is to give himself a $200,000 Home Depot gift card -- essentially negating Nickels' fundraising edge.

"These funds will let me reach out to shovels, saws and drills. Because people who say there are too many tools running the city are wrong," the bag of hammers said.

Permalink | Comment
---


Posted May 12, 2009
No more GOP big tent

Can't find claim check for REI repair counter

Republican National Committee chairman Michael Steele announced today that his party will no longer use a big tent approach to rebuild its electoral base.

Steele explained that he had decided to abandon the big tent at its current location, the gear repair counter at the REI store in Fairfax, Virginia. "There was a giant hole in the big tent, so Jack Kemp took it in for repair," said Steele.

Steele said conservative radio host Rush Limbaugh damaged the big tent -- an REI Base Camp model -- during a teambuilding exercise in March in New Hampshire's White Mountains.

"Rush said he had to sleep in the big tent, but this meant there was no room in it for anyone else. And while he was in there, he burned the hole in the big tent with a lit cigar."

Kemp, the former New York congressman who advocated broadening the party's populist appeal, and was also the 1996 GOP vice presidential nominee, volunteered to drop off the big tent at the Fairfax REI.

However, on May 2 Kemp passed away from cancer, "and now no one knows where the claim check is," Steele said.

Steele went on to say he tried to get REI to make an exception, without success. "It's like that green-vested woman didn't know who I am. And then I remembered: REI is a cooperative, it spreads the wealth among its members," he said, making airquotes with his fingers.

"I think we all know what that means."

A committee of GOP moderates led by former Secretary of State Colin Powell has started shopping for a new big tent. But an overwhelming number of Republicans question whether a new big tent is even necessary.

"In view of the Obama recession, the $400 to replace the big tent is an expense we can't afford," said former vice president Dick Cheney.

Speaking on the CBS News program Face The Nation on Sunday, Cheney told host Bob Schieffer that any conservatives in need of shelter can huddle in Limbaugh's ample rain shadow.

"What's more, his Docker pleated slacks have vast quantities of twill that make for an excellent windbreak," Cheney said.

Permalink | Comment
---


May 8, 2009
Star Trek film "an insult to Iran"

Praetor Ahmadinejad criticizes inaccuracies

Iran President Mahmoud Ahmadinejad has called the new Paramount Pictures movie "Star Trek" historically inaccurate and an insult to Iran, and urged moviegoers to stay away from the J.J. Abrams-helmed sci-fi adventure.

It is the first U.S.-Iran motion picture crisis since Ahmadinejad's negative review of "300" (Warner Bros., 2006).

Included in Ahmadinejad's many duties as President is the role of "Praetor" of the Iranian government Star Trek club Romulan Outpost Tehran. He spoke today from the bridge of Warbird One, a battleship gray Itasca motorhome parked outside the University of Tehran student union.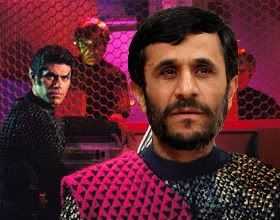 Ahmadinejad
The president/praetor spoke live on Iran state UHF television
Ahmadinejad said he finds fault with the screenplay by Roberto Orci and Alex Kurtzman. The story involves Romulans led by Nero (Eric Bana) affecting history by traveling to the time of a young James T. Kirk (Chris Pine).
Ahmadinejad calls the story propaganda. "First of all, our nuclear program is for peaceful energy purposes, I can categorically state Iranian Romulans are not pursuing time travel," said Ahmadinejad.
"And second, the script contains a host of historical inaccuracies that are completely unacceptable to diehard fans," he said.
Ahmadinejad's list of complaints about the new film include:
• Kirk is supposed to serve on the USS Farragut before the Enterprise
• The Enterprise wasn't built in Iowa
• Kirk's father, Spock's mother die
• Vulcan is destroyed
• The uniforms are supposed to be velour
• Romulans are seen before the original series episode "Balance of Terror" -- "that's the reason for the Neutral Zone, duh."
"What they are doing is messing with the Star Trek timeline, giving the writers freedom to change anything they want without regard to official canon," said Ahmadinejad.
He said the filmmakers' objective is clear. "They mean to erase from galactic history the greatest foe of European imperialism. I speak of course of Khan Noonien Singh."
Khan (Ricardo Montalban) is the genetically engineered 'superman' in the 1967 episode "Space Seed," as well as "Star Trek II," who controlled a quarter of Earth during the Eugenics Wars. He is a favorite of young Iranian men, who have voted Khan the Trek villain with the best hair every year since 1993.
"This insult to a hero of southern Asia will not stand, we shall protect you KHAAAAAAAAAN!" promised Ahmadinejad, dramatically.
The Praetor challenged the Federation to send a representative to Iran, proposing a summit meeting to discuss Khan and other canon issues. Ahmadinejad indicated he would prefer Leonard Nimoy (Spock) and Zoe Saldana (Uhura).
If it occurs, the "SetâreCon2009" summit will be held at the convention center in the city of Qom, and will include autograph sessions, a fan fashion show, and a Q&A session with Nimoy and Saldana.
United Nations officials have yet to intervene in the crisis, as they are attending a Security Council-sponsored Battlestar Galactica symposium.

Permalink | Comment
---


Posted May 4, 2009
Big Three's Company

Car makers cut costs, move into small Santa Monica apartment

General Motors, Ford Motor Co. and Chrysler have agreed to terms with the government under which the troubled "Big Three" automobile manufacturers would restructure in order to qualify for billions in federal assistance. The chief executives of the three companies made their announcement this morning at a press event in Santa Monica, California.

Chrysler CEO Robert Nardelli said after his company emerges from reorganization it will partner with Italy's Fiat, giving Chrysler access to the investment funds of certain Sicilian family businesses. "They're more ethical and public-spirited than the hedge funds we've been dealing with," said Nardelli.

Ford President Alan Mulally gave an extensive Powerpoint presentation about how there has been absolutely nothing funny about his company since the Pinto.

And GM's J.O. Sampson said he intends to focus on the ongoing search for "the real killers of the electric car."

In an unexpected move, all three companies will increase efficiencies by unifying their management and professional workforces. Over the next two years they will consolidate their sprawling, expensive Detroit headquarters operations into a single location in Santa Monica.

Mulally, Sampson and Nardelli said they slipped into this southern California oceanside community last weekend in search of a suitable new headquarters, quickly signing a lease on a 2 bedroom, 1 bathroom apartment a short distance from the beach.
New HQ
Larry Fiat, Fiat's head of North America business development, has secured an apartment upstairs in the same building.
The chief executives say they look forward to becoming part of their new community once they get settled. "Come and knock on our door, we'll be waiting for you," Mulally said.
Santa Monica stands to benefit from additional retail activity and business taxes. Stanley Roper, the Big Three's new landlord, was upbeat. "Newcomers are always welcome in my building. As long as there's no funny business, if you know what I mean," Roper said, mincing.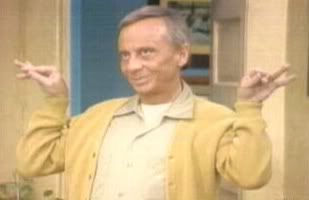 Roper

Permalink | Comment
---