Archive / Ultra
Ultra was started at Bristol University and originally stood for Urban Light Transport. The first public system began service in 2011 at Heathrow Airport. In 2015 Ultra became part of Heathrow Airport Ltd
Pods possible for UK national park. 4-25-2018
Heathrow engineers joined students at Eden Girls' School for event coinciding with International Women's Day. 3-8-2018
Could taxes on automated technologies such as the Heathrow self-driving pods discourage green vehicles? 2-23-2018
Cardiff, Wales, was to be the site of the first Ultra network. Now city councillor Michael Michael (Labor) wants to examine the technology again. Includes video of Ultra road testing underway in Greenwich in London. 4-5-2017
Glasgow Airport: Airport-Paisley PRT option revealed. 10-14-2016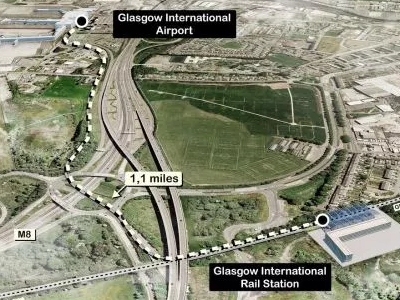 Ultra pods were focus of 3 month STEM education program in Heathrow-area schools 6-1-2016

Hands off with Heathrow's autonomous pod cars (BBC). 9-10-2014
"Punjab's fairy tale public transport projects" 7-31-2014
Times Of India reviews several Punjab transit projects, confirms the state has trouble implementing anything, whether pods, metro or bus. Noted: Planned pod fare of R40 ($.65) is called too high.
Chief Minister of Haryana (India) tells agency to "get cracking" on Gurgaon project after 3 year delay. 7-8-2014
Materials industry: Heathrow Pod light weight means greater energy efficiency, lower emissions. 6-3-2014
Many kinds of innovation at Railway Industry Association event 4-18-2014
Google expresses support for PRT. 4-9-2014
Mountain View Councilman Inks: PRT not dead yet; Google manager: "We need to have an eye towards PRT systems and self-driving cars that are coming closer to fruition in the U.S. every day."
'Pod car mayor' Kasperzak steers discussion toward existing systems; opponent says airport system like Ultra may not be aesthetically suitable.
Political controversy now swirls around pod project. 2-26-2014
In January Dep Chief Minister cited 'technical flaws.' Local Congressmen demonstrate -- say 2011 PRT dedication in runup to election "befooled the voters"; allege current Bus Rapid Transit initiative is designed to affect upcoming general election.
• June 2014: BRT project appears to be on track 6-11-2014
Huge Airport, Huge Savings (Heathrow). 2-25-2014
"Passengers consistently give the new transit mode high marks; not surprising given that the pods boast a 99 percent reliability rate, and keep passengers waiting no more 10 to 15 seconds. The pods also consume 70 percent less energy than it takes to power a car and 50 percent less than a bus."
'March of the pods: How design is going egg-shaped'
1-16-14
"Doubtful credibility": Amritsar PRT on 'backburner' as Dep Chief Minister cites doubts about Ultra Fairwood. 1-13-2014
Notes the Tribune: "Besides, the government seems to be in no mood to antagonise traders and other sections which are up in arms against the project ahead of the Lok Sabha poll [general election]."
India Tribune: No movement on PRTS project or 'city bus service'; infrastructure board says pod process still on. 11-18-2013
• UK Trade & Investment Minister Lord Green visits Heathrow Pod 10-14-2013
Cameron appointee Stephen Green was CEO-Chairman of HSBC at the time of revelations the bank allowed money laundering by drug dealers and terrorists
• Company official promotes Fairwood projects; Amritsar, Gurgaon and Thiruvananthapuram thumbnailed. 8-12-2013
• Punjab Newsline Network: Deputy Chief Minister's plan for Amritsar PRT called a 'non-starter' due to lack of will from the government, local administration and narrow approach by shopkeepers along the route; "may not be a reality even in the next a few years." 8-5-2013
• In BBC 4 report Is Britain enjoying the wrong kind of growth? Ultra transit pods are held up as an example of the right kind. 7-25-2013
• International growth seen 7-17-2013


• "POD Cars In Heritage City" (Amritsar) 4-8-2013