Archive / Other
News about Other pod systems, outreach and planning, and other activities not linked to specific vendors.
UrbanLoop, French PRT startup- 4-26-2021
-is originally a project of the University of Lorraine. The effort began in 2017, involving 100 students, 4 universities, the National Center for Scientific Research, and the Grand Est region including the city of Nancy. Construction of a 200m demonstration system began in 2019 at the Institute of Applied Sciences-Brabois Engineering campus; testing was conducted there in 2020. A photo caption in the Feb 12, 2021 article following may mean an UrbanLoop system would not be a unified network, requiring transfers--this may not be a problem only in countries such as France which are used to riding metros.
•
UrbanLoop website
•
French UrbanLoop aims at becoming 21st century Personal Rapid Transit
2-12-2021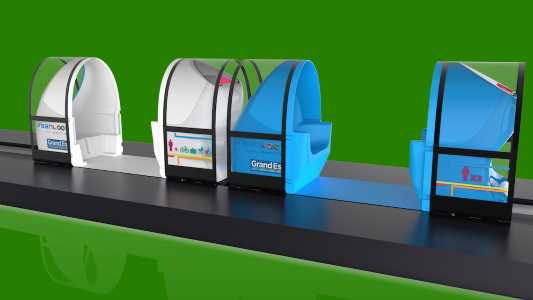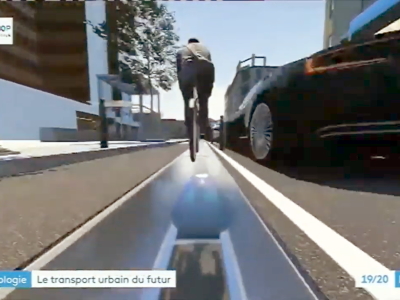 UrbanLoop capsules will split open for boarding like the Taxi 2000 redcar. Guideway can be in tubes which can be just below grade, admitting natural light through the top. -UrbanLoop depictions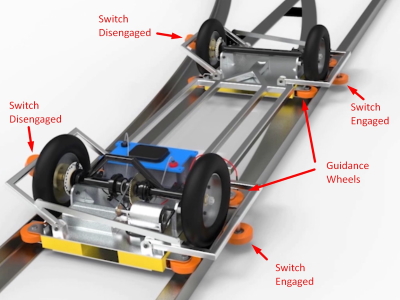 Two-position mechanical switches will be employed. -Annotated from UrbanLoop depiction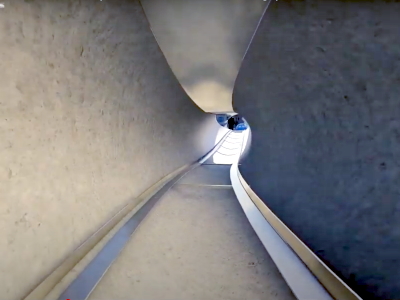 The rubber-tired bogies will travel on parallel running surfaces. -Frame from UrbanLoop video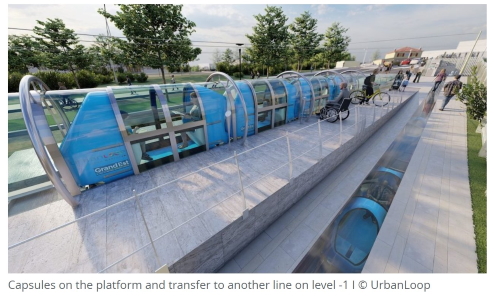 Caption to photo appears to mean an UrbanLoop system would not be a unified network. -Content from UrbanLoop.fr
Smart – clean – fast – urban transport
, interview with UrbanLoop CEO Jean Phillipe Mangeot. 1-15-2019
•
Construction of demonstrator
4-1-2019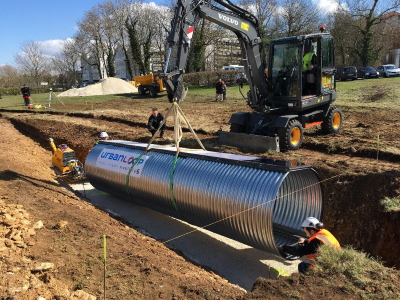 Prototype guideway, the top panel admits daylight for underground use. -UrbanLoop photo
Transport of the future: the people of Nancy may travel in a capsule
4-9-2019
•
Automation partnership signed between University of Lorraine and ANDRA
, the National Radioactive Waste Management Agency. 5-10-2019
•
Individual transport that could revolutionize cities
5-10-2019
Goal of installing the first UrbanLoop at the 2024 Paris Olympics.
•
UrbanLoop office opens in Villers-les-Nancy
4-22-2020
• France 3 video:
Test system under construction in Tomblaine
(Nancy suburb); capsule fabrication. 1-3-2021
• France 3:
Becoming a large-scale industrial project in 2021
1-5-2021
• Test system:
First 500m loop of two interconnected loops completed
2-22-2021
• Photo:
Team assembling capsule at test site
(p.28) Apr 2021
Metropoly, magazine of Greater Nancy area. Article: Attempt will be made May 28 to set record for lowest energy consumption/km for an autonomous rail vehicle. Mangeout envisions applications with 60km/hr speeds, low voltage rails. Alignments will be "in the open, sheltered under polycarbonate tube, semi-underground or still in tunnel."
•
Tomblaine 1200m test system completed April 8
, consists of 2 loops, 3 stations, and maintenance center. 4-9-2021
•
Test system location
Google Maps
•
From concept to reality: how the Urbanloop project wants to revolutionize urban mobility in Nancy
4-9-2021
Mangeot gives cost of €1-4M/km.
•
Urbanloop: the capsule that reinvents city transport
4-23-2021
Link