Archive / Other
News about Other pod systems, outreach and planning, and other activities not linked to specific vendors.
Zippar from Japan
8-30-2021
Zip Infrastructure introduced its Zippar concept last year, in appearance a cross between the popular gondola/ropeway and the styling of Unitsky. In addition to cables on straightaways, Zippar appears to employ zones with running surfaces for merges, diverges, and curves. Is it PRT? The in-track switch would indicate not (:28 of the scale model video).
Link
Meet the PRT Brigade - Transit docents help travelers navigate the WVU PRT. 8-18-2021
Link
West Virginia: PRT reopens with new features after more than a year of COVID closure 8-4-2021
Larger tires for stability; interior upgrades; arrival time display; wireless upgrade; evaluation of demand mode; Beechhurst Station renovations.
Link
/ uSky / test system
String Transport testing underway 7-22-2021
CNN: These futuristic pods could help cities solve their traffic problems 7-22-2021
Known earlier as String Transport and Unitsky String Transport, uSky aka SkyWay began testing in June at a UAE innovation park. Images show both passenger and cargo configurations. Is it PRT? Previous depictions of the technology cast doubt on whether uSky fits the definition of PRT, as the concrete-and-cable guideway has only been shown running in straight lines, leaving open the question of how switching would be accomplished. This finally seems to have been answered in this video, showing a gantry-like merge/diverge zone.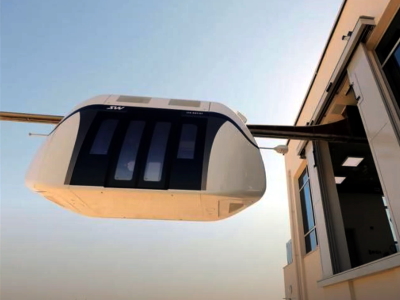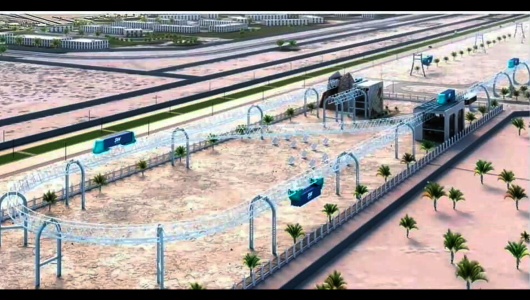 Upper: uSky passenger pod. -Frame from Sharjah Research, Technology and Innovation Park video
Lower: Merge zone. -Frame from American Univ. of Sharjah video
Link
The Wall Falls
5-30-2021
The Advanced Transit Association reports its efforts with the American Society of Civil Engineers, to adapt that organization's definitive Automated People Mover Standards to personal rapid transit, have been successful. Pod transit designers have objected to parts of the APM Standards for decades. Now
edition 21-21 of the standards
addresses 'Automated Transit Networks' by name, and removes the 'brick wall stop' requirement for ATNs. This change frees up ATN technology to potentially achieve higher speeds and capacities. PRT can now truly become urban mass transit, beyond first/last mile service. PRT designers outside the United States hoping to enter the American market would be wise to follow the APM Standards.
Link
Per @Rwandainfra account, Rwanda's Infrastructure Minister
signs PRT network MOU with Vuba
. 5-29-2021
•
Rwanda and Vuba Corp Sign Memorandum Of Understanding
(MOU) to develop Smart City Mobility. 5-29-2021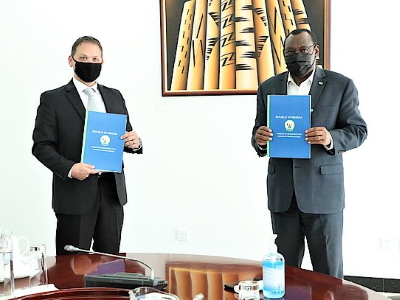 Minister of Infrastructure Claver Gatete (R) and Vuba CEO/Founder Paul Klahn -Rwanda MoI photo
Vuba Corp to build autonomous pod cars in Rwanda
CNBC Africa 6-2-2021
Arranging financing for PPP and doing technical development; ambitious 2024 target; hope to cover all of Kigali; goals of Made-in-Rwanda product and Rwandan ownership.
Link
Self-driving cars might never be able to drive themselves: Marketplace reports it doesn't take much to make a driverless algorithm dumb. 5-21-2021
Link
People, Pods, and Progress 5-17-2021
Link